Demon's Tier+ is a simple, satisfying twin-stick shooter ideal for those moments when you just want to turn higher brain functions off, and gun down anything that's inching toward you.
Demon's Tier+
Platform:
Switch, PlayStation 4, PS Vita, previously on PC
Developer:
Diabolical Mind
Publisher:
COWCAT
Release date:
June 9th, 2020
Price:
$9.99 via digital download
Availability:
Nintendo eShop
Daniel Fernandez Chavez' (aka Diabolical Mind) games might not attain awards or even captivate most critics. But each effort has been built around solid mechanics while injecting addictive qualities. Riddled Corpses (2015) may have been a fairly pedestrian twin-stick shooter but using loot to augment your guns and purchase new characters added an incentive for gunning down legions of the undead.
Xenon Valkyrie (2017) demonstrated Chavez adding roguelike elements to an action platformer. Sure, there were occasional frustrations and death could arrive rather quickly, but the economically priced title was undoubtedly entertaining. Now, with an enhanced console port of Demon's Tier+, Diabolical Mind brings its procedurally generated dungeon crawler to new audiences. The pixelated graphics and simplistic play might not be for everyone, but for players who appreciate mowing down hordes on monsters Gauntlet-style, Demon's Tier+ has its appeals.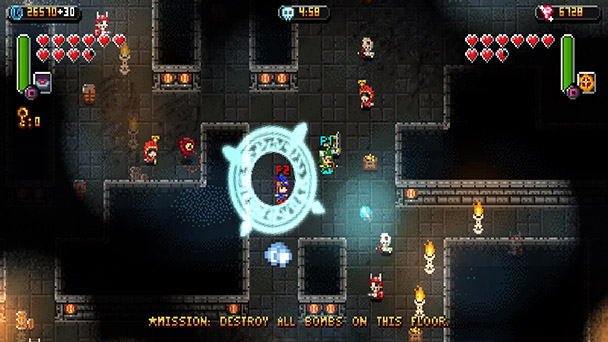 Familiar Plotline and Fundamentals
For those who appreciate a bit of plot, Demon's Tier+ dispenses with some modest motivations. The premise centers on King Thosgar dabbling with the dark arts, inadvertently liberating monsters and nearly obliterating humanity. Fortunately, the malevolence was sealed and laid dormant for over a thousand years. But when a mysterious pit emerges in a serene village, it appears Thosgar's ambitions have been rekindled, producing a quest for one of the game's eight playable heroes. Although the game's storyline feels cliched, Diabolical Mind's aspirations are earnest, with sporadic does of exposition and anime-influenced character portraits.
You begin the game with access to the knight, a competent all-rounder. Gradually, you can use D-token earned from defeating enemies to purchase access to others, such as an archer, wizard, cleric, and assassin. Each is endowed with a divergent set of stats, so if you play style favors speed, offensive ability, or just a lot of health, chances are you'll find a character that suits you.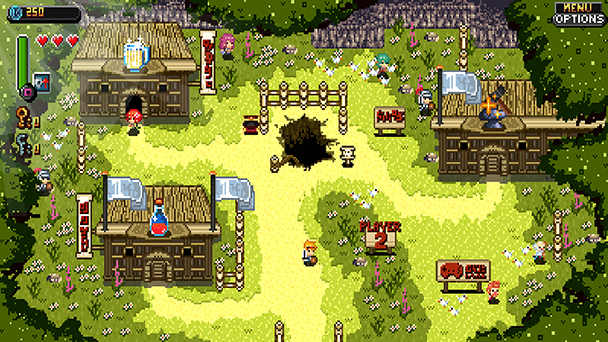 Captives That Behave like Gradius Options?
After selecting an adventurer and stocking up on necessities like potions, keys that unlock jailed captives (who mimic your moves while adding additional firepower), and a magical rope that can be used to escape the fifteen-level dungeon. The later is crucial to Demon's Tier+, as each new playthrough begins the adventure anew, resetting your stats.
Each floor is procedurally generated, and as you venture deeper into Demon's Tier+, you'll encounter an escalating number of opponents, enemy generators, and traps as well as the routine boss battle. Goals are randomly generated as well, with tasks like opening every treasure chest, defeating each enemy, or finding an obscured foe. While you might favor cautious exploration for assignment, you'll have five minutes to complete each floor. Spend more than that, and an invulnerable grim reaper will appear, slowing converging on your position.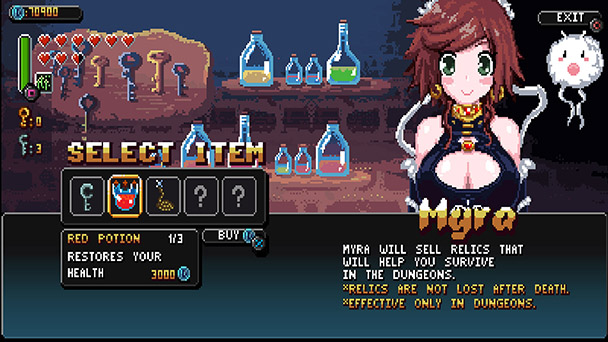 When Enemies Get Tougher, Go Spending
Each on, combat is quite enjoyable, as you feel like you have the upper hand on enemies. What especially satisfying is your forcefield. It can only be activated for a split-second before it needs to recharge, but time it right and you'll rebound projectile back at opponents. But about halfway through the journey, you won't always be able take the offensive, and you'll have to adopt the whole 'backpedaling while shooting' technique common to twin-stick shooters. Yes, the end of each level provides with opportunities to improve your speed, power, range, and stamina but Demon's Tier+ wants things to get harder not easier. As such, you'll probably not have quite enough currency to offset the increasing level of adversity unless you brought a local co-op partner.
But here's the thing: occasionally the balance is broken. Typically, that's a criticism for a game. But with Demon's Tier+, you can invest heavily in say, the cleric's healing ability, effectively negating the offensive output of enemies. Yes, it might seem you're cheating the system, but it can also be rather satisfying.  Another distinctive quality is that Demon's Tier+ doesn't demonstrate the traditional division in difficulty between subordinates and enemies. Traps can be rather hard to spot amidst the murky backdrop (and fire hazards don't look more threatening than walls). As such, it's just as easy to lose a portion of health to the environment as it is to a colossal spider that puts out dozens of projectiles.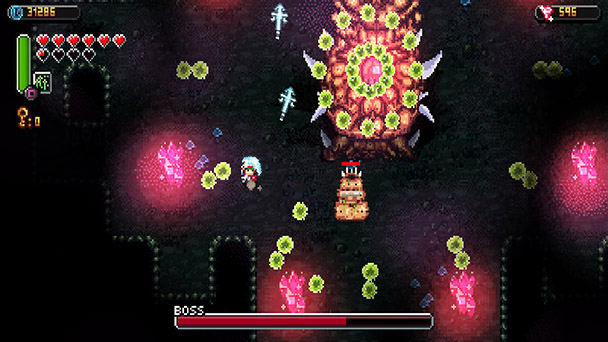 "I'll Quit after One More Run"
Like Diabolical Mind's previous efforts, it's the play-cycle that truly elevates the game. Scrambling through floors until you escape with just a sliver of health and using your D-tokens to purchase new characters, weapons, and supplies has a compulsive quality. Despite being in the middle of a more sophisticated role-playing game, I found myself revisiting Demon's Tier+, eager for its next reward. Despite unassuming, pixel-art visuals and a soundtrack that loops a bit too frequently, I was hooked on the game's drip-feed of dividends.
Demon's Tier+ was played on Switch with review code provided by the publisher. 
Review Overview
Summary : Diabolical Mind's game are inconspicuous, with simple graphics and straightforward play. But Demon's Tier+, like the developer's previous efforts will get its hook in you, if you let it.