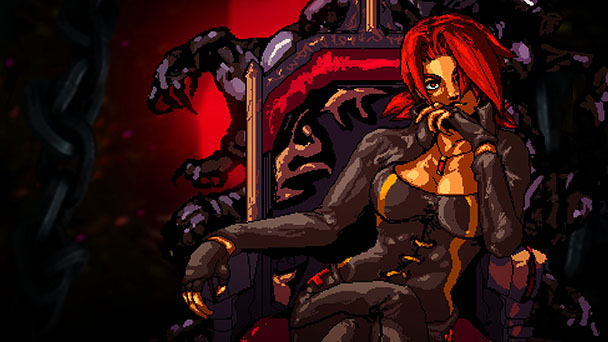 What if Castlevania relinquished its weapons and added Street Fighter II-style controls? Demoniaca: Everlasting Night blends the two titles, but the fusion isn't as fun as hoped.
Demoniaca: Everlasting Night
Platform:
Switch, also available on PC, PlayStation 4, and Xbox One
Developer:
AKI, eastasiasoft
Publisher:
eastasiasoft
Release date:
January 12th, 2022
Price:
$14.99, $11.99 launch discount price
Availability:
Nintendo
eShop
and other digital marketplaces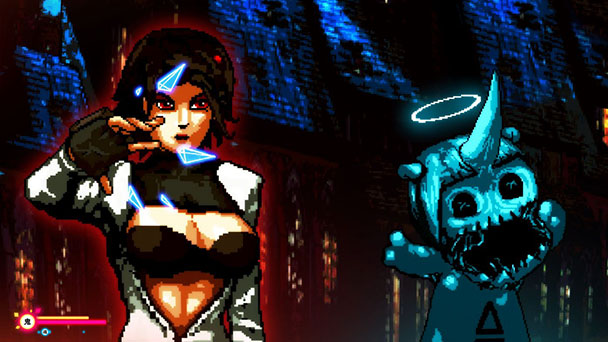 Demoniaca: Everlasting Night's introductory text crawl is mercifully brief, allowing you to jump right into the gothic, Castlevania-like action. Here, Demoniaca details the ambitions of ancestral demons, who wipe out an entire village to rebuild the Tower of Babel. You play at the sole survivor of the slaughter, brought back to life after your body is tainted by demon blood spilled during the massacre. Endowed with superhuman strength, you make your way up the stronghold, eliminating any enemies who stand in your way.
While the unnamed protagonist has a rather concise backstory and displays little personality across her journey, Demoniaca isn't completely devoid of expositional enjoyment. You'll meet the occasional eccentric such as Boxman, named for the concealment he wears over his head. He's one of those invaluable assistants who dispenses guidance and makes your expedition a little less lonely. There's also a puckish twin-tailed girl named Klin who enjoys provoking you at sporadic intervals. Sure, there's not a length of depth, but you won't have sit through overdramatic soliloquies either.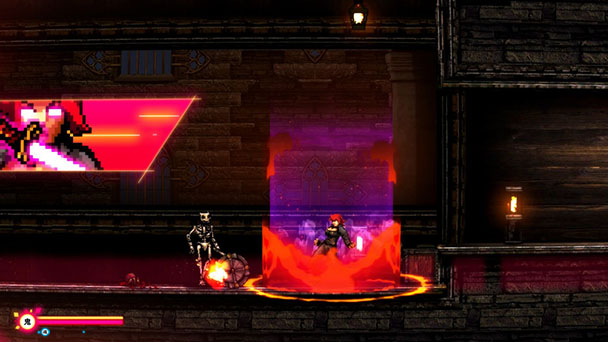 Metroidvania meets Street Fighter II?
While the first few minutes suggest that Everlasting Night might channel the feel of the DS-era Castlevania games, developer AKI has loftier ambitions. Instead of weapons, Demoniaca's lead uses her fists and feet, striking at foes with attacks mapped to the Switch's four face buttons. Although players might be able to button mash their way past many foes, the game encourages players to utilize their Demonic moveset. This is built from Street Fighter II-like commands like QCFs (quarter circle forward) and double taps, with Boxman gradually providing you with additional moves.
But there are two nagging issues with combat. The first is that your strikes can feel underpowered. When the mini-map hints at a secret room, it can take forty punches and kicks to bash the door down. Not only is this frustratingly repetitive but can also make the protagonist feel underpowered. Even some basic doors are surprisingly resistant, slowing down your progress. The bigger problem is that there is little structure to adversary weakness. Yes, bits of text will let you know that a certain type of attack in ineffective against a specific enemy. However, there's little signaling of susceptibility, through color, size, type or shape, goading you into memorizing each of Demoniaca's denizens. The addition of kickback when attacking enemies would have been worthwhile.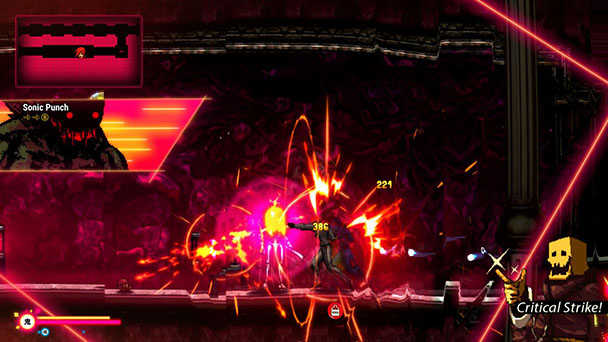 Climbing Can Feel like a Curse
Navigation has its own problems. Beyond the awkwardness of having to use a trigger to jump (there's no key remapping), leaping locks you into an extended animation. You can adjust your landing a bit but hurdling over opponents or the occasional platforming section will induce frustration. Demoniaca's protagonist automatically grabs onto ledges and temporarily adheres while ping-ponging between walls. But clearing gaps can be difficult, especially when they are guarded by resistant enemies. As such, it's all too easy to accidentally get kicked back, and land in a ditch, where awaiting enemies with frantically rush you. Death can come quickly in Everlasting Night, even on the game's easy setting.
Fortunately, there are a few elements that help balance the odds. Early on, you'll be able to summon a demon who will follow you around, taking the sporadic shot at adversaries. Alternatively, your assistant can be controlled by a second player. With another person's help, Everlasting Night's challenging difficulty can be smoothed out a bit. A wealth of items are scattered throughout the tower as well as occasionally dropped by enemies. These provide the requisite stat upgrades and allow for a bit of character customization. Do you opt for a strong defense through health regeneration or favor a hard hitting offense? Pleasing, Everlasting Night provides players with a bit of flexibility.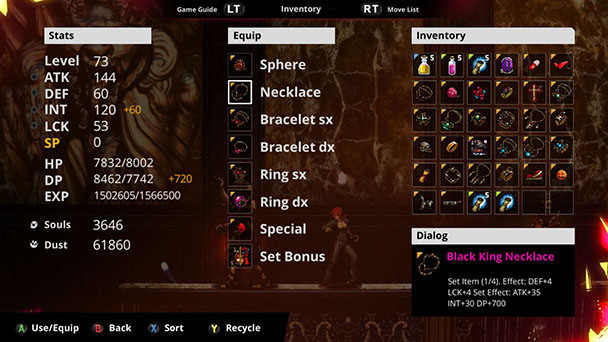 Conclusion
On the upside, Demoniaca delivers the kind of gothic visuals that channel the genre's roots. Cutscenes revel a bit of sexiness, posing the protagonist in provocative low-resolution shots. In motion, the character evokes the style of SNK's King of Fighters series, with the lead tilted forward, adding urgency to her running animation. Everlasting Night excels at visual effects like particles and parallax scrolling. While the game's topography might be plain and in need of puzzling, it's satisfying to look at, with highlights like a wheel slowly spun by a giant chain. The guitar-driven soundtrack isn't quite as good, offering some fairly generic licks to accompany the action.
The concept of Street Fighter-style controls in a Metroidvania has a lot of potential. Occasionally, Demoniaca: Everlasting Night demonstrates how the blending of genre has potential, as you decimate demons with directional pad movements. But these moments are offsets by sporadic frustrations, either from navigating the environment or combat that's too close-up to properly strategize.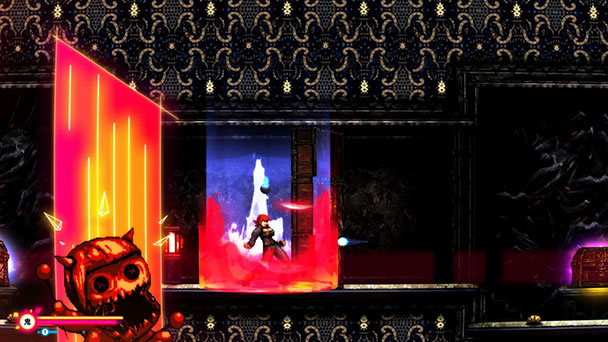 Demoniaca: Everlasting Night was played on Switch
with review code provided by the publisher. 
Review Overview
Summary : There's definitely some promising ideas in Demoniaca Everlasting Night but you'll routinely struggle with combat and missed jumps, which sullies the experience.