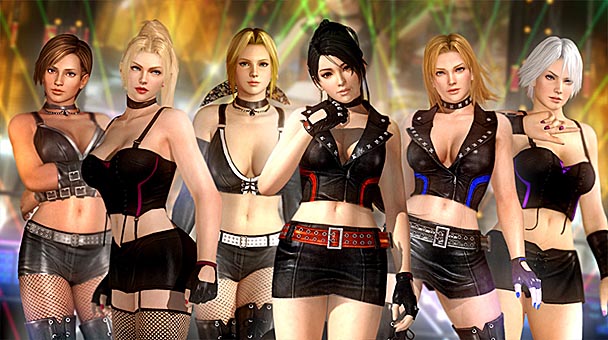 There are some things you can always count on; Mario saving the Princess, EA Sports releasing a Madden NFL game every year, and that any successful fighting game will undergo a revision. Dead Or Alive 5 is no exception. Back in March, Dead Or Alive 5 Plus hit the PlayStation Vita with the force of a Power Blow. That impressive port featured a vastly improved Training mode and a Background Music mode that granted the ability to forever silence the lackluster tunes of the original game. Dead Or Alive 5 Ultimate brings those features and a heap of new content to home consoles.
Right off the bat, Ultimate greets you with a modified main menu that now features full-color stage flyovers in the background instead of the dreary black and white of the original. This goes a long way towards setting a more welcoming vibe. Assisting with this transformation is the Music mode I mentioned a moment ago. In it, you can assign a specific song to each character and menu. This time, the soundtracks from DOA 2 & 3 are included (joining the OSTs of DOA4 & 5), allowing you to customize the audio experience to your nostalgic liking. To the disappointment of music fans with good taste, the Aerosmith tracks from previous games are absent.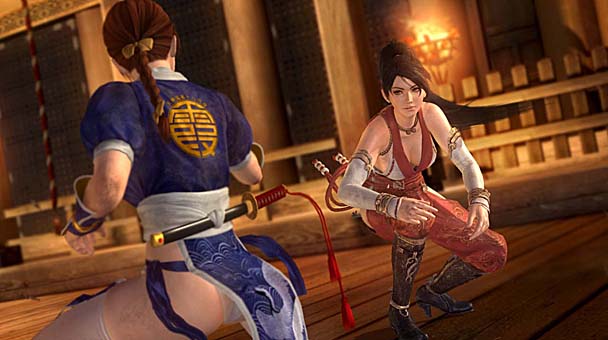 Arguably, the biggest selling-point for Ultimate comes from the five new characters. Joining the fray are Ninja Gaiden's Rachel and Momiji, Virtua Fighter's Jacky Bryant, and the returning Ein and Leon. The biggest standout of the group is Momiji. Her fighting style is best described as a hybrid of the DOA ninjas and Jun Kazama from Tekken Tag Tournament 2. She moves with a more methodical pace than that of Kasumi or Ayane, frequently utilizing Aiki-Jujutsu techniques to turn the opponent's own momentum against them. Easy to pick-up, fun to play as, the perfect addition to the DOA5 roster. Rachel, on the other hand, is a heavy hitter. Long-time (if 2006 can be considered long-time) fans will remember Dead Or Alive 4's Nicole, a.k.a. SPARTAN-458, a cross-over character representing the Halo franchise. Rachel plays akin to her, having slower movements balanced out by raw power. In fact, it appears that some of Nicole's non-Halo moves have been dusted off for the leather-clad, beehived beauty. Sadly, none of the new fighters were interwoven into the Story mode.
Also growing by five is the stage count. Mercifully, these arenas lack the grittiness found in most of vanilla DOA5's stages. Perhaps the most strikingly beautiful of the new battlegrounds is actually an old favorite; Dead Or Alive 3's 'Forest'. Autumn leaves fill the screen with bright reds and yellows as combatants throw-down in a wooded area with a creek. Another DOA3 stage making a comeback is 'Lost World'. This stage features an endless string of small, circular clifftops that practically beg you to knock your opponent off of them. Continuing with the heavy Ninja Gaiden theme is a stage ripped right out of Ninja Gaiden II (the modern one). 'Sky City Tokyo' takes place on a wide open balcony that overlooks Godzilla's favorite stomping ground at night. Just watch out for the giant, angry statue that acts as the stage's Danger Zone. An aircraft carrier is the site of the second after dark stage. While not the visual feast of Forest, the setting makes for an interesting backdrop. Rounding out the new stages is 'Desert Wasteland'; a sandy, uneven location under the blazing hot sun that's bound to conjure up flashbacks to Uncharted 3. Of the five, Aircraft Carrier and Sky City Tokyo are the only tag team compatible stages.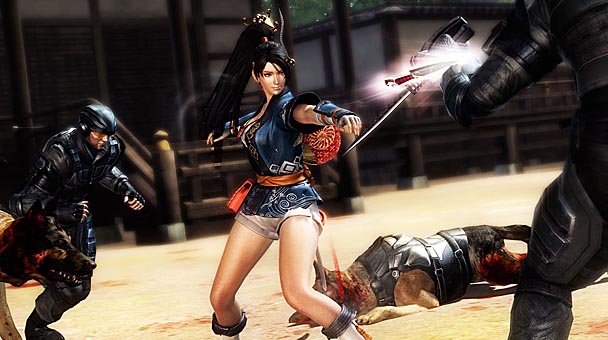 It wouldn't be a Dead Or Alive game, especially one with the name 'Ultimate', without a lot of costumes. In that regard, Ultimate does a respectable job, but not a perfect one. Included are over two hundred costumes, such as all of those from DOA5, the training dummy suits from DOA5+, some new (and classic) attires, and several of the lesser popular DLC packs. Here's the problem; on the character selection screen, even when playing offline, the game shows you the costumes that are sold separately. Highlighting one will even load up the character model wearing that piece of DLC and the words "This costume has not been downloaded". It's blatant taunting by Tecmo Koei. Nothing reaffirms your decision to buy a $40 game quite like seeing that the most desirable costumes (swimsuits, uniforms, etc.) are locked away in plain sight. Those who have already purchased DLC for either DOA5 or DOA5+ will be relieved to know that DLC does carry over to Ultimate.
Being a fighting game revision, Dead Or Alive 5 Ultimate sports plenty of subtle changes. Team Battle, a classic DOA mode where up to seven fighters square off in a last man standing match, joins the previous version's offline offerings. The longevity leaves something to be desired, though, as you cannot pick and choose the CPU-controlled opponents. Survival mode has been tweaked to feature item drops that replenish health, supply score bonuses, and even grant a free comeback meter. Speaking of comebacks, Ultimate has a new offensive technique called Power Launchers. When your health bar drops to or below 50%, it will glow red. Instead of cashing in this comeback meter on a Power Blow, you can now opt for a Power Launcher that, as the name suggests, launches your opponent high up into the air, enabling you to combo them for massive damage. The fresh combat content doesn't stop there, as I noticed several additions to the move list. Two of Lisa/La Mariposa's new back throws are bound to raise eyebrows on account of them being fan-service the likes of which I haven't seen since Rumble Roses XX.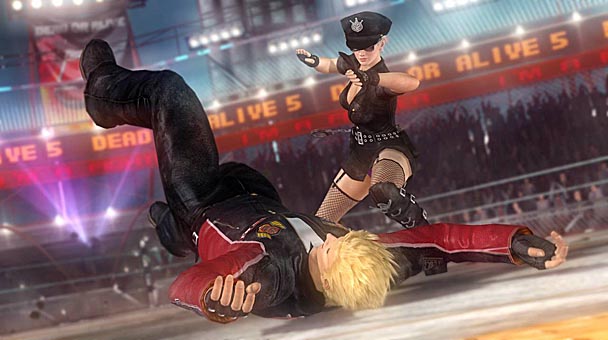 Online multiplayer, save for server-side technical difficulties with the solo match-making, has been improved. Ranked matches occasionally offer prize fights. Beating an opponent with a win-streak of five or more rewards you with extra grade points, in addition to the sense of self-satisfaction. The longer the win-streak, the bigger the payoff will be. Tag team ranked matches are now possible and have their own separate grade. Most of the ninety-plus online bouts I played did not stutter in the least. When the connection strength is on the lower end of the spectrum, however, things can become an insufferable slide show. Input delay during my optimal signal matches was negligible, but against bad connections, countering devolves into pure luck. You can gauge about how well the responsiveness is going to be by how quickly the cursor moves on the character selection screen when pressing a direction on the D-pad.
In the end, Dead Or Alive 5 Ultimate is a worthwhile re-release. The new fighters, stages, and content spice things up considerably, making the overall package much more enjoyable than the original. Factor in improved online netcode and the decision to double-dip becomes an easy one. PlayStation 3 players on-the-fence about picking up a retail copy can download Dead Or Alive 5 Ultimate: Core Fighters; a micro-transaction-based, free-to-play version with four characters and online play.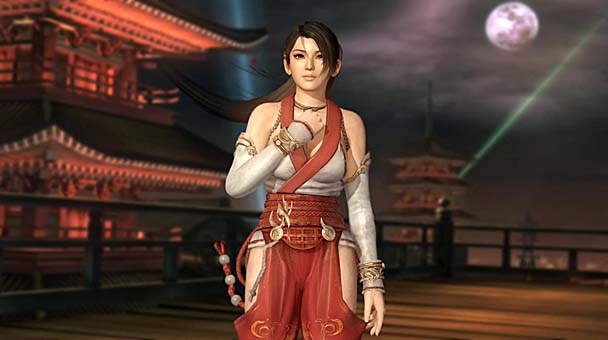 Review Overview
Summary : Dead Or Alive 5 Ultimate justifies its existence with great new content and a fresh coat of polish.