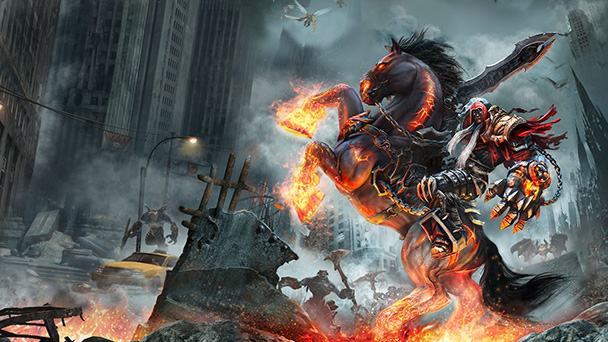 The Switch's popularity has propelled publishers to reach into their back catalogs, with the hope that a re-issue can pad the company coffers. Occasionally, that means players receive a second-serving of a lackluster title or a slipshod port of once-triumphant game. With the release of Darksiders Warmastered Edition, Switch owners obtain an adept adaption of the 2010 action game at a reasonable thirty-dollar price point, making for a satisfying arrangement for everyone involved.
Revisiting an eight-year-old game can often prove challenging. Often, advances in storytelling and play can make a title feel archaic. But largely, Darksiders evades these two difficulties. The game's pulpy narrative, conceived by comic artist/writer Joe Madureira and Warhammer 40k Online developer David L. Adams, feel like a skillful merger of experiences. Rooted in a tense biblical showdown involving the uneasy balance of Heaven, Hell, and human realms, which is closely monitored by a group named the Charred Council.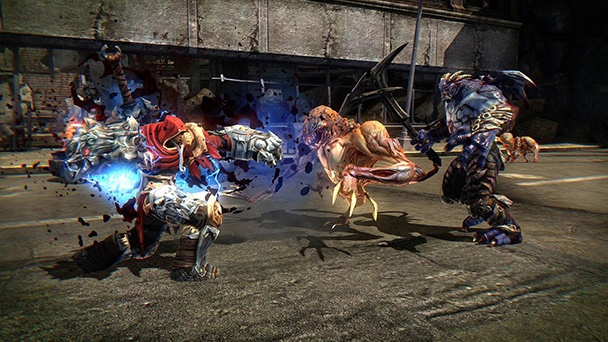 When the game starts, the end of the world has prematurely triggered. Meteors are raining down from the sky, transporting angels and demons to the battleground below. Inside one of the plummeting fireballs is the hulking protagonist, War, one of the Four Horsemen of the Apocalypse. He uses his formidable powers to easily defend himself against attackers from both good and evil factions. But his presence on the battleground puts him in a precarious position, and the Council assumes he inadvertently instigated doomsday.
Pleading innocence, he asks to return to earth to find the offender responsible for the calamity. Although War's request in granted, it comes with a few considerable provisions. He'll be chained to the Watcher, who acts as a superior, treating the one mighty power as 'a dog on a leash'. The canine metaphor is effective when describing his appropriated powers; he's effectively neutered at the start of the game. Unsurprisingly, War grows in fierceness across a trek marked by investigation and a gradual build up toward reprisal.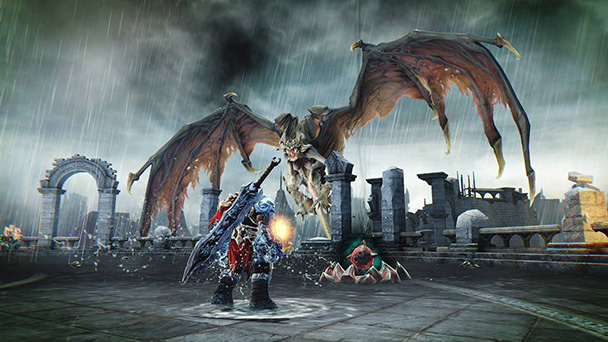 The story offers a generous amount of intrigue and a few plot twists, allowing voice actors like Troy Baker and Mark Hamill to perceptibly savor the delivery of every pulpy line. In the duration since Darksiders original release, the dialog might feel a bit campy, but truthfully, it might have always had a hint of farce. Lines like, "I'm going to pull your guts out through your halo" and a comedic nod to Gladiator reveal a writing team who truly understands their audience. Fundamentally, the same story beats still land, making it easy to emphasize with War.
Mechanically, many of Darksiders' elements have aged quite well. Sure, the game opens with War at full power, able to adopt Chaos Form and transforming into a devastating, damage-resistant, fiery creature. But after a transitory taste of near-invincibility, your might is reduced, mirroring a design tactic as old as Castlevania: Symphony of the Night. Beside the allure demonstrating your innocence, motivation is also found in acquiring new armor, weapons, and gear in an effort to return to your once powerful state.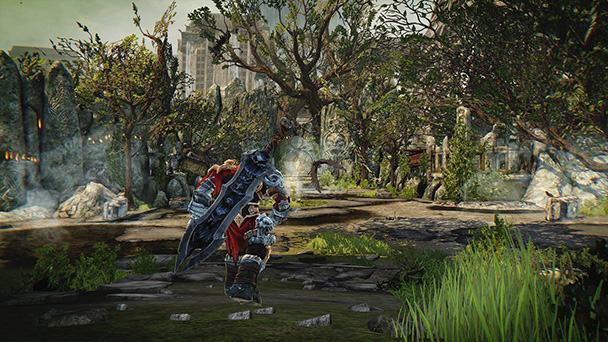 The first few hours of Darksiders twenty-plus hour trek are dominated by God of War-influenced combat. But soon, the game settles for a The Legend of Zelda-like blend of exploration and puzzle-solving, punctuated by a gratifying boss battles. Quick-time events which invite players to push a button to demonstrate War's formidability are present (and feel a bit antiquated). But the game interactive influences read like a catalog of gaming's greatest hits. One moment you'll feel the gratification of using the shuriken-like Crossblade to remotely trigger switches like Zelda's boomerang, the next you'll marvel at how the developer managed to work a portal gun into the proceedings. Darksiders tosses a lot of game history into its campaign, which can make play feel at rewarding as watching a talented cover band.
For Switch owners, the best news is that Warmastered Edition extends flexibility with its output, similar to the options afforded by Rocket League. Those who cherish fluidity will want to opt for High Performance Mode, which strives (and usually succeeds) to deliver sixty frames per second. When playing in handheld mode, the sacrifice is resolution with handheld's native 720p being dropped to 576p. Alternatively, High Quality favors visual detail with docked systems delivering 1080p/30fps and undocked ones giving 720p/30fps. The former method provides a few more perks like enhanced aliasing.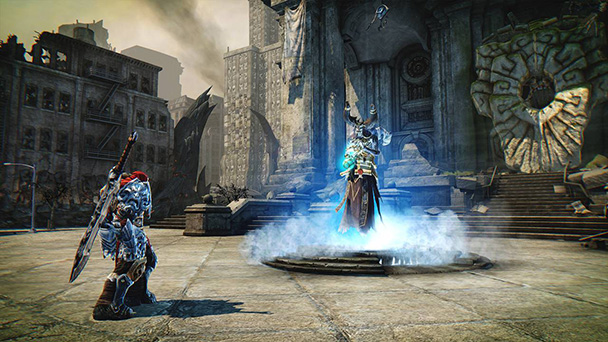 Combining the viscerality of God of War's combat with the exploration and puzzles of the Zelda-series, Darksiders Warmastered Edition remains an enjoyable experience, nearly a decade after the original release. Given out collective obsession with comic book characters, the game's larger-than-life personalities remain relevant, making this tale of retribution one for the ages. If you missed it on console or are just looking for a way to play it on the go, Warmastered warrants consideration.
Darksiders Warmastered Edition was played on Switch
with review code provided by the publisher. 
Review Overview
Summary : With a pulpy plot and action that references a multitude of other games, Darksiders Warmastered Edition basics succeed. But more importantly, the Switch port provides options to favor fidelity or frame rate, which is always welcome.