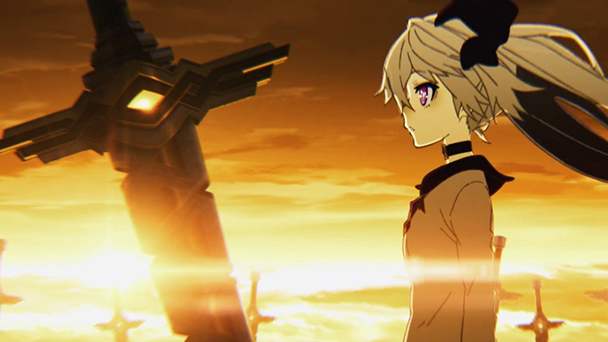 A few weeks ago, I watched The Farewell, an exceptionally poignant movie that moved nearly the entire audience to tears. But what made Lulu Wang's film so affecting wasn't the kind of unflinching sadness that we all expected. A good portion of the sobbing was proceeded by scenes of sheer exquisiteness that caused us to drop our emotional guarding.
Early in the film, we watched first-generation Chinese-American Bilie practice tai chi with her grandmother. Her form looks faintly awkward, shaped by an upbringing rooted in assimilation. Later, we see her exhibit the poise commonly associated with the tradition. It's a delightful reclamation of culture, and one of the most insightful cinematic juxtapositions in recent memory. But this brief moment of pride is tragically short-lived. All too soon, we are forced to confront the terminal cancer poised to take Bilie's grandmother. The Farewell's exuberant highs make the lows feel exponentially more devastating.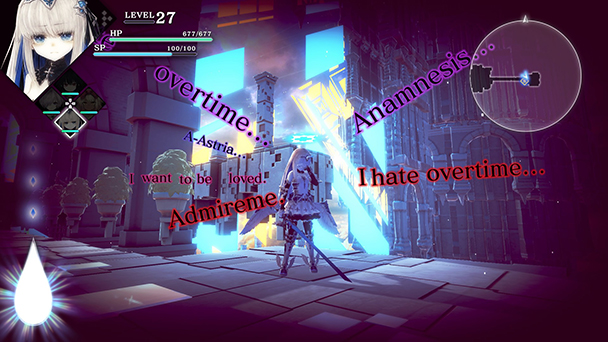 "For When I Weep, Then I Am Strong"
This sharp contrast of beauty and desolation also powers the recent PlayStation 4 and PC release of Furyu's Crystar. When we first meet the game's main protagonist, Rei Hatada, she's without a body or even knowledge of self, a mere butterfly fluttering through purgatory. But unexpectedly, Crystar's depiction of limbo isn't the place of painful penance that painters like Domenico di Michelino envisioned.
Instead, Crystar's levels of purgatory showcase the kind of otherworldly environments that are all too rare in gaming. 'The City In Between' showcases those striking purple-pink gradient skies that are ubiquitous in anime, a smattering of clouds reflecting the beams of a brilliant sun. 'The Forrest of Recollection' offers the same floating geometric walkways and assemblies of suspended swords. But oddly, even a crashed bus and coiled trees barely undermine the natural beauty that abounds.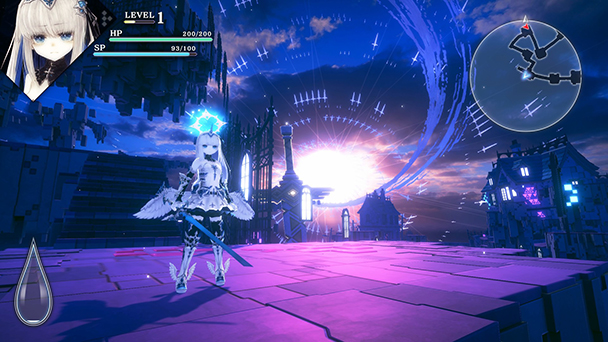 But splendor isn't confined to the game environments. Character models reveal rich detail, with Rei rendered with otherworldly loveliness, her speckled azure eyes contrasted against her monochronic attire. Character portraits used in dialog sequences don't merely attempt to mimic the look of polygonal models. Instead, they're stylized, showcasing the fragility of many of the game's personalities. Then there's Thelema, a giant loveable, and huggable dog who obediently and vigilantly sleeps next to Rei's bed.  All of this is underscored by Sakuzyo's plaintive piano melodies that deftly drift around in the backdrop.
Price of the Contract
When Rei is reunited with her sister Mirai, we feel of tinge of comfort, knowing she won't have to endure the trek alone. The two lock hands, reforming a bond, with Mirai finding reassurance by the warmth of her sister's grasp. But the union is tragically short-lived. When attacked by a monster, Rei pools her strength, unlocking a power that inadvertently kills her sister, triggering guilt and tears.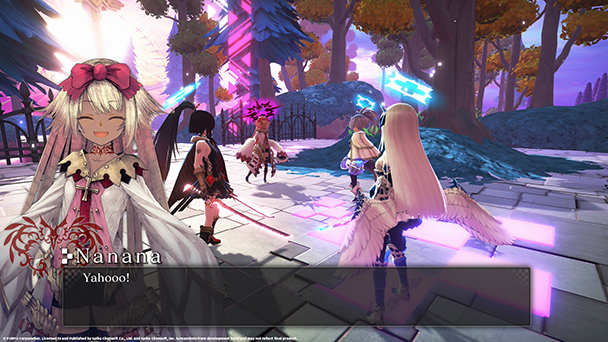 Given the game's copious incorporation of Christianity (as well as a smattering of Greek history), it's not surprisingly to find that Rei is offered a Faustian deal. Mirai can be brought back to life, two demons explain, but for that to occur she must purge purgatory of its roving 'monsters'. While we identify with Rei's growing resistance to these actions, we also recognize the sense of obligation, creating the foundations for an engaging tragedy.
"Is Your Heart Sill Asleep?"
Unsurprisingly, Crystar explores some melancholic matters. Despite a notable lack of any forewarning for sensitive players, the story plumbs issues like infanticide, suicide, depression, and anxiety. But whereas many games might have exhibited insensitivity or seemed exploitive, Crystar remains fixed on the restorative. Life might toss a myriad of inequitable conditions and tragedies, but there are glimmers of hope if we are receptive, it implies. Much like Olivia, the lovable Westie prominently featured in Steve McQueen's Widows, when we realize that Thelema serves as surrogate, its simultaneously heart-breaking and comforting.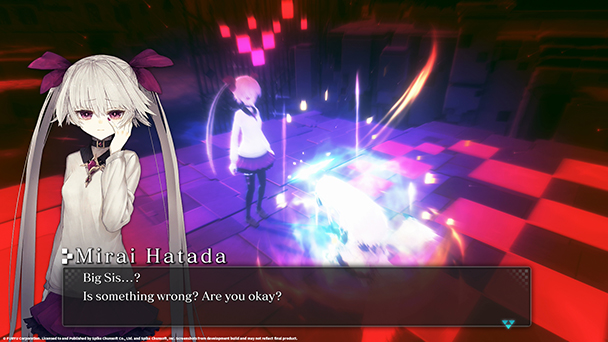 What's especially remarkable about Crystar is the handling of Revenants, the game's elevated, halo-adorned antagonists. Whereas most games rarely reflect on the legions of eradicated enemies, Crystar provides succinct backstory through its "Memoirs of the Dead".  Encapsulated memories can be perused, offering a wide swath of eulogies that divulge the range of the human condition. Often dreadful, it's a dejected worldview that isn't often depicted in gaming. If you're seeking a reprieve from the typical power-fantasy narratives that are pervasive in role-playing, Crystar's narrative will soothe.
"The World is Empty. The World is Unreasonable"
Despite the abundance of expositional insight, Crystar's moment-to-moment action is poised to disappoint. Sure, the rudiments are there, allowing for combos of light and heavy attacks as well as swift dashes that can cut through crowds of opponents. But confronting the game's Specters and Revenants rarely feels absorbing. The bulk of the blame is found in AI that's rarely a threat. All too often, Specters float around slowly, allowing players to get a succession of uncontested hits in before they dash away to avoid their leisurely attacks. Sure, you should probably prioritize targets, taking out projectile-spitting foes and subordinates before locking on and killing an elevated enemy. But even this tactic is discretionary on the game's lower difficulty levels.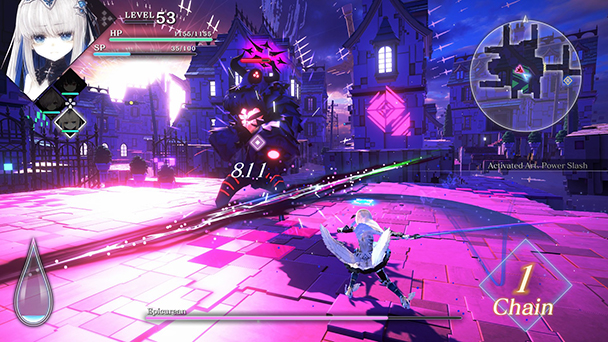 Crystar does attempt to add variation to the otherwise drab violence.  As you play through the campaign, you'll gradually acquire new party members which can be deployed in real-time with a tap of the directional pad. Pleasingly, each character brings their own style to purgatory's labyrinthine battlefields. Some are more suited to crowd control while others are adept at eliminating the health from resilient Revenants. I've enjoyed the light strategy involved with tag-team management, and here the method adds much-needed flexibility to the straightforward hack and slashing.
"Because Tears May Be Shed There May Be Smiles in the Future"
Lightweight variation is also found in the game's Guardian and Catharsis Mode systems. As you defeat enemies, you'll gradually fill up a tear gauge. Alternatively, you can trade the energy used to power specials to top off the meter. Once it has reached capacity, you'll be able to summon a hulking helper, who greatly amplifies the amount of damage you can dish out. Meanwhile, Catharsis is rooted in torrents, which accumulate after you defeat remnants. Once you return to your room, you can opt to weep, creating equippable elements that can make Rei more resilient. While I love the idea of tears becoming your armor, I wish Furyu made the process a bit more abstract. It feels a bit too much like conventional role-playing augmentation.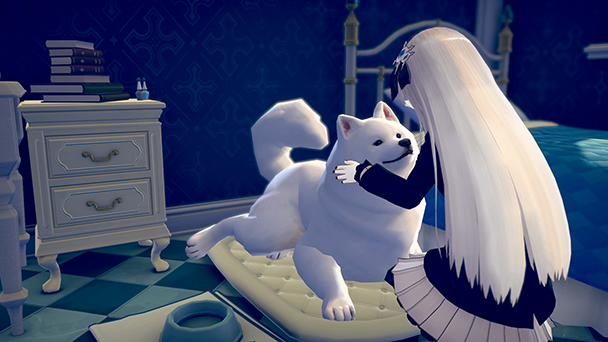 Another sticking point is Crystar's feigned conclusion. After reaching what is seemingly the final boss battle, the game ends abruptly, a lack of credits the only signal that this might be a ruse. Explore a bit, and you'll revisit purgatory, replaying a sequence of events that wasn't all that gratifying the first time around. While the concept is solid, the execution is flawed, and feels like Furyu is artificially extending the game's length.
In this case, brevity would have been the prudent choice, as this last act intensifies the tedium of Crystar's combat. As The Farewell demonstrates, melancholic journeys work best when the finale offers the reprieve of satisfaction.
Crystar was played on the PlayStation 4
with review code provided by the publisher. 
Review Overview
Summary : Narratively, Crystar tackles concepts typically shunned as too sophisticated for gaming and should be commended for its exploration of emotionality. But the gameplay that supports this storytelling isn't as sophisticated, which is genuinely saddening.