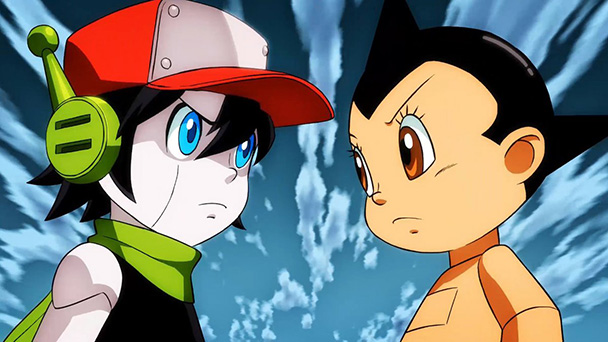 The industry's dominant puzzle franchises have been around for a while. Tetris is thirty-five years old, while Taito's Puzzle Bobble (aka Bust-A-Move in North America) has been around for twenty-five years. Even Puyo Puyo is no longer a teenager, having been around since 1991. Over the years, each series has matured, with sequels habitually polishing key mechanics and introducing interesting variations.
But that's not to say distinction can't be made with an inaugural effort. 1996's Super Puzzle Fighter II Turbo is widely considered a prodigious action-puzzler. Oddly, the only follow-up the title received was a barebones HD remaster that offered online play. But Capcom's masterful mashup of Street Fighter characters and falling gems is the exception rather than the rule. Most new puzzle franchises aren't treasured years after their original release.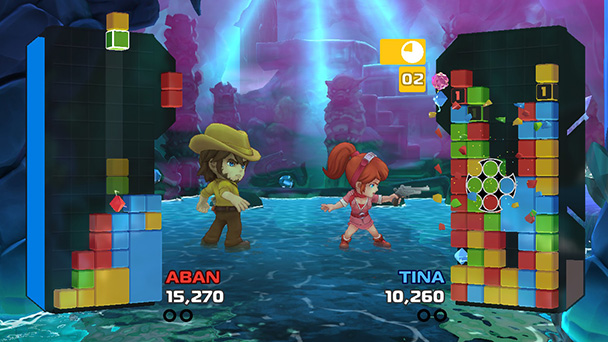 Super Indie and Manga Fighter Turbo
As such, the odds might seem stacked against Crystal Crisis. Building on the basics of Super Puzzle Fighter II Turbo (undoubtedly inspired by SEGA's Baku Baku Animal) while adding a cast of characters culled from indie games and manga, the game's foundations are prudent enough. Considering the reasonable thirty-dollar MSRP, the game extends quite a few play modes. Save for slight performance issues, Crystal Crisis is a remarkable effort, demonstrating co-developers Pikii and Nicalis' able to complete against established developers in the puzzle genre.
Much like Super Puzzle Fighter II Turbo, Crystal Crisis' matches pit two characters against each other. Competing on separate playfields, a winner is announced when their opponent floods the five-by-fifteen grid, leaving no room for any additional crystals. Play revolves around a constant drop of square-shaped blue, red, green, and yellow gems which fall in pairs. Like most matching puzzlers, the object is to create horizontal and vertical chains of same-colored crystals. These are wiped from the board when they come in contact with a diamond-shaped Spark Crystal.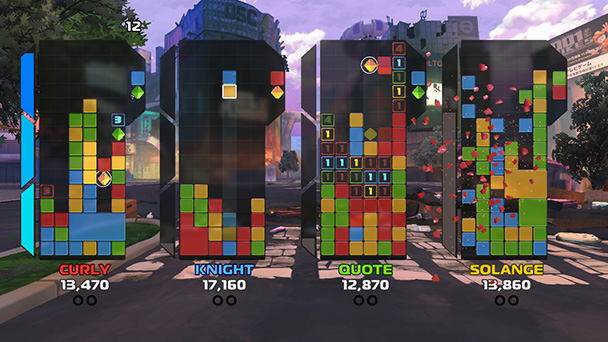 This Crystal is No Carbon Copy
While the fundamentals are derived from the classic Capcom puzzler, there are more than enough deviations to keep the lawyers from competing in contests of their own. Beyond wrapping crystals around the playfield, you can also trigger character-specific Attack and Defense Bursts. Functionally, these do things like hide the crystal colors on your opponent's grid or permit players to swap crystals on your playfield. But they also endow Crystal Crisis with the sudden reversal of fortunes found in any respectable fighting game.
The bad thing is, they aren't implemented very well. When you or your opponent trigger a burst, the game often pauses to load the animation, which can feel unfairly disruptive if you're eagerly preparing a counterattack. Elsewhere, pre-match load times are a little too leisurely, which undermines the pick-up-and-play approach of the puzzler.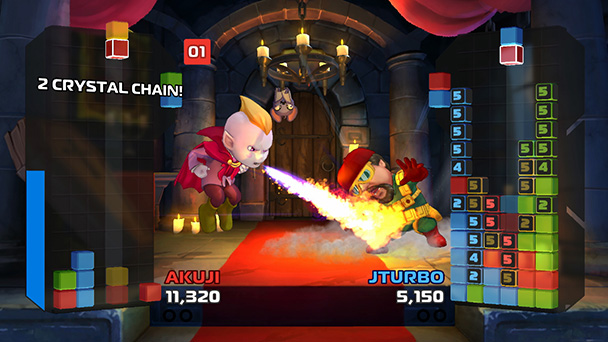 Optimus-level Casting and a Multiplicity of Modes
On the upside, Crystal Crisis' offers a multitude of play modes. Story mode plays out slightly differently, offering character choices at every narrative junction. There's narrative redundancy, but it's offset by narration from Peter Cullen, who also calls out elements of the match. Undoubtedly, the game's roster is one of the best things about Crystal Crisis, uniting from Tezuka Productions and Nicalis' camps. Seeing personalities such as Astro Boy, Umihara Kawase, Isaac, Quote, and Solange Blanchefleur de Luxe interact will be a highlight for sophisticated players.
Beyond an assortment of additional modes such as Arcade, Survival, Online and Training (hosted by Turbografx-16 impresario Johnny Turbo, who is also playable) another highlight is memory mode. The twist here is that crystals conceal their color when they are dropped. As such, players are forced to remember what the playfield looks like, which is harder than it sounds. Likely, you'll depend on Bursts to help you advance.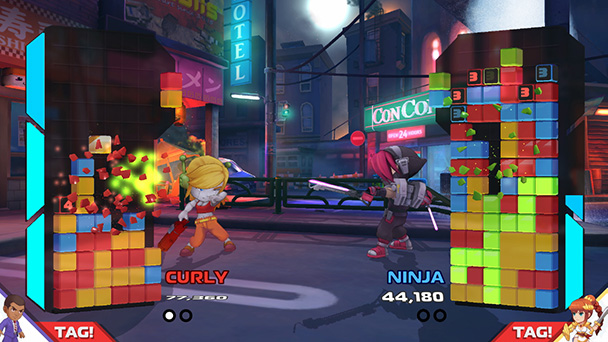 Standing Strong Against Tough Competition
Despite some small technical issues, Crystal Crisis is one of the best puzzlers found on the Switch. Undoubtedly, competing with established franchises like Puyo Puyo Champions, Tetris 99, and Lumines Remastered is a taxing challenge. But with solid play mechanics, a variety of modes, and a remarkable mixture of characters, the game is a delight.
Crystal Crisis was played on Switch with review code provided by the publisher
Review Overview
Summary : Just because Capcom disregarded Super Puzzle Fighter II Turbo doesn't mean you can't enjoy a modern mix of puzzling and fighting. Crystal Crisis picks up the gem-dropping mantle, adding enough advancement to warrant a purchase.