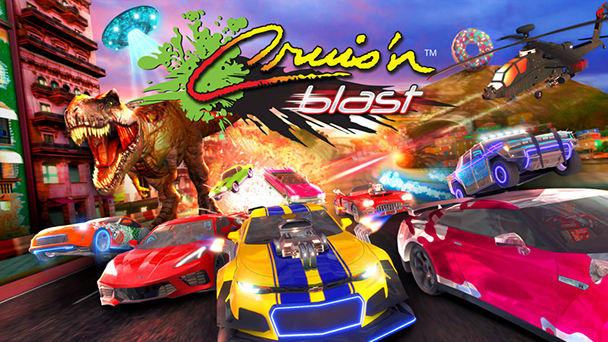 Two decades ago, many of the racers felt like thrill rides, propelling players through vibrant environments at wonderfully reckless speeds. Cruis'n Blast is a gratifying reminder of why we should revisit that golden era.
Cruis'n Blast


Platform:
Switch
Developer:
Raw Thrills

Publisher:
Raw Thrills, GameMill Entertainment
Release date:
September 14th, 2021
Game Size:
3.6 GB
Price:
$39.99 physical media or digitally via
Nintendo eShop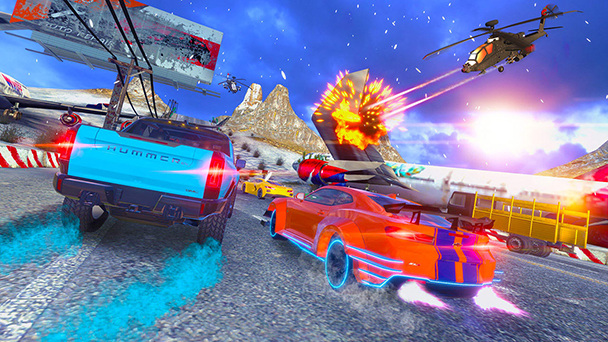 When it comes to American arcade games, few have been as influential as Eugene Jarvis. The designer behind popular cabinets such as Defender, Stargate, Robotron: 2084, Narc, and Smash TV, Jarvis understands the power of spectacle. Whether it was the percussive laser blasts and synthesized screams of falling humanoids, suburban families in peril, or the cartoonish depictions of gratuitous violence, his early works tapped into the Western psyche.
When polygon-driven graphics provided new ways of rendering, Jarvis harnessed their potential. The result was 1994's Cruis'n USA, a homage to American landmarks, souped up roadsters, and breakneck speed. Unsurprisingly, it was immensely successful, outselling SEGA's Daytona USA, and spawning five sequels. While US arcades are a shadow of their once magnificent selves, finding a full-sized Cruis'n Blast cockpit (complete with glowing LED-illuminated rims), offers a throwback to a more fulfilling era.
Why Race a Corvette when there's a Stegosaurus?
With the Switch release of Cruis'n Blast, Jarvis and the team at Raw Thrills had to employ a different strategy. The 2017 arcade game lures in players with the promise of physicality. Double-stomping the gas pedal permits players to perform stunts like wheelies, flips, and mid-air spins, while the catchy but cheesy theme song reverberates through recreation centers. All of this is great at pulling in bystanders but doesn't quite make for a rewarding console experience, especially without a noisy pedal to pound on.
Smartly, Raw Thrills provides an indispensable injection of longevity into the console adaptation. The original cabinets five tracks have been beefed up to twenty-nine, while the number of cars has also increased, offering an additional eighteen vehicles which range from everything from police cars to UFOs, and even unicorns.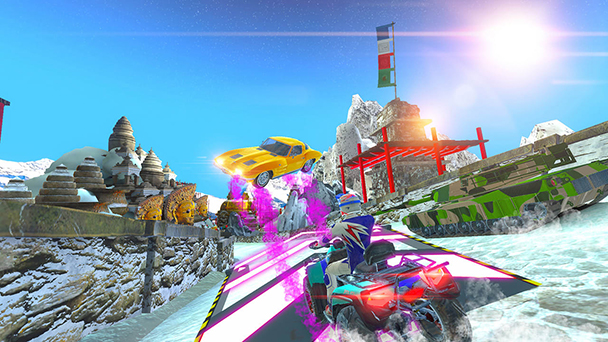 Never a Dull Moment
But the thrill-ride sensation remains across the catalog of courses. From a Hong Kong track where giant flying dragons zoom overhead, a battle between dueling yeti, to dinosaur takeover in Los Angeles, nearly every track is filled with stunning set-pieces. Yes, there's some recycling of venues, with some tracks extending slight variations. But still, there's enough visual creativity to ensure Cruis'n is a relentless blast.
Pleasingly, the adaptation performs quite well across all the adrenaline-fueled action, with only minor wavers from the game's sixty frame-per-second target when boosting in congested areas. More importantly, tracks are surprisingly eye-catching, showcasing advanced reflections and lighting, even as you are zipping across the top of a London train or through a midwestern tornado.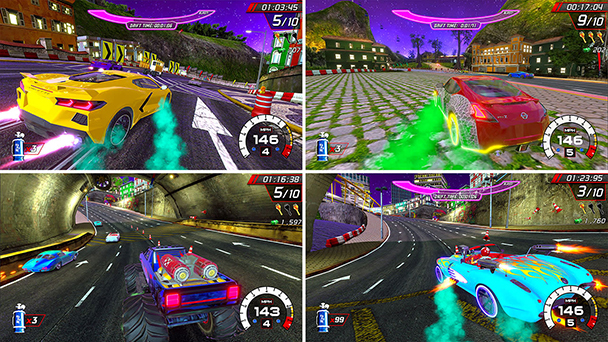 Did Anyone Leave Their Keys on the Side of the Road?
Smartly, there's a healthy amount of incentivizing driving the experience. While the game's four race-heats are ideal for playing on the go, you'll be enticed into revisiting tracks for cash and keys. The former help purchase cosmetic upgrades for each vehicle while the latter unlock new cars. Factor in opening new themed circuits across Cruis'n Tour mode, multiple difficulties and medal chasing, as well as Time Trials, and a Classic Arcade and the title provides quite a bit of bank for your buck. The sole downside in the lack of any online multiplayer, forcing players into local competition via split-screen or a wireless connection.
What's especially appealing about Cruis'n Blast is its arcade-borne accessibility. Whereas most racers flirt with stanch simulation, here most of the worries are absent. Tracks don't contain sharp turns, so accidently scaping against the environment while drifting won't ruin your prospect for a first-place finish. Stunting is fun- and who doesn't like performing a barrel loop when soaring off a jump? But it's not essential. Instead, success hinges from hitting turbo pads, evading traffic, as well as proper boosting and drifting. Although there's plenty of challenge to be found in the higher difficulties, Cruis'n Blast is also welcoming to players of all skill levels. We need more game like this. Hopefully, Eugene Jarvis will continue to indulge us.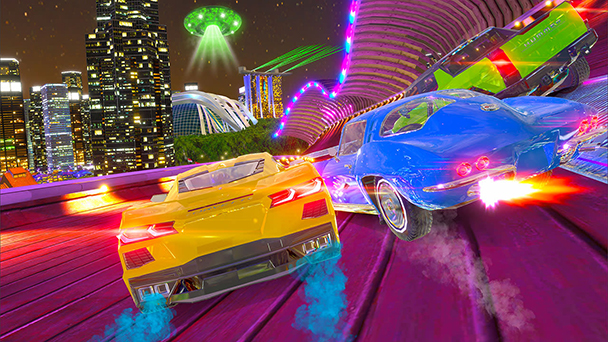 Review Overview
Summary : The sense of speed is potent, the humor is cheesy, and the enjoyment is lasting. We need more racers like Cruis'n Blast.