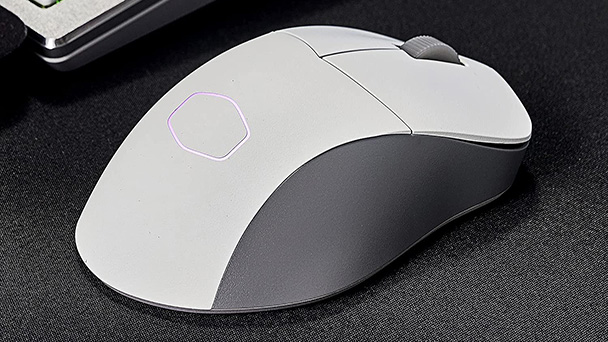 Looking for a gaming mouse with versatility? The Cooler Master MM731 can tackle everything from marathon shooter sessions to protracted workdays. Save for the accompanying app, it does it all with elegance, too.
Cooler Master MM731
Dimensions:
122.3 x 69.0 x 39.1mm

Weight:
59g / 0.13lbs

Battery Life:
72hrs (BT mode), 190hrs (2.4G mode) (with LED Off)

Price:
$89.99 via Cooler Master
direct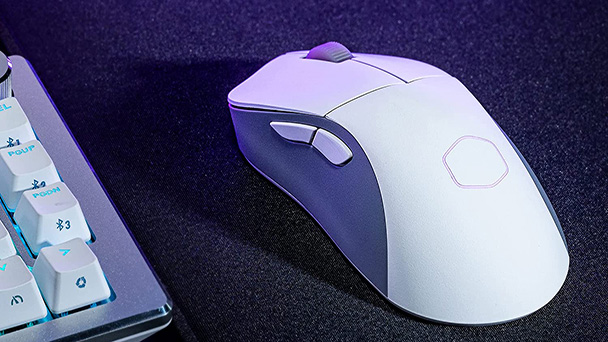 The search for an ideal computer mouse can often feel as insurmountable as the pursuit for the Holy Grail. Whether you'll be whizzing across spreadsheet rows or issuing attacks across above an RTS map, ergonomics play a critical role in the decision. After all, an input device is something you'll have to wrap your hands around for hours at a time. Beyond comfort, there's also myriad of other variables, from performance, build quality, weight, and price. And even when you think you've found the ideal amalgam of form and function, there's always at least one minor detail that seems to thwart flawlessness.
Back in the mid twenty-teens, I stumbled upon a consummate model. It was a sub-thirty dollar, wired Cooler Master that was built for a claw-grip. It felt custom made for my hand positioning and operated flawlessly across every first-person shooter and real time strategy title I tossed at it. When it came time to work, the device also delivered. The Cool Master sped the cursor across spreadsheet cells with pin-point precision and prohibited me from growing frustrated with the substandard trackpad built into my laptop. I cherished that little workhouse right up to the day that the red metallic paint caught the eye of a thief. (I think others adored it too, prices for used ones leapt in price.)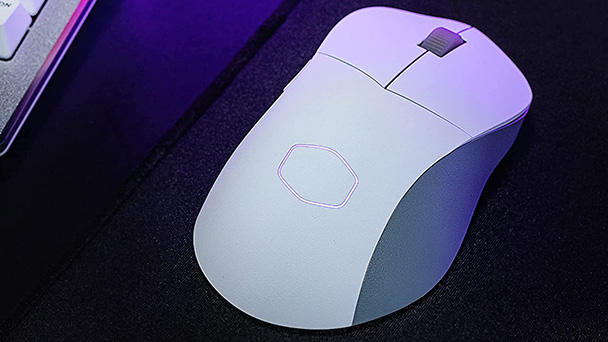 Opening the Cooler
So, when I got the opportunity to review another Cooler Master peripheral, I jumped at the opportunity. Upon opening the housing that the MM731 Gaming Mouse arrived it, I realized that the Taiwan manufacturer has kept up with the times. Weighting in a wispy 59 grams, the MM731 feels nearly almost unnaturally light. When I received the Glorious Model O Gaming Mouse last year, with its cutaway shell, I assumed that a mouse couldn't shave any additional weight.
But the device does undercut the Model O, and it's immediately noticeable. You might expect a peripheral that's this lightweight to feel flimsy. But the plastic shell exhibits no flex when given a healthy squeeze. During testing, I accidently dropped the unit off the side of a desk. Not only did the MM731 survive the fall, but its eggshell and grey paint job remained pleasingly unblemished.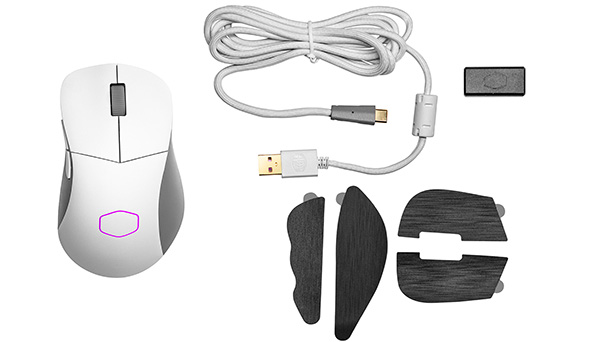 Love at First Touch
But arguably one of the best aspects of the build is the premium feel. When placed side by side against my twenty-dollar Cooler Master MM531, the tactile difference is palpable. While the two share the same shell design, the MM731 is notably smoother, and feels much better to grasp during ten-hour workdays. Should you require the tiniest bit of tackiness, the device ships with four rubberized 3M stickers you can place on the periphery.
Given the unit's flyweight-class heft, it's not surprising that the MM731 glides smoothly across most mousepads. As someone whose enjoyed mice accompanied by internal weights, I became a quick convert to a lighter, nimbler peripheral, and noticed a bit less hand fatigue at the end of a day.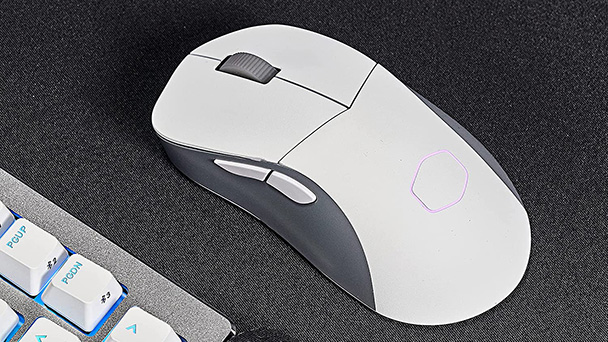 Master of All Trades
The MM731's other strength is its versatility. Want a rock-solid wireless connection? Then use the bunded 2.4GHz dongle that's spring-loaded inside the mouse. But if all your USB ports are filled, a switch on the bottom of the unit allow for a Bluetooth connection. Pairing proved fast and the connection was extremely stable. Sure, you'll sacrifice a bit of battery life from the 190 hours of 2.4GHz functionality. But 72 hours should get you through the busiest workweek. We tried to confirm Cooler Master's figures but the mouse managed to stay charge across a two-week span.
Finally, if you want the fastest connection possible, you can use the bundled USB-C cable, which also charges the MM731's internal mattery. Much like the mouse itself, the accompanying 1.8-meter cable feels first-class and is protected by woven fabric.
Under heavy daily use, the MM731 proved to be a power performer. Across a multitude of mouse-driven first-person shooters and real-time strategy titles, execution equaled the Razer DeathAdder V2 Pro. The PixArt Optical Sensor operated flawlessly, while the optical switches used in the left and right buttons sensed every tap and press. When it came time to perform some quick Photoshop touch-ups, adjusting the MM731's DPI was easily performed by pressing a recessed button on the underside. While that might seem unintuitive, we didn't encounter any accidental change in sensitivity.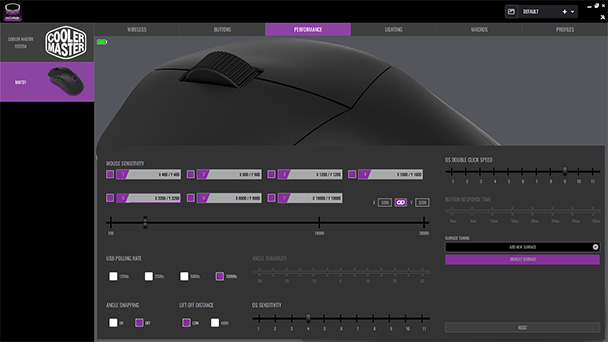 Apply That Firmware Update
Disappointingly, Cooler Master's software isn't as elegant as its hardware. The Masterplus application allows for customization across the company's product line, interacting with everything from mice, headsets, keyboards, and even illuminated mousepads. The first time we loaded the program up, it alerted us that both the MM731 and its accompanying dongle needed firmware updates. But when trying to apply the upgrade, the problem hard-locked our entire system. But you'll definitely need to upgrade the firmware. Upon release, the MM731 was beset by reports on lag occurring in wireless mode. But had the reviewers applied the latest software update, the issue would have been resolved.
But there is a distinct lack of explanation in the app. You'll need the Masterplus software to turn-off the LCD lighting on the top of the mouse if you want to maximize battery life or just want to personalize the colors. While settings for a single hue and a breathing tint where intuitive, variations like color range were less intuitive. Unlike many accompanying apps for premium-priced peripherals, there's no granular tweaking, so you can't program the MM731 to cycle from cyan to cobalt. Creating macros for say, the mouse's two left-mounted buttons should be an stress-free experience. While the Masterplus app gets the job done, you'll have to experiment with the cumbersome UI that doesn't offer any assistance.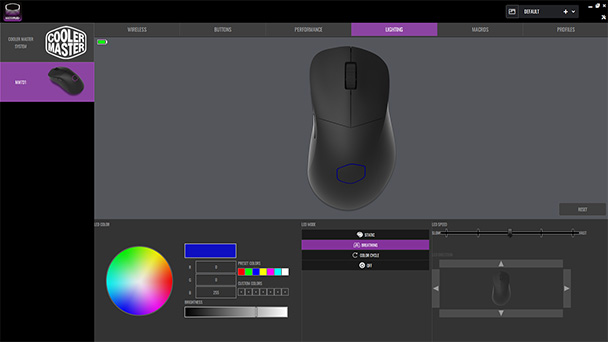 Conclusion
If you're looking a mouse that can handle StarCraft II just as well as spreadsheets, the Cooler Master MM731 is a solid contender. Despite being a flyweight, it offers a durable shell that product its capable components. Save for the software, it provides unbeatable performance and is ideal for the kind of person who is obsessed with shaving grams from their commute bags.
Tech-Specs
Mouse sensor: Pro-Grade PixArt PAW 3370 Optical Sensor
CPI/DPI: 7 Levels (400-800-1200 (Default) -1600-3200-8000-19000)
Tracking speed: 400 ips
Polling rate: 2.4GHz/Wired Mode: 1000 Hz, BT mode: 125 Hz
Acceleration: 50g
Weight: 59g / 0.13lbs
Battery Life: 72hrs (BT mode) (with LED Off), 190hrs (2.4G mode) (with LED Off)
Dimensions: 122.3 x 69.0 x 39.1mm
Mouse Lifespan (L/R Switches): Optical Switches, 70 Million
Review Overview
Summary : Incredibly lightweight, extremely versatile, and only moderately expensive, the Cooler Master MM731 Gaming Mouse makes an ideal travel companion or respectable 'domestic pointer'.