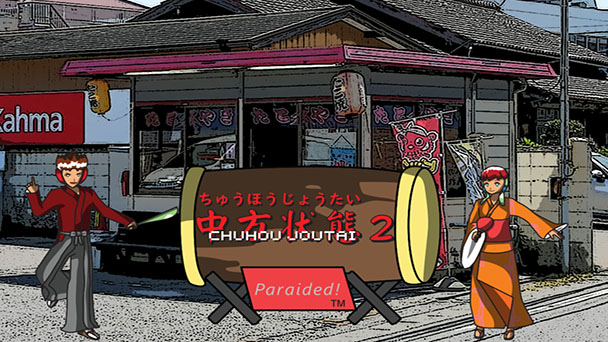 What would The Touhou Project bullet-hell shooters look like on NES? Chuhou Joutai 2: Paraided! responds to that question but you might not be completely happy with the answer.
Chuhou Joutai 2: Paraided!
Platform:
PC
Developer:
Drillimation Systems
Publisher:
Drillimation Systems
Release date:
July 1st, 2021
Price:
$4.99
Availability:
Steam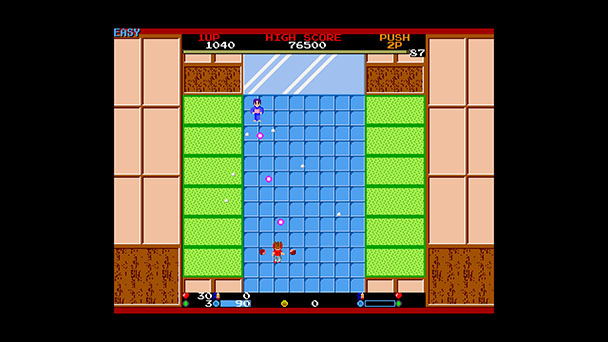 Lore habitually plays a large role in doujin danmaku (indie bullet-hell shooters). The Touhou Project, arguably the most prolific fan-made property in the world, is set in a kingdom named Gensokyo. Filled with memorable characters and a multitude of references from Edo-era folklore, the games are habitually rooted in the tension between humans and youkai. Pulpy exposition typically arrives between stages, providing a stimulating impetus for all the projectile dodging.
Chuhou Joutai 2: Paraided functions as homage to Team Shanghai Alice's foundations. With an enemy faction known as Shintoist Province and Scarlet Devil of Team Crimson (or SPASDOT for short), there's an obvious reference to The Touhou Project's Remilia Scarlet. The action takes place in Kozankyo, which seems to be a modern Gensokyo. But oddly, the game's decidedly low-resolution storytelling makes it resemble Japanese and American suburbs with a lot of Photoshop filtering. But this is done for comic effect, allowing you to buy hotcakes from a gas station which somehow act as a power-up.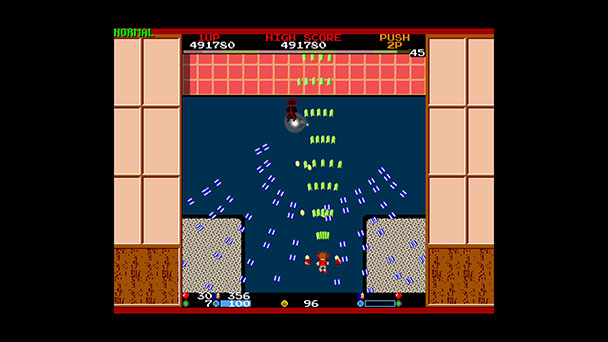 A Devoted Prophet
While Paraided was developed in the West, it often tries to conceal its legacy. The game's developer codes under the pen name of Susumu Takajima, occasionally referring to himself as "The Prophet". His trailers are often narrated in Japanese, although it's evident he's not a native speaker. But his efforts are borne of reverence rather than cultural appropriation and it's obvious that Prophet has studied the elements of a Touhou Project bullet-hell shooter. While Paraided's action is unexceptional, its evident that a lot of dedication went into the game.
Players assume the role of either Susumu Takajima or Kagami Ochiai, the game's two playable characters who each have two different kinds of offensive styles. The latter uses either the Cherry Bob-omb or Atmospheric Laser which put out different shot spreads. The former extends the use of the Suspect Seekie, where projectiles can lock onto foes. Alternatively, the Dragon's Beam trades a slower rate of fire for harder hitting bullets.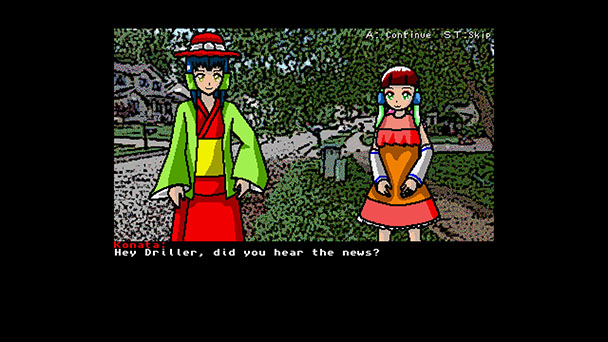 Just Peachy
Four kinds of power-ups rain down the vertically scrolling stages. Purple ones provide your character with two options, augmenting your output of ammo. Blue icons increase your shot power and gold are collectable ingots, which you can spend between stages to increase health, shot power, or your supply of screen-clearing bombs. Finally, peach power-ups recoup your health. Unlike most shooters where a single hit destroys your ship, Chuhou Joutai 2 is quite lenient. Collide and your health meter will take a small hit.
Play on the game's higher difficulty settings, and you'll often be tempted to fly into a cloud of bullets in order to snag a large peach. Sure, you might lose a few health points in the process, but it should still be a net gain. As such, assessing danger and the management of health is just as important as quick reflexes as you make your way through the game's eight stages. Challenge stems from discerning clusters of enemy bullets from collectables; both are small are circular.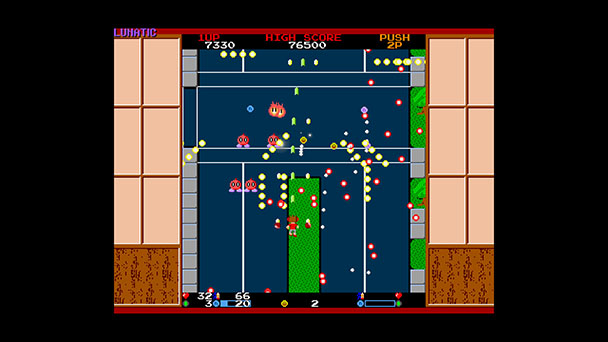 An Unremarkable Basic Bullet Hell
While Chuhou Joutai 2 received a day-one patch, a few balancing issues still linger. Shot power needs tuning, as it's too quickly maximized, diminishing the lure of poking through clusters of projectiles to raise it up. While the different shot styles in Paraided! are different, more visual and functional distinction would be beneficial. The storyline might be aiming for nonsensical parody, but it doesn't work as either straightforward exposition or satire. Instead, it reads like a script that received a localization via Google Translate.
While The Prophet's resolve is admirable, the game's art style is poised to alienate audiences. Cutscenes offer crudely drawn figures that resemble MS Paint doodles. In-game artwork isn't much better, with small, simple sprites out of the right-bit era. While the aesthetic is justifiable, the lack of visual diversity ultimately hurts the game. Habitually, there's little visual difference across the game's stages, mid-bosses, and bosses. On the upside, bullet patterns do vary, and there's a few that are somewhat hypnotic to watch.  Alongside the main game are a free play mode for revisiting stages, offline leaderboards, and in-game achievements.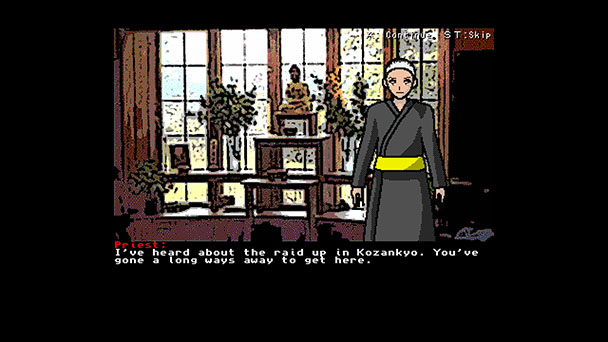 Conclusion
Although Chuhou Joutai 2: Paraided! exudes audacious indie ambition, its crude art style, inane storytelling doesn't do the development any favors. Sure, an accessible bullet-hell shooter is commendable but you'll likely wish that Paraided! did more to meet its potential.
Review Overview
Summary : Beyond the skilled bullet patterns and delightful chiptune soundtrack, Chuhou Joutai 2: Paraided! is quite rough around the edges. Perhaps the five-dollar price can help you overlook its shortcomings.