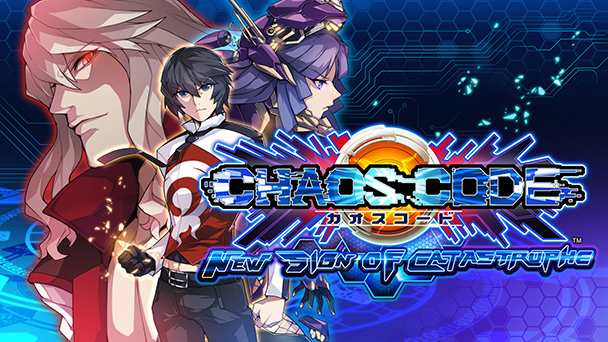 Although FK Digital's future is tragically uncertain, the port of New Sign of Catastrophe brings another accessible and engaging fighting game to the Switch, albeit one that lacks online play. 
Chaos Code: New Sign of Catastrophe
Platform:
 Switch, previously on PC and PlayStation 4
Developer:
 FK Digital, Arc System Works
Publisher:
 Arc System Works
Release date:
March 26th, 2020
Availability:
 $9.99 via digital download from the
eShop
Like any respectable platform, the Switch serves as home for a multitude of fighting games. Most players are aware of heavy hitters like Super Smash Bros Ultimate, Street Fighter 30th Anniversary Collection, and Mortal Kombat 11. But there's also number of enjoyable, albeit lesser known fighters from publishers like Arc System Works. Titles like BlazBlue: Central Fiction, Under Night In-Birth Exe:Late[cl-r], and Guilty Gear XX Accent Core Plus R ensure owners are privy to many of the same pugilistic efforts found on less portable hardware.
Such is the case with Taiwan-based FK Digital's Chaos Code. Originally introduced to Japanese arcades, the title was subsequently published on the PlayStation 3, where its quirky cast of thirteen playables and accessible mechanics helped to alleviate the absence of online play. With the recent port of follow-up Chaos Code: New Sign of Catastrophe, net-based competition has been built-in, allowing Switch owners to square off across a multitude of creatively themed stages.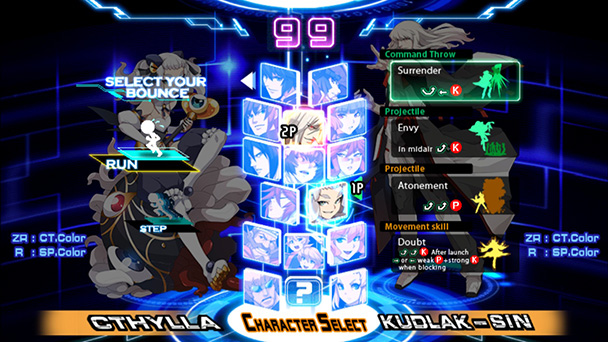 Orderly Chaos
At its heart, Chaos Code is an approachable fighter, whose four-button combat system facilitates combo-driven gameplay. Beyond assembling strings of strikes from quarter and half circle maneuvers, there are also a few nuances that require players to be mindful. A stun gauge increases every time a combatant takes a hit, and once filled, characters are stunned and susceptible to assault, goading gamers into cautious blocking. Following genre tradition, the title's flashiest and most punishing moves are tied to another three-part meter, which when filled allows players to release a devastating Destructive Chaos or even an Exceed Chaos assault, which are both as damage-inducing as they sound.
While many of Chaos Code's mechanics will be familiar to fighting game fans, the title does have a few novelties of its own. After players choose a character, they can select any two of four Extra moves which are integrated into the fighter's repertoire. Gamers also determine if their pugilist should use a run or step movement speed, which can send characters either darting across the screen or gradually hopping toward opponents. For advancing fighting aficionados, New Sign of Catastrophe also has all the intricacies of a top-tier title, allowing cancels, guard breaks, and tactical parries.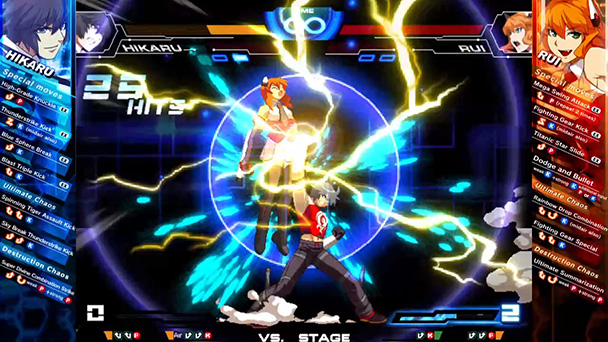 An Appealing Cast of Playables
Just as importantly, a diverse and distinctive roster of combats is ready to heed a player's commands. Each of the title's sixteen fighters channels a bit of Arc System Work's trademark quirk. There's Catherine, a gender-bending cosplayer who transforms into everything from a mischievous schoolgirl to a bride who bops their opponent with bells and a cardboard husband. Cait and Sith are a pair of twins capable of delivering tag-team strikes, while Bravo is a brawny chef who attacks with noodle plates and has a strike which drops opponents into a simmering stew pot. Fan service comes in the form of Gothlolis like Celia (who also has a demon-neko alternative design) and Cthylla, as well as the requisite pantsu-exposing character, the nimble Rui. Echoing the eccentric character design, Chaos Code's madcap matches feel unique, thanks to the title's oddball strikes and staccato flow.
What isn't quite as fun are the absence of a few fighting game essentials. For newcomers seeking a bit of guided experience before jumping into the game's challenges, there's an austere practice mode and character commands on screen borders, but no real tutorial is to be found. While most of Chaos Code's fighting is fluid enough to please contemporary competitors, occasionally sprite animations are a bit too sparse. Primarily, you'll notice this when throwing opponents, with New Sign of Catastrophe using just a few frames of animation to exhibit the move. But for anyone who grew up with Terry Bogard, Geese Howard, and Mai Shiranui, this shouldn't be an issue.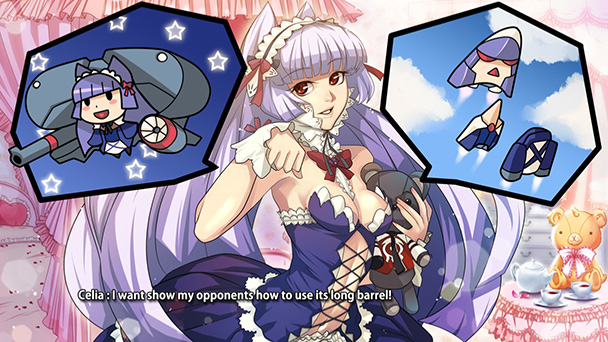 Catastrophe is Exclusively Offline
These two deficiencies are rather surprising given the game's robustness in other areas. There's certainly a satisfying selection of play modes for single players, who can attain pieces of Chaos Codes' narrative through the bits of text that bookend battles in Arcade Mode. Additional amusement can be mined from the Survival, Mission, and a Score Attack variants. Unfortunately, the game's online skirmishes didn't make the cut, limiting competition to local partners.
Credits earned during play can spent in Chaos Code's voluminous virtual store. Inside, players will find alternate color schemes for combatants, online play designations, alternative endings, and even a farming themed puzzle mini-game called Rui's Farm. Considering the game's frugal credit payout, there's enough content to keep gamers grinding for weeks. So, if that's an effective incentive, New Sign of Catastrophe's myriad of unlockables will probably keep you quite occupied.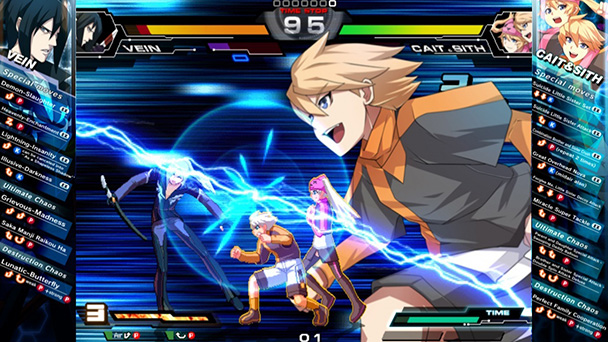 Not Quite as Sinuous as Contemporary Rivals
Visually, the game shows its nine-year old age. Although fighters are fairly detailed and exhibit enough frames of animation to articulate personality, players shouldn't expect the lithe fluidity of a game like Guilty Gear or BlazBlue. Backgrounds undoubtedly channel the charm of Street Fighter II, offering up simple comical dioramas often filled with spellbound spectators. Sidebars show character moves, which can be useful for newcomers still learning a combatant's arsenal. Sonically, there's little fault to be found in the Chaos Codes' persistently upbeat mixture of different musical styles. But error is exhibited in localization with a number of careless typos found through the game. And why does the North American version of the game open with CERO ratings?
Entries in the Guilty Gear and BlazBlue franchise might be your de facto selections when picking up a classic Switch fighter. But if you already own the bulk of Arc System Works' development efforts, then Chaos Code is a competent choice. Sure, it might feel a bit dated and the online community will likely remain undersized, but with a noteworthy roster and enjoyable mechanics, New Sign of Catastrophe is a second-tier fighter that's worth owning.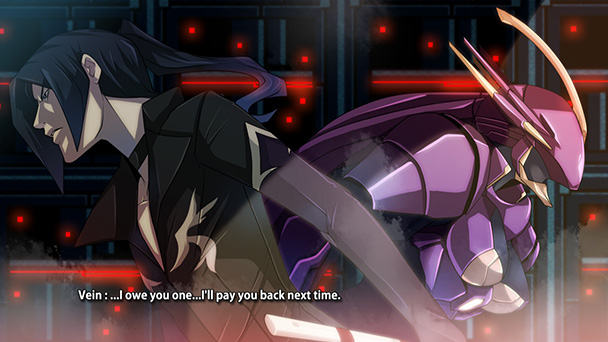 Chaos Code: New Sign of Catastrophe was played
on Switch with review code provided by the publisher.
Review Overview
Summary : Chaos Code: New Sign of Catastrophe might not be an essential part of Japanese game history, but it an engaging fighter with plenty of unlockables and well-heeled play.