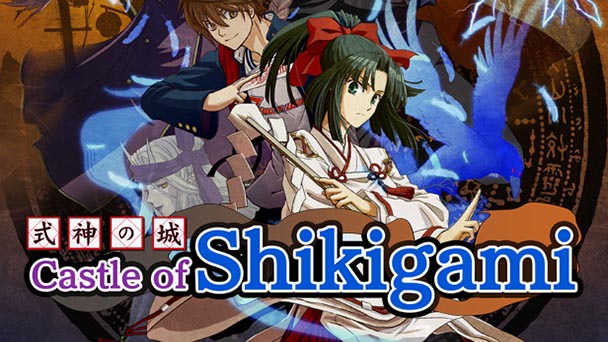 While we might bemoan the intermittent meme shoehorned into modern localizations, yesteryear's adaptations were especially cringe-inducing. Case in point: when XS Games brought over the esteemed Psikyo STG, Gunbird, some sweeping changes were made. From discarding the entire story, non-sequitur cover art depicting a trio of girls with guns, and renaming characters after company staff, the alterations were almost indefensible (We won't even get into christening one protagonist, "Milf 2000"). If the bewitching bullet-dodging gameplay wasn't intact and the title wasn't release at a ten-dollar MSRP, Mobile Light Force would have surely earned a place in video game's hall of infamy.
Nine years later, XS committed a similar act of savagery, taking Alfa Systems' Shikigami no Shiro, confiscating the story, and taking the nerve to reuse the Charlie's Angels-like cover art and nom de plume once again. But if players could look past these transgressions, Mobile Light Force 2 was a solid bullet hell shooter. With Degica's steam release of Castle of Shikigami, stateside gamers finally get the opportunity to enjoy the game in its unscathed state, potentially testing the feasibility of bringing the remaining two titles in the series to this side of the Pacific.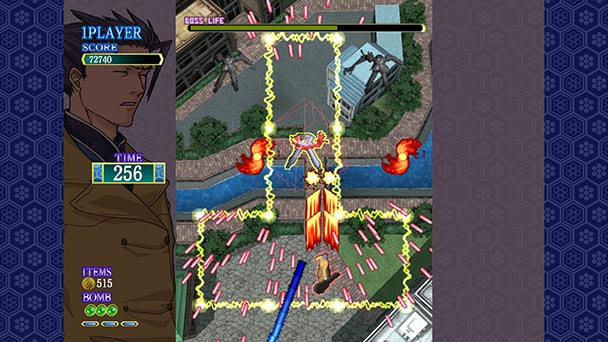 Players who preserved through the initial stateside butchering of Shikigami will be witnesses to another type of carnage. Where, the original game's narrative has been restored and given a proficient translation, detailing the ritualized killing of thirty-two young women. With such a sizable body count, the crimes have not only attracted the Tokyo Metropolitan Police, but also six individuals who serve as playable characters for the game. Interesting, each protagonist offers their own standpoint on the killing, dispensing a Rashōmon-like prospective on the proceedings. Although STGs don't often flaunt engaging narratives, Shikigami is certainly better than most, cultivating a sense of intrigue.
For players indifferent toward plotline, Castle of Shikigami also delivers a quintet of engaging stages. While each protagonist has a distinct loadout, they share the same fundamental abilities. Tapping on the fire button sends out a powerful stream of offensive shot, with your firepower increasing in potency when enemies are adjacent to your ship. In execution, the mechanics extends an intriguing risk/reward proposition while providing a help of assistance in especially hectic situations.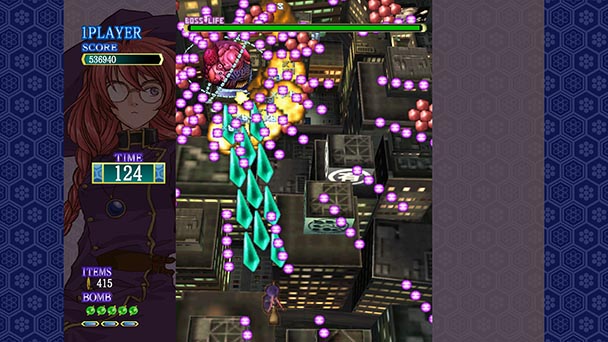 Holding down the fire button activates your special attack that varies across each protagonist. Kohtarou Kuha sends out a blade-wielding yōkai who homes in on adversaries, while Sayo Yuuki creates a rotating protective field that can shield the shrine maiden from certain projectiles. Uniformly, triggering the special magnetically attracted all of the coin and bills emitted by damaged foes, keeping score chasers from having to dart across the vertically scrolling playfield. The final piece of offensive weaponry is a devastating bomb, which not only can devastate a powerful boss but also provide a bit of relief from the storm of enemy ammunitions.
While lesser enemies emit constricted fields of fire, it's the multiple bosses of each stage that are clearly the highlight. Depending on difficulty level, these showdown range can range from formidable to nearly unfeasible- but thankfully, Castle of Shikigami extends an unlimited number of credits, ensuring anyone can see watch the credits roll. Fundamentally, the presence of unlimited continues is a good thing, as Shikigami isn't always adept at telegraphing its bullet patterns. Another minor issue stems from the running speed of this port, which seems to be operating a hair faster than the original arcade version. On the upside, purists will appreciate being able to play Shikigami in tate mode, offering a pleasing recreation of the original screen format.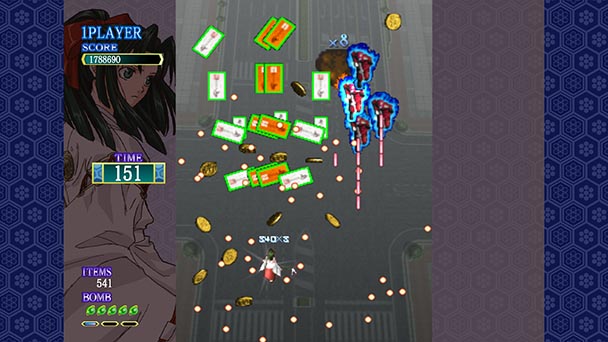 Less forgivable is Degica's exclusion of supplementals; this is wholly a bare-bones effort. As such, its rather surprising that the publisher didn't opt for Shikigami no Shiro Evolution, which included fan-contenting extras like trailers, a character gallery, as well as developer interviews. Considering the Shikigami series was popular enough to spawn two sequels, it a shame that fans don't get any insight into Alfa System's efforts. That said, complaining about ancillary materials is akin to reprimanding a critically acclaimed film's home video release for not bundling extras. Undoubtedly, it's the main work under scrutiny, not the trimmings.
When judged on gameplay and localization of the storyline, Castle of Shikigami is meritorious. Although the game might not be a top-tier shmup, there's enough nuance and variety in the mechanics to warrant a purchase by fans of the genre. As long as players don't mind a rather barebones effort, Shikigami serves as a respectable introduction to a shooter that had always deserved a better localization.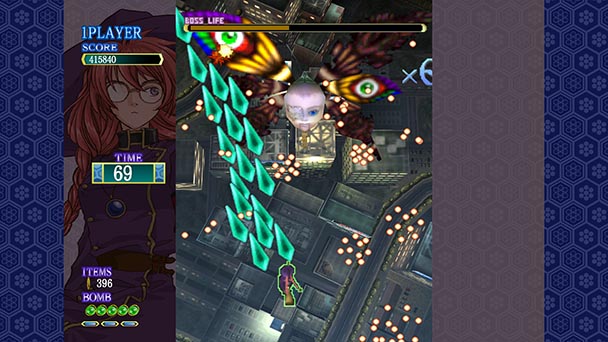 Castle of Shikigami was played on PC with
review code provided by the publisher.
Disclosure: Former writer Adam Milecki works for
Degica, but this relationship had no effect on the review. 
Castle of Shikigami
Platform:
 PC
Developer:
  Alfa System
Publisher:
 Degica
Release date:
 June 15th, 2017
Price at release:
 $11.99 via
Steam
, currently on sale until 7/5 for $9.95
Review Overview
Summary : Degica's continues to bring quality STGs on PC with Castle of Shikigami. While it's not Cave-caliber, the title is certainly worth seeking out if you're exhausted enjoyment from paramount danmaku.