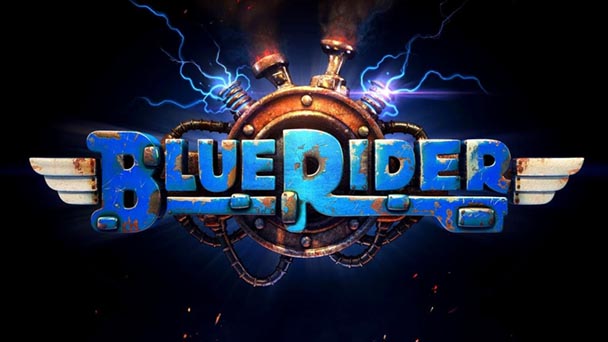 Old School Shooting from an Emerging Team
Previously, Córdoba, Argentine-based Ravegan has played an assistive role. They've created assets for Larian Studios' Divinity II: Ego Draconis and produced 3D models for Disney Interactive's Star Wars Commander.  But with the PlayStation 4 and PC release of Blue Rider, the team determined it was time to branch out on their own. What emerged was a solid, decidedly retro shooter that demonstrated potential. Now, Blue Rider has been ported to the Switch.
With a diminutive 773-megabyte footprint, Blue Rider signals its succinctness. Beyond stopping to view a screen showing the non-modifiable control inputs, selecting from a trio of difficulty levels, or viewing an online leaderboard, you'll likely head right to the battlefield. Blue Rider is unapologetically old school, letting its title convey the bulk of exposition.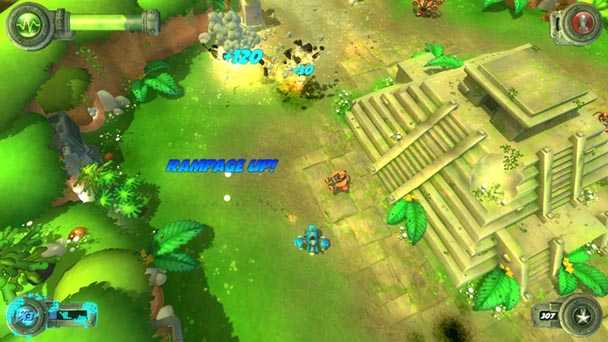 Playing Until Your Fingers Turn Blue
Indeed, you control a blue ship. But you'll be little idle riding. Instead, you'll be in direct control of a craft floats above the surface, using the left analog stick to glide across the battlefield. Initially, you'll have to adjust to the sense of weight, with the vessel exhibiting a bit of momentum when moving about. You'll also have to get accustomed to holding down the ZR trigger to fire, since Rider doesn't use the face buttons. It could be our Switch unit or just frail fingers, but occasionally, you're might have to reposition a digit to ensure the shelling doesn't let up.
The right stick rotates your surroundings, with Blue Rider recalling Namco and Atari concluding collaboration, Assault. In execution, it feels like you are spinning the entire world, rather than your ship, but it's hardly as off-putting at it sounds. Within seconds, the control scheme feels natural, as your direct Blue Rider through the game's brightly-hued and soft-cornered collection of nine stages.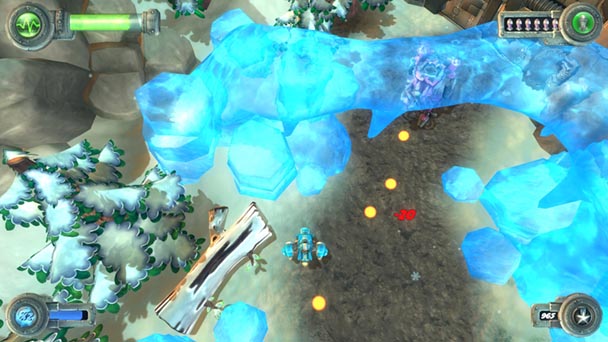 Curious Enemy Choices
There's also no dedicated tutorial, with the title throwing a few light adversaries at players at first. Early enemies resemble corpulent men in hazmat suits, each carry guns with different numbers of barrels. Naturally, lesser foes shoot a single pellet at players, with elevated enemies will output a multiple of scattering projectiles. To subdue them, you have two upgradeable guns that offer a piercing blue laser or orange spread shot.
Periodically on each level, you'll encounter a weapons depot. When destroyed, it releases an alternating power-up that will augment either weapon, Raiden-style. Pleasingly, your ship also carries a limited number of bombs that also can be upgraded, eventually launching a salvo of homing missiles that are indispensable when you're in a bind or battling a boss. One last bit of support in found in occasional AI drone that dutifully follows the player, peppering any adjacent adversaries with fire. While Blue Rider's arsenal isn't expansive, a persistent procession of upgrades helps to enliven the journey.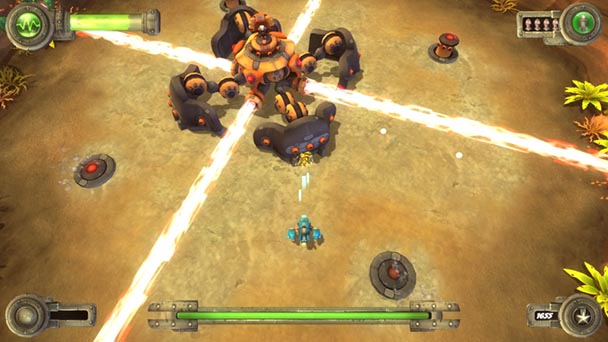 Boss Battles That Won't Infuriate
Two other elements that invigorate the title are the variety of enemies and the end of level showdowns. Persevere through the stages and foes becomes more formidable, outputting more bullets and absorbing more damage as they begin to flock in larger groups. Stages are punctuated with boss battles that ensure players have squirrelled away an ample amount of health and bombs. Although enemy drops help to replenish your supply of each, Blue Rider extends only a single life and offers no mid-level checkpoints, making dependence on either especially imprudent. When the big baddies are confronted, showdowns with these monstrosities are undoubtedly one of the high points of the game. Here, players will have to acquire an attack strategy that usually involves handling lesser threats while dealing out damage to the boss. Pleasingly, they're intense without being over frustrating or cheap.
But that's not to say that Blue Rider is completely free of irritation. Given the zoomed-in camera perspective, it's not uncommon for off-screen enemies to fire at players, and when they do so from behind, it's rather vexing. Later stages have elevated pathways, and when dodging a barrage of enemy bullets, it's easy to occur damage by travelling to close to an edge. While the game targets a thirty-frame-per-second experience on Switch, minor drops occur, especially when multiple defeated foes are going through their explosion animation. One probably unique to this port, are sporadic graphical anomalies with polygons quivering wildly in a few areas. Although unexplored areas are apparent by the presence of enemies, it can be easy to get disorientated when you've nearly cleared the whole map of opposition.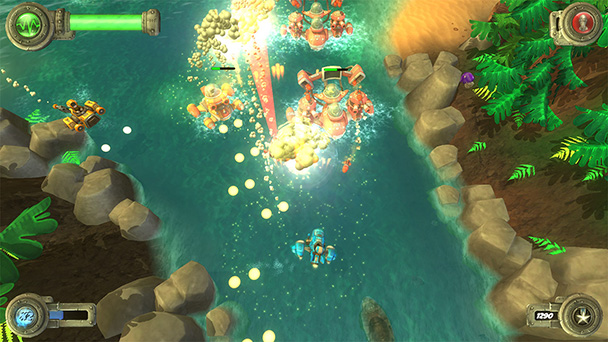 Respectable Aesthetics
On the upside, Blue Rider is attractive, extending a cheerful color palette that right out of a cheery platformer. More interesting is the title's milieus with stages displaying distinction, but with each offering a gentle transition into the subsequent stage. As such, Rider's environments feel somewhat organic, shirking the divergent succession of stages evident in most shooters. Aurally, the game's soundtrack aims to channel the technological toe-tapping of Daft Punk. While it never reached those lofty heights, the tuneful accompaniments are never tedious.
Blue Rider is an effective shooter, especially with a play mechanic that permits players to attack adversities from a variety of angles. While the no-frills delivery and a few displeasing niggles will irritate some players, both are easy to forgive when the title nails the essentials. While the title might not warrant a full-priced purchase, riding things out for a sale price is recommended, especially if you appreciate retro shooters.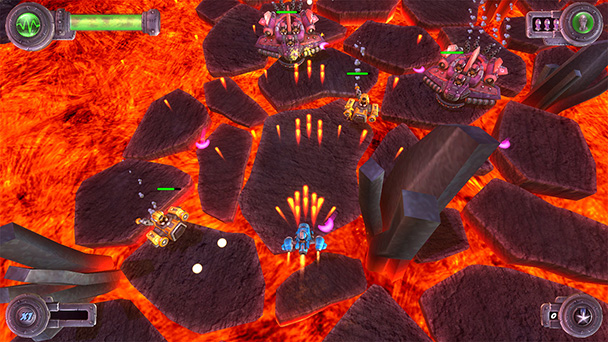 Blue Rider was played on Switch with review code provided by the publisher.
Review Overview
Summary : Recalling Namco's Assault (albeit without the tank controls), Blue Rider is a solid shooter, where players can rotate the environment while they move about freely. While the game can feel a bit bare-boned, the old-school action is certainly engaging.