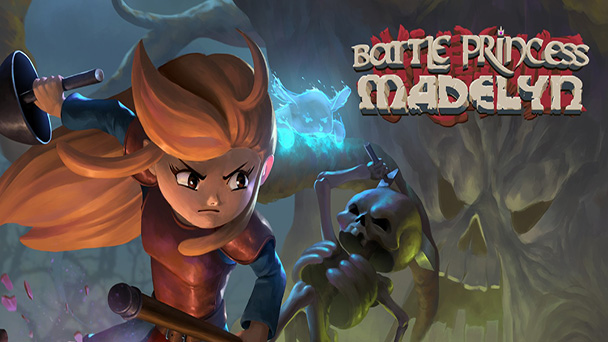 During the 1980s, Capcom was an industry titan. The company created a succession of seminal titles such as Mega Man, 1942, Bionic Commando, Gun.Smoke, and Final Fight. Each earned the admiration of players and spurred a string of sequels. But save for the Blue Bomber's sustained exploits, many of these properties grew dormant over time. Recognizing potential, a generation of indie developers began coding games which paid homage to Capcom's early accomplishments.
Battle Princess Madelyn isn't the first title to draw inspiration from Capcom's Ghosts 'n Goblins franchise. Locomalito's Maldita Castilla mixed the series trademark platforming action with a storyline that incorporated elements of Spanish mythology. But Battle Princess' story mode takes a different approach, shirking the traditional linear level structure for light Metroidvania-style exploration. The overworld isn't overly complex, permitting Madelyn to reconnoiter without an in-game map. But there are branching paths, NPC-assigned side quests, a sporadic requirement for backtracking, and later, a fast-travel option to inject the feeling of exploration into the campaign.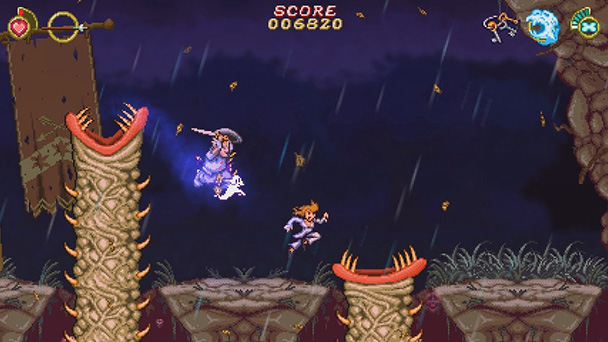 Unfortunately, the approach to navigation introduces a few difficulties that might frustrate some audiences. Although puzzles might seem like an inspired addition to the Ghosts 'n Goblins-style gameplay, some of these are a bit too obscure. The route to one ability-boost required a prolonged period of trial and error while another point lead to entire stoppage of play. Games should convey the thrill of discovery, but intermittently Battle Princess courts exasperation. Hopefully, developer Casual Bit Games can temper some of these rough edges with some post-release tweaking.
While course-plotting diverges from the blueprint devised by Ghosts 'n Goblins' creator, Tokuro Fujiwara, running and throwing projectiles share similarities. Initially, protagonist Madelyn can leap in the air and later, she'll join the legion of characters capable of double-jumping. But Battle Princess shirks the antiquated springing system of old, permitting players to adjust her course mid-jump. Sure, contact with enemies or bullets can push you back into a bottomless pit, but you'll probably appreciate that Maddy's jump trajectory isn't locked. The Battle Princess doesn't do as well on edges, however. Unlike most characters, who can balance their body weight on a single pixel, Madelyn can stumble if she launches herself from a precipice.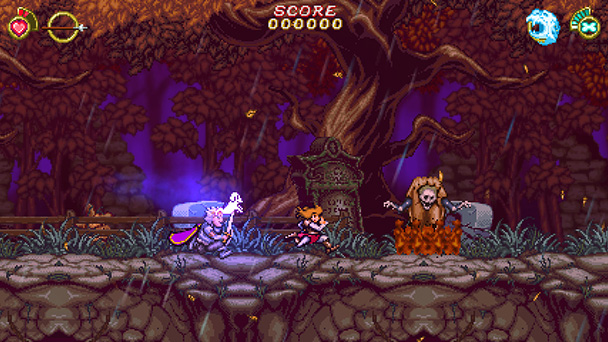 Being a Battle Princess, she's proficient with an entire armory of upgradable weapons. At the beginning of the story, you'll carry a spear and dagger, which can be swapped with a press of the button. Beyond damage potential and throwing speed, both two offensive items operate similarly. Maddy can not only through to her right and left, but also above and below her, as long as the environment permits. Occasionally, you might come across a new weapon, requiring you to consider the capability of your current loadout. While a sword can cleave through adjacent enemies, it lacks the reach of a ranged weapon.
Boss fights unsurprisingly, pit players against foes often as tall as the screen. Much like the inspirational material, they're demanding, and will likely take you a few times to figure out the best tactic to take them down. But even the battles against subordinates are quite fun. Recalling the humorous animation routines of Capcom's arcade classic, there's a nice variety to adversity, both in appearance and behavior. From undead ogres that toss giant rocks at Maddie to specters who open their jacket and let dozens of skulls drop free, enemies offer crafty variants on Ghosts 'n Goblins' creeps. Save for a few places where getting hit is almost given, enemy placement is proficient. Gradually, you'll discover how to safely traverse Battle Princesses' zones, drawing enjoyment from the self-taught lessons.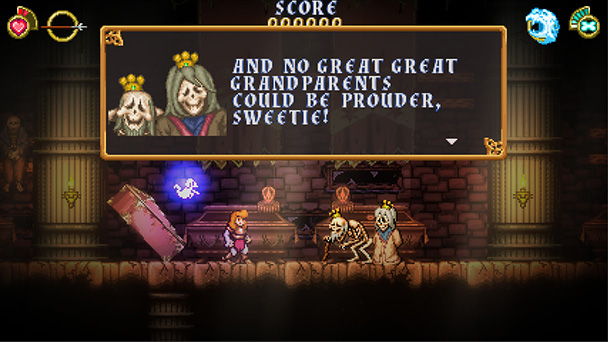 Like Sir Arthur, Madelyn can usually absorb two hits, with the second removing her armor. But where Ghosts 'n Goblins forced a stage restart if you got killed, Battle Princess has Fritzy, her undead pup. The ghostly canine follows Maddie around tirelessly and can revive her a few times when she succumbs to adversity. Later, Fritzy's role grows and he even becomes a weapon, making him an invaluable sidekick. Another cunning mechanics offers when Maddie shows piety in front of the game's giant statues.
Complementing the main campaign is an arcade mode which abandons the explorational approach. Here, the game diverts to a linear trek, with Madelyn facing larger numbers of the undead. As an assist, she's given the double jumping ability at the start, which you'll need because the difficulty ramps up fairly quickly. While I enjoyed this component more than story mode, it did demonstrate that Battle Princess Madelyn doesn't quite have the polish of the Ghosts 'n Goblins series.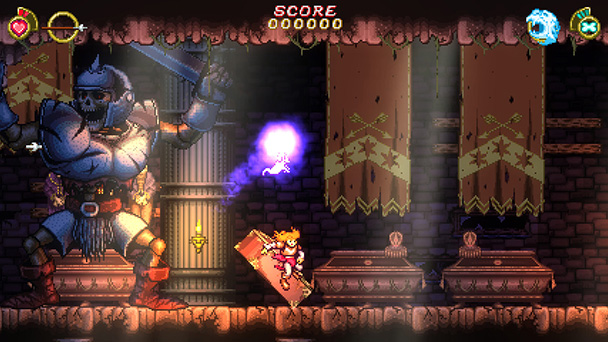 Currently, Battle Princess Madelyn is a patch or two away from being recommendable. While the Ghosts 'n Goblins series is known for its difficulty, it's rarely unfair. Woefully, Madelyn has a few moments that feel imbalanced and might produce infuriation rather than inspiring players to step up their level of play. That said, if you're a Ghosts 'n Goblins diehard, you probably won't want to wait for an update to start slaughtering the undead since Madelyn has a handle on the essentials.
Battle Princess Madelyn was played on PC with review code provided by the publisher. 
Review Overview
Summary : Battle Princess Madelyn works better when it's following Ghosts 'n Goblins' framework. When the game veers in new directions, the noblewoman loses some of its potency.