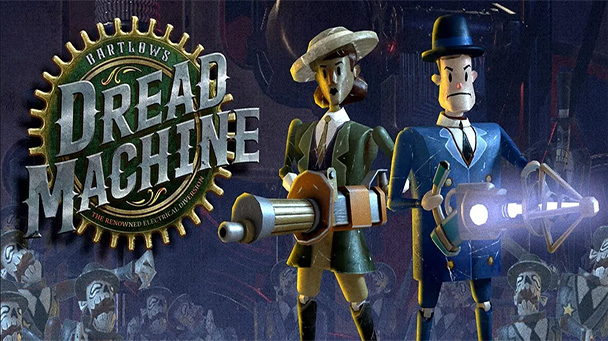 1907's best electromechanical amusement imagines would twin-stick shooters would look like at the local penny arcade. While you'll adore Bartlow's Dread Machine's context, the game's action is just a bit less likable.
Bartlow's Dread Machine
Platform:
PC, Xbox One
Developers:
Beep Games, Inc., Tribetoy
Publisher:
Beep Games, Inc.
Release date:
September 29th, 2020
Price:
$14.99 via digital download
Availability:
Steam
,
Microsoft Store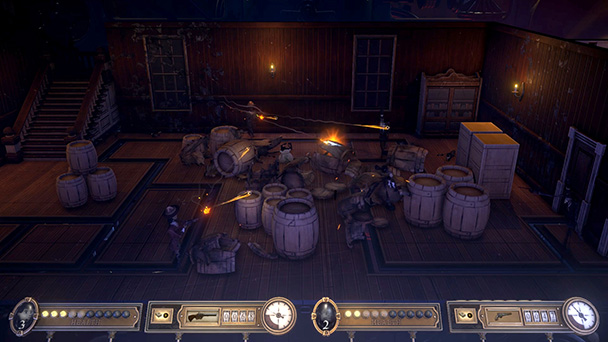 For years, writers have envisaged elaborate worlds inside of computers, across works like TRON and Wreck It-Ralph. Bartlow's Dread Machine drops back further in recreational history, when early twentieth-century penny arcades were filled with electromechanical machines; precursors to video game cabinets.
Dread Machine's lore imagines an impossibly complex contraction rescued from 1907. The game-within-a game centers around the kidnapping of President Theodore "Teddy" Roosevelt, and a subsequent cross-country rescue attempted by the Secret Service, spanning seven different locales. Each stage puts the game's animatronic agent in adversary-filled landscapes, imagining a mechanical twin-stick shooter created entirely out of tin, wood, and a myriad of spinning gears. While the in-game music recall's Danny Elfman's sweeping soundtracks, brief storytelling sounds like it's coming from an old saloon piano.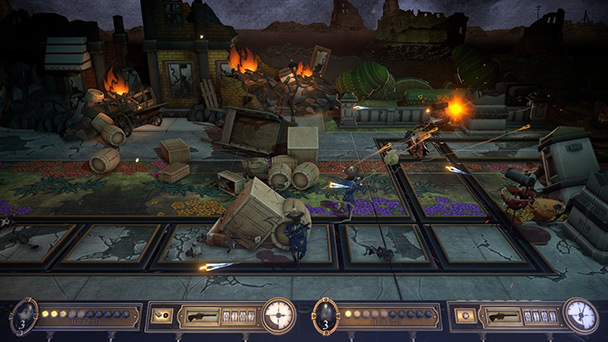 I'm (literally) Little More Than a Cog in the Machine
It's an incredibly imaginative idea, especially when the developers substantiate the machine's history with faux quotes from imagined periodicals like the "Grain Speculator Weekly". Obviously, construction of a working Bartlow's Machine of Wonders would be impossible, but Beep Games shows enough spinning cogs, gaps between platforms, and mechanical arms performing scene changes to sell the concept. Certainly, the constant sound of gears and mechanisms adds to the plausibility.
Undoubtedly, gameplay leans into the feeling that you're playing a creaky, old-fashioned contraption. While you can shoot in any direction, your movements are confined to grooves cut into the playfield. Restricted to moving along pre-set tracks, you don't have the maneuverability of most twin-stick shooters, but then again, neither do the myriad of enemies who persistently lurch toward you. Apprehension stems from watching them navigate the network of channels in front of you, and pleasingly, each type of enemy moves and behaves differently. Success is often rooted in prioritizing targets, which feels rewarding.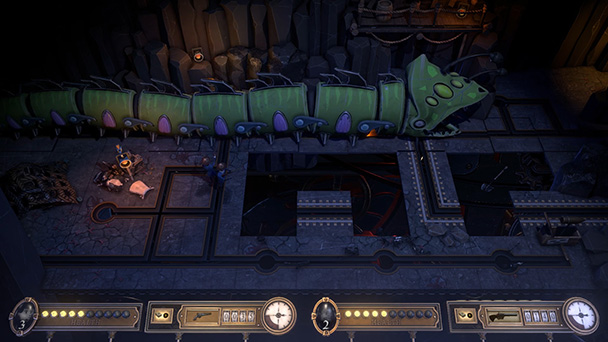 Fake Fact: Aiming Cursors Weren't Invented until 1926
Although the game shifts from its sideline perspective for the occasional overhead shot or to highlight a boss battle, the lack of a targeting cursor can result is a few missed shots. Sure, you'll eventually home in on adversaries, but Bartlow's limited munitions means who won't want to squander a single bullet. And you won't want to switch to an inferior gun when foes starting swarming. Fortunately, there are a multitude of triggers along each stage that will reward you with more bullets or reilluminate a bulb in your life gauge.
Being on a track means sidestepping enemy projectiles isn't always easy, but Dread Machine provides a deflect mechanic. When timed precisely, a tap of the tap button sends your agent into a spin, reflecting any bullets. But use requires players to move their thumbs from the right analog stick. Ideally, Beep Games would have permitted players to remap the move to the left trigger, allowing an idle finger to initiate evasion. Another improvement would; have been the option for corner navigation and light aim assist. Narrowly missing junctions and opponents might be faithful to Bartlow's mechanical era, but I suspect modern games might find it a bit irksome. Another blemish is the game's performance on PC, which seems locked at a paltry thirty-frames-per-second.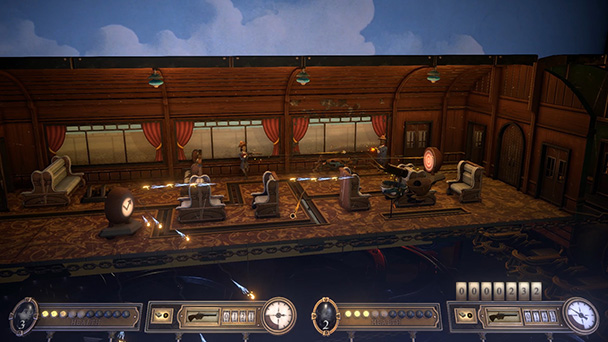 Agents on the Run
Overlook these minor gripes and Dread Machine delivers an intense experience. Often, destructible objects litter the playfield offering fleeting opportunities to take cover. Another pleasing quality is Beep's level design. They're consistently tossing new variations and ideas into the formula to keep play lively. Likewise, they're consistently striving to keep the pace lively, incentivizing fastmoving play with cash pickups that quickly disappear from the playfield.
These money bundles feed into the character augmentation system, allowing the game's collection of agents to purchase guns, as well as stat-boosting clothing, and elixirs that restock ammo or health. While half of the game's roster of agents are just cosmetic variations, you'll eventually unlock new playable like Zombie Custer, who carries a Gatling Gun with him. Pleasingly, currency carries over to new games, so you won't feel like another journey is a complete grind.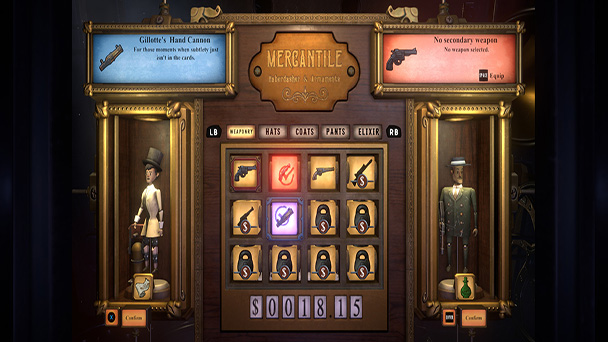 Conclusion
As someone who has a problem resisting each new twin-stick shooter that materializes, Bartlow's Dread Machine will likely be receiving reply due to its delightful aesthetics, and deviation from convention. While there are some forgivable issues, the developer's eagerness to persistently present variation makes Bartlow worth seeking out. Fans of the twin-stick shooter genre yearning for a novel mechanics are especially encouraged to seek out Dread Machine.
Bartlow's Dread Machine was played on PC
with review code provided by the publisher. 
Review Overview
Summary : Dread Machine? Pssh, it's closer to a Dream Machine, with this ersatz electromechanical shooter offering classic arcade thrills. Only this time, imagined with (artificial) tin and wood.