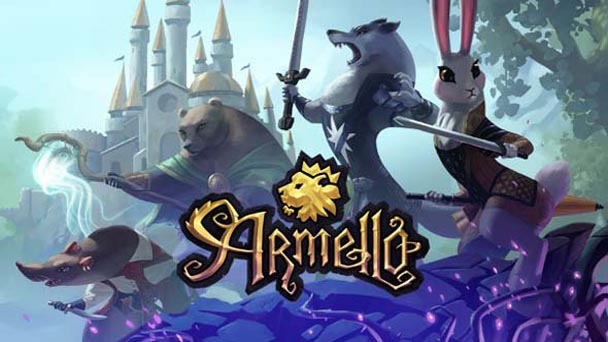 Quite a few developers have adapted physical board games into digital form. Australian developer League of Geeks' debut effort incorporates a number of components often associated with table-top games. Taking place on a hexagonal playfield, players roll six-sided dice to determine the outcome of physical conflict, while a deck of cards permits the equipping of items, spell-casting, or healing. But atypically, Armello has no real-world analog. It's a game that just happens to borrow many of the traditional objects and mechanics, albeit without all the cardboard and plastic as well as any obligation to clean up after you're completed playing.
Oddly, the game draws from seemingly divergent sources, drawing comparison to Disney's animated take on Robin Hood and the bloodshed of George R.R. Martin's Game of Thrones. Four factions of anthropomorphized animals- Wolves, Rabbits, Rats, and Bears are locked into a cutthroat rivalry for power, when the realm's ruler is stricken with a vicious disease known as Rot. The monarch's domain is at the center of the board, and vigilantly protected by bipedal, helmet-clad dogs. During the latter half of the game's day/night cycles malevolent dragon-like creatures known as Banes spawn and ramble across the landscape, making navigation a daunting task.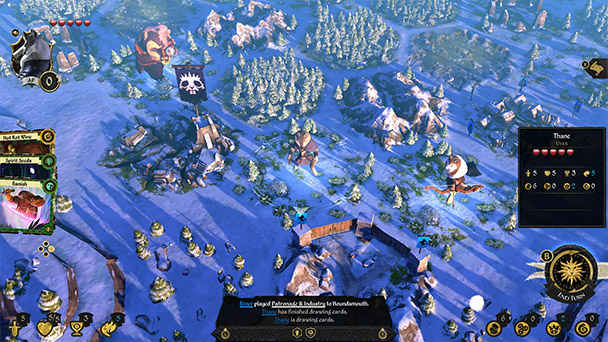 Head into the game's four-part prologue and you'll find a tutorial that doesn't extend much autonomy but does impart many of the rudiments needed to succeed. Interestingly, Armello's matchups end in one of four different ways. Players can kill the king, with contamination from the Rot determining if they'll be a compassionate ruler or one who's future is tainted by the disease. By collecting a quartet of Spirit Stones, you can enter the King's palace, putting a peaceful end to the bloodshed. The most common outcome is a win by procuring the most Prestige Points when the King is overcome by the Rot, or both monarch and assassin die in a botched attempt at regicide. But multiple outcomes are only a part of Armello's complexity.
Conflicts are decided by dice rolls, with the number of dies taken into battle based on statistics, held cards, bonuses, and whether it's day or night. These are handled swiftly, with rolls building offensive and defensive tallies before a comparison is calculated, damage is doled out, and any character running out of hit points is removed from the board. Luckily, death isn't the end of the game. After a reduction to your prestige stat, a new member of your faction is deployed. But if that happens too many times, it can be extremely difficult to regain a competitive place in the proceedings.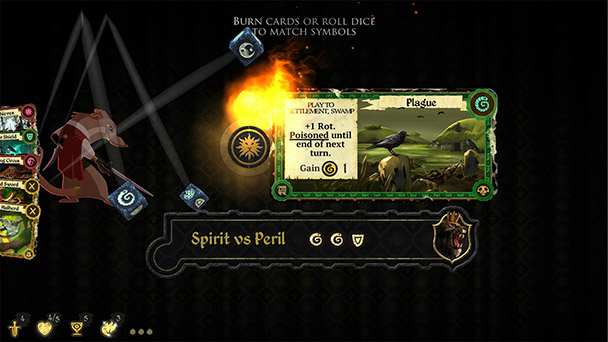 Quests are handled just as rapidly, albeit without the dice rolls. Accept a mission, move to a designated spot on the playfield and you'll have the option to peruse the undertaking. Like many of Armello's mechanics, there's an interesting risk/reward proposal, constraining gaining an edge on your rivals versus experiencing a setback that can thwart your strategies. And what's most interesting about the game is the lack of any dominant tactic. Typically, you'll have to spend the early part of the game perusing multiple goals. And even when it appears the game is headed toward a specific outcome, you'll still have to take an improvisational approach.
On the downside, that means you'll occasionally feel disconnected from other players. Some matches with AI and online opponents had conflict between players, while other games felt like each player was doing their own thing. Part of the problem is rooted in Armello's camera, which habitually shows your character and adjacent elements in detail, but never zooms out to show the entire map and the locations of your rivals.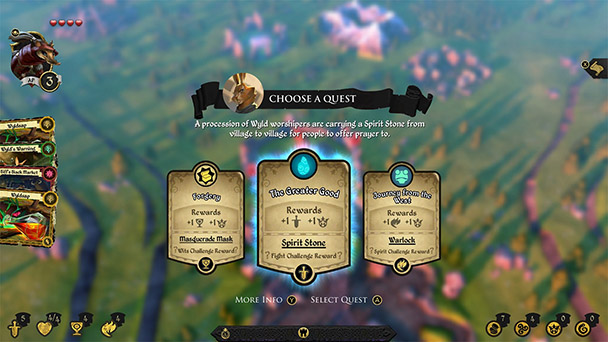 Running on the Unity Engine, Armello makes a competent showing on Nintendo's hybrid. Initially, the lack of touchscreen support while in handheld mode is perplexing, especially since the input method is quite function on tablets. But, you'll eventually come to terms with using controller commands to do equip and play cards which makes the transition to television-based play friction-free. Save for the occasionally visual stutter, Armello's artwork shines on the system, bringing the dark fable to life to attractive character portraits, animated cards, good looking models, and a thoroughly lush landscape. After years of hearing Dead Can Dance's ethereal sounds emulated by a number of film score and game soundtracks, I has thrilled when I heard about Lisa Gerrard contribution to the game (a same can be heard here). Unsurprisingly, it's unswervingly stunning, showcasing a fragility absent from most game soundtracks. While you can purchase the soundtrack separately vis Steam, at least one track didn't make the final cut.
Armello has some curious omissions, such as not being able to alter the aggressiveness of the game's AI rivals. But if you look past blemishes like these, League of Geeks' inaugural outing is a prodigious effort, delivering a deliciously complex table-top experience without burdening players with all of the number crunching. A treat for mind as well as eye, with a few small tweaks, Armello could be a contender for the crown.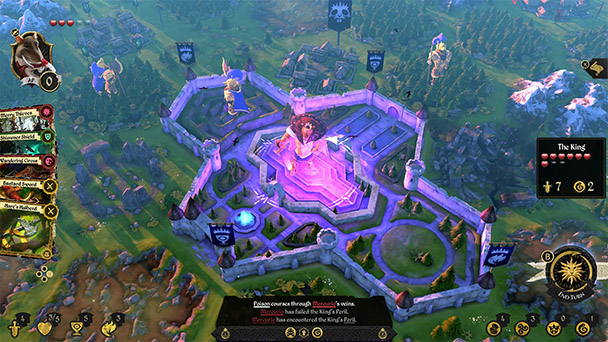 Armello was played on the Switch with review code provided by the publisher. 
Review Overview
Summary : Don't let the multitude of mechanics in Armello intimidate you. Stick with it, and you'll find an enjoyable board-game like experience that fills a vacant hour extremely well.