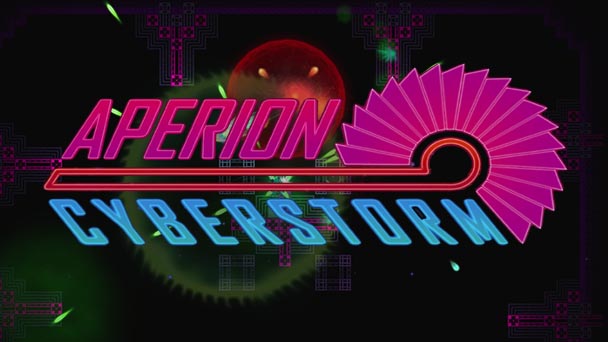 Rudyard Kipling once wrote that a person can't have enough "red wine, books, or ammunition". Although the adage was conceived long before gaming was envisioned, the third element accurately encapultes the thrill of a twin-stick shooter. Consistently, the genre permits players to expel a persistent stream of projectiles- all in an effort to survive for as long as possible.
Venture into the campaign mode of Aperion Cyberstorm and you'll face this type of challenge. After selecting from a growing variety of ships and choosing two special abilities, you'll move through the game's quartet of sprawling environments. But you won't be firing non-stop. Cyberstorm's text-based storyline suspends the action for bits of dialog. Exposition comes sporadically, delivered by nondescript character portraits, making it difficult to follow the plot. Level layouts also produce pauses, with conflict confined to rooms rather than the halls which connect the different areas. But the vestibules aren't completely empty. Occasionally, you'll uncover a hidden ally that allows players to add a new ship to their mounting armada.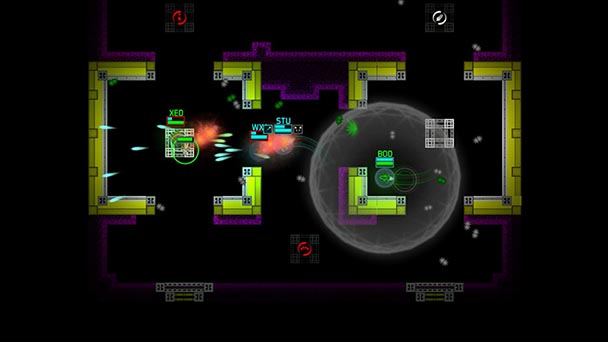 But once inside a room, Cyberstorm's house music amps in intensity, signaling an onslaught of enemies. While foe's leisurely glide toward players across the first ten rooms or soon, the next two hundred or so display increased determination. Like any respectable twin-stick shooter, different enemy types follow distinct behaviors. Some turn bright red and dart toward players, returning to their less lethal form if they're shot down or are evaded. Other adversaries sent out a wave of projectiles, coercing players to seek cover around the environment. One opponent splits into a quartet of smaller, faster pieces, recalling the mechanic popularized by 1979's Asteroids. Like the classic Atari shooter, this requires players to carefully pick their targets, or else they'll be caught in the middle of a maelstrom. Pleasingly, the different permutations of enemy forces players to adjust strategies and loadouts, in order to maintain he upper hand.
Played individually, Aperion Cyberstorm is fun, but can't match the enjoyment of top-tier twin-stick shooters like the Geometry Wars series. One issue is that battles in each room last a bit too long and there's little sense of progress as identical foes phase into the arena. But, Cyberstorm was built for multiplayer, permitting up to five participants to team up against antagonists. Unsurprisingly, the amount of enjoyment correlates to the number of cooperative partners, and the game's scales difficulty with groups remarkably well. With more that two players, making sense of the visual cacophony is just as challenging as the enemies. But coordinate a plan with your partners and and Cyberstorm can be a binding experience.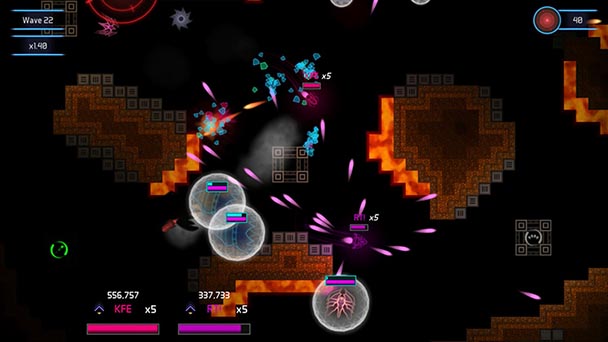 While your experience may vary, striving to find the ideal sets of complementary ships and weapon system proved almost as intriguing as combat. Destroying enemies and crystals that grow on the edges of the environment rewards players with resources that can be used to extend the duration and reduce the cool-down for their special weapons, or purchase new secondaries, ushering in a healthy amount of variance to Cyberstorm. With pick-ups that can poison, freeze, or build autonomous turrets, coordination is key when playing with others.
Beyond the core campaign, the title also offers Onslaught and Versus mode. The former pares the game to a wave-based assaults in as single room, which providing a powered-up arsenal to players. As the moniker implies, Versus is Cyberstorm's competitive mode, authorizing participants to bring their arsenals into an arena for a frantic test of ship builds and reflexes. Satisfyingly, human competitors aren't needed, with players able to fill the arena with AI-driven bots.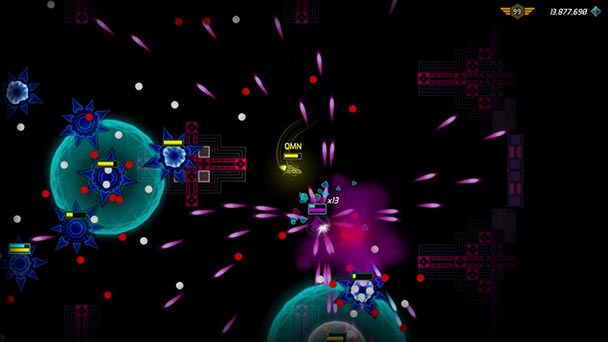 Whether docked or in handheld mode, Aperion Cyberstorm performs almost flawlessly on the Switch, with only a sub-second stutter when you enter a new room. While huddling around the hybrid's 6.2-inch screen with a quintet of others isn't ideal, being able to break out an impromptu match might make up for the cramped space. Playing with a Pro Controller feels impeccable, but if you don't have enough of those to go around, using a single Joy-Con is possible. Cyberstorm is also available on Steam. While hauling a laptop around isn't as easy as the Switch, the PC iteration allows for online matchmaking.
Visually, the game's employs neon hues that evoke the early days of color vector graphics games. When in campaign mode, the edges of the screen exhibit a fog-of-war effect, with the peripheries darkened. In bright settings, the approach can make things a bit difficult to see, likely resulting in players wishing the game had a gamma setting. Sonically, the game's music is doggedly energetic, occasionally recalling the mid-nineties fury of The Immortals Mortal Kombat album. Another aural throwback are the game's explosions which sound just like the odd splashes of noise that would come out of the Atari 2600.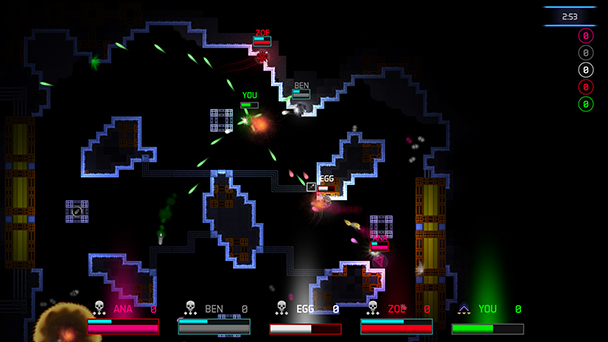 If you enjoy twin-stick shooters, Aperion Cyberstorm is worth its sub-$15 price. While staying true to genre tenets, it has its own unique feel, and when a horde of enemies descend on you, it's wonderfully frantic. Bringing along some friends or matchmaking with the PC version escalates the intensity of the on-screen tempest. As such, if subduing chaos is your thing, then Cyberstorm is your game.
Aperion Cyberstorm was played on the Switch
with review code provided by the publisher. 
Aperion Cyberstorm
Platform: Switch, Wii U, Steam
Developer: aPriori Games
Publisher: aPriori Games
Release date: February 8th, 2018
Price: $13.49 via eShop (Switch and Wii U), $14.99 via Steam (PC)

Aperion Cyberstorm review
Review Overview
Gameplay - 80%
Controls - 80%
Aesthetics - 70%
Content - 85%
Accessibility - 80%
Innovation - 75%
78
78%
GOOD
Summary : There's plenty of twin-stick shooters out there but ones than proficiently scale to small groups are pretty rare. Aperion Cyberstorm does this well, extending a barrage of bullets for you and your buddies.

User Rating:

4.32 ( 8 votes)