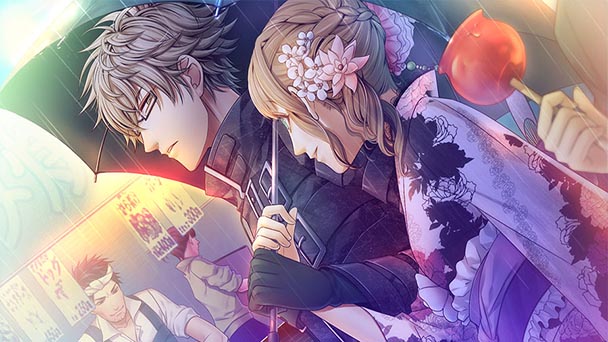 In Japan, the visual novel has a rich, thirty-year history, with the medium's success stimulating an assortment of sub-genres. But beyond the possible exception of the 1994 Sega CD release of Hideo Kojima's Snatcher, VNs haven't had the same type of critical or commercial impact in the West. Steadily, that's starting to change.
Publishers like NIS America, XSEED, and Aksys Games have led the charge, gambling on exceptional efforts such as the Danganronpa, Corpse Party, and XBlaze titles. Similarly, a slew of VNs have made their way onto Steam, allowing a constituency of PC owners to enjoy a growing selection of horror, mystery, erotic, and romantic-themed undertakings.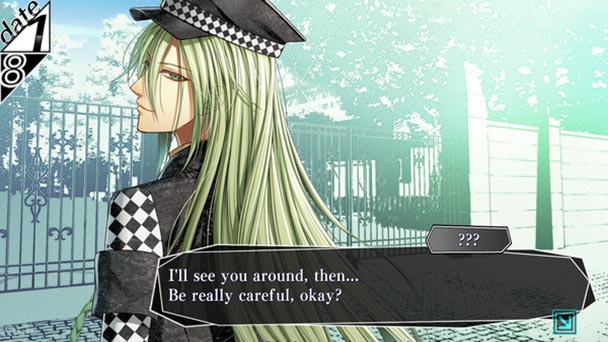 With the release of Idea Factory's Amnesia: Memories, PS Vita, PC (and soon, mobile gamers) are able to experience one other type of title- the otome. Traditionally targeted toward a female audience, the genre habitually inverted the structure of the harem- tasking a lone female protagonist with finding a suitor from a selection of desirable, dashing young males. Otomate, a subsidiary of Idea Factory, has brought a number of these titles stateside, with tales like Hakuoki: Demon of the Fleeting Blossom, Warriors of the Shinsengumi, and Stories of the Shinsengumi, reconnoitering romance during the conflict-prone Bakumatsu period.
Set in the present, Amnesia: Memories might lack the historical appeal, but it excels by tweaking convention. Instead of tasking participants with finding their ideal mate, the title requires players to piece together fragments of a pre-existing relationship, across a quintet of parallel universes. In theory, the premise might sound absurdly metaphysical, but in execution, Idea Factory's offering proves to be accessible, immersive, and tinged with an advantageous amount of intrigue.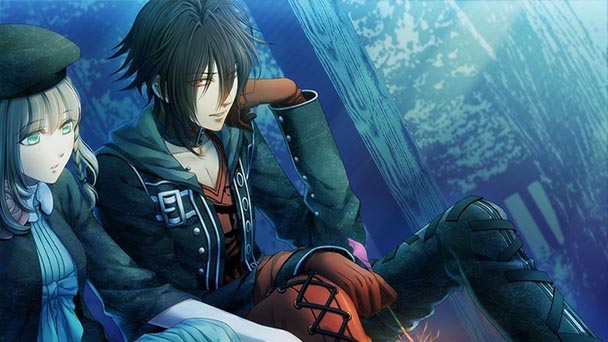 The prologue introduces Orion, a horned boy whose explanation gives insight into Amnesia: Memories' seemingly oxymoronic moniker. It seems his journey from another dimension had inadvertently halted in the protagonist's head, endowing the duo with an intimate connection. Given his impish charm, this wouldn't be so bad- except it has unintentionally relocated the lead character's memories, leaving her in an oblivious state.
Fearing that a stay in a hospital will allow any recollections to atrophy, Orion suggests that the protagonist should step into the role of memory sleuth- piecing together her mind by exploring her home, possessions, and plumbing information from her boyfriend. Given the strange situation with Orion, it's a stratagem which doesn't seem wholly unreasonable.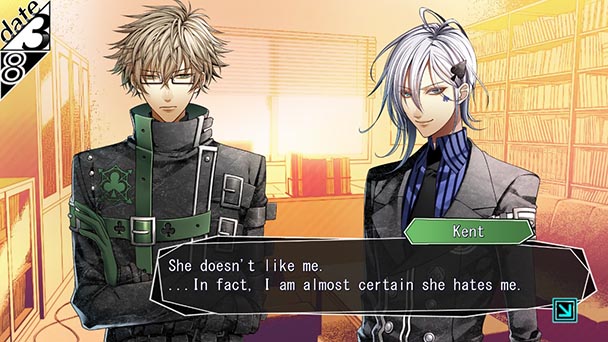 You begin their journey by select a one of four starting worlds: Club, Diamond, Heart, and Spade. Once participants have journeyed through each realm, a fifth option unlocks, adding a bit of cohesiveness to the entire trek. Immediately you'll discover that each suit represents a different dimension with a unique romantic lead. But that said, the other characters are also present in each reality, contributing a slight Rashomon-like quality to Amnesia's characterization.
Whereas most VNs might have made minimal swaps with each dimension, Amnesia: Memories cuts few corners. Each suit offers a different storyline, complete with divergent settings, CGs, as well as dissimilar encounters and interactions. Even for swift readers, that's at least five hours of story for each dimension, with each suit offering multiple endings. As such, completionists can expect to devote a work week of playtime with helping the heroine discover her identity and identify her ideal partner. Dialog choices determine whether you'll see a good, normal, or a bad ending for each dimension, with selections affecting three variables- your Affection, Trust, and Suspicion levels across a calendar month. Getting the first two levels high while maintaining restraining the amount of relational uncertainty is the key to earning the best rating. Alerting the boyfriend to your state of amnesia is the way to raise suspicion. Some participants might not appreciate the lack of foreshadowing- it's a bit difficult to determine which path your conversational choices will put you on. But between the quick saves in the Vita version and the numerous save slot afforded to PC players, perfectionists can easily recover after bad decisions.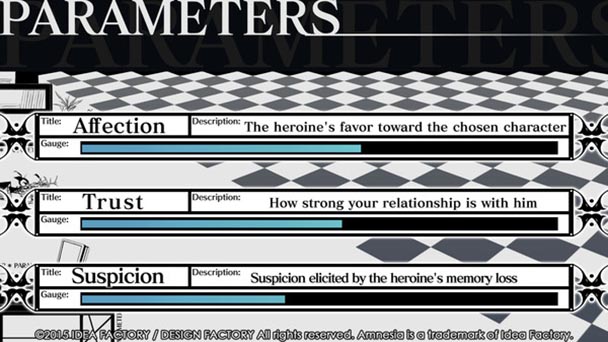 Characterization is largely effective, with one small caveat. Backstories, motivations, and interactions all feel organically tied, making Ikki, Kent, Shin, Toma, and Ukyo's actions and feelings feel believable. But, occasionally, some of the guy's would show tsundere qualities. While that's understanding for potential partners who are reluctant to show their real feeling, it makes less sense for a couple in an existing relationship. More than once, I found myself asking my partner, "why am I even with you?"
The answer I kept coming back to? "Because you're so damn handsome." Across each platform, Amnesia: Memories flaunts intricately detailed characters, with the PC's 1080p delivery trumping the Vita's 540 vertical scan lines. Across both platforms, participants have access to rock-scissors-paper and air hockey minigames, a library of previously viewed CGs, and even a catalog of earned endings. There's also a music player to listen to Amnesia's soothing piano-drenched soundtrack.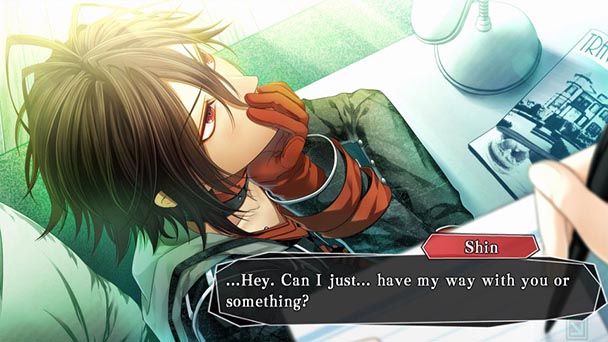 Pleasingly, there's more to Amnesia: Memories than a quintet of five romances. Much of the enjoyment stems from uncovering the veil of mystery, as participants learn about the heroine's past. As such, the title is a bit more inclusive that the typical otome, allowing fans of visual novels to form their own gratifying memories.
Amnesia: Memories was played on the PC and PS Vita with review code provided by the publisher.
Review Overview
Summary : Part sleuthing quest and dating sim, Amnesia: Memories is better and longer than the average otome, and is poised to entertain participants for hours.