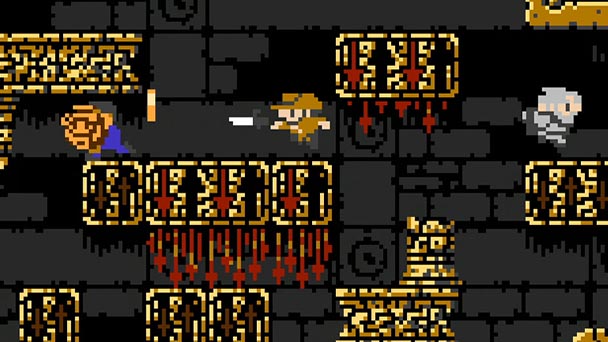 While online gaming forums might be fueled by contention, there's one premise that almost all players maintain: our games have become dramatically easier over the years. Whereas failure could once be measured by the rapid cadence of quarters released into an arcade coin slot, contemporary gamers are often given an unlimited number of lives to conquer difficulty levels that have been carefully constructed to offer a solid, but rarely strenuous, challenge. Like Super Meat Boy, the release of 1001 Spikes channels both the aesthetics and arduousness of the NES-era, extending a supreme test of both playing skills and patience to 3DS, PlayStation 4, PC, PS Vita, and Xbox One owners.
One of 1001 Spikes' concessions to modern values can be found in the game's storyline, which offers more narrative substance than most cartridge-based titles ever mustered. Although the game's multi-generational treasure hunters might initially seem inspired by the schlocky sentimentalism of Indiana Jones and the Last Crusade, 1001 Spikes dowses the father and son relationship in bit of familial dysfunction. Following a multi-stage tutorial which imparts the game's mechanics, text and animated bitmaps tell the story of "world-famous archaeologist" Jim Hawkins, who died seeking the lost treasures of Ukampa in South America. Although a posthumous letter to his son, Aban, is crammed with condescension, the younger explorer believes redemption may arise from unearthing the fabled treasure sought by his father- thereby initiating a journey across six discrete worlds.
Players are given a quantity of lives which matches the integer in the game's title. Much like Nippon Ichi Software's Prinny: Can I Really Be the Hero?, an allotment of one thousand attempts seemsalmost limitless at first, with a virtual mid-life crisis erupting once players perish several hundred times. Fitting, the final hundred opportunities managed to evoke the stages of the Kübler-Ross model, with denial, anger, and eventually acceptance, emerging. Fortunately, completing running through your survival stock doesn't bring the game to an immediate end, with 1001 Spikes extending several more lives to players. Naturally, there's a downside to the assistance, as players who collect additional opportunities won't be able to see the game's best concluding cinematic.
Likewise, the game extends a bit of help for those who hit an impenetrable stage, allowing players to skip the current level from the pause menu. Again, using this method can help gamers to surmount a stumbling block, but they'll face the penalty of a less than ideal finale. In execution, the system is functional, prodding players to overcome Spike's extraordinary level of difficulty- without shrouding content from those who are unable or unwilling to clear this lofty hurdle.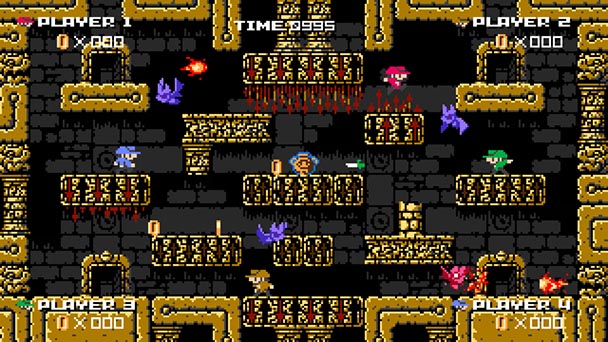 Beyond a competent storyline, 1001 Spikes' other virtue is its capable control scheme. Whether players use their PC keyboard or a controller (which comes recommended), Aban's ability for both lofty and normal sized jumps allows for pixel perfect jumping precision. And unlike the Prinny protagonist in the aforementioned game, players can also adjust their trajectory while in the air, which comes in handing when securing the key that needed to unlock the exit in every level, or grab a bonus treasure which bestows additional lives. Pleasingly, Aban has a bit of offensive ability as well, with an action button launching an unlimited supply of projectiles.
Beyond the consummate challenge issues to single players, Spikes also offers a cooperative mode, which requires a slightly different play style. While the arrival of a second player means that teams won't perish on a single hit, the need for player players to coordinate their navigation as well as the integration of friendly fire radically change the way 1001 Spikes is played. Rounding out the title's amenities is a satisfying selection of unlockable characters which players might recognize from other franchises.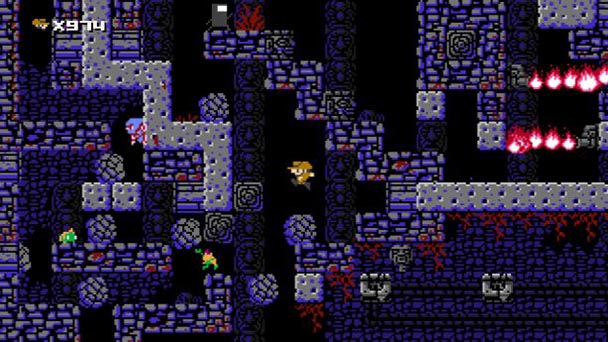 Cleverly, 1001 Spikes is more than just a mere test of reflexes. Cognizance is also key, with the title's variety of dangers forewarned by subtle visual cues. Deadly bards are always sheathed in cubes which look different from other environmental features, while a jutting ornamental mouth divulges the source of deadly darts. After the first dozen levels or so, success comes from both studying the nuances of each stage as well as learning what not to do every time Aban dies. For some, the title's later challenges will prove be asphyxiating- there are time when I had to repeat the same stage at least fifty times. But as one of the NPC character's advises players "the harder the victory, the greater the joy of success". As such, those with an aversion to adversity might want to sit this one out, as 1001 Spikes' difficulty is poised to produce profanity and controller-hurtling provocation. Instead, the title could be mandatory for those who bemoan about the low challenge level of contemporary titles. Likely, they'll want to wash down that enormous slice of humble pie with a tall, nerve-smoothing beverage.
Review Overview
Summary : 8bits Fanatics' latest is both masterful and masochistic. In essence, 1001 Spikes demonstrates the strong correlation between strenuousness and gratification. Accept Jim Hawkins' challenge if your patience matches your prowess.