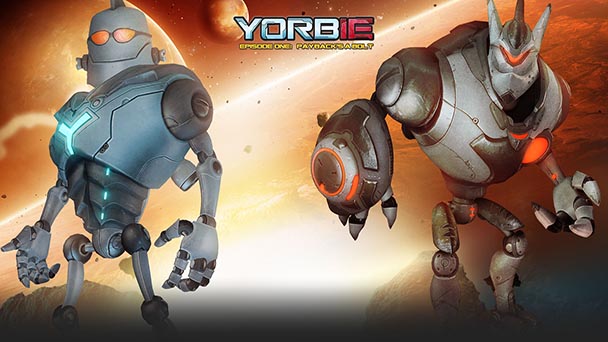 Across the late '90s and early 2000s, I was an unapologetic Insomniac devotee, purchasing every single Ratchet & Clank game on release day. Amidst this era, the annual iterations weren't quite frequent enough to satisfy by desire for running, gunning, and comic comradery. So in a moment of weakness, I bought a copy of Ruff Trigger: The Vanocore Conspiracy– a title that I suspected would be no match for that lovable Lombax and his amiable robot friend.
My assumption was correct, and while it was a painful lesson, there were unforeseen dividends. Ruff Trigger's lackluster execution meant the game was fated to become trade-in fodder, but on the upside, it caused me to revisit the original quartet of Ratchet & Clank titles. The homecoming revealed many of the under-appreciated virtues of the series, from the imaginative and satisfying array of weaponry, the sublime level design, and especially the writing- which communicated a spirited friendship fueled by a steady supply of clever banter.
I bring this up as the recent release of Yorbie- Episode 1: Payback's a Bolt for the PlayStation 4 rekindles those feelings of frustration and disappointment once more. Evoking Ratchet & Clank: All 4 One's ill-fated endeavor which turned a prodigious single-player franchise into a middling multiplayer affair, Yorbie extends a campaign that accommodates between one and four local players. But long before players complete the five-stage, two-hour excursion, they'll likely be yearning for an escapade that evokes the polish and playability of Insomniac's cherished series. Simply put, Yorbie is a thoroughly lackluster knock-off.
Payback's a Bolt first offense can be found in its insubstantial plotline. At its core, the game offers only a skeletal setup which offers a light-hearted riff on Blade Runner, only without any of the pathos or existential pondering. A brief prologue reveals an antagonist named Dr. Zox who is seeking to pull the kill switch on the entire Yorbie line of bots. Players assume the role of one of the last remaining droids, as they attempt to put a stop to the doctor's malevolent plans.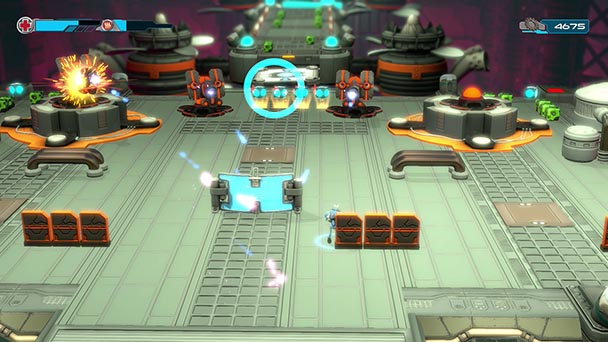 With a plot like that, you'd assume that the last Yorbie would be sympathetic character. Largely, he's not- with most additional exposition supplied by his incessant supply of voice quips. At best, they're monosyllabic interjections that sound like outtakes from John Goodman's take on Fred Flintstone. But most of the time they make Yorbie seem like a perverted automaton, as he expresses witticisms like "I own your ass", "knock, knock bitches" or "ooh, I like it rough". While it doesn't seem as if they developers were trying to ape Conker's Bad Fur Day's comical incongruence, the boorish dialog juxtaposed with a cute character rendering doesn't deliver any type of distinguishable humor. Given Payback's abrupt and unsatisfying ending and peculiar title, (how can 'revenge' be a 'bolt'? Why is a non-episodic game called "Episode 1"?) perhaps the voice clips are supposed to be parody. Or maybe not, as the sound samples sporadically become inaudible. As for Yorbie's co-op partners, they recycle the game's enemy designs, but don't even come with their own sound bank. Bosses don't seem to notice and still refer to these characters as "Yorbie", however.
Woefully, the game's offenses reach far beyond the aural component. Yorbie's arsenal of abilities is often embarrassingly ineffective. One of the worst examples can be found in the pipe bomb, a weapon that typically floats past enemies and right through the environment. Nearly as aggravating is the character's melee attack which exhibits an unusually short reach. While it would seem likely that developer Happy Dance Games would follow Ratchet & Clank's lead, allowing players to crack open loot crates with one of their guns, shooting a box merely sends the container bouncing around the screen, in one of the title's rare demonstrations of physics modeling. Problems even extend to the crates themselves; when open cogs suddenly appear, often materializing in parts of the environment. This disconnect isn't just for the game's containers. Enemy explosions are seem detached from the position of antagonists, while ballistics can travel at trajectories that aren't congruent with rifle barrels.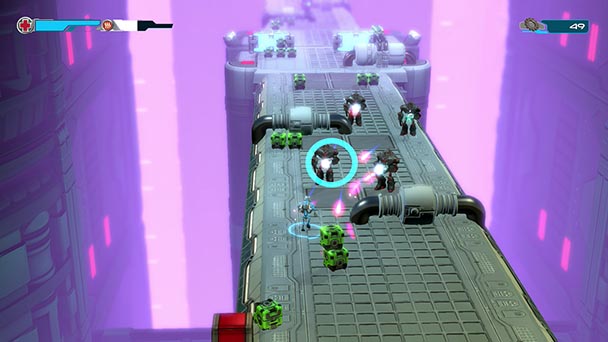 Largely, these transgressions are aesthetic; Payback's most severe problems are rooted in gameplay. While the game's difficulty can spike from elements like enemies spawning around players or the odd navigational challenge that's exacerbated by lackluster jump physics failure has no consequence in Yorbie's world. If you're killed by turrets that have the ability to shoot through shields or fall into the abyss that surrounds each level, you'll instantly reappear in the same area. Even boss battles, where you hold down a button to pepper a roaming foe with fire, can't be failed. As such, Payback's a Bolt only test is one of endurance, at players brute-force their way toward the game's closing credits. While there's an elevated difficulty setting that alters things like the amount of damage enemy attacks do, these small changes just amplify the annoyance caused by predictable AI opponents.
In case you believe that Payback's a Bolt is completely devoid of merit, there's are a few noble elements that warrant mention. While the game's stick lock-on system isn't free of flaw, the sticky cursor system provides distinction from a sea of twin-stick shooters. Visually, the game's milieus can look a bit plain while enemy spawn triggers seem infrequent near the end of each level. Look past these issues and Yorbie delivers a solid framerate even with a quartet of on-screen players.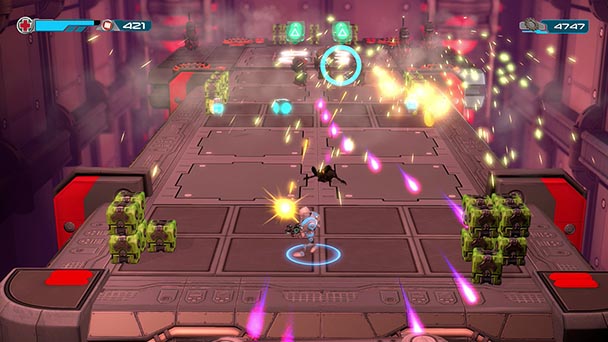 Originally released with a twenty dollar MSRP, Yorbie- Episode 1's price has been halved. But even at $9.99, the game can't be recommended; there's just too many problems that plague the digital download. To paraphrase the game's title, "Payback's a Bolt- but don't be surprised if you end up feeling screwed."
Yorbie- Episode 1 was played on the PlayStation 4 with review code provided by the publisher. 
Yorbie- Episode 1: Payback's a Bolt
Platform: PlayStation 4
Developer: Happy Dance Games
Publisher: Happy Dance Games
Release date: March 24th, 2015
Price: $9.99 via PlayStation Store
Review Overview
Summary : Yorbie- Episode 1: Payback's a Bolt is a stronger contender for the worst game in the PlayStation 4's library. Filled with glitches, stilted animations, repetitive mechanics, and grating voice samples, we're going to have to side with the antagonist, Yorbies should be eradicated.