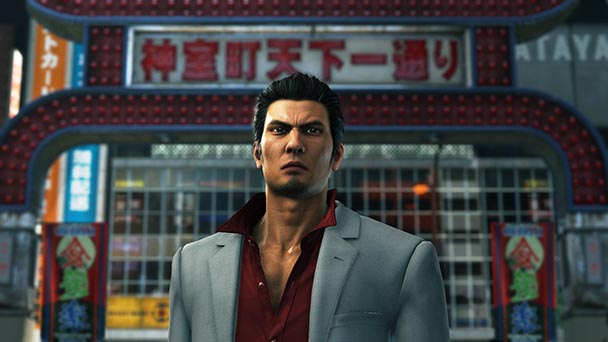 Over the past thirteen years, the Yakuza franchise has produced seven main entries, an equal number of spin-offs, and a trio of re-releases. Such an abundant output would have sapped the creative energy from most developers. But that's not the case with SEGA's Yakuza Studio. With the release of Yakuza 6: The Song of Life, series protagonist Kazuma Kiryu reintroduces players to a sordid assortment of valiant, vengeful, and violent types. Unsurprisingly, this underworld remains one of the most compelling contexts in contemporary gaming, prompting players to comb each meticulously crafted alcove.
But beyond the pulpy hook, Yakuza 6 is a game brimming with empathy, exploring the amount of influence one can have on a mulishly mercurial world. Expectedly, the title effortlessly shifts from heart-string plucking poignancy to comical irrelevance, flaunting the established dissonance that has earned the admiration of fans across the globe. And much like Yakuza Studio's inexhaustible pursuit of reflective plotlines, the developers haven't grown too comfortable with the technology behind the scenes- employing a new engine to propel the proceedings. While there are a few minor drawbacks associated with the adaptation to new middle-ware, the change supports a number of indulgences for what's being billed as Kiryu's final chapter.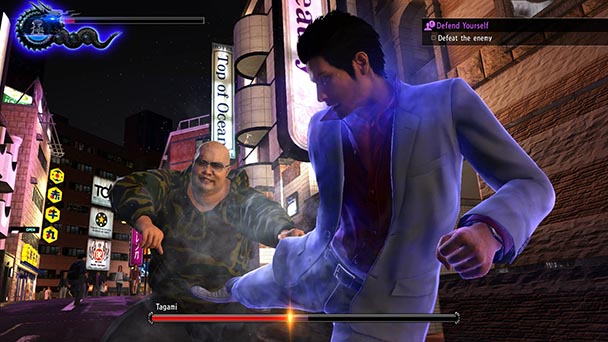 Narratively, The Song of Life picks right up where 2012's Yakuza 5 finishing, supplying a situation that's brimming with nascent intrigue. The battle with power-thirsty Tojo clan member Masato Aizawa left Kiryu clinging to life in a hospital, Meanwhile, his ward, a budding pop idol named Haruka Sawamura interrupts one of her concerts to come clean about her connection with Kiryu. While laudable, the confession prompts a series of catastrophic events. From the premature conclusion of Haruka's promising musical career brought on by disparaging fans to a three-year prison stint for Kiryu, The Song of Life's prologue is rooted in the feeling of defeat.
Yet, things get even worse once the Dragon of Dojima is released, discovering that Haruka fled the Sunshine Orphanage, so the facility and surrounding community wouldn't fall victim to any associated scorn. Most miserably, the young woman was put into a coma by a hit-and-run accident, leaving her two-year old son, Haruto, without a caregiver. Unsurprisingly, the quest to find Haruto's unknown father is poised to push Kiryu back into the underworld he desperately wants to leave behind.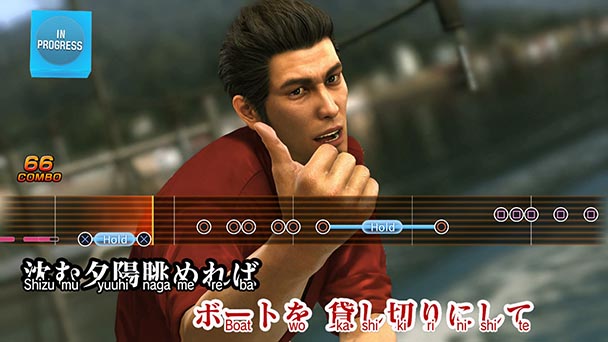 In summary, The Song of Life might sound like the type of televised melodrama that's unaccountably courts an audience who thrive off seeing a succession of preposterously catastrophic events. But, The Song of Life is no shoddily produced series. Employing cinematic close-ups that reveal the indications of well-veiled anguish and high angle shots that flaunt either the neon-hued urban spaces of Kamurocho or rustic charm of Onomichi, a fishing village outside of Hiroshima, the game is a visual dazzler. Takaya Kuroda's baritone-heavy voice acting hints at a bit of warranted weariness in Kazuma Kiryu's dialog, with the 48-year old often at odds with the world around him, offering audio that's just as adept as the visuals.
Opposition in Yakuza 6 is established by the escalating tensions between a trio of factions. Beyond the Tojo clan, there's the Saio Triad- an arm of the Chinese mafia who recently escalated their advancement on Kamurocho. JUSTIS, as the name implies, are a vigilante hoping to rid the district of its criminal element. Collectively, these factions embody a new set of codes that are deftly juxtaposed against Kiryu's traditional values. Whereas the gangs each seek their own type of control, pursuing money and power for its own ends, Dragon of Dojima still flaunts that heart of gold between each brawl, making identification with the protagonist feel natural. Sure, his actions might seem a bit too altruistic at times, but it's nearly impossible not to like the guy. While it would have been interesting to Yakuza Studio push the protagonist into murkier moralities, it's understandable they didn't want to taint his memory. On the downside, since it's Kiryu's swan song, there's no switching between protagonists like the last few games. And the amount of screen time given to beloved characters like Goro Majima and Daigo Dojima is condensed. The Song of Life is unmistakably Kiryu's tale, and by all counts, he fully deserves it.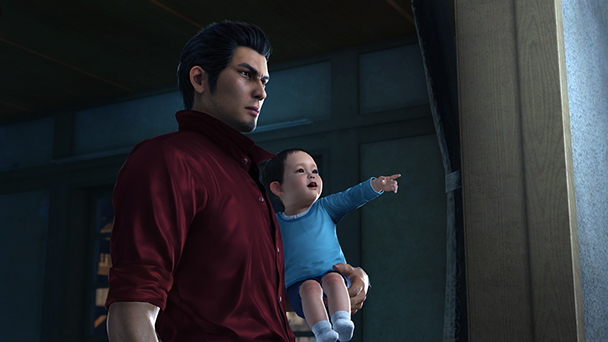 Deftly, the game demonstrates Kiryu's age while still exhibiting his pugnacious power. No longer employing multiple fighting styles, he's settling into a single system that allows his to display substantial amounts of power. Shred deployments of combos, dodges, parries, and blocks are still the win to win at street brawls, with each conveying a sense of weight and thanks to improved animation and physics systems. Vicious heat moves and are still the showpieces of each struggle, able to neutralize armed enemies or deliver a humbling head-shove into the environment. Of course, you're still able to utilize any adjacent objects, so grabbing a bike, crowbar, or even a convenience store shelves is always a possibility. And if you bank enough enemy, you'll be able to activate Extreme Heat Mode, which allows Kiryu to resist most attacks and use oversized objects in demonstrations of raw destruction.
No longer is money used to upgrade your moveset, with an experience system replacing the training model. One part of the mechanics that will appeal to J-cuisine aficionados are the points earned eating various meals. As such, I found myself living vicariously through Kiryu, browsing tantalizing menus, wondering if ramen or a rib-eye steak would reap the best dividends. Too bad devouring a bowl of tonkotsu in real-life in accompanied by a slight feeling of lethargy. That's not to say, Kiryu has to fight. For the first time in the series, it's possible to run from most foes, avoiding any time squandered on mouthy, lower-level street punks.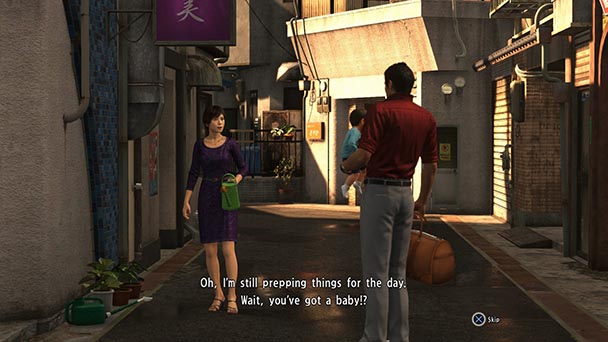 The pause that would precede fights has been eliminated from Yakuza 6, which was undoubted one of the ambitions when the team crafted the Dragon Engine. Another perk is that transitional battles are possible, with fighting erupting on the streets and seamlessly shifting toward the interior of a store. The downsides of this transition are two-fold. First, the game's running framerate has been lowered to thirty frames per-second, with the occasional waver seen on the original PlayStation 4 hardware. Secondly, the games two jurisdictions are smaller, with construction workers flanking the peripheries of Kamurocho that were once explorable.
On the upside, Yakuza's customary past times are almost all here. So, if appreciated the recreation of Kabukicho's nightlife, there are the karaoke bars, hostess clubs, dart boards, there are plenty of leisure-time opportunities. While it's sad to see that Pocket Racing didn't make the cut, there's a full version of Virtua Fighter 5 which makes up for the omission. One of the most interesting tweaks here is that bars have a social component. As a newcomer, you'll have to mingle before the regulars accept you, a characteristic anyone who has spend time in Japan will attest to.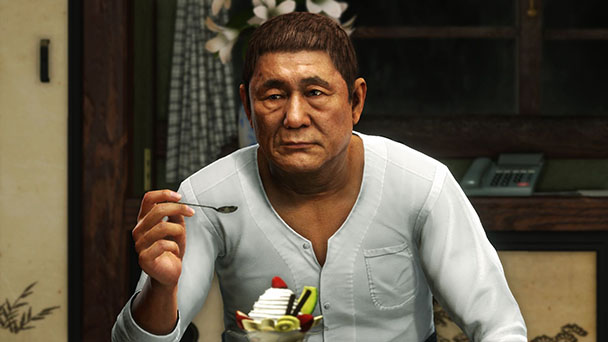 But if you're not feeling outgoing, there's always company to be found by webcamming with a model. Say the right things, and you can get the ladies out of their clothes. And while it might sound lascivious, between Kiryu's excitement at seeing a bra and the FMV transitions disguised as buffering, the segments are just as funny as they are sexy. Outside of Tokyo, the recreational pursuits are quite as numerous but between the pastoral appeal and an engaging spearfishing mini-game, your time outside Hiroshima offers a relaxing counterbalance. Personally, the inclusion of voice and likeness from actor and director Takeshi Kitano is something I've always wanted in a Yazuka game, delivering an idiosyncratic performance worthy of a prequel spin-off.
Much like an expected visit to the Land of the Rising Sun, you'll likely never want your time with Yakuza 6 to end. You'll probably approach the conclusion with a mix of an excitement and trepidation, knowing that not only will your time with The Song of Life, it will also be time to say goodbye to Kiryu. Inevitably, it will be a poignant moment, reflecting a relationship that been carefully cultivated over a secession of games and some of the best storytelling found on consoles. Masterfully, The Song of Life is a near-perfect tribute to the Dragon of Dojima.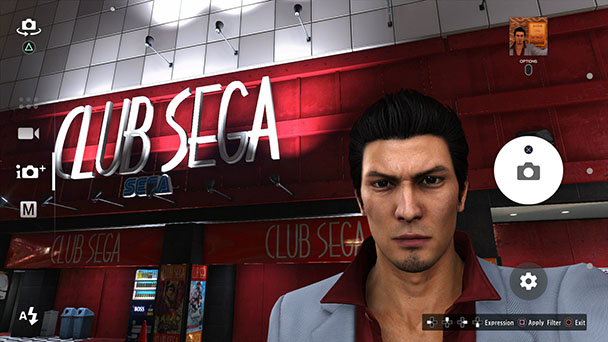 Yakuza 6: The Song of Life was played on the PlayStation 4
with review code provided by the publisher.
Yakuza 6: The Song of Life
Developer: SEGA
Publisher: SEGA
Release Date: April 17th, 2018
Price: $59.99, available via retail and PlayStation Store
Language: Japanese with English subtitles
Review Overview
Summary : Yakuza 6: The Song of Life is a fitting conclusion for Kazuma Kiryu, celebrating the kind-hearted characters dualistic legacy of benevolence and bone-breaking aggression. He's both the heart and body, and like most entries in the franchise, will linger in minds for quite a while.