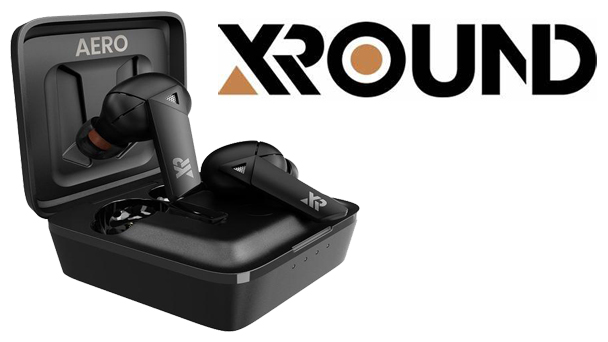 Although the build quality doesn't exclude quality, the Xround Aero Earbuds succeed where it counts, offering the convenience of Bluetooth connectivity with lag-free audio that's perfect for gaming.
I thought I had assembled a capable portable emulation device. Built around a Snapdragon 855-powered mobile phone cradled in a Gamesir X2 Bluetooth controller, quick testing showed games like Bangai-O, Power Stone 2, and Marvel vs Capcom 2: New Age of Heroes running at fluid framerates. I was brimming with excitement with the possibility of replaying these classics on the go.
But the sense of elation was soon muffled after the first commute-time test. After boarding the morning train, I paired my Samsung Galaxy Buds to Bluetooth, knowing that my fellow passengers wouldn't appreciate Riki and Mami's energetic callouts in Bangai-O at seven in the morning. But quickly, I noticed something was off, with audio lagging at least a second behind the action. As many modern phones lack a physical headphone jack and different sets of Bluetooth earbuds all exhibited the same issue, it was a shortcoming that I assumed that I had to live with. Audio latency in Bluetooth devices in generally around 100 to 500 milliseconds, well beyond the 40-80 ms threshold for perception.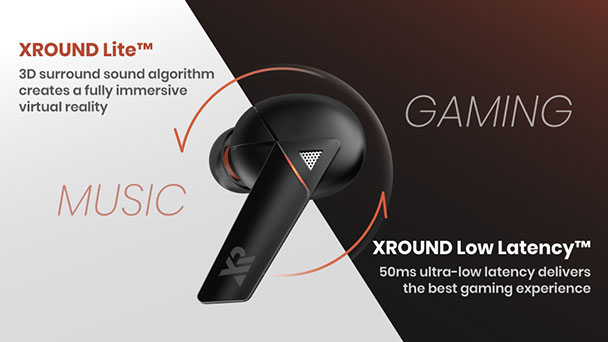 Not So Fantastic Plastic
When I first heard about the Xrounds Aero's claim of latency that hovered around the 50 ms mark, I was skeptical. After all, sending, receiving, and converting digital data into an audio signal is going to take some CPU cycles, there's little way around it. Even when using a top-tier audio codec such as aptX Adaptive, there's bound to be a delay, which Qualcomm states is about 80 ms. What kind of compromises need to be made to reduce the number any further?
Upon removing the Aeros from their retail box and from their charger/carrying case, one early concern materialized. Instead of the kind of premium ABS plastic used by most earbuds, the Aeros appear to use a cheaper grade material. Fortunately, the buds come with three different pair of silicon tips for different ear sizes, so this inferiority isn't noticeable when the buds are worn. But when you're touching the case or the putting the Aeros in your ears, they don't convey luxury.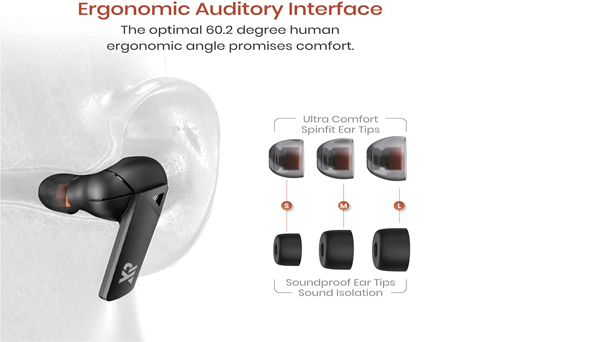 Inferior Exterior, but (Simulated) Surround Sound
I'm never fond of having to download yet another app, but a few functionalities are gated behind Xround's software. But save for the inability of screen rotation on both iPhone and Android, the accompanying app offered a number of useful functions. There's a seven-band equalizer with six presets and two customizable setups. Out of the box, I found the Aeros provided a healthy amount of bass but didn't have the kind of crisp highs that I appreciated. However, a bit of tweaking tailored the sonic output rather nicely, and the Aeros sounded just as good some of the better earbuds in the $75 price range.
If you're interest is emulation, there are a small number of titles (Super Turrican, Samurai Shodown,  Jurassic Park II as well as Capcom's CP System Dash and CP System II games) that support three-dimensional sound processing. As such, the simulated spatial audio algorithm built into the Aeros is probably more useful when watching films rather than gaming. During testing, there was some lateral directionality to sound, but like most simulated Surround Sound systems, don't expect much vertical distinction.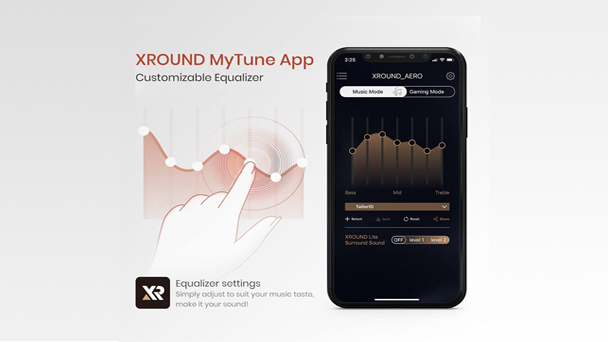 Wayward Touch Control but Marvelous Mics
Switching between Music and Gaming modes can either be performed via the app or through the Aero's customizable haptic functionality. While the latter seems promising, offering simple touch commands for changing tracks, volume, or turning off simulated surround sound, it lacks precision. Merely changing the volume took multiple finger swipes.  Only about half were recognized by the earbuds, making them ineffective when exercising.
Fortunately, the Xround Aero's are a bit better when it comes to claims of noise reduction. If you're seeking Bose-quality noise canceling, you're better off with a premium pair of over-the-ear headphones with passive noise reduction. But for sub-$100 earbuds, the Aeros do a respectable job, thanks to the micro-electromechanical system (or MEMS) microphones in each bud. Pleasingly, the mics are fairly good on voice calls as well. I called a few respondents who said voice quality was indistinguishable from Apple AirPods.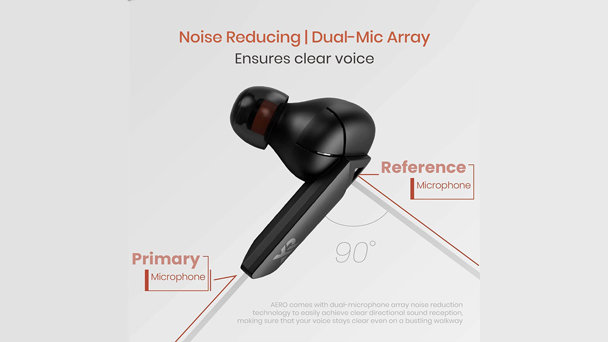 Delivering Lag-Free Audio
But the Aero's main selling point is to reduce audio latency.  So, with a tap in the app or with an auspicious finger slide it was time to test Game mode. Like many other functions, it's proclaimed by a gentle voice announcement, and a shift to the apps color scheme. I booted up a number of Android emulators, and surprisingly any audio delay was substantially reduced. Was it perfect? Obviously, there's going to be some latency. But amazingly, sonic output across multiple games seemed synchronized with the on-screen action. If there was lag, it was beyond the threshold of my perception.
When paired with Xround's Bluetooth adapter ($39.99 MSRP, with a $29.99 street price), the Aeros can be connected to some modern consoles. On PlayStation 5, the sole drawback is that the microphones can't be used, forcing players to use the mic inside the DualSense controller. Xbox One blocks non-licensed Bluetooth headsets, but we were able to connect with Aeroes with a dongle that inserted into the 3.5mm jack of our television. Switch was near flawless but know that that the adapter won't fit if you have a case on your console.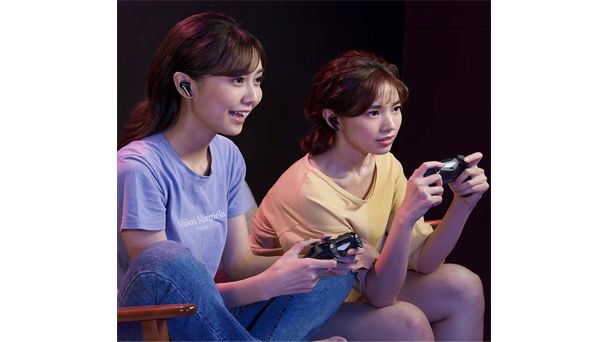 Conclusion
Despite the lackluster plastic used on the earbuds and the case, the Xround Aero Earbuds deliver on their claims. Offering Bluetooth audio with minimal lag, they performed far better than their Samsung and Apple counterparts. With respectable audio quality, simulated Surround Sound and decent battery life, these are worth a look if your priority is gaming.
Tech-Specs
Bluetooth Version: Bluetooth 5.0
Bluetooth Codec: SBC, AAC
Drivers: 6mm Titanium Coated Driver
Frequency Response: 20 – 20,000 Hz
Battery Life: earbuds, 6 hours; via charging case, 24 hours
Charging Case Type: USB Type-C
Weight: Single earbud 4.2g, Charging case 45.8g
Review Overview
Summary : If Xround can improve touch responsiveness and material quality, the Aeros could be obligatory for gaming. As it stands, their earbuds deliver solid performance that should satisfy most gamers.