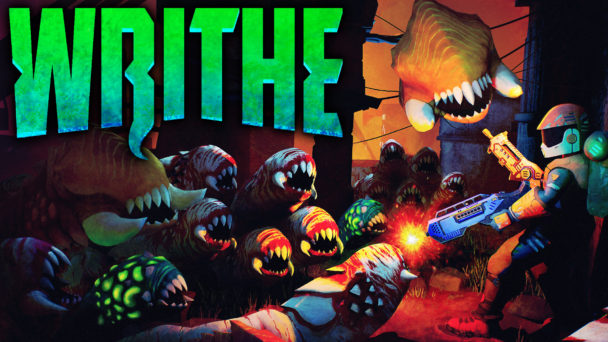 The first-person shooting action comes fast and relentless with Writhe. As long as you're OK with arcade-style action rather than an extended campaign, this wild wyrm hunt might deserve consideration.
Writhe
Platform:
Switch
Developer:
Mission Crtl Studio
Publisher:
Mission Crtl Studio
Release date:
January 15th, 2021
Availability:
Digital
Price:
$9.99 via Nintendo
eShop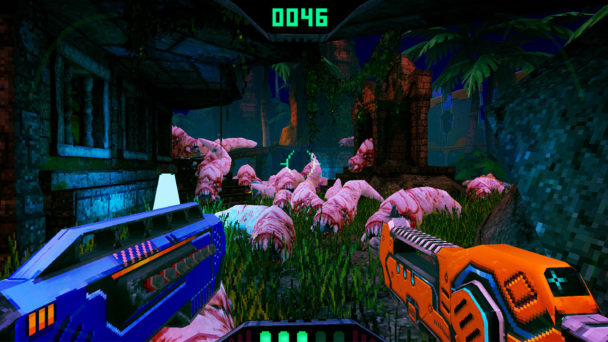 Early gaming was skillful at delivering fleeting, adrenaline-generating experiences. But as the industry shifted from coin-ops to consoles, our amusements become lengthier and more sophisticated. Instead of players forced to feed the arcade cabinets with a steady succession of quarters, the tables were turned. Suddenly, our games were expected to supply a steady drip feed of incentives to keep us engaged.
With the release of Writhe, developer Mission Crtl Studio revisits an era when gaming still occurred in five-minute dose. Head into their recently released first-person shooter, and you'll be thrown into multi-level labyrinths populated by a relentless procession of giant wryms. While armed with a shotgun and plasma rifle, you'll never make it out of the game's three stages alive. Just like the games of old, failure is imminent. All you can do is slow the approach of the inevitable with some precise aiming and nimble navigation.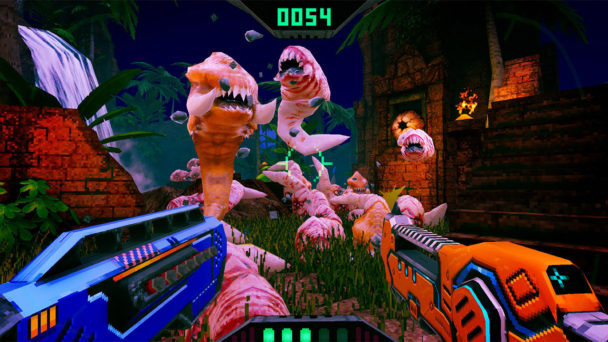 Graphics That Aren't Completely Grubby
Fortunately, there's more to appreciate about Writhe than just a pessimistic encapsulation of life. The game offers two types of visual delivery. Selecting 'Quality' prioritizes the game's graphics,  offering fluidity that never drops below thirty frames-per-second. But 'Performance' seems like the better option, with a solid sixty frame-per-second output without much graphical sacrifice. Sure, the texturing of mutant sago wryms expresses a voxel-like quality when they're up close in both modes. But you'll be doggedly trying to keep the creatures from getting in your face, leaving little time to dwell on details.
The upside of Writhe's lithe framerate is palpable. While I had a difficult time adjusting to the reduced responsiveness in Switch ports like DOOM and Wolfenstein II: The New Colossus, Writhe's refresh rate presented no hinderances. Those who prefer gyroscopic control might appreciate an upcoming patch that promises to add the aiming option, as well as contributes two additional maps of wrym-fragging action.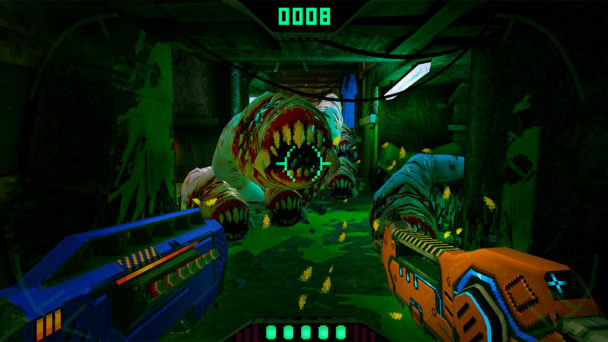 Watch Your Back, Suit-Wearing Soldier
But Writhe could use a few additional tweaks. For one, the game's constrained field of view and lack of any proxemic warning means that wryms will often attack you from behind. Imposing incessant movement is nothing new for the FPS genre, with everything from DOOM Eternal, Call of Duty's reoccurring zombie mode, and Devil Daggers requiring a need to constantly be in motion. But here, it's a bit too easy for enemies to sneak up on you. Ideally, Writhe would offer a way to eliminate enemies as you jump over them (deteriorating spiked boots?) or a bit of back armor.
Another issue is the unchanging loadout you are provided with. Your rifle-and-shotgun combo receive power boosts after collecting enough gems from defeated enemies. But all too often, the augmentation isn't all that perceptible. Writhe's long-term value is tarnished by the solitary load-out. Given the varied arsenals of most shooters, you might long to experiment with different kinds of firearms. But that's not part of Mission Crtl Studio's plans, apparently.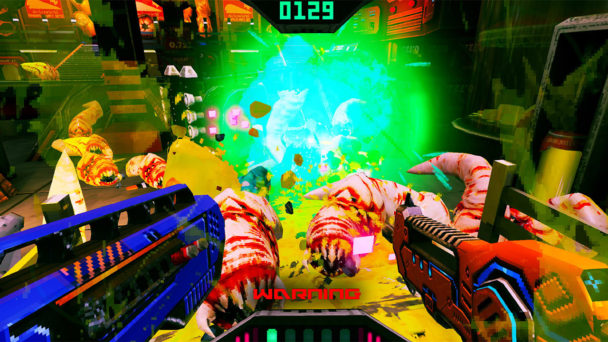 A Bit More Than Just Wyrm-busting 
But if you can look past these blemishes, Writhe offers some grub-gutting, short-term enjoyment. To offset the lack of weapon variety, there are a number of different enemy wryms. Beyond the basic creepy crawler, you'll also encounter exploding ones, as well as stubborn bullheads that will take multiple shots to take down. Target prioritization is also found in the eggs which dot each stage. Divert from eliminating slithering foes and a crushed egg will reward players with a health-replenishing power-up. But let the enemy reach maturity and a stubborn bullheaded wrym will emerge, requiring multiple of shots to defeat. Interestingly, these seem to spawn in certain locations, so map familiarity is rewarded.
Beyond the core game, Writhe extends a few supplements. Narrative is rooted in unlockable, fictionalized newspaper articles, which detail the greed and recklessness that led to mutant man-eating wryms. Additionally, the game uses Unreal Engine 4 to render it's "Unnatural Museum", which you can explore creatures, context and have a bit of conversation. Additionally, online leaderboards will express just how trivial that four-minute run of yours actually is.
Conclusion
Sure, Writhe is about as deep as a puddle of spilled Grub Juice. But if you enjoy short-term bursts of shooting action excitement, the game delivers. Success largely stems from the game's technical performance, which delivers a framerate that's smoother than wyrm slime. What's here is good, but unlike a meal of worm filets, you'll be left hungry for more.
Review Overview
Summary : Writhe's first-person shooting technically adept but lacks a bit of modern longevity. While early birds looking for intense action can get in now at the ten-dollar price, waiting until a sale might be advisable.