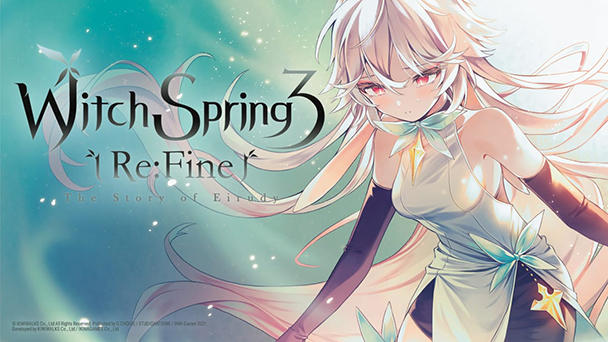 WitchSpring3 is a decent, if unmarkable role-playing game, elevated by the way you augment the protagonist and a mildly enjoyable combat system. But you're better off playing it on a system other than the Switch, where you'll pay a fraction of the price.
WitchSpring3 [Re:Fine] – The Story of Eirudy
Platform:
Switch
Developer:
Kiwi Walk

Publisher:
ININ Games
Release date:
August 13th, 2021
Availability:
digital
Price:
$39.99 via Nintendo
eShop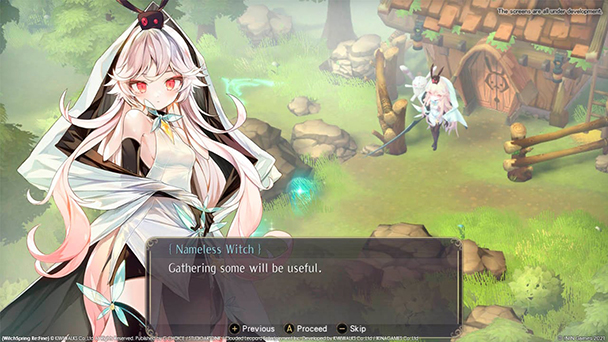 There's a good reason why so many players loathe ports of mobile games. After luring you in with some stimulating gameplay and showering you with digital trinkets, they promptly become money nags. Advancement becomes deliberately difficult or tedious until you ante up enough currency to bypass a scheming game system. Much like the methods used by ransomware extortionists, once you pay there's little guarantee that the pestering won't stop. After being burned multiple titles, I'm persistently suspicious when review code for a new mobile title arrives.
But Korean developer Kiwi Walk's WitchSpring3 [Re:Fine] – The Story of Eirudy isn't the average gacha gotcha. Instead of having an inventory of in-app purchases or currency linked to real-world cash, it is a $4.49 title without any type of additional expenditures. Nearly four years later, the role-playing game has arrived on Switch, where it's exponentially more expensive. While it's mildly amusing adventure without the pestering of most mobile titles, it still doesn't feel like a typical console role-playing game. Even worse, it's reprehensibly priced.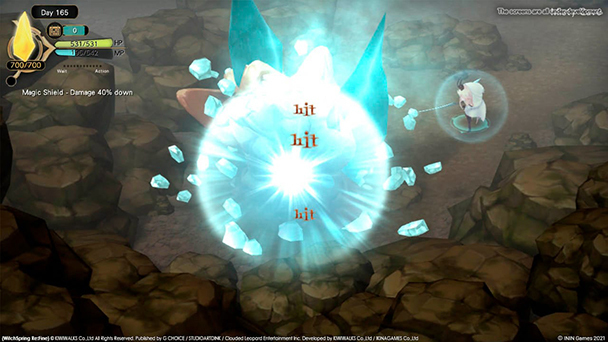 Master of Marionettes
The Story of Eirudy doesn't require playing any of the preceding entries in the WitchSpring series. While there's some references to the first two titles, the third WitchSpring entry takes place on a different continent. As such, it's an inviting in-road to those unfamiliar with the franchise, especially players well-versed with role-playing traditions.
Like many witches in gaming, WitchSpring3's Eirudy lives in melancholic seclusion. She's beautiful, of course, with character portraits depicting a snowy-haired sorceress with striking, crimson-colored eyes. Beyond her grandmother, Eirudy's cottage in the heart of the Misty Forest is populated only by marionettes. But when hunting a wild boar, she fortuitously saves the life of a human boy. The interaction upends her tranquil life, propelling the witch on a journey of self-discovery.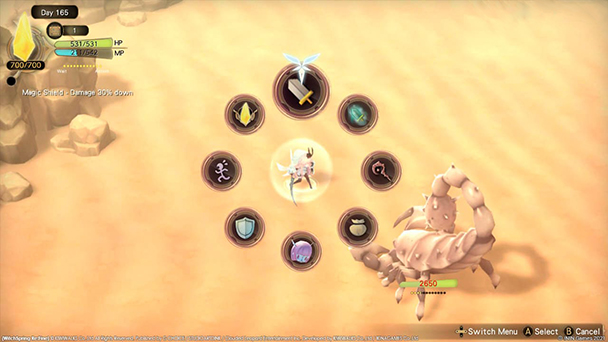 Spell Casting Through a Radial Interface
The game's fairy tale vibe offers expected elements, from a protagonist pushed out her comfort zone to a requisite ailing character. While it's certainly entertaining, it's undermined by a sloppy localization that hinders us from getting too emotionally involved. Instead, the best expositional moments arrive from the game's striking CGs, courtesy of Jiseon Hong.
WitchSpring3's other misstep is rooted in an extended tutorial that doesn't provide much freedom, forcing players to follow the game's directions. The game has a multitude of different mechanics, from the production of potions, regular training sessions, to injecting Vitality into her dolls to bring them to life. None of them are too complicated if you're acquainted with the role-playing genre. But your hands are held for far too long, with on-screen prompts dictating every action.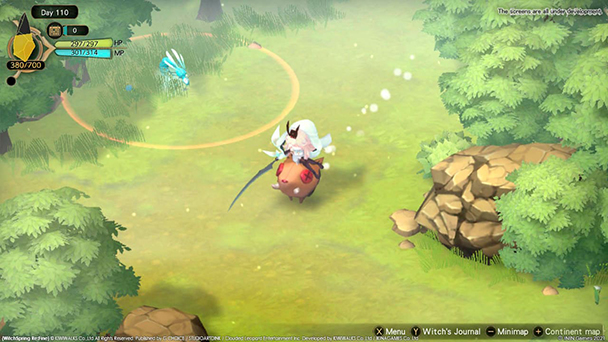 Leading Players Like Puppets
Sure, trading HP for expended combos isn't commonplace and the lack of discrete leveling is kind of novel. But ultimately, these are just small deviations from formula. Likely, you'll adjust quickly and grow resentful of the game's restrictive approach.
But woefully, this lack of autonomy lingers through most of the game. As you explore areas around Misty Forest, you'll find monsters parked in preset positions that persistently respawn. There's an obvious order in how you should confront them which is revealed by comparing your HP to the monsters.
All too often, The Story of Eirudy seizes too much control, determining when you can train to boost your stats and constraining the amount of Vitality that can be stored within the protagonist's Soul Stone. While the Atelier series seems like an obvious inspiration, the Idea Factory franchise extends far more flexibility in how you advance through the game. Even defeat in battle is without reprimand, eliminating much of the tension. And forget about excessive grinding. Before long, the game devalues any rewards from non-compulsory fights.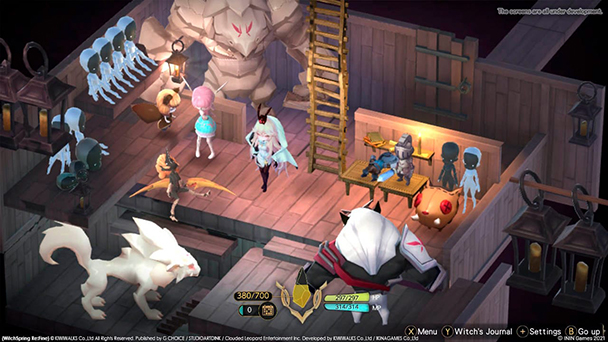 Here Comes the Doll Army
But that's not to say that WitchSpring3 completely lacks enjoyment. The turn-based combat might be simplistic, but it is moderately entertaining. While you can fight lesser foes directly, you'll want to recruit members of your marionette battalion for battles against tougher foes. Eirudy can summon up to three of her assistants in battle, with each beckoned taking a turn. Later, you'll learn to circumvent some of the downtime, which is a pleasing convience.
Each doll brings its own ability into battle. The first one you adopt heals with every turn, while others amplify your attacks. Another opportunity is found in the ability to augment your strikes for a few turns, in exchange for magic points. This becomes essential when tackling tougher adversaries, but like many aspects of the game, it's always quite evident when you should go all-out.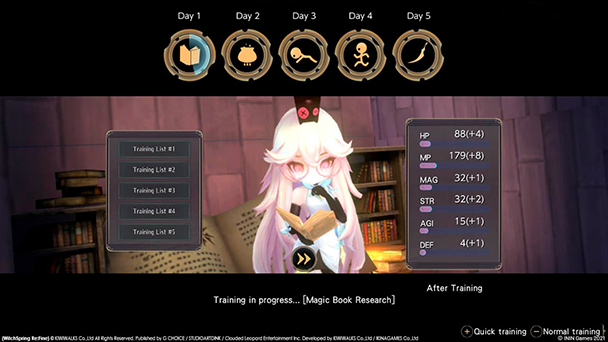 Witch Workouts are the Best
While the game's storytelling and localization doesn't make Eirudy too appealing as a character, she certainly has her visual charms. Periodically, you'll be able to establish a 5-day workout routine for her.  Seeing the animation of a diminutive witch perform push-ups or attentively study her spell book is undeniably cute. It would have been wonderful to see more adorable treats like these. But pleasingly, this isn't the only way to cultivate the character. Using found resources and items, you can create consumables that provide a stat boost. Even hunting pintsized foes that roam around the map can provide a small advantage.
The Story of Eirudy provides a slow drip-feed of growth for the protagonist. While that's the case for almost all RPGs, its especially evident here. You'll probably find yourself playing to build the protagonist for the next foe, rather than the reveal of the next plot point. That seems to be a recurring distinction for mobile role-playing games, which might be another reason why they are habitually inferior to their console-born brethren.
Review Overview
Summary : WitchSpring3 [Re:Fine] could use the following: a drop in price, a retooled localization, and/or retuning of to make progression feel less linear. If one of more of these happen, only then should The Story of Eirudy be a consideration.