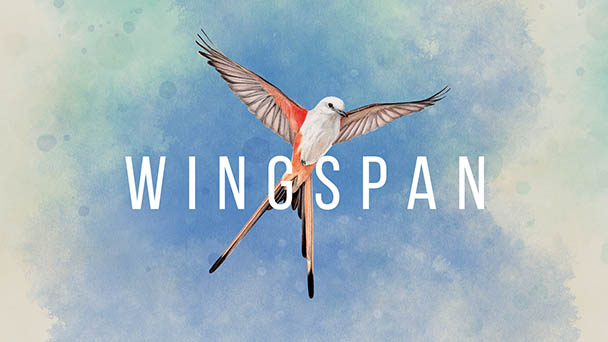 Board game fans with even the slimmest interest in our avian associates will enjoy Wingspan's clever play mechanics. Here's a table-top adaptation that a sweet as a nightingale's song.
Wingspan
Platform:
Switch, PC
Developer:
Monster Couch
Publisher:
Monster Couch
Release date:
December 29th , 2020
Availability:
Digital
Price:
$19.99 via Nintendo
eShop
, $17.99 launch price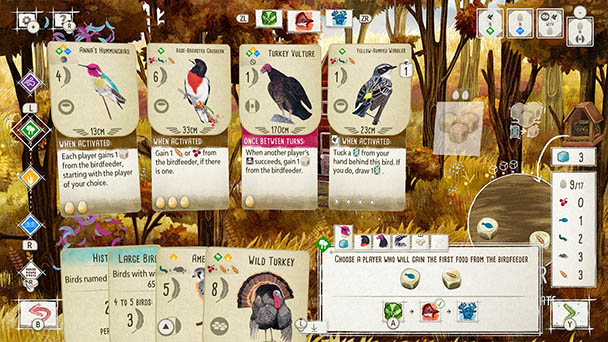 Traditional table-top gaming during the pandemic is unfeasible for many. With health guidelines stipulating limited interactions across households, spirited weekend meetups have been suspended. But given the growing popularity of digital adaptions of table-top game, enjoyment of these recreations is still possible. Sure, the feeling of kinship might be lacking as you complete with online or AI competitors. But the obligations of set-up, scoring, and clean-up are all automated, which is a respectable trade-off.
Delve into developer Monster Couch recreation of Wingspan and you'll miss some of the charming features of the board game. Designer Elizabeth Hargrave's original table-top recreation is a tactile charmer, with features like tiny pastel-colored bird eggs and a dice tower that resembles a quaint birdhouse. But those have been replaced by additions that are unfeasible for a table-top game. From hearing the signature call from many of the game's 170 birds, spoken trivia about the feathered stars, and Paweł Górniak and Michał Lipiec soothing soundtrack, the adaptation is a digital delight.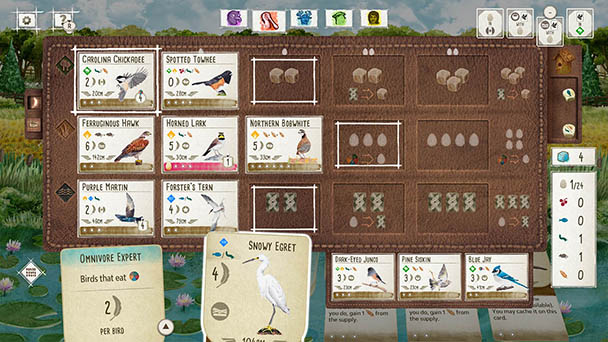 A Brilliant Mix of Accessibility and Strategic Depth
Wingspan isn't overly complicated, with a limited number of actions available for each turn. But if you're unfamiliar with Euro-style engine-builder games, tackling the optional interactive tutorial once or twice is recommended. Much like watching a YouTube video that explains the basics, be aware that the majority of learning happens when you're actually playing the game. The advantage here is that the digital version allows only admissible actions, which speeds the learning process. Another upside is that absorbing the basics can be done at your own speed, since Wingspan accommodates single-player matches as well as games against the ever-patient CPU.
Pleasantly, Wingspan doesn't feel tensely competitive, with players having only an indirect influence on each other. Each player's decisions predominantly impact their own trajectory through a game, as they try to amass a collection of birds, eggs, and cached food. At the beginning of the game, each player keeps five items from a collection of five bird cards and five food tokens. Likewise, you'll select one bonus card from a pair, while discarding the other one. Early on, these choices will guide your strategy for growing a bird sanctuary.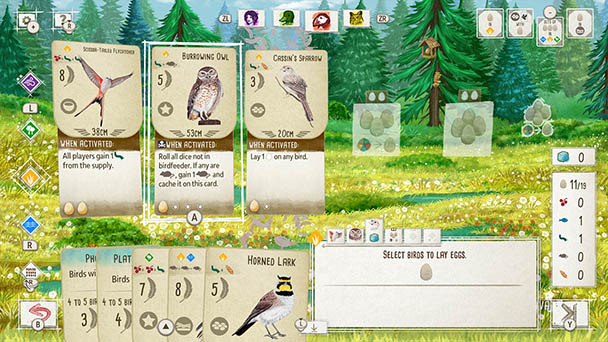 Naturally, There's A "Nested" Decision Structure
As an engine builder, your choices grow, opening up new approaches. Like any top-tier game, you might find yourself chasing big payoffs accompanied by moderate risk or perhaps a safer method that results in steady progress instead of a large windfall. But play is persistently pleasurable since there's a sense of accomplishment across each match. Variety is rooted in the cultivation of forest, wetland, and grassland habitats. Each provides players with different scoring opportunities to pursue.
Another satisfying element is the concise length of each game, with matches typically lasting four rounds, while an entire game lasts about twenty minutes. Turns permit four actions: playing a bird card, contributing to your food supply, laying eggs, and drawing additional bird cards (with the latter three allowing players to activate bird powers). Action cubes help keep track of the number of turns, which begin at eight per round and gradually dwindle down to five. While Wingspan's matches might be succinct, they deliver the satisfaction of turn-based tactics without the feeling of being in a quagmire. As such, the game is perfect for play on portable play and only slightly less advisable on PC.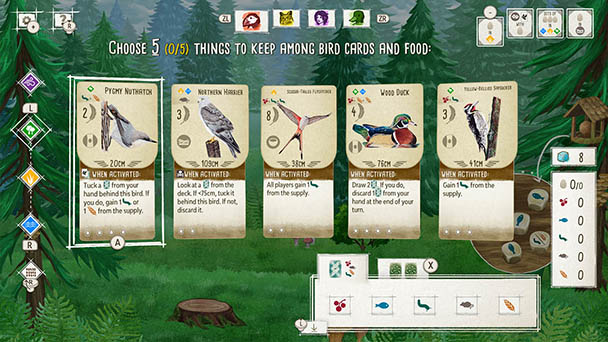 Trouble-free Controls
As adaptations go, Monster Couch has done a commendable job with Wingspan. The game's well-heeled user interface makes play easy, with an approach that seeks confirmation for commands. Even on the Switch Lite's diminutive screen, everything is easy to read and the bird cards are large enough to flaunt the details of every bird. Additionally, touch input is an alternative, with menuing large enough to make navigation expedient.
The downside is that right now, Wingspan only supports the base game. But hopefully, the European and Oceania expansions will be added in at a later date. While it's not a fault of the digital version, the lack of Latin American birds is rather glaring. After all, South America is considered the "bird continent" with over 3432 different species.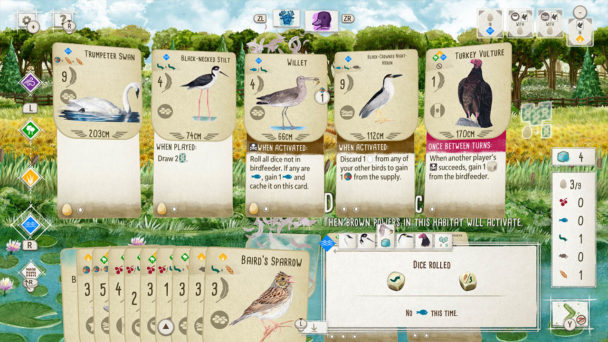 Conclusion
One micro-criticism aside, Wingspan has enough substance to enthrall board fan aficionados. Even after dozens of matches again AI opponents across the last two weeks, I keep coming back, building my compendium of plumed creatures and unlocking trivia about each bird. Wingspan is both relaxing and compelling, which is a rare but magnificent intermingling.
Review Overview
Summary : As long as the pandemic rages on, a copy of Wingspan and Discord group call is one of the better table-top experiences to be found. Social circles that value camaraderie over friendly competition should particularly enjoy the title.