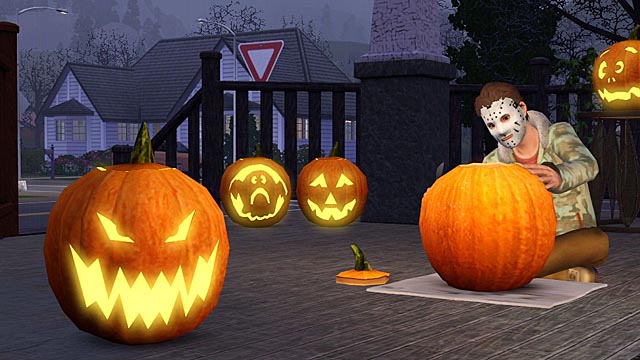 Considered the apogee of the late baroque period, Antonio Vivaldi's The Four Seasons is now ubiquitous. Reduced to a hackneyed signifier of luxury, the concertos have been used in ads for Hewlett-Packard, Lincoln as well as countless jewelry stores, each gradually ebbing away at the set's articulation of the splendor of an annual cycle. British composer Max Richter's recent work, Recomposed, strives to reclaim Vivaldi's masterwork, reworking each piece to recapture the sequestered grandeur of the suite. Pleasingly, the newly arranged high strings and tranquil tenors allows The Four Seasons to shine anew, unsullied by the stain of brash consumerism.
In many ways, The Sims 3: Seasons attempts the same feat. Following a succession of Expansion and Stuff Packs which culminated in the addition of Diesel and Katy Perry-inspired items, it seemed as if EA's once-promising franchise was in danger of wearing out its welcome. Smartly, Seasons proves to be a worthwhile supplement, contributing a number of stimulating elements to the Simiverse. In short, the expansion might just be adept enough to rekindle an interest in the title.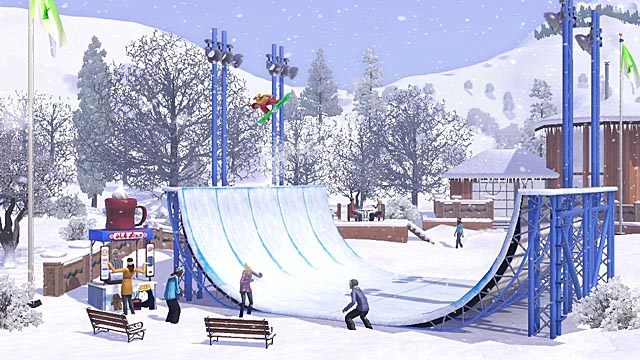 Unsurprisingly, the pack's most perceptible addition is the addition of seasons into the Sims standardized ecosphere. Bestowing complete climatic control, players have the ability to adjust the length and weather conditions associated with the seasons, as well as toggle off any unwanted phases. In execution, there's little reason to remove any of the seasons. From Spring's abundance of vibrant wildflowers or Winter's tranquil snowfall, each period delivers a plush infusion of nature into The Sims. Rain, as well as the intermittent thunderstorm are particularly well articulated, supplying convincing patterns of precipitation. Delightfully, the weather cycle feels organic. Although Sims may check newspapers, computers and TV for forecasts, typically the skies foretell a change in atmospheric conditions.
Accompanying the addition of dynamic weather are conditions which can affect your Sim. Overexposure to the elements can lead to Sims becoming ill- and in excessive cases, an appearance by the Grim Reaper. Fortunately, Seasons does contain a modest amount of new clothing items which thwart the onset of sunburn or frostbite. For Sims who are susceptible to allergies, Spring can be accompanied by sneezing and nose blowing, while rain and snow increases the susceptibility of catching a cold. Although these ailments can be cured with a trip to the local hospital, in execution they feel like a bit of a nuisance.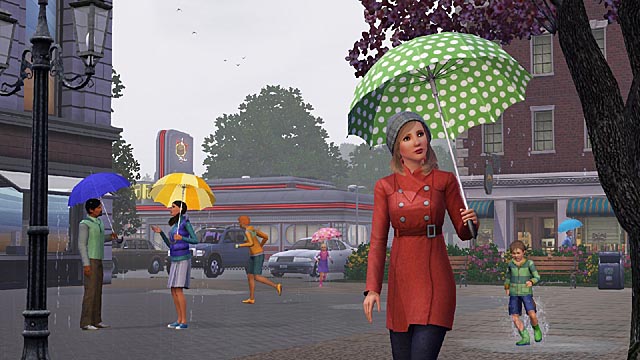 Naturally, each season is accompanied by a set of new activities, which help flesh out the life of a Sim. Certain bodies of water allow for swimming during balmy summer periods, while adventurous avatars may earn the Polar Bear Club moodlet by venturing into wintery waters. Igloos and leaf piles can be built, each offering an atypical venue for woohoo sessions. While wintertime seems like an ideal period to build your own backyard snowboarding halfpipe, artificial snow allows Sims to advance their skills throughout the remainder of the year.
More interesting is the integration of aliens into Seasons. Peering into telescopes and scattering space rocks has the ability to attract extraterrestrials- who have the ability to abduct, befriend, and even impregnate Sims of both genders. Co-habitating with an alien grants players access to the Galaxa Space Car, a speedy, well-armed, way to get around town. Alternatively, gamers can upgrade the vehicle for interstellar transit, although destinations offer little more than text-based diversions which offer a few token items. Ideally, future Sims expansions will advance Seasons intergalactic possibilities, allowing exploration of exotic and possible outlandish milieus.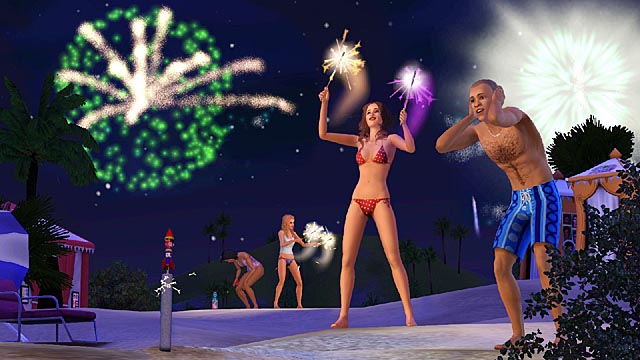 The inclusion of holidays into Seasons is capably handled. Although events are given strategically ambiguous descriptors in the Simiverse- such as Spooky Day or Snowflake Day, it's obvious what celebration is represented. With Sims given a day off from work and school and numerous celebratory activities to engage in, holidays often feel like the expansion packs' highlight. From Autumn's pumpkin carving and apple bobbing, Summer's sale of pyrotechnics, as well as the menorahs and twinkling lights which mark Winter, Seasons does a remarkable job of articulating the festivity of each event.
After a few decidedly superfluous Sims Expansions and Stuff Packs, it's gratifying to see the development back on track. For the most part, the changes in Seasons are satisfying, providing an entertaining swath of supplements which not only will remind gamers of Sims 3's strengths, but also the natural magnificence of mother nature. I wouldn't be surprised if Seasons goads gamers to rediscover the real world after frolicking in the virtual one.