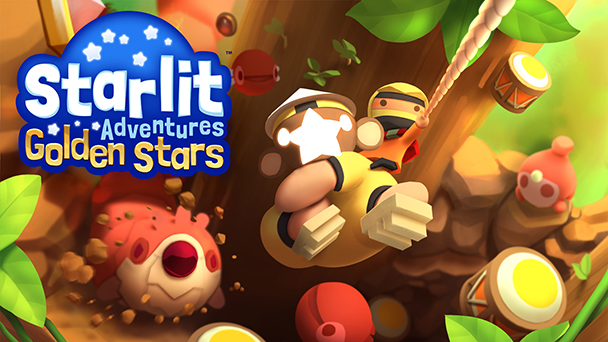 The Switch version of Starlit Adventures Golden Stars removes all the micro-transactions of the mobile release. The result allows the game's retro-rooted play to shine, without all of the bothersome coercion and persistence to sign into Facebook.
Starlit Adventures Golden Stars
Platform:
Switch, previously on PlayStation 4, mobile
Developer:
Rockhead Studios
Publisher:
Rockhead Studios
Release date:
July 3rd, 2020
Price:
$19.99 via digital download
Availability:
Nintendo eShop
Starlit Adventures Golden Stars is a $20 port of a free-to-play mobile game. Normally, an explanation like that indicates three different reasons to stay far away from a game like this. But here's the plot twist: if you're a fan of retro games like Boulder Dash, Dig Dug, Kirby's Adventure, Bomberman or Pengo, Starlit Adventures is worth seeking out on Switch. Blending light puzzles with accessible action, Rockhead Studios' decision to remove microtransactions proves to be a winning strategy. While I don't think this method would work for most F2P fodder, here much of the revenue-generating goading is gone.
Each of the game's 144 stages task players with making their way to the bottom of vertically scrolling stages. You'll take control of Bo and Kikki, a team that consists of a humanoid rider atop of giant mole-like creature, much like the pairing of Mario and Yoshi.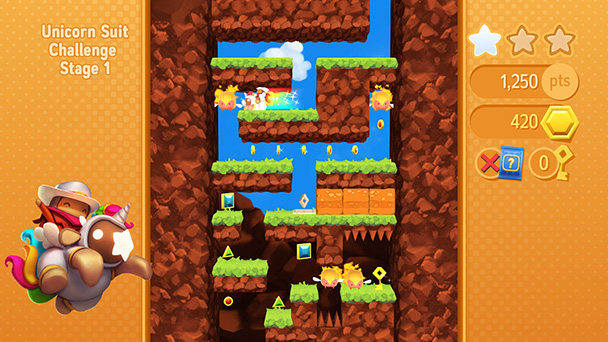 Light Antagonism
After the world's stars were stolen and scattered by the nefarious Nuru, restoration involves collecting them. Standing between the protagonists and that feat are a multitude of obstacles that range from environmental hazards like spikes to a multitude of rather docile enemies that predictably typically shuffle back and forth. While the game's difficulty is persistently soft, there is no deficiency of danger.
As mole-like creatures, Bo and Kikki can burrow through the ground, removing a chunk of the playfield. But if there's a giant gemstone above when the soil is removed, the stone will shake for a second before falling. You don't want to be underneath when gravity does its thing. Another restrained danger are bodies of water. While both Bo and Kikki can swim, they can't stay submerged for too long, and you'll receive a Sonic-like countdown as you run out of air.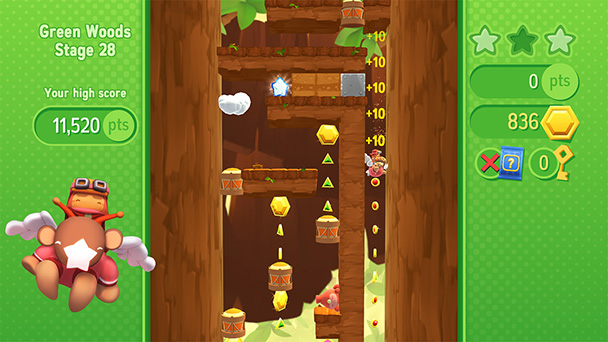 Suit Broker
While it's possible to complete a level with the duo's ability to dig, jump, and move horizontally, levels hide an inventory of collectables. Beyond gather stars to open new stages, stickers to amass for perusal outside of play, there are also a multitude of coins to gather, which come in different shapes and scoring values. Without any kind of nagging time limit, score chasers will want to maximize the number of coins collected, typically by exploring every on-screen alcove.
Opt to wear one of the games twelve different suits and Bo and Kikki are endowed with a few helpful abilities. Donning the Bomber Suit allows you to drop timed bombs and toss explosives around, like a certain Hudson Soft classic. With the Snow Suit you can freeze enemies and turn them into ice blocks, while the Flying Suit lets you float upward. Beyond nine different basic suits, Starlit Adventures also offers a trio of golden ones, which contribute additional abilities. Sold for $5.49 USD apiece in the mobile version, they're freely available for use in the Switch version, softening the game's difficulty.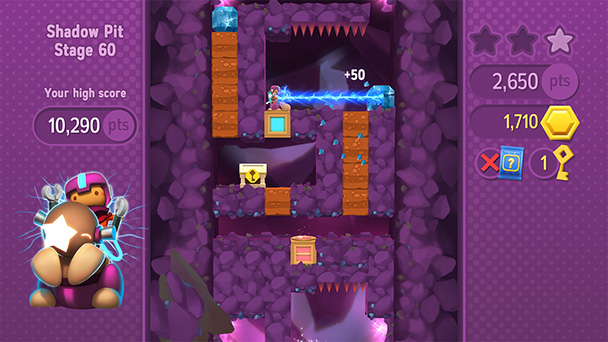 But Where Are the Leaderboards?
Suits, either regular or golden, allow you to access specific areas. With the Electric Suit, you can pull metallic boxes, opening new passageways. Or the Flying suit permits players to backtrack back to a branch in the stage. With the light level of difficulty, much of the enjoyment in Starlit Adventures comes from replying stages and trying to top your own score. Although the game is online when there's a Wi-Fi connection around, there are no leaderboards on Switch. This feels like a huge missed opportunity and would have added longevity.
On the upside, the control scheme gets a significant improvement from the mobile version. On iOS and Android, a tap on the upper part of your screen would jump with the Adventure or Flying Suit. Not only do physical controls offer a better experience (jumping out a water is still awkward), but now you can leap with any suit, which makes stages a bit more interesting. And instead of your in-game currency to continue after losing a life, now there are no associated costs. As such, experimenting to nab that stubborn coin in the corner is more common.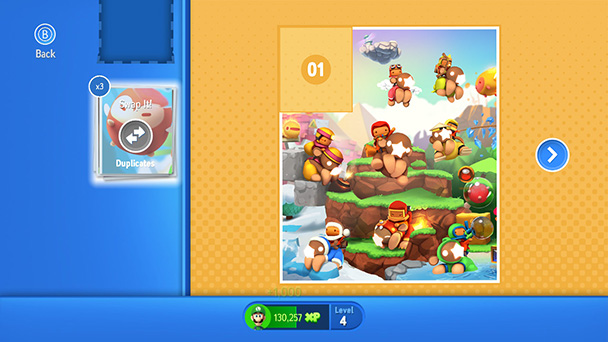 Clean, and Cute Visuals
Often, user interfaces only receive mention when they are unattractive or uncooperative. But Starlit Adventures menus are exceedingly sleek and responsive. You'll see brief pop-up when one of the 129 in-game achievements are earned for doing things like beating a boss without taking damage or eliminating a certain number of subordinates. The sole blemish is the inability to use to the touchscreen when posting collected stickers in your album. On mobile, this action feels a bit more organic.
In game, Starlit Adventures Golden Stars offers a nearly flawless sixty frame-per-second delivery in both docked and handheld mode. In adapting the game, Rockhead maintained the portrait orientation of the original. Sadly, there's no tate mode. Coupled with the game's bright palette, themed environments, and attractive artwork, it's clear that Rockhead Studios is striving for a Nintendo-style look, and they virtually successful in their pursuit. Although Bo and Kikki lack the personality of Kirby or Yoshi, they're relatively cute. The game's music, with mimics the symphonic swells of a movie soundtrack underscore the action but repeats with just a bit too much frequency. But it hard to be too disparaging to a title that ends every stage with a cheerful fanfare and a round of applause.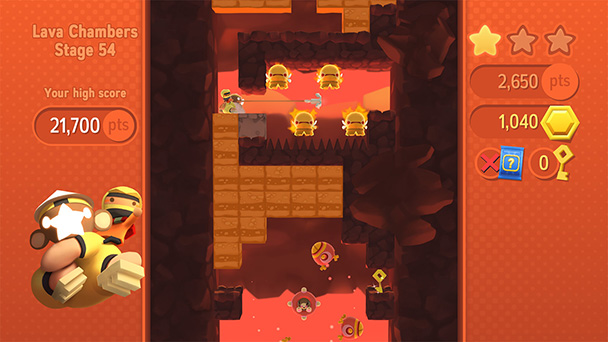 Starlit Adventures Golden Stars was played on the
Switch with review code provided by the publisher. 
Review Overview
Summary : Yes, paying twenty dollars for the Switch version of a free-to-play mobile title might sound crazy. But Starlit Adventures Golden Stars is the rare exception. Expect a solid eight hours of spirited fun that coquettishly references arcade classic, without all the micro-transaction nonsense.