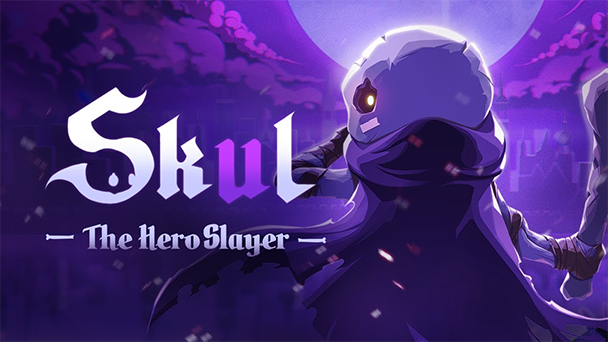 Inverting the usual heroic take, Skul dons a multitude of ability-sets to overcome humanity and free the Demon King in this challenging, charming action roguelike.
Skul: The Hero Slayer
Platform:
PC
Developer:
SouthPAW Games
Publisher:
NEOWIZ
Release date:
January 20th, 2021
Price:
$19.99 via digital download, launch discount $15.99 through 2/3
Availability:
Steam
Founded four years ago by a group of students at Chonnam National University in South Korea, Skul: The Hero Slayer is a game fated for comparison. The most obvious analogue is Dead Cells, with both games sending amorphous characters through procedurally generated, side-scrolling stages. Each is a roguelike, tasking players to make the most of random power-ups as they make their way through the game. The punishment for dying is similarly harsh, with players forced to forfeit almost all of their progress. The allusion is undoubtedly intentional, with Dead Cells protagonist, The Prisoner, making a cameo appearance in Skul.
But it's hard to tell if The Hero's Slayers other similarities are deliberate. You play as the eponymous undead lead, trying to rescue the Demon King after the ruler was kidnapped by troublesome humans. Periodically, you'll swap your own skull with found ones, providing a new ability set and appearance. Many of these are forms are built around popular game archetypes. As such, it seems possible that the seven-person development team of SouthPAW Games was influenced by Sega Technical Institute's 1992 title, Kid Chameleon. Beyond a few of the transformation types (Samurai, Berserker) and a number of similar ones, success hinges on improvisation.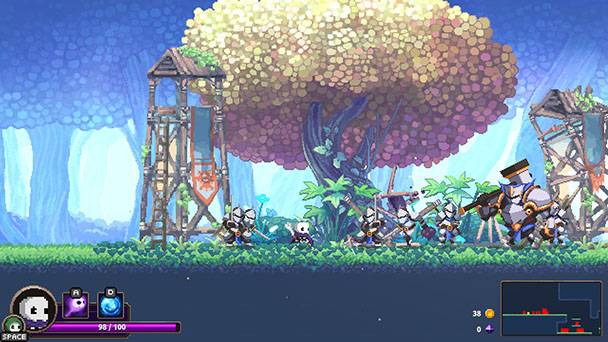 Go Ahead, Lose Your Head
Most skulls offer two core capabilities controlled by cooldown timers. For the fire-blazing Rider, you'll dish out punishment from atop the Hell Bike, damaging anything unfortunate enough to be in your path. You can also toss out chains, lassoing enemies and dragging them behind you. While most skulls provide melee-based capabilities, the Hunter can fire arrows with the possibility of launching a powerful piercing shot. Pleasingly, The Hero Slayer lefts you swap between two forms, often with another attack triggers during the transition.
Each skull is built around a different playstyle, with the aforementioned Hunter surviving by maintaining a distance from opponents, while the Jinn and Dark Paladin favor getting up close to foes before nailing them with a body slam. Skulls are rated by rarity, and you'll find the more exotic ones like the Ninja, who can triple jump around the screen, exceedingly useful. If you encounter an ability set that you don't like, The Hero Slayer lets you break it down into bone, which is a currency for upgrading skull forms. Like Dead Cells, you'll occasionally have to work with an ability-set that isn't your favorite. Make the best of things and using any advantage that's offered is the lesson these games impart.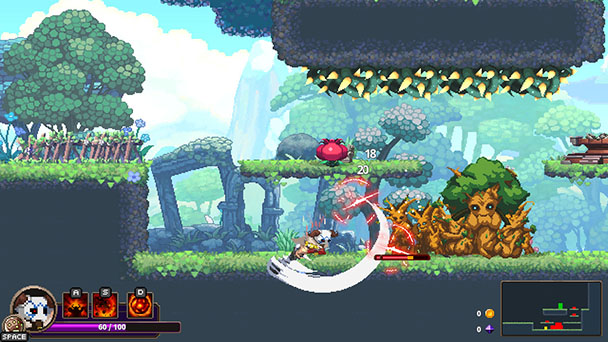 Frenzied Fighting Across a Quintet of Realms
For better or worse, combat across each game's five stage trek is quite hectic. Skul: The Hero Slayer like to fill areas with enemies. While it's enjoyable to cleave through a crown of foes, it's easy to overlook the one signaling with a pre-attack animation. But given the responsiveness of the game's controls, you'll persistently feel you have a decent shot of success. Naturally, that feeling gets diluted over dozens of botched attempts which all play into the thrill of finally triumphing in an hour-long run. And yes, you'll be gloating over that winning run for a while, channeling the elation of a first-time marathon finisher.
Success stems from familiarity just as much as skill. Discovering the best approach to control the different enemy types in each of the five milieus in enjoyable. In the plant realm, you'll learn gain important habits like staying away from the walking cherry trees who can produce a cloud of poisonous, pink pollen or the foes who can generate sprouts that spike upward. But fighting the same bosses (and mini-bosses) in the exact same order every time isn't as enjoyable. The sole upside is earning enough currency to give your base stats an upgrade. Investing in the lead character doesn't drastically make the game's trek any easier, but it does help offset discouragement.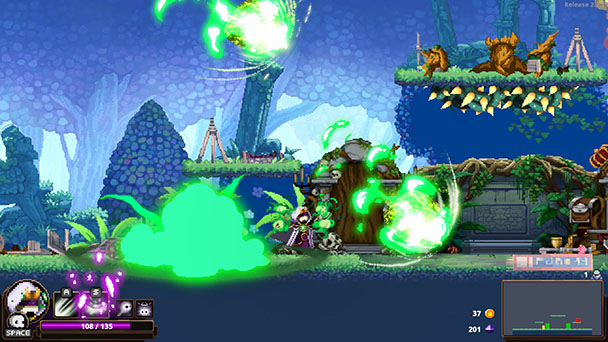 Conclusion
Visually, Skul: The Hero Slayer's pixel art is graceful and clean, permitting players to easily read each area for hazards. There's plenty of animation for both the game's lead and enemies, which is especially noticeable in the laboratory-like environment, where nearly everything around you is explosive. Sonically, the game's soundtrack delivers a number of rollicking tracks that ratchet up in intensity during the game's showdowns against bosses. The only real artistic shortcoming is the English localization which can feel a bit stiff.
Save for Skul's trek being a bit too linear, The Hero Slayer is an engaging experience, highlighted by fluid controls and the variability of 70+ ability sets. Fans of action-driven roguelikes should be delighted by the game's charms and challenges, learning the best strategies for delve deeper into the game's recesses.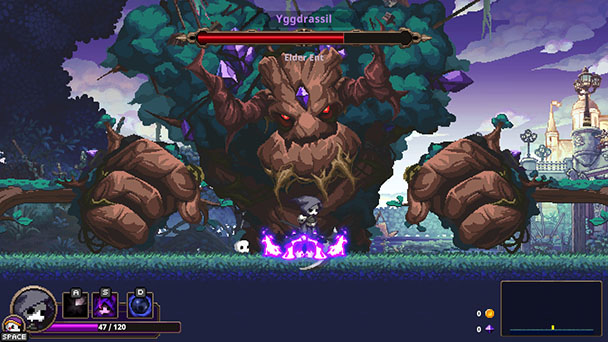 Skul: The Hero Slayer was played on PC with review code provided by the publisher. 
Review Overview
Summary : If you appreciate tough, side-scrolling treks where you make the best of different ability sets, Skul: The Hero Slayer is a worthwhile roguelike.