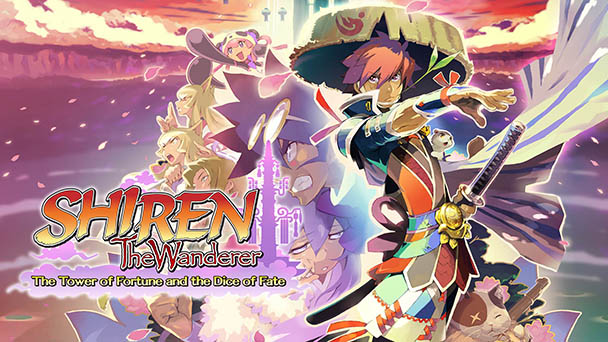 One of the best dungeon crawls to ever grace Vita screens arrives on Switch, bring its tense turn-based expeditions back onto a Nintendo platform. Know that this ronin's undertaking is tough, but ultimately quite rewarding.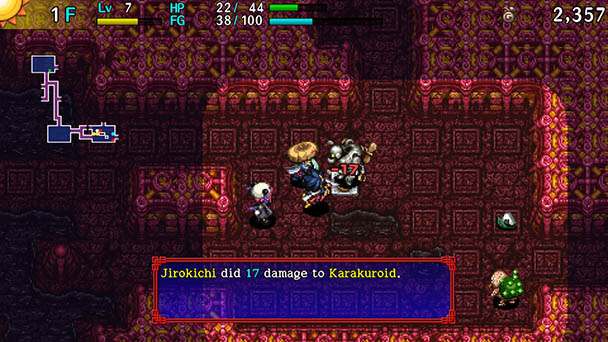 There's a likelihood that Western gamers might not be cozily familiar with Spike-Chunsoft's Shiren the Wanderer series. After all, save for a pair of late 2000's localizations for the Nintendo DS and Wii, and the release of Shiren the Wanderer: The Tower of Fortune and the Dice of Fate on the PS Vita four years ago, the bulk of the franchise hasn't made a stateside appearance.
But there is the possibility of acquaintance with the overarching Mystery Dungeon games, which spurred numerous spin-offs rooted in Pokémon, Final Fantasy and Etrian Odyssey properties. And if you played a single one of these titles, then you'll know that Chunsoft has progressively crafted one of the most engrossing, rogue-likes around. Shiren the Wander is one of these, albeit the lone Mystery Dungeon off-shoot with original characters.
Fun fact: Shiren's Iconic Headgear is Called a "Roningasa"
With the port of Shiren the Wanderer: The Tower of Fortune and the Dice of Fate for the Switch, Spike Chunsoft hopes to reinvigorate the reticent ronin's reputation outside of Japan. Built upon the foundations of a Japan-only, DS game from 2010, the title has aged remarkably well, extending procedurally-generated, permadeath dungeon crawls that conceal an enormous amount of longevity.
Unlike titles with preconceived plotlines, Shiren offers an intricate, randomized simulation that tasks players with learning the rudiments of survival. Although the occasional bout of infuriation and discouraging situation might arise, there's more than enough gratification to absolve a merciless random number generator. But before entering in the Tower of Fortune, know fate can be vicious, with hours of progress undone in an instant.
More Narrative Substance Than Most Rogue-likes
At first glance, Tower of Fortune and Dice of Fate seems light on narrative. Within the game's first town, Shiren and his perpetual sidekick- a talking weasel named Koppa encounter a terminally ill girl named Oyu. The only hope for treatment is located in a series of sprawling towers that are filled with a perilous number of enemies and ensnarements.
As such, her young love, and as well as the protagonist and his sidekick, ascend on the strongholds- each unperturbed by the possibility of peril. And while the fairytale-like impetus appears frothy, there's a surprisingly amount of substance to be found. One of the game's virtues are the subtle traces of Japanese folk lore and tradition. Early on, players will learn of a god/kami named Reeva, who demonstrates the decidedly Shinto-esque trait of subverting the binary dichotomy of good and evil.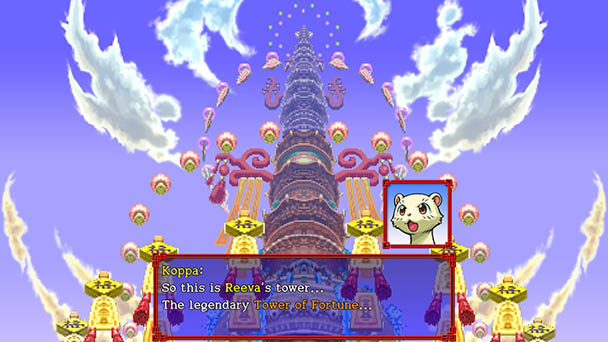 Party Members Who Are a Step Above Most AI Drones
Then there's also the NPCs who flaunt more personality that your average dungeon-crawling denizens. Tao is a panda-suit clad explorer who's willing to act as a chaperone for a bit of coin, while Kojirouta is a wealthy samurai who absurdly throws currency at any dungeon-dwelling creatures. Beyond the sporadic bit of expositional dialog, each associate behaves quite differently, with Tao hanging close and throwing a boomerang at foes and Kojirouta actively engaging foes.
Your party members also grow along with you, gradually leveling up as they persevere. Unlike Shiren, who resets to level one and can lose a majority of his possessions when defeated, your AI-powered subordinates retain their progression, extending one of the game's few concessions.
Don't Skip Survival School
Like any Rogue-like, the punishment for perishing is brutal, potentially transforming a rollicking run at the Towers into an impulse to throw your Switch Lite across the room. Early on, the odds are stacked in your favor. Spike-Chunsoft offers two types of tutorials, with a town NPC extending interactive training, while a preliminary dungeon giving a second explanation of the game's mechanics.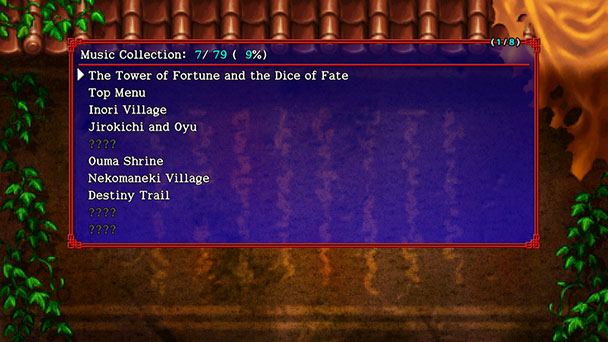 While the in-game lessons seem comprehensive, there hardly hamper the feeling of discovery. Survive, and you'll experiment with a large variety of items that all seem to have some kind of side-effect, like expanding your HP limit or the size of your stomach. As action often have unforeseen consequences, success in Shiren is not just about minimizing risk, but also testing out each article when you have a transitory moment of safety.
A Wealth of Malevolent Monsters
Research will uncover safeguards, like items which allow escape when your health is about to expire or tags that can be placed on equipment, potentially returning them to their owner. Ingeniously, The Tower of Fortune incorporates online functionality, allowing other players to provide aid to any fallen adventurers. Players will also need to craft a mental bestiary, as the tower's numerous terrors all behave differently. Some simple fiends make a beeline for the player, while some wait to surround you.
By far the worst are the ones who wait in the periphery, launching ranched shots that can decimate the entire team. But no matter how fierce a foe, there's always a tactic to be uncovered. As such, Shiren rarely sinks into tedium; you're always gleaning some new insight that's vital to your continued existence. This knowledge is imperative for post-campaign content, which presents a procession of nerve-wracking challenges. New to this outing is the inclusion of three additional dungeons, including the Bladeless Dungeon, where you'll be tossing rocks in a brutal test of survival.
Hello Darkness, My Old Fiend
Although, temporal cycles are common in interactive entertainment, rarely has night felt as dangerous. Here, torches are needed to illuminate the environments, signaling the presence of the prone to all nearby adversaries. And unlike most games where variables are tweaked to represent nocturnal strength, the context presents a number of fundamental changes. Monsters become especially ferocious, attacking anything that moves, including their own brethren. Since beasts can level up after defeating foes, this presents a genuine quandary for Shiren, whose requite arms prove to be powerless at night. Survival revolves around using the limited ability of an amulet. Since this is only recharged when players ascend to the next level, the brief moments of darkness are some of the game most intense moments.
Like everything else, fortitude is contingent on shrewd inventory management. Naturally, Tower of Fortune limits your carrying capacity, often making the discovery of new items a quandary. Essentially, each piece of equipment has an assistive function. But the most indispensable items are the ones that one needed during infrequent conditions, installing the game with a taunt risk-reward dilemma. Even when you play with the acumen of an economist, weighing the cost-to-benefit ratio of each newfound tool, and stockpiling essentials back in town, regret is bound to arise. It's at once disheartening and fascinating, likely encapsulating your entire experience with Tower of Fortune.
Conclusion
For players with the patience to handle the sporadic instance of a disheartening setback, Shiren the Wanderer: The Tower of Fortune and the Dice of Fate is easily the best portable Rogue-like around. Adorned with sumptuous sprite work, an impressive soundtrack, and succinct dialog, it's a title that offers a micro-world beseeching fastidious scrutiny. Players who like a mix of research and risk will find no better home than The Tower of Fortune.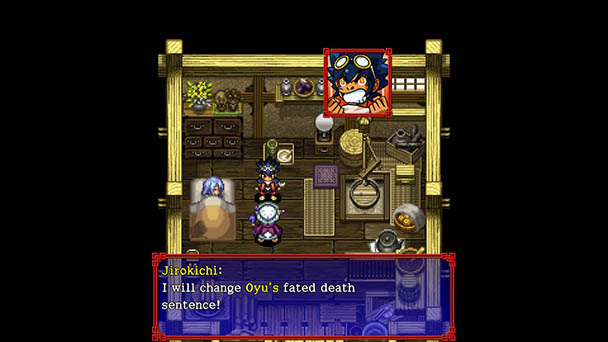 Shiren the Wanderer: The Tower of Fortune and the Dice of Fate
was played on the Switch with review code provided by the publisher.
Review Overview
Summary : The original Mystery Dungeon was the Dark Souls of the SNES era. Confidently, Shiren the Wanderer: The Tower of Fortune and the Dice of Fate upholds that legacy, with a game that deserves a permanent spot on every dungeon-crawling masochist's memory card.