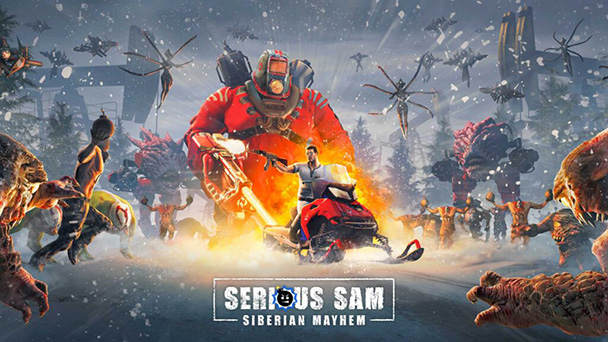 Sam's latest outing sticks to what the series does best: tossing players in fields with dozens of shrieking kamikazes and galloping Kleer. Beyond your usual arsenal, Siberian Mayhem offers a few new ways to put your enemies on ice.
Serious Sam: Siberian Mayhem


Platform:
PC
Developer:
Croteam, Timelock Studio

Publisher:
Devolver Digital
Release date:
January 25th, 2022
Price:
$19.99 via
Steam
, $17.99 launch discount price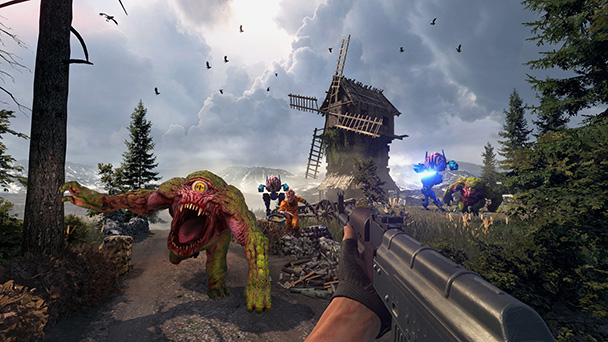 I am resentful of what the industry did to the first-person shooter. Sure, there are a few contemporary efforts like Halo Infinite and Doom Eternal that showcase the power of the genre as you single-handedly fight armies of oppositional forces. But franchises like Call of Duty, Battlefield, and Rainbow Six either offer either skeletal, shabby campaigns or have completely abandoned single-player components altogether. Similarly, publishers have left franchises like Medal of Honor, Resistance, Black, and Killzone to stagnate, while they chase other trends.
Spend a few hours with Serious Sam: Siberian Mayhem and it's evident where the big publishers went wrong. Publishers like Activision and Electronic Arts become infatuated with big-budget Hollywood-style experiences, hiring costly screenwriters and actors to spit out orations filled with military jargon. First-person shooters should be an outlet for shooting shit up, rather than watching hammy, motion-capped melodrama.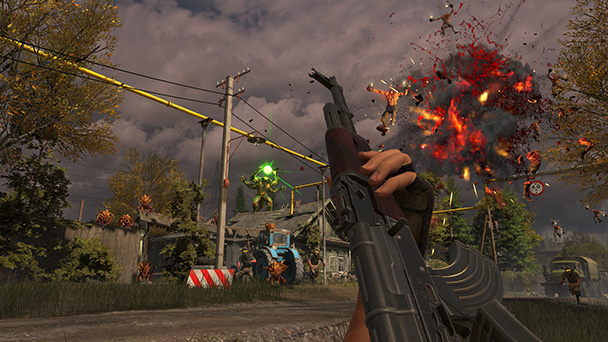 Back to Basics Approach
Make no mistake, Siberian Mayhem won't be mistaken for a multi-million dollar effort. There are technical blemishes aplenty, from ground textures that pop-in a split-second too late to ladder climbing that feels right out of the last millennium. And yes, there's perceptible slowdown when hordes of Kleer Skeletons, Werebulls, and Beheaded Kamikaze converge on you. But you might learn to appreciate the phenomenon, since it does provide you a razor-thin advantage.
Russia-based Timelock Studios began as a group of modders, intent on transporting Sam "Serious" Stone to Northern Asia. Their efforts impressed Croteam, the franchise's original developers, who brought Timelock on board to create this standalone expansion. With an extended vehicular segment and a stint in a 'mech outfitted with a giant chainsaw, the new crew undoubtedly injected a bit of energy into the twenty-one year old property. Yes, the same wholesale carnage is present, but here it done with a bit of panache. The sole downside is that Siberian Mayhem's setting isn't all that lively. After gunning your way through Giza, Pompeii, Carcassonne, and even the Moon, the drab tundras and military outposts depicted here can feel a bit austere.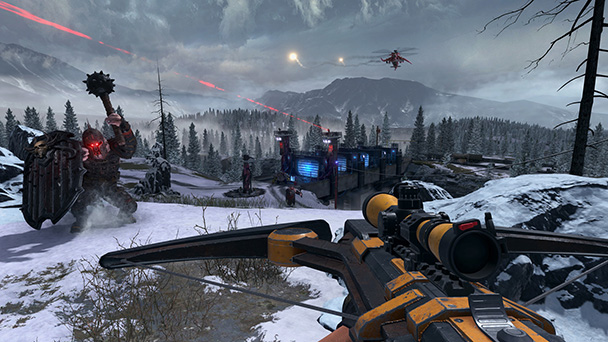 AAAAAAGGGGGHHHHHHHHH!
But you won't have much time for sightseeing as you hunt down the Holy Grail. In keeping with franchise form, Siberian Mayhem shuttles you through a succession of arenas. In each of these, familiar foes pour out in exponentially growing numbers. And while Serious Sam isn't a horror game, it's sonic output can be unsettling, as the sounds of screaming Kamikaze or clomping Kleer indicate approaching peril. Even through series has used the technique for over two decades, it's still an unsettling omen. After charging through the six-hour campaign, my stomach felt like I had spent the afternoon enduring thrill rides.
Sam brings his typical dad jokes, but it's the weaponry that the real star of the show. As always, you start with a pistol. But even that can take down a raging Gnaar with only a few well-placed hits. In keeping with tradition, you'll pick up the shotgun. But Serious Sam's feels mightier, dropping firebomb tossing Octanians from an extended distance. You'll quickly earn access to a grenade launcher attachment, which offers incessant job when you splash a throng of stalking opponents. Arguably, Sam's most essential trait is his dashing ability. Moving like a superhero, he can sprint out of danger, turn around, and release a cascade of white-hot punishment. Quieting the sounds of those marauding Kamikaze might be one of most underrated rewards in gaming.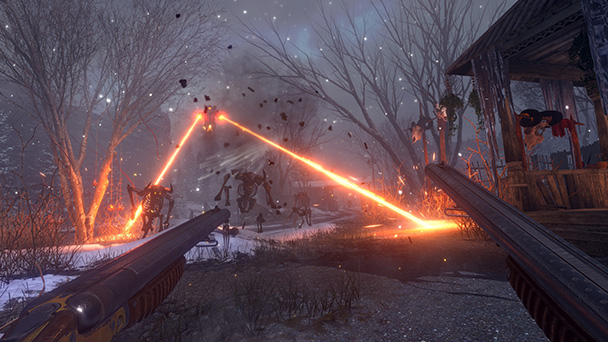 Conclusion 
Whether calling in an airstrike to take out a cluster of foes fooling herding together or dropping squid-operating aircraft, Siberian Mayhem brings the pandemonium you'd expect from a series. Sure, Sam Stone might be middle-aged but he's still kicking legions of alien ass, with the same kind of enthusiasm. Better yet, he still sanctions save scumming, making him one of the better boomstick-carrying boomers around.
Review Overview
Summary : Sure, Serious Sam: Siberian Mayhem is repetitive and probably won't push your PC. But you'll probably won't be thinking of either of these issues when dozens of enemies are hunting you (and optionally, a coop partner) down.