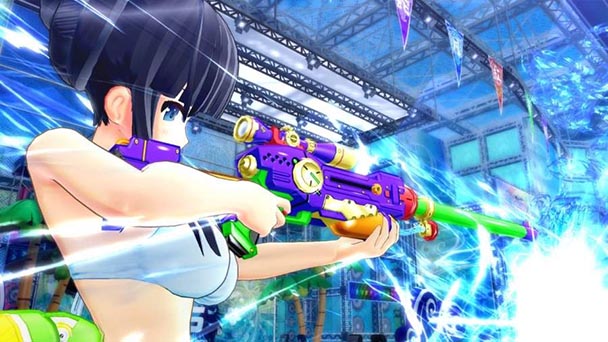 Much like artists like Peter Paul Rubens, Francisco Goya, and Édouard Manet, Senran Kagura creator Kenichirō Takaki is obsessed with the female form. But unlike the painters of yesteryear, Takaki-san's canvas is a console connected to a high-definition television, where he renders breasts that jiggle without a concern for Newtonian physics and brilliant lens flares which impishly emerge from erogenous zones. With the release of Senran Kagura: Peach Beach Splash for the PlayStation 4, Takaki and the team at Tamsoft dial up the titillation, delivering a celebratory effort to commemorate the franchise's five-year, fan-service-filled, legacy.
Whereas previous series entries have exhibited the female shinobi wielding more traditional weapons, Peach Beach Splash imagines the cast of thirty-plus nubile ninjas armed with water guns and clad in swim attire. Admittedly, the set up for the competitions between rivals is skeletal, with an abstruse promise that the winner will receive anything she desires. But that said, you're got to give Tamsoft credit for its unexpectedly existential opening, which discusses the inevitability of death, while depicting the muted colors of a ninja academy at night. Hop into the game's tutorial and you'll behold banter that's much more in line with Senran Kagura's usual conversations as two over-the-top show host deliver a steady stream of double entendres.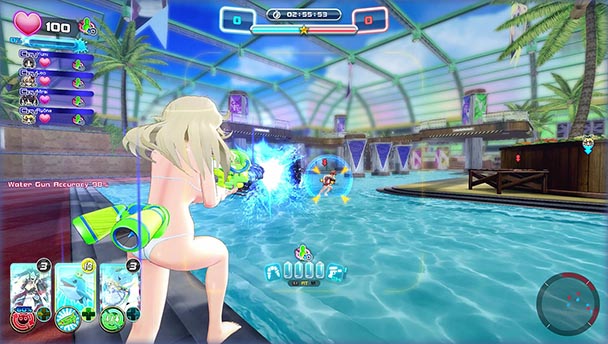 Perhaps 'steady stream' doesn't do the writing justice, as Miss R(in) and Mr. K(iriya)'s rattle off enough innuendo to earn a spot in the Guinness World Records. Even the game's opening song is unabashedly puckish with translated lyrics which proclaim, "My heart's burst right out of my chest. Please accept it with both hands!" as the camera offers a succession of close-up shots of anime breasts. Largely, the rest of the game follows suit, as if the team's ambition was not to squander a single opportunity for tantalization.
Delve into Peach Beach Splash's single player components and you'll find a variety of modes that rival Estival Versus' cornucopia of content. Story mode splits the exposition between the Gessen, Hanzo, Hebijo, and Crimson Squad academies, with each arc extending ten missions that gradually reveal the impetus for the game's tournament. Paradise Episodes extends twelve Shinobi Girl's Heart-style side quests, with the multipart missions focusing on character development, relationships, and rivalries. Finally, there's the V-Road challenges, which offers a procession of team-based matches, and are one of the quickest ways to earn coin and card, Peach Beach Splash's two currencies.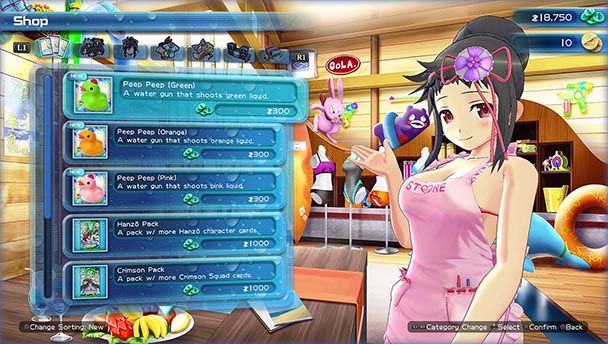 Gameplay is certain to draw comparison to that other fluid-firing, third-person shooter, Splatoon. Both games share similarity in handling as well as exhibit a distinctive team line-up that precedes matches. While the storyline sees the girls barred from using their ninpo, they are able to utilize an arsenal of Super Soaker-line guns, which range from a water rifle, a rocket launcher capable of literal splash damage, and even weapon that functions like a Gatling gun. Additionally, girls have a melee attack, that can be used against adjacent adversaries.
With the option to lock onto targets with a pull of the left trigger, Peach Beach Splash is a decidedly noob-friendly shooter, allowing those unfamiliar with shooters to jump in and have fun.  And while the amount of on-screen action can grow chaotic at times, as long as you scurry away from the waterjets of foes and watch your back, it's fairly easy to become a water warrior. The other technique that players will need to master is liquid management. Since maneuvers like double jumps and dashes draw from your water supply, you'll need to reload strategically. Fortunately, refills can be performed anywhere on the map, with a button press initiating a suggestive pumping motion.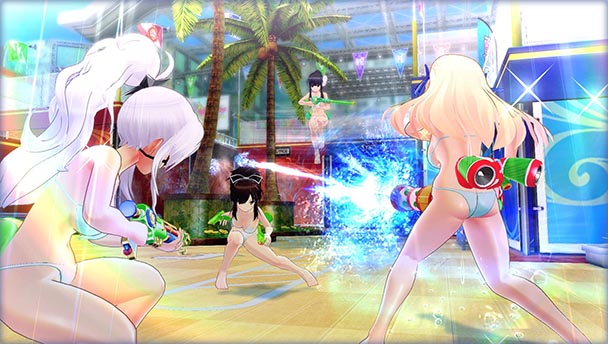 Woefully, Peach Beach Splash single-player elements are restrained by inferior AI. On lower skill levels, CPU intelligence isn't much of an issue. But raise the level of challenge and you'll see the life-expectancy of your comrades plummet, forcing you to do the majority of the work. Ideally, the game wouldn't have relied on bots so much, and would have taken a cue from Splatoon, forcing players to confront arrangements of more solitary, machine-like foes. Mercifully, that isn't a problem with the game's multiplayer matches, which offer competitions for up to five players on each side. Facing off against humans is understandably hectic but also is much more rewarding than drenching drones.
Gratification is found in the game's finishers, where players can embarrass a downed opponent. Approach a prone enemy, press the melee button, and you'll pull out a yellow rubber ducky and begin to shoot a stream of water at her face, boobs, or butt. Holding the jet steady not only racks up a succession of points, but also can remove a garment, with only a sparkle to defend each ninja's modesty. Reward also comes in the ample payout of in-game cards, which can be used to augment your skills, improve weapons, or even summon pets that can perform feats like healing. Agreeably, Peach Beach Splash manages your cards for you, automatically storing duplicates so you can augment your existing collection. Given the game's assortment of 800+ cards, there's plenty of incentive to motivate continued play. Naturally, the series' Wardrobe Room allows players to dress the cast as creatively or provocatively as they see fit, testing permeability by dousing their favorite ninja.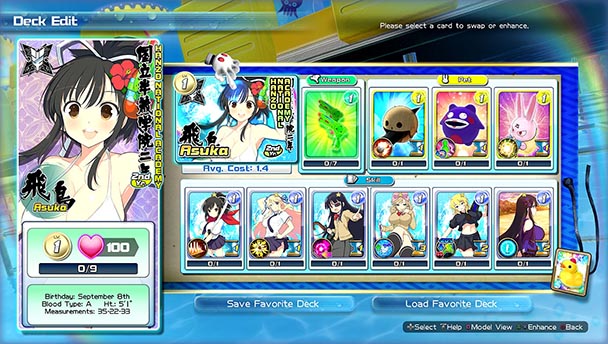 Built from the ground up on the PlayStation 4, Peach Beach Splash's 1080p, sixty frame-per-second delivery is near seamless. Sure, some of the areas look a bit spartan and there's a bit of pop-in present around the selection of water parks and onsen. But Peach's focus in prudently on the girls, who manage to more around lithely despite their comically pendulous breasts in constant motion. While Tamsoft might have shortchanged players on the artificial intelligence, they delivered on the jiggle physics, and seeing the shinobi cavort is bound to mesmerize players. But it's not just the gameplay that makes the game ecchi; every card and CG, showcases a devotion to the female form.
Truthfully, Tamsoft could have crafted another iterative, attire-shredding follow-up to Senran Kagura and it would have surely sold soundly. But changing the franchise's formula and putting the shinobi in a water-gun toting, swimsuit clad competition was a stroke of inspiration, potentially broadening the series' fanbase. Those seeking a shooter that provides solid play and an ample amount of sexiness should consider adding Peach Beach Splash to their libraries.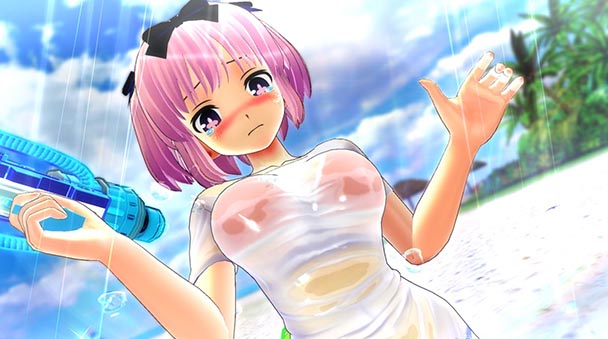 Senran Kagura: Peach Beach Splash was played on the
PlayStation 4 with review code provided by the publisher. 
Senran Kagura: Peach Beach Splash
Platform: PlayStation 4
Developer: Tamsoft
Publisher: Marvelous, XSEED Games
Release date: September 26st, 2017 (US)
Price: $59.99 via retail and digital download,
'No Shirt, No Shoes, All Service Edition' available via retail for $69.99

Senran Kagura: Peach Beach Splash review
Review Overview
Gameplay - 80%
Controls - 80%
Aesthetics - 90%
Content - 85%
Accessibility - 80%
83
83%
VERY GOOD
Summary : While feeble artificial intelligence undermines the game's copious quantity of single-player content, Senran Kagura: Peach Beach Splash is otherwise another essential blend of accessible play mechanics and more titillation than a lifetime subscription to Maxim.

User Rating:

3.99 ( 7 votes)