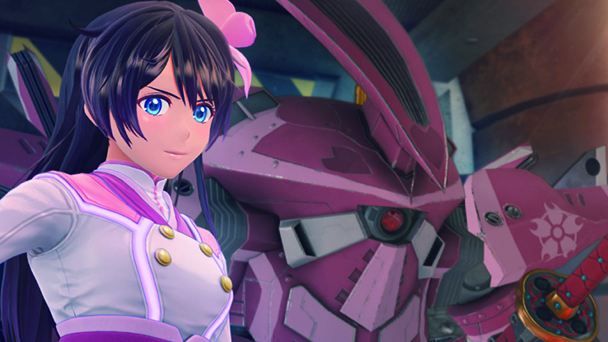 Will the Latest Entry in SEGA's Charismatic Franchise Finally Be the One to Win Over Western Audiences? 

Sakura Wars
Platform: PlayStation 4
Developer: SEGA
Publisher: SEGA
Release date: April 28th, 2020
Price: $59.99 via physical and digital download
In Japan, Sakura Wars remains a dominant property, with Oji Hiroi's manga spurring five main games, a multitude of spin-offs, as well as anime, light novels, and even a few live concerts. Regrettably, that's not the case in the United States. Although stateside publishers tried to bring over the PSP version of Sakura Wars 1 & 2, Sony reportedly balked at the proposal. NIS America took a gamble with Sakura Wars: So Long, My Love in 2010, but commercial response was disappointingly tepid.
Thankfully, SEGA has decided to take another chance on the property with the April 28th, 2020 release of Sakura Wars. As a soft reboot, the upcoming game doesn't require any preexisting familiarity with the franchise, courtesy of a new cast. That said, if you've played through any of the imports or watched the OVAs, expect cameos, references to previous entries, and voice talent by regulars like Chisa Yokoyama (Sgt. Frog, Project X Zone) and Michie Tomizawa (Sailor Moon, Dead or Alive 6).
Regardless of acquaintance, the title seems poised to expand the Western fandom. Within just a few hours of play, the game's context, characters, and charisma had me longing for more. Unquestionably, this is one of my most anticipated titles of the year.
Steampunk, Mecha, AND Romance?
Sakura Wars has traditionally been set in an alternative Taisho (1912-26) era. It's a backdrop that blends the franchise's customary steampunk influence, mecha suits, and a theatrical venue. By night, Sakura Wars' cast regularly puts on productions, but by day, they're fighting an influx of demons. While some properties might be content with extracting enjoyment from that imaginative set-up, the PlayStation 4 title sturdily builds upon this solid foundation.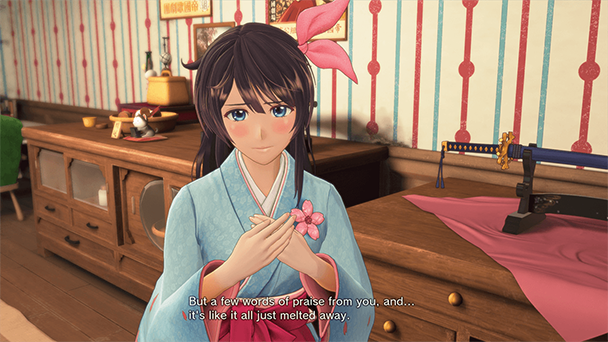 One of the most remarkable elements is the game's attention to detail. Wandering through the Flower Division's downtrodden Imperial Theatre revealed a captivating amount of nuance. Not only did wall posters allude to past productions, realistic reflections shone as the protagonist walked by. Outside, game menus provided fast travel to different locations around the city. A shopping errand witnessed Ginza stores with period-authentic signage and a candy store that was filled with traditional confectionaries. From my brief time with the game, Sakura Wars didn't try to recreate the vast open districts of a series like Yakuza. But what was shown did have a truthful density to it.
A Series Lead Who's No Longer Silent
In keeping with the game's dating-simulation history, Sakura Wars will have you building affections or animosities with the game's cast. Protagonist Seijuro Kamiyama, is the traditional likable lead. Formally, an ensign in the Imperial Japanese Navy, he's brought in to run the theatre. Remarkably, financing for the Flower Division rests on their ability to compete in the Combat Revue World Games, where they'll take on rival production houses.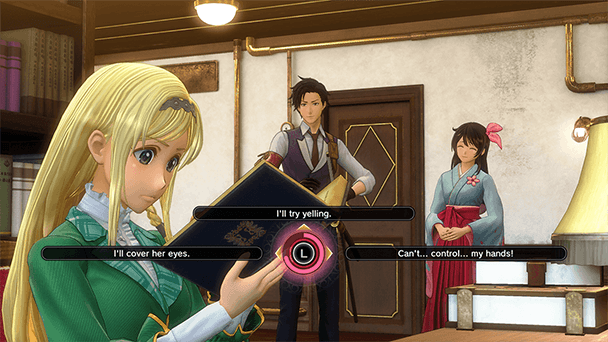 Sure, it might sound a little far-fetched, but it was easy to become captivated by inner workings of putting on a play. It was obvious that lead writer Takaaki Suzuki knew (or meticulously researched) the components and phases of stage production. Again, there was a surprising sense of authenticity, with diminutive details surrounding the game's depiction of the dramatic arts. This helped sell the game's more fantastical elements, like an underground prop shop that also housed hulking mechanized suits.
But undoubtedly, it's the game's whimsical cast that's one of War's most irresistible charms. Sure, they're mostly rooted in architype. There's kimono-clad newbie Sakura Amamiya, who both looks up and channels the optimistic inexperience of Sakura Shinguji, the eponymous star of the first four series entries. A bit of fan-service is found in the buxom Anastasia Palma, a transfer from Greece who reminds everyone about her acting acclaim. Naturally, I gravitated toward Azami Mochizuki, who was both a bit of a tsundere, but practitioner of ninjitsu. Rumor has it that's she's based on Mochizuki Chiyome, a possible historical figure who led a group of kunoichi. Tite Kubo's (Bleach) character designs definitely played a hand in my affinity for the cast. Each is exquisitely modeled and clad in gorgeous attire.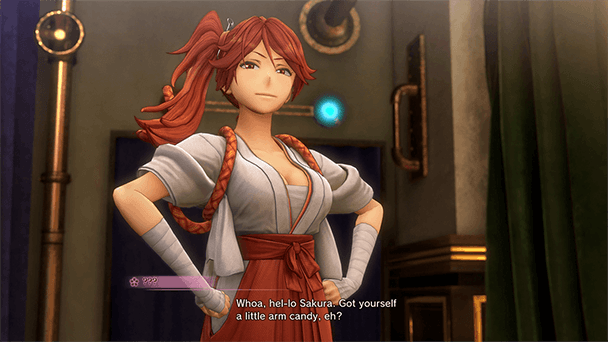 Read my LIPS
Sakura Wars retains the Live & Interactive Picture System (or LIPS) system used in previous entries. Here, players are given three or four responses when conversing with other characters. Alternatively, they can opt to remain taciturn, letting a timer expire. Expectedly, your replies influence your rapport with each character and satisfyingly, the game had a place where a visual representation of affinity was shown. From what I witnessed, conversations moved the plot along or provided background on characters. Very little of the dialog seemed superfluous. This was also reflected in the mission structure of the game, which avoided the feeling of padding playtime.
Sakura Wars' action-driven battles favor accessibility, with buttons for light and strong attacks against ground-based and airborne foes. While some might have longed for series' characteristic turn-based combat, these spirited showdowns complement the more tranquil sections of the game. Entries like So Long, My Love exhibited a high level of difficulty in encounters that could often halt progress. Here, you'll get an indispensable boost of adrenaline, which also helps the game's lively pace.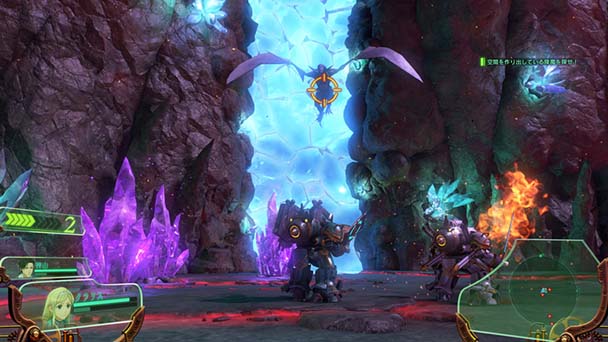 Conclusion  
Although Sakura Wars might not be a familiar franchise in the West, SEGA's soft reboot aims to change that. A decade ago, when So Long, My Love was released, stateside players weren't widely acclimated with the merits of visual novels and dating sims. But acquaintance with these genres has flourished, making it an ideal time to enlist with the Flower Division. Elevated by elegant visuals and longtime franchise contributor Kohei Tanaka's stunning soundtrack, April can't get here soon enough.