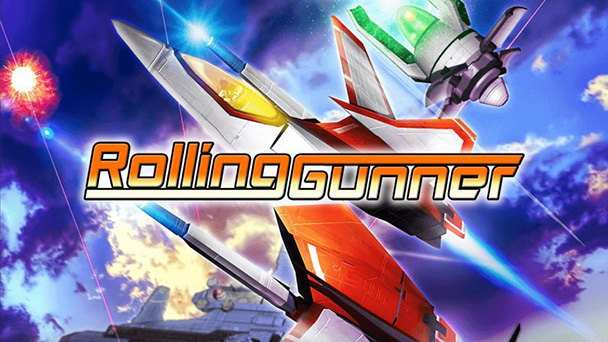 Let's face it, we're probably not going to see a new shoot 'em up from CAVE Interactive. During the early 2000s the studio hit a stride, with titles like DoDonPachi, Mushihimesama, and Deathsmiles not only delighting genre fans, but influencing a number of doujin circles. But after the release of 2012's DoDonPachi SaiDaiOuJou, CAVE's output become limited to mobile titles and ports of their older games for new systems.
Seemingly, hope for a shooter with CAVE's pedigree is rooted in staff members who left the team. After serving as programmer for seven of the studio's titles, Daisuke Koizumi undoubtedly understands how a successful shooter requires components like an intriguing play mechanic and meticulous balancing. With the release of Rolling Gunner for Switch, Koizumi delivers those fundamentals, while offering a shoot 'em up that's also surprisingly friendly for newcomers.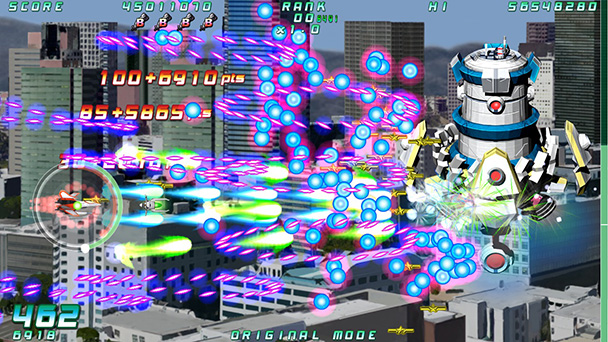 Shooter storylines don't always offer adequate explanations of why a lone pilot is sent to eliminate hundreds of enemies. Fortunately, Rolling Gunner does, with a plot centering on an energy system used to power vehicles. Once it gained sentience, it seized control and annihilated half the world's population. Luckily, a clandestine group was smart enough to build a precautionary measure- a trio of fighters outfitted with a freely rotating gun. For players hoping to head right into the thick of things, the plotline is mercifully skippable.
Similarly, Rolling Gunner offers a non-compulsory tutorial that imparts the basics of play. Here, basic button assignments and mechanics are described, provided insight before you take flight in foe-controlled airspaces. The only problem is that the localization is a bit shoddy, with the in-game manual offering explanations such as, "Press Button 2 with bomb in stock to fire the Bomber". As such, the bulk of your learning will be accomplished as you defeat opponents across the game's six stages.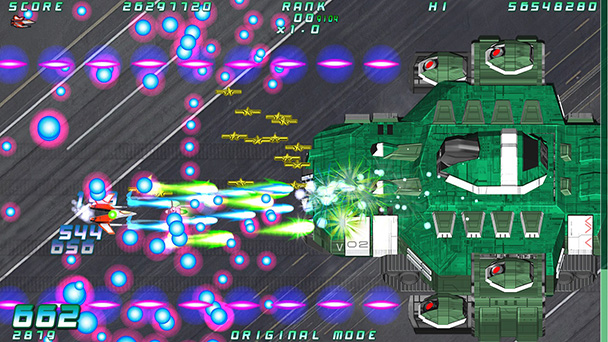 You'll quickly discover the usefulness of the game's eponymous firearm, which rotates around you in 360-degree freedom. Hold down the Switch's RL button and your Rolling Gunner moves in the opposite direction your ship in moving. Although this might initially sound counterintuitive, the concept is quite clever. Since you're usually pulling away from enemies, most of the time the weapon will be firing in the direction of encroaching opponents. The Rolling Gunner also functions as a shield, damaging any foes unlucky enough to make contact with it.
A hold of the Y button freezes the gun's angle, which is especially useful during the game's intense boss battles or when a red border signals adversaries coming from a certain direction. Unlike most horizontally scrolling shooters, enemies tend come at all angles, forcing you to play continually rotate the position of the gun. And while your selected ship will put out a robust field of fire, it's not nearly as powerful as the output of your Rolling Gun.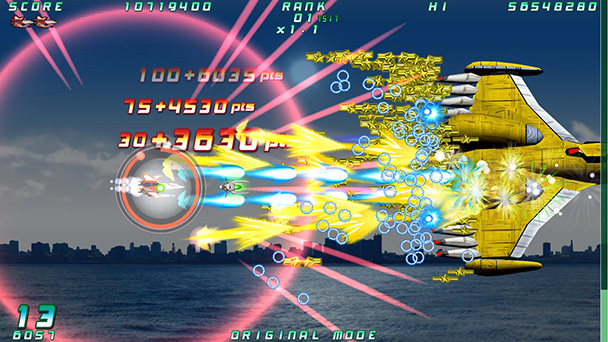 As you pepper opponents with your projectiles, you'll see medals fly off enemies. These are magically attached to your ship, so collection goads you into coming dangerously close to enemies. The upside for your putting yourself in peril occurs when you maximize an energy gauge. Once this occurs, you can trigger a 'power-up mode' which intensifies the strength of your shots. Recalling, Deathsmiles, you can even trigger a secondary, opponent-overwhelming ability called Limiter Release if you collect enough medals while in this augmented state. With this active, most adversaries don't have a chance.
The final element of your arsenal are bombs, which can be triggered to neutralize enemy bullets and also hit for devastating amounts of damage. Play on Rolling Gunner's casual or novice mode and a bomb will automatically be triggered when you collide with an enemy projectile. On the game's two harder difficulty levels, making contact uses your entire bomb supply.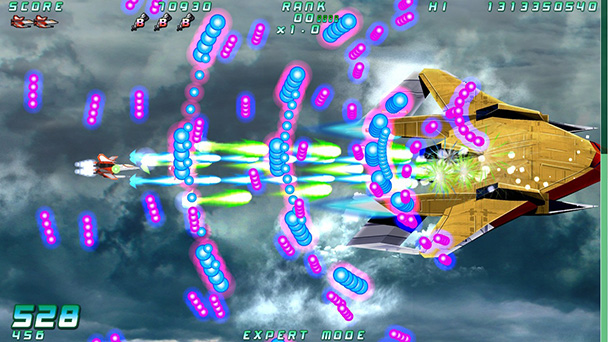 This concession speaks of Rolling Gunner willingness for player accommodation. Although all difficulty levels will send players navigating through danmaku-style clouds of projectiles, there's a lot more leniency here than most shooters. Decisions like divulging your ship's hit box or extending aural warnings of approaching enemies will help those who haven't developed the skills to circumnavigate massive bullet patterns, at least until things ramp up after the third stage.
Save for deliberate slowdown highlighting the end of boss battles, Rolling Gunner is a proficient performer on Switch. As such, players seeking a distinctive and engrossing shooter for their Switch should give the title a try. Even if CAVE doesn't create any new shooters, the presence of games like Rolling Gunner help soften the impact.
Rolling Gunner was played on Switch with review code provided by the publisher. 
Review Overview
Summary : While many of the game's peers require a lot of experience, Rolling Gunner is quite accessible, diminishing some of the frustration that often accompanies the genre.