Freed from the Financials
Typically, games with 'Tycoon' in the title simulate management and economic policy. But that's not the case with developer Nvizzio Creations RollerCoaster Tycoon Joyride. This PlayStation 4 exclusive permits players to build and ride mountains of meandering metal. But you won't have to worry about park financials, hiring works, and keeping the patrons from losing their lunch on one of your stomach-inverting rides. Instead, the game focuses on mingling coasters with gun shooting, which feels like an amped up version of Disneyland's Buzz Lightyear Astro Blasters.
Head into the game's mission mode and you'll encounter Joyride's coaster construction component. Here, you'll be able to fashion a rollercoaster in one of two types of contexts- either a Thunder Mountain-esque setting or a city environment. For better or worse, you won't have to worry about sharing space with other attractions or coasters. Joyride only permits one roller coaster per map.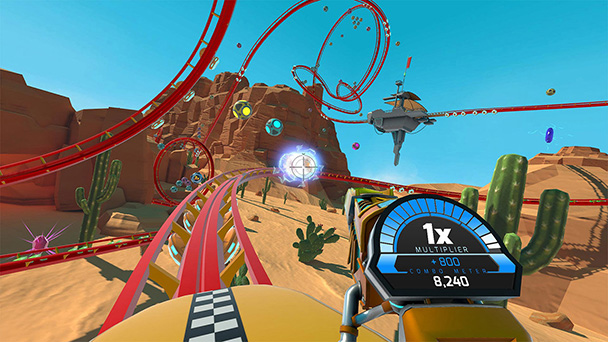 Building with an Uncooperative Camera
On the upside, the stages are expansive and filled with possibility. The desert map has a number of natural arches, hidden ravines, and high peaks inviting coaster engineers to utilize the topography. The Urban map has a cluster of skyscrapers and buildings to weave track through. Creating your coaster is straight-forward in theory, which players first placing a station on the map, when laying down pieces of track that can curve or shift in elevation.
But often you'll find yourself fighting the camera. Even after toggling a selection in the game's options menu, obtaining a suitable perspective proved occasionally difficult. As such, keeping an eye on the location of your station was awkward. To help remedy this, Joyride offers an 'autocomplete' function, but if you're too far away from the station it might not be able to connect track.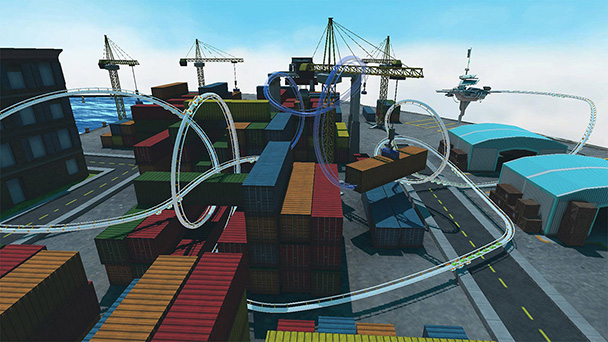 Loops, Twists, and Inversions
Despite issues in obtaining a suitable perspective, Joyride's offers a lot of flexibility. Pleasingly, the menu system is decently organized. While you might have to back out of construction mode to attempt to autocomplete your coaster, otherwise, the interface is intuitive. Some players will appreciate the game's relaxed approach to roller coaster engineering. Many titles demand ride designers to work within a realistic physics system, where there needs to be enough momentum to carry cars around to the next lift hill. But RollerCoaster Tycoon Joyride shuns realism. While players can lay down boost tracks to increase the car speed, they don't have to worry about the coaster coming to a dead stop in the middle of the circuit.
Instead of constructing with pre-built shapes like corkscrews and bowties, Joyride favors free-building. Pleasingly, there's few limits on the system and with a little practice, players can create the kind of dive loops, camel backs, and roll overs seen across most modern amusement parks. If you're not careful, your coaster can become a misshaped mess. But that matters little, as missions evaluate your engineering on basic criteria like the length of track.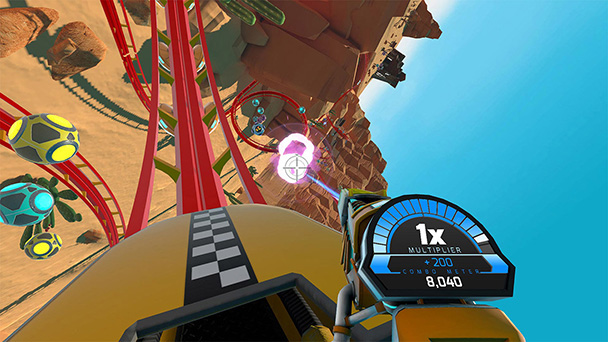 Aw, Shoot
Once you're build your own coaster or ready to take a first-person jaunt on one of the game's own tracks, you'll be prompted to put on the PS VR headset. If you don't own one, you can still go for a simulated ride. But you'll have to opt out of VR output every time, which is bothersome. Either way, you'll use the DualShock 4's gyroscopic functionality to aim. If you're using PSVR, camera control is coupled to head movement. But if you're not, it's mapped to the right stick, which can be a bit unwieldy. Ideally, the developers would have provided the option for dual analog aiming for those who don't own VR. It needs to be mentioned that at release, RollerCoaster Tycoon Joyride is about as stable as a 70's Tilt-A-Whirl. Across fifteen hours of playtime, the title crashed more than five times.
Joyride's core gameplay centers on the roller-coaster ride, while you shoot at a multitude of objects. Some are fixed, while others rotate, and their point values are color coded. Coupled with combo multipliers, power-ups, power-down gates, and the ability to temporarily slow down time, you'll undoubtedly want to prioritize your shooting. While there's a certainty incentive to improve your score, the target shooting isn't near as enjoyable as Bizarre Creation's The Club. Most likely because you are literally on-rails. The other issue stems from the game not compensate for the speed of the coaster. Slower rides give you more time for aiming. As such, score chasers will likely make their roller coaster as exciting as the two-ticket yawn inducer from the traveling carnival.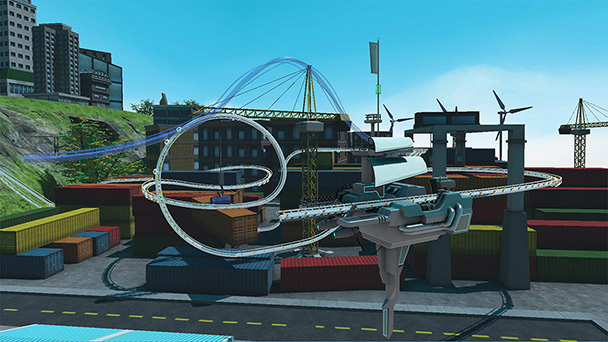 A Decent Admission Price
If you own a PS VR, RollerCoaster Tycoon Joyride's amusements can be rousing. Although you'll have to remove the headset for coaster creation, zipping around on simulated coasters. Those longing for more traditional amusement park management or a deeper experience than building and blasting will likely want to visit older titles in the RollerCoaster Tycoon franchise. Still, if you can stomach a few (game) crashes, Joyride's twenty-dollar price isn't too high-priced.
RollerCoaster Tycoon Joyride was played on the PlayStation 4
with review code provided by the publisher. 
Review Overview
Summary : RollerCoaster Tycoon Joyride focuses on building rides and blasting targets rather than managing the bottom line of a simulated amusement park. If you're looking for a reasonably price, stomach-churning VR experience, this fit the bill quite nicely.