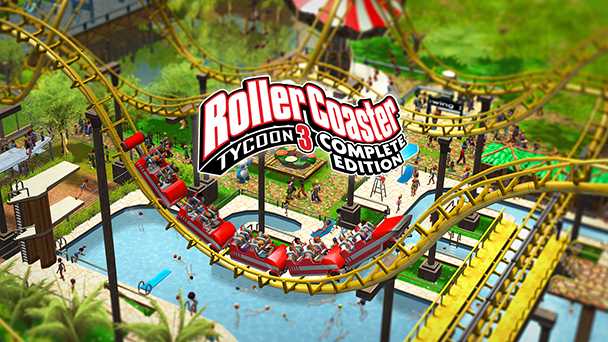 From wonderous thrill rides, water slides, and wild animal encloses, Rollercoaster Tycoon 3: Complete Edition presents players with all the contraptions to make their own unique theme parks. Creation is largely intuitive once you become familiar with the interface.
Rollercoaster Tycoon 3: Complete Edition
Platform:
Switch
Developer:
Frontier Developments
Publisher:
Frontier
Release date:
September 24th, 2020
Price:
$29.99 via digital download
Availability:
Nintendo eShop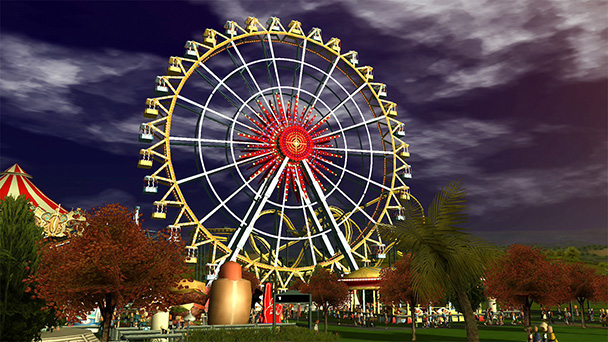 The appeal of tycoon games is obvious. Each provides working-class players with the opportunity to role-play as a wealthy industrialist. Often, the genre challenges us to outperform mighty moguls, constructing gargantuan empires that produce massive amounts of both revenue and happiness.
Originally released in 2004, Frontier Developments' RollerCoaster Tycoon 3 was undoubtedly one of the better entries in the crowded Tycoon arena. Across the title's career mode, players confronted a succession of challenging scenarios, across park themes than ranged from traditional, spooky, and sci-fi. Each measured success across a multitude of metrics, from increasing patron happiness levels, or the value of a theme park, to shattering attendance goals. Whether you favored the engineering or financial side of things, attempting to outshine Walt Disney proved to be persistently absorbing.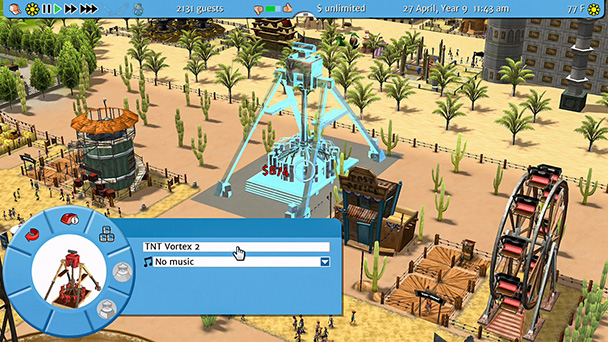 Learning Made Easy
With the release of Rollercoaster Tycoon 3: Complete Edition, the game arrives on a system that doesn't have many tycoon games, outside of Kairosoft's rather homogenous line of mobile ports. As an adaption of the main game along with the Soaked! and Wild! expansions, Rollercoaster Tycoon 3 can be gratifying. But first, you'll have to acclimate to a control scheme that's slightly clunky.
Whether you opt for the game's campaign or the sandbox mode where you're given unlimited resources, Rollercoaster Tycoon 3 doesn't won't make you sit though long-winded tutorials. Instead, the game provides helpful tips that pop up onscreen as you're confronting tasks for the first time. Largely, the method is effective, as the game shuns many of the intricacies of park design. Those seeking sophistication might want to seek out Frontier Developments' Planet Coaster, which can be found on PC and is arriving on consoles before the end of the year.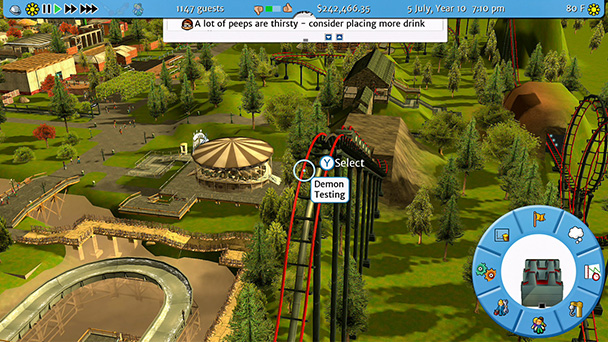 Build Your Own Scream Generator
But that's not to say, that Rollercoaster Tycoon 3 is overly simplistic. Premade coasters are readily available, allowing you to drop down variants like a wooden, suspended, or standing rollercoaster. But you can also design your own (as well as create custom go-kart courses and waterslides) if you're willing to invest a bit of time. Pleasingly, there's enough nuance to duplicate many real-life attractions, especially if you're willing to learn how to raise and lower the topography around the tracks.
Although the previously released mobile versions of Rollercoaster Tycoon 3 used touchscreen input, this option isn't available to Switch owners. Instead you'll use a radial menu to select from coasters, other ride, pathways, and concession stands. Like most games that utilize this kind of method, it will take some time before it all feels familiar. But once you grasp the organizational layout, finding the element that you want isn't too hard.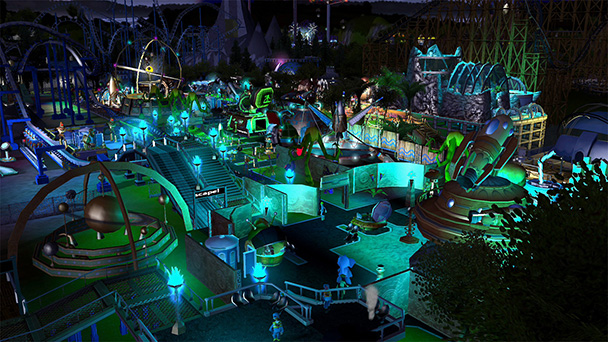 Little Mandatory Micromanaging
However, there are a few antiquated user interface shoftcomings that you'll find vexing. While most tycoon games have an 'undo' function to remove an errantly placed attraction or feature, you'll be forced to demolish any missteps here. Another idiosyncrasy is the requirement to place every piece of pathway, instead of having AI create orderly walkways for you. But beyond these outdated approaches, some of the common snags found in many tycoon games, such as the need for directional paths as well as entry and exit points are absent. And if you really want to control the crowd, maps prohibit patrons from traveling down dead ends. Alternatively, you can also place a 'no entry' sign.
Those who appreciate the logistical or financial side of park management should enjoy dipping into Rollercoaster Tycoon's recesses. Running a well-oiled machine usually feels satisfying. And here, ensuring that there's enough restrooms, trash containers, as well as ensuring that ride breakdowns are handled swiftly delivers a sense of administrative fulfilment, as parks persistently gravitate toward disorder.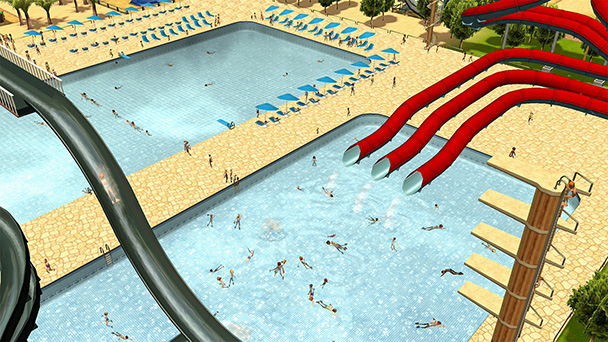 Listen to Your Peeps
In the career mode, park expansion hinges on revenue, so generating income through concession stands and souvenir shops is imperative. Smartly, gather patron data sentiment is easy, with the game's 'peeps' offering a wealth of useful statistics. Using those figures to build a better park is largely intuitive, and you'll unambiguously comprehend the dissatisfaction associated with lofty bathroom prices. Yes, Rollercoaster Tycoon 3 lets you live out those capitalistic fantasies, charging people to use the toilet after previously gouging them with elevated soft drink prices.
But that's not to say you must be a jerk. Across the Wild! expansion, patrol contentment is based on the happiness, so you better make sure those enclosures are spacious, clean, and there's plenty of food. Rollercoaster Tycoon lets you be a morally challenged industrials, but you better treat the animals kindly, or else they'll be removed. Meanwhile, the game's Soaked! expansion adds quite a bit of aquatic buildables with ten new coasters, thirteen new thrill rides, as well as slides and pools. Collectively, the package offers a substantial assemblage of constructables and decorative items. If you're sensitive about framerates, know that once your park grows expansive, slowdown can occur as you move the camera around.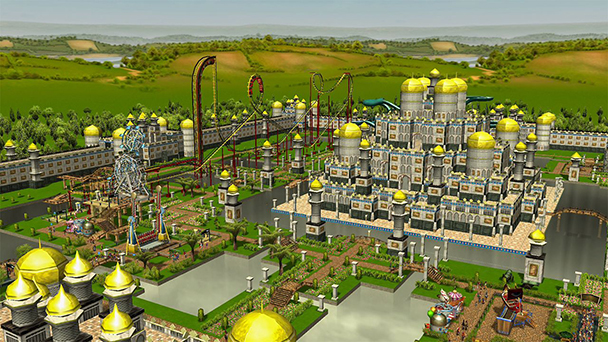 Conclusion
Given the game's modest 2.8GB footprint, Rollercoaster Tycoon 3: Complete Edition is the type of game that's quite welcome on your Switch's SD card. When the demands of the latest action game get too intense, designing your own circuitous rollercoaster can be quite rejuvenating. While Tycoon games might not don't deliver the adrenaline rush of racers or Souls-likes, they offer long-term value. Although Rollercoaster Tycoon 3 on Switch isn't perfect, it's currently the best tycoon-style time filler.
Rollercoaster Tycoon 3: Complete Edition was played
on Switch with review code provided by the publisher. 
Review Overview
Summary : Rollercoaster Tycoon 3: Complete Edition is nearly as much fun as when it debuted sixteen years ago. While the newer control system is slightly inferior, pay toilets never lose their charm.