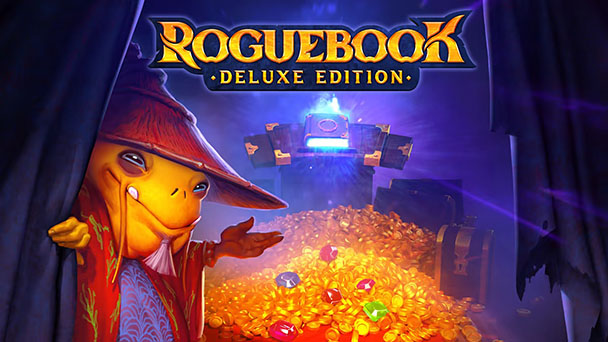 There's a multitude of deck builders out there, but the Switch release of Roguebook in undoubtedly one of the better efforts thanks to turn-based battles that will keep your brain busy and gentle push you toward meta-game progression. 
Roguebook
Platform:
Switch, previously on PC
Developer:
Abrakam Entertainment
Publisher:
Nacon
Release date:
April 21st, 2022
Price:
$24.99 via digital download, $31.49 Deluxe Edition
Availability:
Nintendo eShop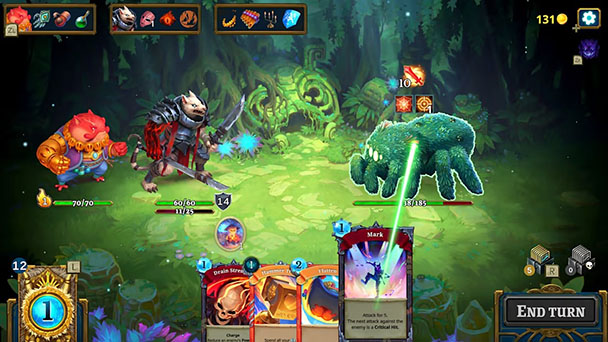 Much like the genre's disbursement of new cards, new deck building games seem to arrive on a regular basis. From Slay the Spire, Monster Train, Griftlands, to Inscryption card battlers that incorporate deck management qualities are plentiful, and intermittently, a bit derivative. But as a collaboration between Faeria developers Abrakam Entertainment and Richard Garfield, the designer of Magic: The Gathering, the Switch release of Roguebook diverges from convention. Here's why: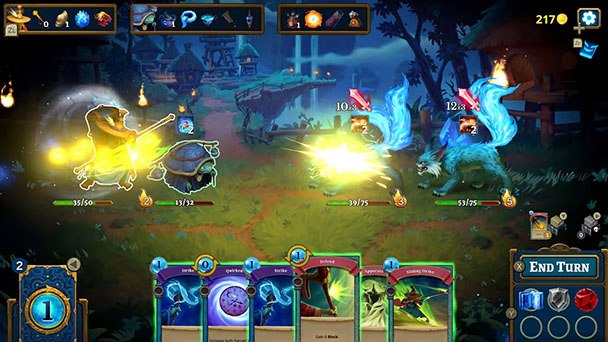 More Than Just Card-Based Combat
As an off-shoot of Faeria: Chronicles of Gagana, the game's moniker refers to an ancient tome. Deposited in a well, magic has turned the relic sentient, and the old book has trapped adventurers on its incomplete pages. When you're not battling, a team of two protagonists progressively restore a procedurally-generated, hex-based landscape. Initially, a starting area and a path to the boss is visible, but you'll use recovered ink to render the rest of the environment.
Sure, you can head right for the boss if you're feeling courageous. But more likely you'll lay down paint to reveal swaths of the landscape. Some tools uncover a single hex, others a lane, while a pot of paint exposes a whole section of the parchment. Beyond navigable tiles, you'll uncover structures that lets you select from one of three cards, gold, and if you're lucky, the sporadic health potion. Roguebook's exploration complements combat quite nicely and paving a pathway to an exposed outpost can feel rewarding.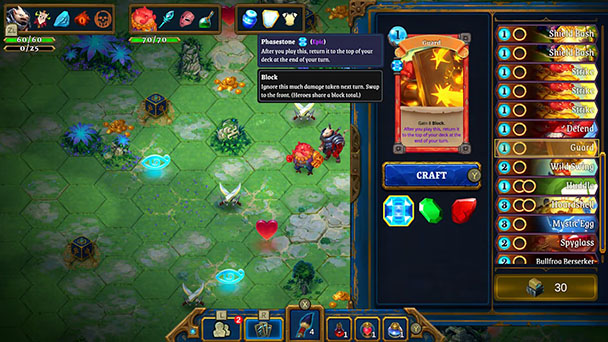 Chaos and Order
Color-coded icons show the general level of adversity that you'll face before venturing into battle. Roguebook's hook it that you'll use cards to oversee a pair of adventurers, with the character in front doomed to receive the bulk of damage. Each turn you're given an allotment of energy points which are used to play cards from your hand. Beyond the traditional attacks, buffs, debuffs, and status ailments, you'll also want to beef up your blocking. Even early on, adversary attacks can be hard-hitting.
Pleasingly, there are quite a few strategic options. Sharra is a character with a meager supply of health but some hard-hitting attacks and thew ability to wield daggers which strike with deducting an energy point. When she's in front, her attack power is boosted, making for a formidable threat. Alternatively, Sorocco offers a large pool of HP and a knack for defense. Every turn when he's facing foes, he'll be given two additional blocking points.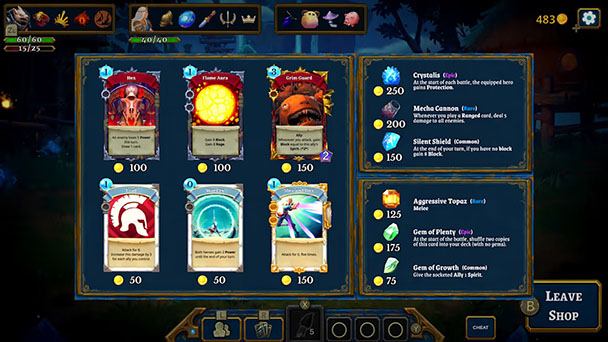 As such, each turn requires a vigilant evaluation of your hand since many cards with automatically swap the positions of your two characters. Some cards require a character to be in a specific position before they can be played. Although Roguebook's adventurers are tough, able to dish out damage and resurrect their peer, they're not overpowered. As you make your way across a page, enemies flaunt abilities of their own. As such, you'll have to learn how to manage opponents that dish out damage every time your front-line character card or cope with an assembly of different enemy types.
Not Just New Cards, But Better Ones
As with any roguelike, the random number generator can provide assistive. Occasionally, you'll gain an ally card, which can augment allies or dish out damage. Beyond acquiring new cards, Roguebook also permits players to augment their existing ones with gems. From reducing cost to starting the game with an especially useful card in your hand, narrowing down upgrades can be a difficult decision. Like any respectable roguelike, perks consistently exceed your budgetary constraints.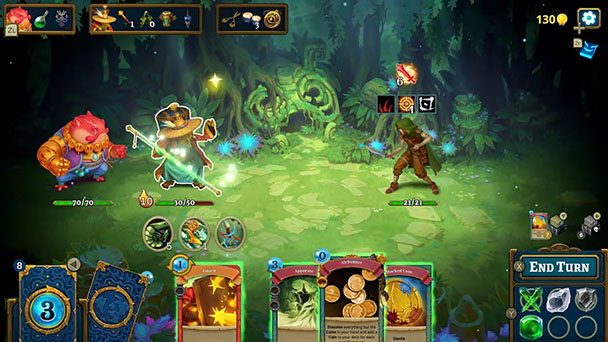 Most genre entries restrain the size of your deck, but that's not the case here. Instead, Roguebook rewards you with talent choices for having a large pool of cards. It's a curious departure, but not one that's entirely effective. Pruning a deck for certain strategies and synergies becomes harder with more cards. Essentially, you're increasing the influence of uncertainty rather than coming up with strategic options.
One of the game's other faults is that early runs feel like Sisyphean Task, with enemies siphoning health and few opportunities to regain it.  Eventually, you'll use found pages to unlock permanent bonuses, upgrades, and unlocks. Across the hierarchy of perks you'll be able to access restorative abilities, but it will make a number of runs before you'll feels the odds aren't stacked against you. But stick with Roguebook and you'll earn two additional characters and a substantive new game+ component. Much like Hades, you'll be able to select from a list of modifiers and a tougher challenge will yield more dividends.
Conclusion
Roguebook's Switch port is mostly solid but there are some caveats. If you plan to play on a Switch Lite, know that text size can be small, making elements like card text challenging to read. The game generally looks great with attractive hand-drawn art for allies and adversaries and is bolstered by a vibrant color palette. But performance wise, there are some slightly hiccups. Notably, there's a delay between a button press and the card being played. You'll eventually adapt to the lag but the game doesn't feel as responsive as it should be.
But beyond a few minor issues, Roguebook is an appealing deck builder, capable of holding your attention for extended duration. While the acrimonious taste of defeat will be experienced, there's just enough incentive to persuade you to visit the game's pages.
Roguebook was played on Switch with
review code provided by the publisher. 
Review Overview
Summary : Roguebook's deck-building and card battling feels familiar, allowing for quick onboarding. But enjoyment stems from the game's divergences from convention.