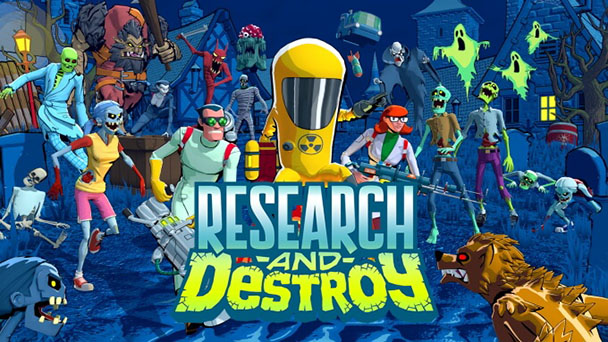 With references that range from Valkyria Chronicles, Hanna- Barbera, and with a slightly sus-looking cartoonish character, Among Us, Research and Destroy offers a hodge-podge of pop culture references. But the game's best qualities are the ingeniousness of plot and gadget, which help offset the sting of aggravating enemies.
Research and Destroy
Platform:
PC, also on PlayStation 4, Switch, Xbox One
Developer:
Implausible Industries
Publisher:
Spike Chunsoft
Release date:
April 25th, 2022
Price:
$19.99 via digital download
Availability:
Steam
and other digital marketplaces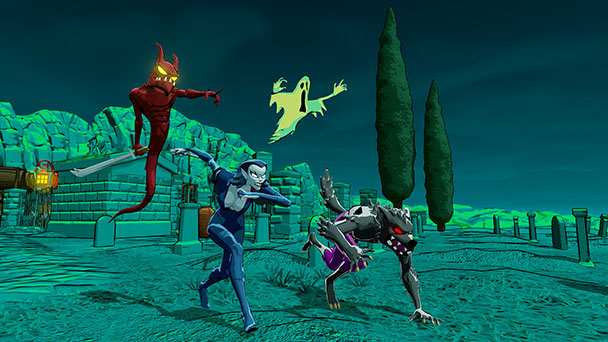 Disinformation is the real enemy in Research and Destroy. A general disregard for science and education has plunged the planet into dystopia, with the Supernatural willed into existence by the unremitting dissemination of conspiracy theories. Sure, Implausible Industries' inaugural effort might look a lot like Scooby Doo, with vibrant derelict buildings, mischievous ghosts, and a bespectacled character who looks a lot like Velma. But with play that melds turn-based tactics with faux-real time action, it can feel a bit like Sega's Valkyria Chronicles series.
The conceit is a solid one. Every turn, you and an optional online or local partner, seize control of three scientists. Effectively, you have eight seconds to carry out actions such as movement or using weaponry. While looking around doesn't advance the timer, using the flamethrower to ignite ghosts or tossing out a dome that regenerates health does.  Once you've used each character's allotment of time, the Supernatural get their opportunity at movement and play continues until you're completed a stage objective or your entire team is wiped out.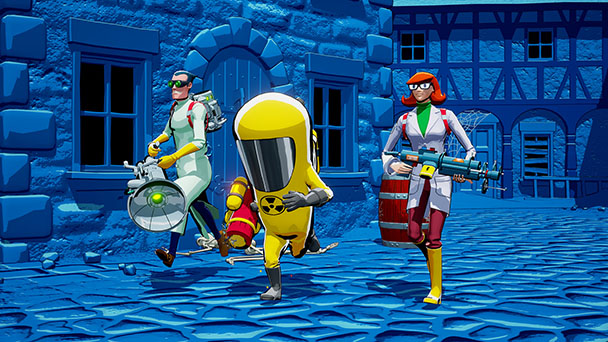 Ghostbusted
If you're an X-COM fan, you're probably thinking that Research and Destroy is an interesting derivative of the MicroProse/2K Games title. But the semblance is short-lived. For one, conflict in X-COM centers on advancing toward the alien enemies, as your shift between protected positions to find an advantageous angle. While there is cover in Research and Destroy, you can't rely on it. Foes will continually respawn (often right in front of you), so hunkering down for a defensive battle will gradually wear down the health of your scientists. Some basic enemies like Ghosts are able to pass through protective cover. Even worse, if you don't confront them, they grow more powerful and change color, with crimson-hued ones stealing large amount of your health.
Yes, it's a bit irritating. You can fire at explosive barrels that will ignite several enemies, but they'll soon be replaced by more, making the game feel Sisyphean. There's little sense of satisfaction in the discrete battles, other than the reward of making it out alive. Yes, there's some ingenious types of foes. Boogeymen are personal demons, visible only by the scientist they are pursuing. Mummies launch artillery comprised of hatred, turning into plum-colored orbs when they hit the ground. They siphon health off any character trapped inside, making rescues especially injurious. I'm not able to mention the Werewolves or backstabbing Vampiress without the use of expletives.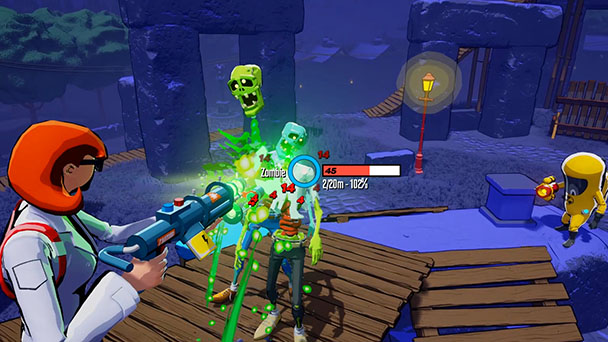 The Struggle for Science
For better or worse, Research and Destroy revels in making you feel underhanded. Typically, missions devolve in a comedy of escalating errors, and you expend your precious time resuscitating team members while foes encroach on your team. Sure, you'll complete the mission, but there's rarely the sensation of overwhelming the supernatural. Most of the time, you'll survive by the narrowest of margins. If you're accustomed to games being power fantasy, Research and Destroy want to dispel that sentiment.
Fortunately, perseverance pays dividends. Off the luminous battlefields, you'll build, upgrade, and defend universities on a territorial map that recalls the board game Risk. Against an intensifying supernatural menace, these institutions provide new weapons, gadgets, and tiered, forking upgrade trees. There's a lot of nuances tucked away into some of the devices, with tools like the Gravity Distorter gathering opponents together, so an ally can come in and annihilate the assemblage. Meanwhile, the game's Uncertainty Helmet isn't just the typical clone drone. Instead, it's a kind of Schrödinger's cat with a change the decoy is your actual character. With these kinds of mind-bending possibilities, it's not surprisingly that characters from Steins;Gate, Zero Escape, AI: The Somnium Files, and Danganronpa are available at three-dollar costumes.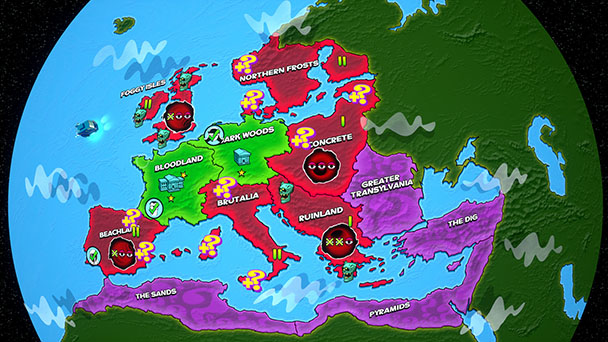 Conclusion
These kinds of elements demonstrate an affluence of imagination within the staff at Implausible Industries. Many of the ideas and much of the execution conveys an invigorating sense of creativity. Perhaps that will be enough to counterbalance the feeling of being repeatedly subjugated by the Supernatural across the game's dozen territories. Maybe it's a case of digital Stockholm Syndrome, but I keep returning to the game, eager for more abuse.
Research and Destroy was played on PC
with review code provided by the publisher. 
Review Overview
Summary : There's a lot of creativity showcased in Research and Destroy's battles between Science and the Supernatural. But you might want to try the Steam demo, before tackling these manifestations of misinformation.