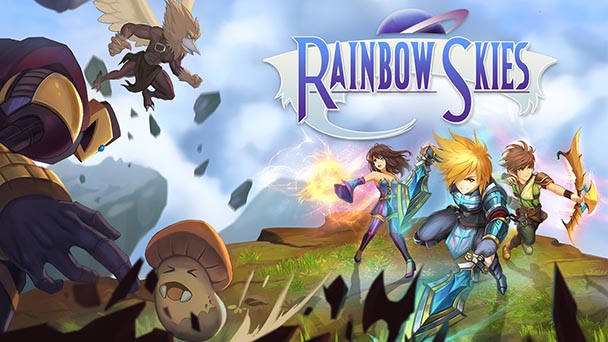 Originally slated for a 2014 release, SideQuest Studios' Rainbow Skies has, at long last, arrived on the Vita, PlayStation 3, and PlayStation 4. A follow-up to 2012's Rainbow Moon, the title draws inspiration from a multitude of sources, with components such as turn-based battles on gridded battlefields to nurtured monsters who act as party members. Given a greater emphasis on storytelling, the sequel might sound like an idyllic way to spend dozens of hours. But in execution, some of Skies elements need a bit of tuning, while others don't quite congeal, potentially producing periods of indifference during your play time.
The incorporation of an absorbing narrative is an essential constituent of any respectable role-playing experience. Skies' attempt starts by detailing the formation of its three leads. We first meet Damien on the morning of his monster taming exam and learn of his brash attitude when he admits to having recently returned from an all-night bender. His friend, Layne, plays the role of straight-man, chastising Damien for his indulgences.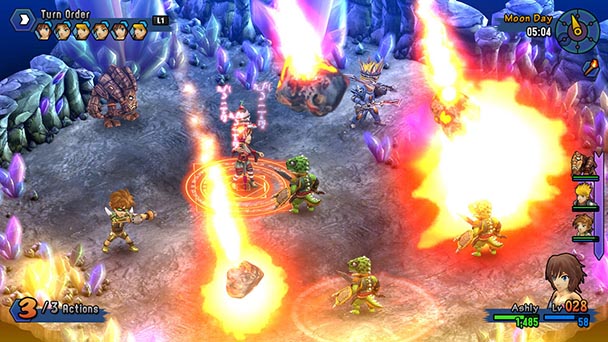 During an inadvertent tumble from their sky island, the klutzy Ashly botches an incantation, creating an inseparable bond between the trio of party members. And while the set-up seems ripe for spirited jesting, with an arrogant swordsman, perpetually upbeat spellcaster, and a pragmatic archer trading barbs, SideQuest seems caught between lampooning archtypes and obeying them. There are a few amusing moments, but largely the plot will be a bit flat for those accustomed to more indulging adventures.
But the game's humdrum storytelling isn't the sole issue with exposition. Later, you'll discover quests where you'll rack down NPCs. But all too often these are nested multiple levels deep, meaning that NPCs will ask you to seek out another character, and sometimes that person needs something to advance the plot along. In the midst of these recursive errands, you might find yourself forgetting what he original task was all about.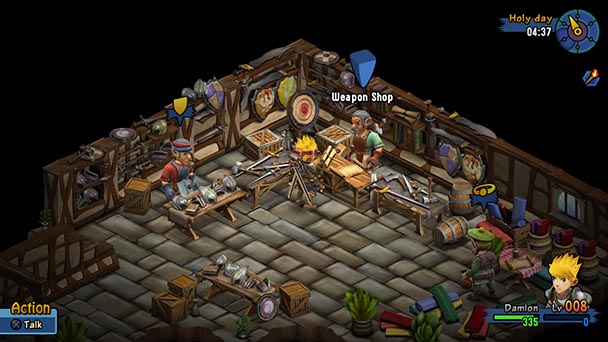 Initially, combat seems to detract from any expositional deficiencies. Undoubtedly, Rainbow Skies deserves merit for speeding up strategy role-playing battles, jettisoning many of the menu selections that are customary for the genre. Instead, a tap of the direction pad or analog stick shifts each ally to a highlighted square, while pushing toward a foe, engages an attack. Expectedly, each party member favors either melee or ranged attacked, as well as a mounting selection of skills and spells acquired through books or through perseverance. Like Rainbow Moon, initiative plays a key role in encounters, with enemies frequently invoking 'hasten' abilities and your characters gaining sub-turns as they grow.
Skies' heralded addition is the ability to up to three monsters to your adventuring party. Acquisition of these allies is an involved process, involving egg drops after enemies are defeated a specific number of times, following by a hatching process that's measured by fought battles. Once your creature-colleague does emerge, the exertion doesn't end there. In order to make your monster a capable addition to your team, you'll also have to augment them with three different types of Skill Stones, selecting distinct upgrades for each ally. Mercifully, you can do this anything through the menu system instead of trekking to a savant, like in Moon.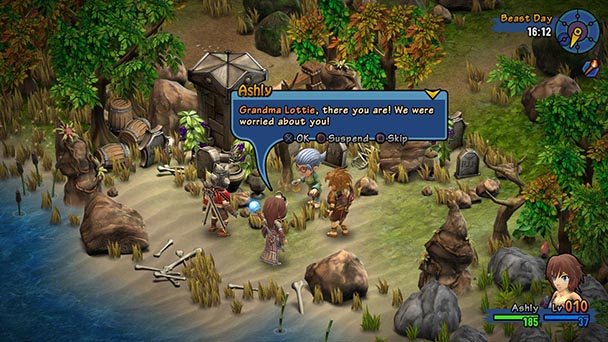 As you can probably tell, advancement in Rainbow Skies incorporates a lot of moving parts. While there's undoubtedly incentive as you witness your team members grow in potency, motivation is also tied to enemies that seem to scale a few levels above you. As such, grinding is rather pervasive in Skies. Even on the lower difficulty levels (where you'll earn fewer rewards), you'll encounter hurdles where the game is signaling your party is underpowered. On the upside, fights are relatively quick thanks to the game's simplifications to SRPG formula, so enriching your battle squad won't take up too much time. But on the downside, it does feel that SideQuest Studios balanced things to favor a protracted playtime rather than for maximum enjoyment.
Along the way, you'll likely notice some rather odd design decisions. Initially, your inventory feels undersized, and you'll have the ability to carry only six potions until you upgrade your carrying bag. But since elixirs are anemic and you won't learn a decent healing spell until later in the game, you'll be backtracking often. Another puzzling element is found when enhancing your weapons and armor by infusing it with material gathered from defeated foes. Sure, these provide a stat boost, but frequently it feels as if all the work results in a petty payoff. As such, you'll want to approach Rainbow Skies with either a sense of patience or a colossal gap of time to fill.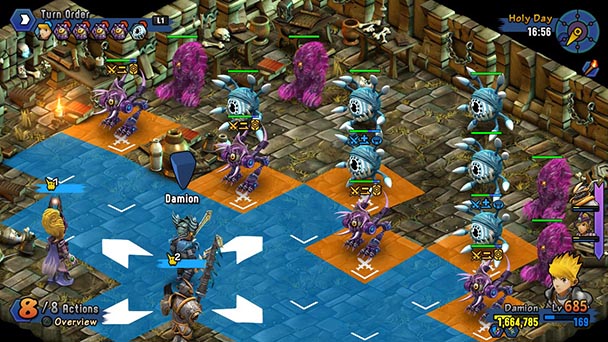 Despite these issues, the game isn't without its virtues. Even on the aging PS Vita, the game play wonderfully, offering an impeccable sixty-frame-per-second delivery. Although animations are limited, the game's art style is distinct, with Skies often aspiring to fill its isometric-perspective output with a pleasing amount of detail and color and characters that are substantially sized. Beyond a mixture of different milieu, the title complements its visual with a diverse soundtrack that pulls from a multiplicity of musical styles. Perhaps SideQuest Studios' best design decision was to jettison the DLC that undermined Rainbow Moon's journey.
Rainbow Skies' claims of a hundred-hour adventure aren't exaggerated; this is a game that could potentially occupy your leisure time for weeks. But that duration comes with a Faustian Deal. Undoubtedly, you'll realize that substantial span is because of mechanics that can make progress seem very sluggish at times, goading gamers into habitual grinding. Accept this exposition only if you don't mind making headway at a snail's pace.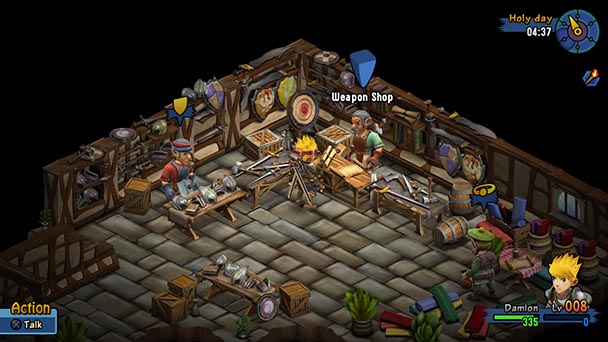 Rainbow Skies was played on the PlayStation 4
and PS Vita with review code provided by the publisher. 
Rainbow Skies
Platform: Vita, PlayStation 3, PlayStation 4
Developer: SideQuest Studios
Publisher: EastAsiaSoft
Release date: June 27th, 2018
Price: $29.99 via digital download, cross-buy for all systems
Review Overview
Summary : Rainbow Skies has many of the essentials down, offering accessible combat, and a multitude of dungeons to explore, and even a few engaging supplemental tasks like fishing and treasure hunting. But it feels like a 25-hour game stretched fourfold, which diminishes a good deal of the enjoyment.