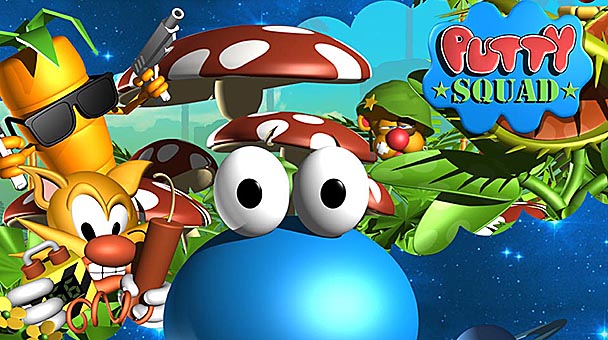 Although '90's gaming is often remembered as the decade dominated by Mario and Sonic, the platformer was remarkably pervasive, inspiring developers from all over the globe to create their own interpretation of the genre. Some of the most remarkable entries hailed from the U.K., where titles such as Core's Chuck Rock, Vectordean and Millennium Interactive's James Pond series, Twilight's Alfred Chicken, and Team 17's Superfrog enchanted players. Typically flaunting labyrinthine level designs, meticulous sprite designs, and entrancing soundtracks inspired by the Euro demo scene, the games were often an appealing alternative to the platformers produced by Japan and the U.S. Unfortunately, stateside players were habitually given the shaft. While passionate game magazine readers may have spotted a screenshot of Codemaster's Fantastic Dizzy, getting their hands on a copy of the cartridge was often an arduous undertaking.
Of course, the inaccessibility of a game isn't a uniquely American dilemma. Following the completion of coding in 1994, Putty Squad developer System 3 sent review copies to magazines- earning a sizable amount of critical acclaim. Despite the positive feedback, the title was only given a subdued SNES publishing in the U.K., with the original Amiga iteration languishing until the studio made the game available as a free holiday download this past year. More recently, System 3 has given Putty Squad a high-definition makeover, allowing the once-overlooked curio to be enjoyed by a global audience.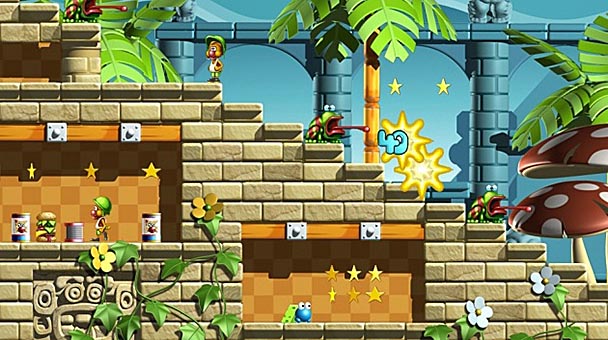 Undoubtedly, Putty Squad's appearance on the PlayStation 4 is predestined to cause puzzlement for players looking for a game which validates their four-hundred dollar investment. The game's visual output admirably safeguards the style of Phil Thorton and Nick Lee's original designs, while uprezzing the output to a purported 1080p picture. But the game chooses to keep the 1994 version's thirty frame-per-second frame rate rather that parade the power of the PS4 with sinuously rendered refresh rate. Even more bewildering is publisher Maximum Game's decision to release the title as thirty-dollar disc-based retail game, instead of offering this undeniably niche title as a discounted downloadable.
But if players can overlook these performance and prices issues, they'll find that Putty Squad is a moderately enjoyable title capable of engaging platforming aficionados. Recalling Nintendo's pink-colored protagonist, the titular Putty is a versatile lead, demonstrating a gratifying selection of abilities. Beyond an elevated jump, Putty can also gulp down air, expanding his body into a soaring balloon. Stretching into a thin strand is another ability, which allows the character to elongate, reaching scaffolding directly above or below the player. Like Kirby, he's no vulnerable pushover, extending a powerful attack in either direction, able to throw napalm canisters and even dropping bombs from a maneuverable hot air balloon.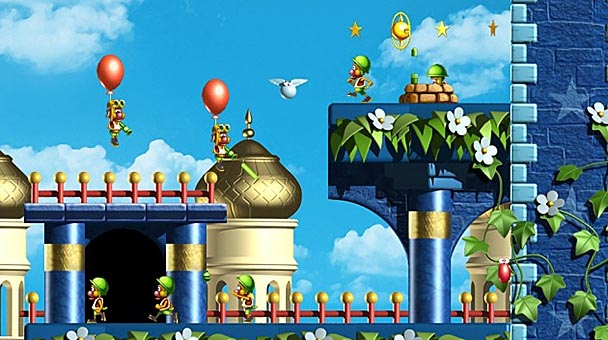 Putty Squad's controls lack the tautness exhibited by top-tier platformers, but that imperfection is counterbalanced by the game's design decisions. Unlike more fleet-footed protagonists, Putty moves at a decidedly deliberate pace. As such, the title focuses on exploration of each intricately detailed environment, rather than a quick dash eastward across the entire stage. This is also reflected in the goal of each level: absorbing the miniature red putties which are scattered across the milieu. Naturally, there's plenty of auxiliary tasks for players to pursue, from uncovering sub-levels, collecting stickers for an in-game album or score-chasing by mastering consecutive jumps on the head of antagonists. A challenge mode offers a bit more variety by tasking players to complete levels with certain handicaps, such as not being able to absorb at health-replenishing food items.
Pleasingly, Putty Squad's lengthy campaign has few difficulty spikes and given the lead character's arsenal of abilities- isn't dominated by a dumbed down puzzle element. For the most part, the game's toolset allows autonomous exploration. Keep missing a jump to an elevated platform? Convert Putty into a balloon to hoover past the impasse. Although this type of freedom is refreshing for players, it feels like abandon in the hand of developers. Thematically, Putty Squad is all over the place, with a psychedelic menagerie of enemies like cherubic cats and tiger-striped frogs sets against backdrops of minarets and Japanese tea parties. Level designs sporadically feel like they were procedurally generated, with a number of stages offers little sense of flow or momentum. Occasionally, some environments feel too busy, making it difficult to find Putty at the commencement of the level. Thankfully, the title's soundtrack is much less of a mélange, offering modern interpretations of hypnotic Amiga/Atari ST-era chiptunes.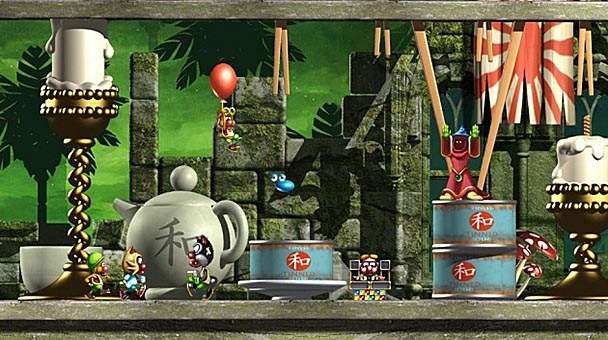 Players who miss the halcyon days of Euro-platformers will undoubtedly appreciate Putty Squad. Look past the title's high-definition veneer, and you'll find a game that encapsulates the spirit of '90s-era hop-and-bops. But those accustomed to the contemporary play mechanics and meticulously engineered level design of a game such as Rayman Legends will wonder why Putty Squad wasn't left to dry in the kiln of obscurity.
Putty Squad was played on the PlayStation 3 with review code provided by the publisher. Versions for the PS Vita, PlayStation 3, and 3DS are incoming.
Review Overview
Summary : After a twenty-year hiatus, Americans are finally given the chance to play the once-hyped Putty Squad. Likely, only the most devoted platforming fans should jump at the opportunity.