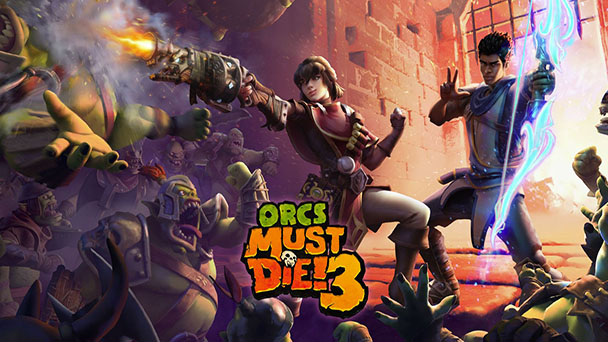 The third iteration of the Orcs Must Die! franchise doesn't remarkable advance the formula, but there's still enjoyment found in torturing procession of green skins.
Orcs Must Die! 3


Platform:
PC, PlayStation 4, Xbox One
Developer:
Robot Entertainment

Publisher:
Robot Entertainment
Release date:
July 23rd, 2021
Availability:
Digital
Price:
$29.99 via
Steam
and other digital marketplaces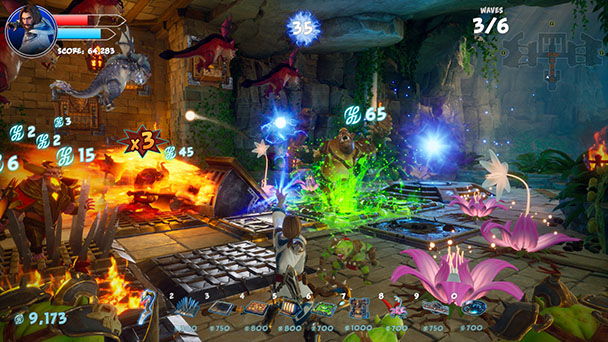 Following a year of exclusivity on the Google Stadia, Robot Entertainment's Orcs Must Die! 3 has arrived on PlayStation 4, Xbox One, and Windows machines. While some might have resented the title being restricted to the cloud-based streaming service, the deal undoubtedly helped the Texas-based studio recover after the financial losses incurred by free-to-play titles Orcs Must Die! Unchained, Hero Academy, and Hero Academy 2.
Often, there's a silver lining associated with platform exclusivity, with developers able to react to player feedback. But disappointingly, Orcs Must Die! 3 still has several obvious blemishes. From a sporadically unintuitive user interface, a distinct lack of data for traps and weapons, and balancing issues with solo games, the title feels far more like a launch title than one that's been in the hands of players for the last 53 weeks.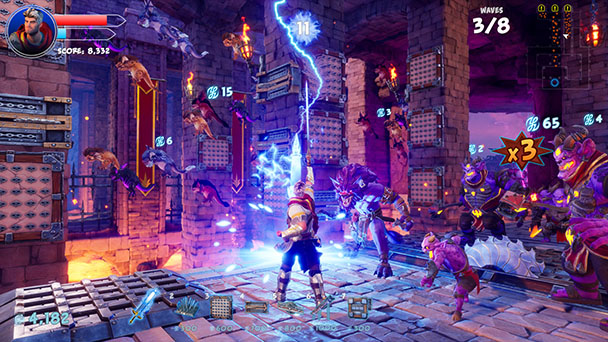 A Toolset Any Sadist Would Love
But that's not to say the game lacks enjoyment. Much like Robot Entertainment's inaugural series entry, Orcs Must Die! 3's amalgam of tower defense gameplay with third-person action is persistently engaging. The game releases waves of attackers hellbent on making their way to your rift. You're tasked with stopping them with two different techniques. The first revolves around setting up an assortment of traps and ensnarements.
From jutting spikes, spring-loaded traps that fling foes into lava, and spinning saw blades that emerge from the ground, Orcs Must Die! 3 offers a multitude of ways to skewer, lob, and slice the green-skins. While the title might infer that extermination is the goal, sadistically torturing the orcs is the best approach to maximize scoring and the resources used to build additional traps. And honestly, who doesn't enjoy a bit of digital sadism?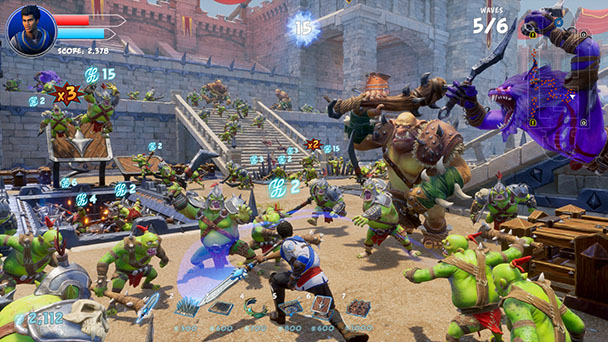 Placing traps and watching the hapless orc procession suffer through a series of merciless mechanisms and ambushes is where much of the game's enjoyment lurks. Smartly, the game's vibrant colors and fairy tale-style settings and characters prohibit things from ever becoming too bloodthirsty.
A Dry Duo
The other part of Orcs equation is found in Kelsey and Egan, the game's pair of playable protagonists. Either individually or with an optional online partner, you'll clean up all the orcs who managed to sidestep or survive your procession of traps. The duo uses bows, shotguns, an arsenal of unlockable weapons, secondary firing modes, and skills against adversaries, but the combat isn't all that inspired.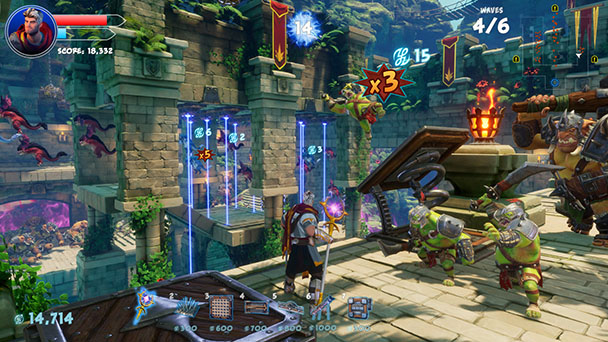 One example: some of the character abilities like Kelsey's hoovering ability provide a very limited advantage. Another problem is how generic the characters feel. Although the game occasional flirts with expositional opportunities, there's rarely any follow-through. You'll have to settle for half-hearted whimsy like Egan's single celebratory dance.
On the upside, the approach puts players right in the middle of the game's eighteen stages, rather than merely managing defenses from a god's eye point-of-view. Witnessing the cartoonish carnage up-close is far more visceral when it's occurring all around you. Given that opponents often appear from multiple entrances, Orcs Must Die! 3 is much more fun as a cooperative experience. Working together to halt simultaneous enemy processions is where the game truly shines.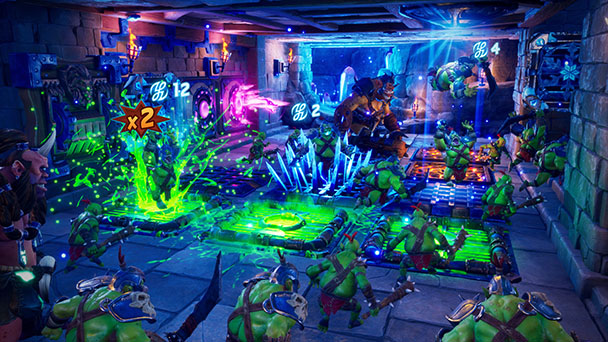 Best as a Cooperative Game
As a single-player experience, things can get a bit too taxing, with some of the game's concluding levels requiring players to concurrently fight orcs and lay down new defenses. And even when you're not juggling combat and construction, having a time restraint between waves seems overly restrictive.
But that's hardly the only issue with Orcs Must Die! 3. One of the biggest problems is that the game doesn't provide enough information about its inventory of traps and upgrades. As the game progresses, you face different varieties of enemies, and some devices will be far more effective than others. Squandering your hard-earned resources on inept tools can be frustrating. Offering even a few statistics would have been immensely beneficial to players. Instead, you'll often encounter vague descriptors like "arcane" elemental damage or an upgrade that converts a "grinder" into a "self-cleaning grinder". Good luck trying to predict the advantage with those.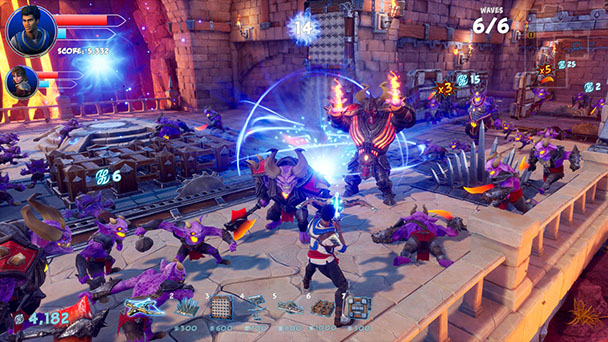 At least, Orcs Must Die! 3 offers a multitude of play modes. Beyond the game's two campaigns, there's an Endless mode, Survival, which adds buffs and debuffs, as well as weekly challenges. But undoubtedly the highlight is the inclusion of War Scenarios, which offer giant stages which increase the enemy count. To assist in your efforts against an amplified number of orc invaders, you'll have access to giant traps and even machinery that you can control. But occasionally the maps feel too spread out, especially for individualists.
Conclusion
It's gratifying to see Orcs Must Die! 3 break free from the confines of Google's cloud-based ecosystem. Now, those with slower internet speeds can torment green skins across a multitude of modes. But it's disappointing that the developers haven't mended some of the game's rougher edges. While cooperative partners might be too busy causing carnage to care, soloists might balk at the game's difficulty spikes. Make sure you have a companion who likes lighthearted violence as much as you.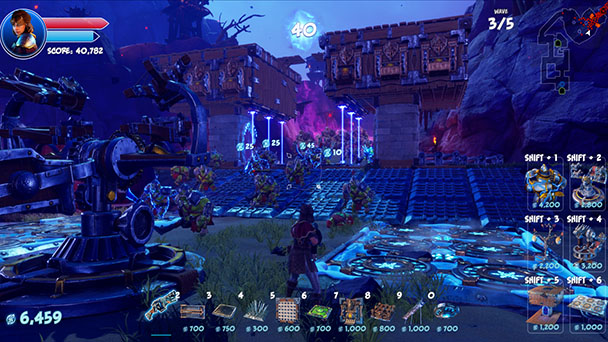 Orcs Must Die! 3 was played on PC with review code provided by the publisher. 
Review Overview
Summary : Given the four-year span since the last franchise entry and the year of exclusivity on Stadia, Orcs Must Die! 3 should demonstrate a bit more ambition and polish. Sure, there's some playful additions like War Scenarios, but a third iteration in a franchise usually exbibits more finesse.