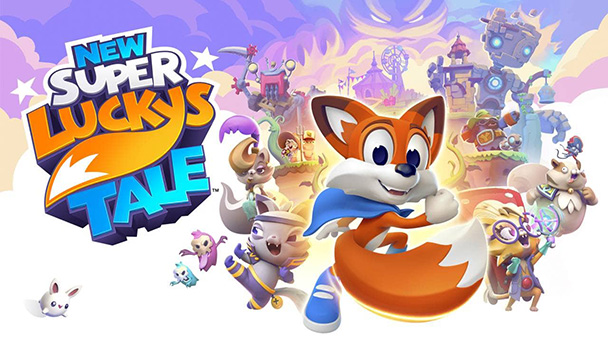 Like many three-dimensional platformers, New Super Lucky's Tale is about beating the odds. Make your way through the title's hub-world of stages and you'll scale soaring environments, leap across an abundance of chasms, and confront a myriad of quarrelsome creatures. Remarkably, this trial mirrors the experience that the developers have faced.
Lucky Flees Virtual Reality
In 2016, McKinney, Texas-based Playful released Lucky's Tale, a game that was bundled with the first wave of Oculus VR headsets. Like many launch titles, it demonstrated the power of a new medium. Navigating a cartoonish, fully immersive world was an adept demonstration of virtual reality. Unfortunately, VR was slow to catch on, limiting the game's chances for success.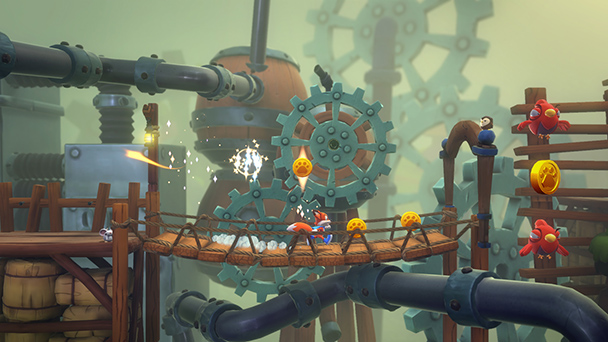 But Playful persisted, offering a sequel that dropped VR support, but doubled down on the game's reverence for classic platformers like Super Mario 64, Banjo-Kazooie, Jak and Daxter, and Spyro the Dragon. Yet, for many, Super Lucky's Tale couldn't quite capture the charm of yesteryear's classics. For one, the camera system felt restrictive- leading to a lot of unintentional falls for the game's cheerful protagonist.
 "New"? Not Completely. "Super"? Well, Almost.
With New Super Lucky's Tale, the studio has attentively listened to players and made several contributory changes, resulting in an effort that comes amazingly close in recreating the enjoyment and sense of wonder expressed by the genre's best efforts. Save for protracted load times before stages and sub-levels, the game's adaptation and alterations are impressive. Quite possibly, Lucky would have attained achievement years ago, if this was his inaugural outing.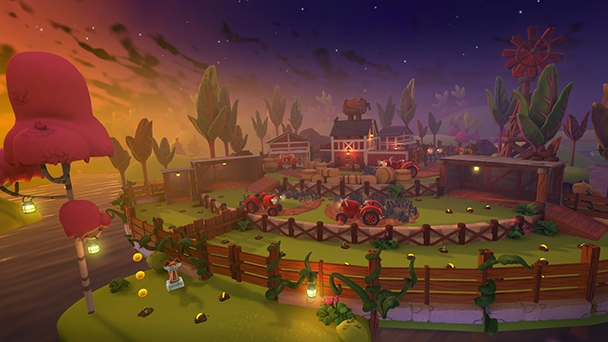 Like most platformers, Super Lucky's Tale plotline seems rooted in the modest motivations and characters that once filled Saturday morning television. The game's heavy is an anthropomorphic cat named Jinx, who is obsessed with capture of a tome called the Book of Ages, prodded by the pursuit of power. But fate intervenes when pages of the book scatter, sending Jinx and his henchman known as the Kitty Litter through a portal.
Marketing Must Have Vetoed "Fortunate Fox" 
Separated from the rest of his fox family, Lucky seems inconsistently named, as courage is the trait that will help reverse the calamity. Most of his personality is expressed through his adorable character design, animation, and moments that express the character's plucky spirit. Sure, his bushy tail might remind you of Conker the Squirrel, but he lacks the defiant streak, making him a bit generic. But like foxes, he can burrow underground, which makes for a distinctive mechanic. What's especially enjoyable is popping up from under unsuspecting enemies. Lucky makes me wish I could do that in real life, which is something I've never thought about before.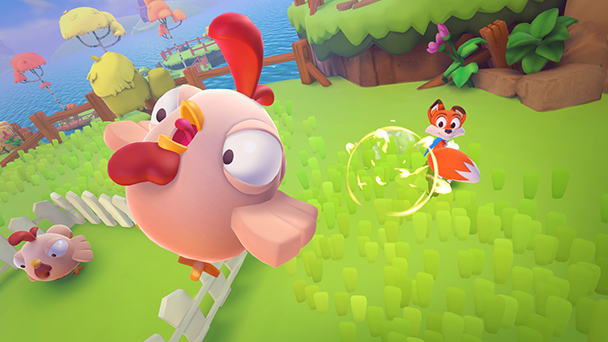 Fortunately, energy was invested in level design rather than character creation. Mirroring Super Mario 64, stages incorporate multiple objectives. Progress is made by collecting the letters L-U-C-K-Y, finding a hidden page, collecting at least 300 coins, and completing the level. Early on, you might be able to complete them all on a single, protracted run. But as New Super Lucky's Tale injects variation into its gameplay, you'll likely have to narrow your focus.
Different Stage Styles Add Variety
The fundamental formula for stages is a sprawling zone that invites exploration but is never large enough to cause disorientation. Most likely you'll find stages that branch off in different directions, with thoughtful shortcuts that remove some of the burden of backtracking. Pleasingly, there's a nice sense of verticality, with stages that have you climbing skyward. Although falling off the stage is penalized, Lucky is an agile little fox and can survival any fall when there's ground below him.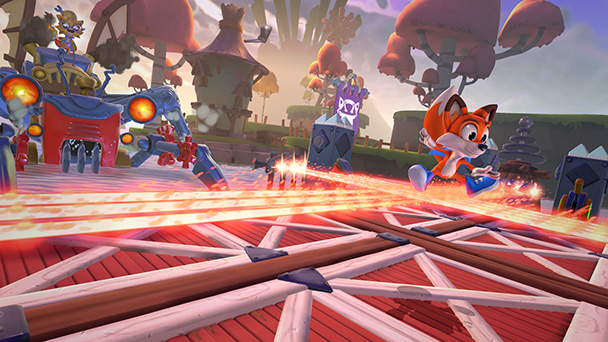 To offset fatigue, the game also had 2.5D stages, that like the modern Rayman games, which extend opportunities for navigation across different planes. And even if you've exhausted appreciation for the endless runner, there's a chance that the occasional one here will click, as these levels are sporadically added in as well. With multiple routes and a restrained challenge level, these offer a refreshing change of pace from the other stage types.
What is especially well-done is level nestling, with sub-stages offering puzzles or ball-rolling diversions. Satisfyingly, they're not at odds with the main game, always given players a door if they aren't up to tackling these challenges. But tackling these noncompulsory challenges pay plenty of dividends. Each rewards players with plenty of coins, that can be used to dress up Lucky with an assortment of clothing and accessories. While they don't alter the character's abilities in any way, they add a bit of charm.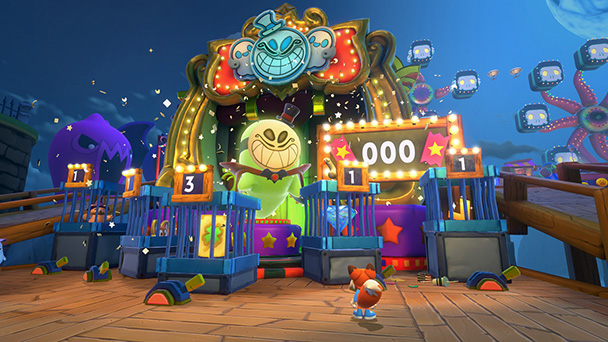 What's New, Lucky?
Beyond the integration of DLC levels from the Xbox One/Windows version of Super Lucky's Tale, there are a few other changes that make this iteration the definitive version. Previously, Lucky would skulk around on all fours, standing only when the control pad was released. Here, he's no bipedal, which makes navigation a bit easier. The larger contribution is making the camera adjustable is the free-roaming stages. Now, you can actually rotate the perspective and see where you're going to land, making finding those hidden caches much easier. Another great addition is auto coin collecting, which eliminates the thankless job of scurrying after currency spilling in several directions.
The only concession is you don't get the fluidity find in the Xbox One and Windows iterations. Running on Unity, New Super Lucky's Tale is capped at thirty frame-per-second and does a very admirable job at attempt to keep that specification. While eagle-eyed perfectionist might notice the occasional waver, largely Lucky runs gracefully on Nintendo's hardware. Given the long draw distances and indulgences like patches of polygon grasslands, it's a reasonable compromise. Expectedly, there's no loss to the game's buoyant soundtrack which deserves to be listened to with a set of headphones.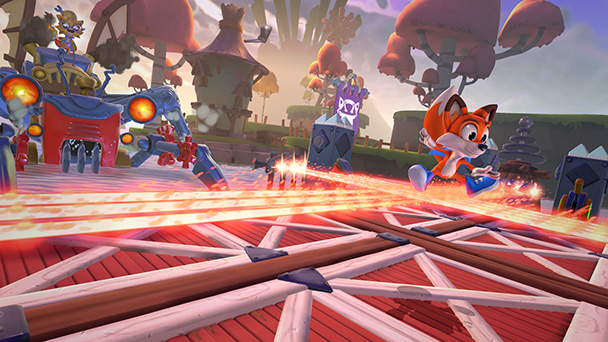 Conclusion
While New Super Lucky's Tale doesn't quite match the excellence of Super Mario Odyssey, it's the atypical third-party effort that comes precariously close to matching Nintendo's programming prowess and assurance of polish. It's generally an easygoing experience but a late-game increase in difficulty might irk fans pursuing an accessible platformer. But save for that blemish, New Super Lucky's Tale is the kind of exhilarating 3D platformers that all too uncommon these days.
New Super Lucky's Tale was played on Switch
with review code provided by the publisher
Review Overview
Summary : The third time's a charm for New Super Lucky's Tale. After two previous iterations, developer Playful has refined Lucky into a thoroughly enjoyable and polished three-dimensional platformer.