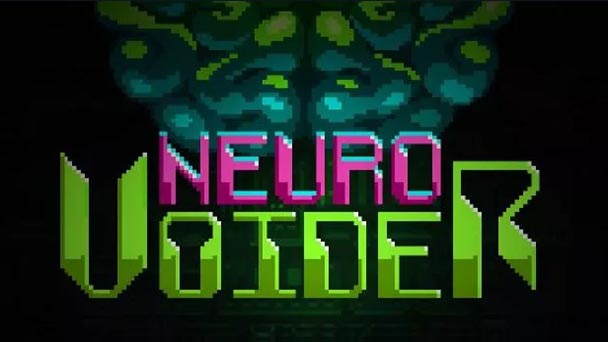 Over the past few years, Steam's library of games has grown exponentially, with a multitude of new titles arriving daily. One of the consequences of the rapid-fire expansion are the emergence of titles that offer minute variations on existing genres. Such is the case with Flying Oak Games' NeuroVoider, an effort poised to elicit comparison with twin-stick, rapid-fire, Rogue-likes such as Nuclear Throne, Enter the Gungeon, and The Binding of Isaac. The game's year-long stint as an Early Access title proves this is no quickly-produced copycat, while a bit of playtime demonstrates enough disparity and polish to make this a viable contender for action fans.
The bulk of NeuroVoider's storyline is found in the game's succinct tutorial, which depicts the journey of a brain breaking out of its stasis container. Bounding around like a dribbled basketball, the specimen soon realizes its fragility, and is guided toward three different types of armored bodies. Once play commences, these become the game's trio of principal forms, extending a melee-based dash-reliant suit, one that's armed with formidable projectile attacks, and another exoskeleton capable of producing a protective shield.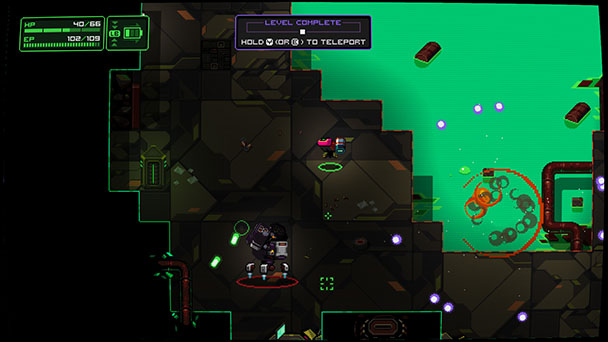 Pleasingly, there's are plenty of additional loadout decisions that await players. Another selection allows gamers to select from twenty-five different skills, which extend abilities like an instant jump into hyperspace, a second chance at life, or even a health boost. Each skill is powered by crystals that are acquired from defeated enemies, ensuring that the skills can't be over-used. Peculiarly, NeuroVoider extends its entire gamut of abilities from the start, snubbing the tradition of gradually unlocking new perks. As such, there's no little sense of progress from game to game besides an understanding of play principals and enemy behavior.
During each stage, players also pick up pieces from fallen foes, which can be equipped between levels. It's here that NeuroVoider takes inspiration from the drip feed loot-drop lure of games like Borderlands, with gamers able to gather and equip pieces that augment their head, body, arms, and means of mobility. Switching parts is fairly effortless thanks to a role-playing-like assessment screen which clearly shows advantages and drawbacks, as well as gives a graphical representation of what the potential output looks like.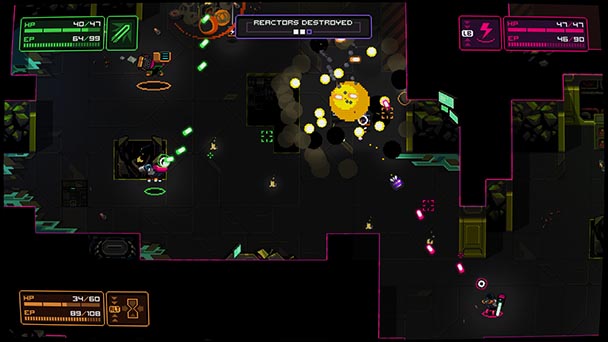 Gratifyingly, weaponry endows the game with a nice range of play styles. Beyond the trio of play styles offered through the Dash, Rampage, and Fortress classes and via a multiplicity of different weapon types, players have the ability to boost their offensive arsenal with currency collected by trounced enemies and excess parts sold as scrap. Alternatively, it's possible to farm rare parts as well, if you're luck isn't delivering the enhancements you deserve.
Woefully, variation isn't as strong as other parts of NeuroVoider's journey. Mission variety is lacking, with stages either tasking players with destroying reaction or urging players to defeat a boss. Enemy variety could be bolstered, with antagonists typically falling into two categories: diminutive aggressors who rush the player on sight, and larger, more formidable foes who tend to do the same. While NeuroVoider's enemies grow more powerful, your primary tactic doesn't, as you spend the game assailing antagonists, then quickly retreating in the labyrinthine environments until your weapon energy returns. Gather up to three friends for a local co-op session escalates the level of aggression, but you'll largely find party members succumbing to the same hit-and-run play style.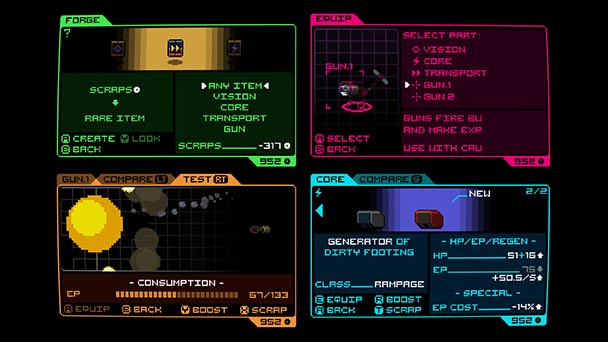 Even on modest laptops without a dedicated GPU, NeuroVoider is a consummate performer. In execution, the game delivered unblemished sixty frame-per-second, 1080p output on everything from a utilitarian i5 to an AMD A8-powered machines. But given the game's deliberately pixelated aesthetic, the performance prowess isn't surprising, save for the smoothness exhibited when boss battles fill the screen with vexing opponents and cloudbursts of enemy ballistics. Players are poised to appreciate Dan Terminus' driving synth score, which habitually lingers on the precipice of a beat drop.
Although twin-stick, Rogue-likes might be commonplace on Steam, NeuroVoider is one of the genre's better efforts thanks to the amount of agency extended to players. Although, there's little in the way of progression from game to game, it's an engaging experience as you develop a tactic that paves the path to the game's final boss. Ideally, Flying Oak Games' will get the opportunity to expand on NeuroVoider's strong foundations, and creating a challenger for the procedurally-generated, perma-death crown.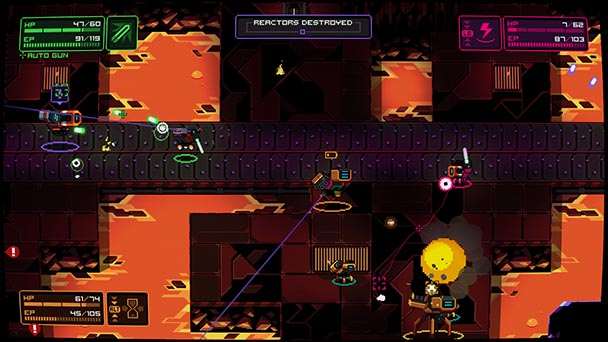 NeuroVoider was played on PC with review code provided by the publisher.
NeuroVoider


Platform: 
PC

Developer:
Flying Oak Games

Publisher:
 Flying Oak Games

Release date:
August 31st, 2016

Price: 
$13.99 via
Steam
Review Overview
Summary : If players haven't exhausted their appreciation for action-driven Rogue-likes, NeuroVoider offers a worthy excursion elevated by multitude of customization options.