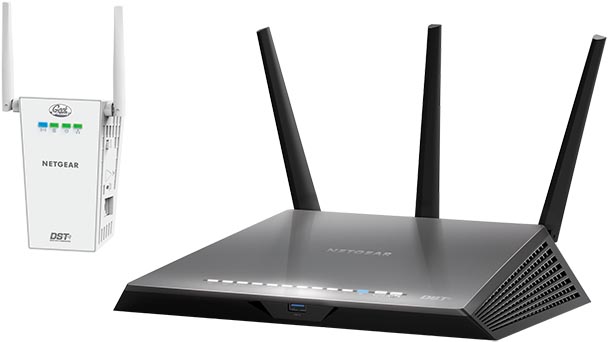 A decade ago, purchasing a wireless router was a fairly straightforward task; you simply bought the cheapest unit available. Functionally, routers were all quite similar, with most models effectively managing the transmission of data- even for those lucky enough to have access a high-speed connection. But in the ensuing years, a plethora of net-devices colonized our homes- with desktops, laptops, tablets, consoles, security cameras, streaming devices, and Blu-ray players all poaching a portion of our precious bandwidth. Now, bargain routers routinely disappoint, as the peripherals struggle to keep our Netflix and Crunchyroll streams from either dropping resolution or pausing content while buffering.
A solution was found in the R7000. Originally released in 2013, Netgear's router extended a few well-engineered solutions to combat the problem of greater draw of bandwidth. First, was the incorporation of a dual-core processor along with three co-processors, 128MB of flash memory, and 256MB of RAM, which all worked in tandem to intelligently direct traffic. Beamforming technology not only endowed Netgear's devices with distinctive looks (especially with the X6, which looks like an onyx-colored, robotic insect), but also used multiple transmitters and receivers to improve data throughput and range. With this recently released bundle, users will find the R7300, an iteration which adds a bit of additional functionality, as well as button that's used to give Geek Squads remote support, since the bundle is a Best Buy exclusive.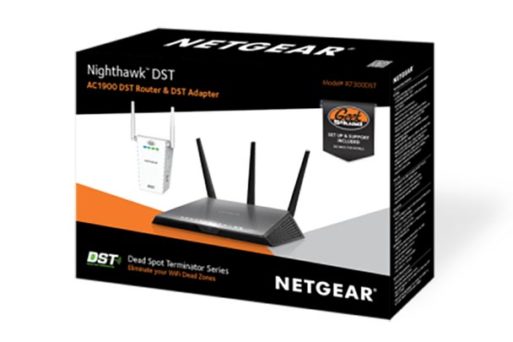 While Beamforming can improved signal strength, it's not a panacea for sprawling houses or dwellings with multiple stories.  To cater to those situations, Netgear has come up with an attractive, affordable remedy that bundles their R7300 Router with a DST (Dead Spot Terminator), a device that utilizes your existing electrical wiring network to eliminate any Wi-Fi deficient spots around your home. While the combo won't universally supercharge home networks, there's a strong possibility that the pair of peripherals will boost speeds in larger abodes.
When it comes to hardware, self-configuration is the Holy Grail for manufacturers. Agreeably, installing the Nighthawk R7300 Router couldn't be an easier. Once consumers open the bundle's sturdy cardboard housing, they'll find the router, a trio of antennas, the DST Adapter, an AC cord, two Ethernet cables, as well as an instillation guide. Pleasingly, the latter is barely needed. Beyond screwing on the eight inch masts on the back of the Nighthawk, connecting it to modem with the Ethernet cable, and plugging the peripheral into an outlet, set-up is stress-free, taking about a minute.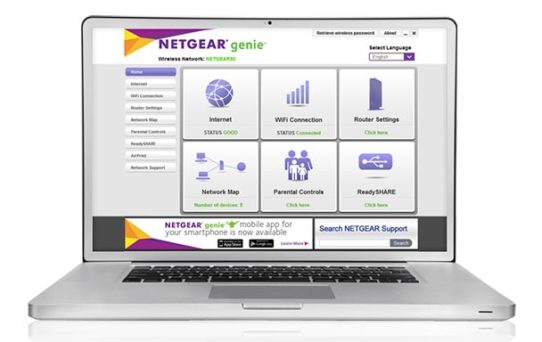 Typically, most new routers require users to type in a specific IP address to enter a web-based configuration menu. That's not the case with the Nighthawk, which automatically opens a browser window and guides users through the painless process. Wisely, Netgear gets users through the initial set-up as quickly as possible. Should owners want to change options, from renaming the 2.4GHz and 5Ghz bands, changing the default password, or opting for a guest access account, they'll given a prompt to download the Netgear Genie app. Available for PC, Mac, iOS, or Android devices, the sole caveat is that modifications have to be made locally; there's no way to alter settings remotely.
The Nighthawk is undeniably bulky, taking up nearly as real estate as an 11-inch laptop, but there are a few benefits to the form factor. Temperature levels, a common concern for most routers, were controlled- with the exterior of the R7300 exhibiting sub-100 degree levels even on a balmy Southern California afternoon. Smartly, the Nighthawk's design forgoes the need for a cumbersome power brick, with current conversion handled inside the router. Just be sure to plug the router and DST directly into wall outlets, as power strips will diminish the speed of transition through your electrical system.
When it comes to sheer download speeds, the Nighthawk isn't the top performer. We pitted the R7300 against two comparable AC1900 routers, TP-Link's Archer C9 and the Asus RT-AC68U, in two different spatial configurations. Our first trial measured download and upload speeds across a 200Mbps/20Mbps home network, where our PC was separated by 50 feet and three walls. For the second test, we utilized a 50Mbps/5Mbps connection that had to send the signal up to a second story that was about 80 feet away from the router and divorced by a succession of four walls.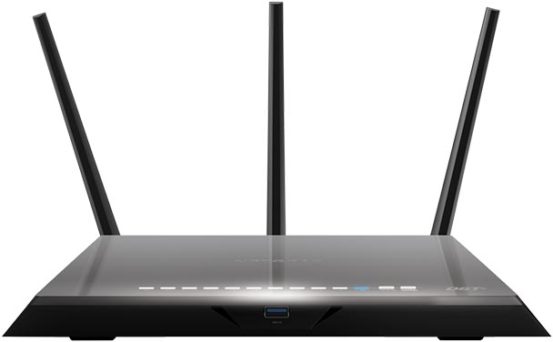 Although the performance variance wasn't huge, accounting to roughly six percent overall, the R7300 came in second and third on the two 5GHz tests, outmatched by the TP-Link in both cases. However, when examining the speed on the 2.4GHzband, the Nighthawk demonstrated a slight edge, garnering a second place finish, as well as a decisive win in the more capacious setting. If it's range you're after the Nighthawk is the best choice.
But pure speed is only part of the picture, with Netgear's bundle concealing a few tricks up its sleeve. With Quality of Service (QoS), users can prioritize data, allowing things like video streaming, online gaming to be given antecedence over other less data-intensive tasks. In execution, this meant streaming video buffered near-instantaneously and was less prone to interruption during our stress-tests.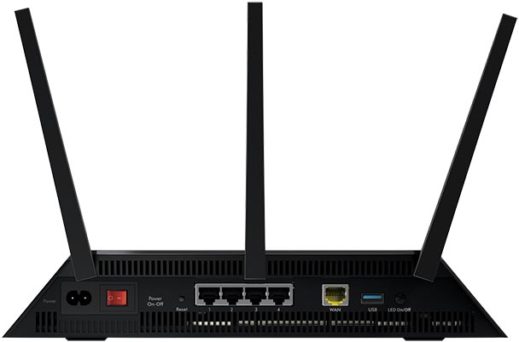 Meanwhile, the bundle's power-line adaptor, aka the Dead Spot Terminator is a bit of a wild card. In our first set-up, we had previously used a few power-line adaptors to limited success, with speeds slower than Wi-Fi transmissions. So it wasn't a shock to see the DST offer sluggish speeds across the 2.4 and 5 GHZ spectrum in our first test. However, in the second experiment in the roomier setting, the device fared better, especially when it came to signal strength. As such, the bundle could be ideal for home with an attic or basement office.
Largely, both the Nighthawk R7300 Router and DST Adapter operated obediently with a variety of desktops, consoles, tablets, and similar devices. The sole issue emerged when a duo of Asus T100TA's not only repeatedly dropped the 5GHz signal, but sporadically dropped all Wi-Fi accessibility until the PC was rebooted. After troubleshooting the problem, we discovered it wasn't an issue with the router, but rather with the Wi-Fi adapter inside the Asus hybrid (using a wi-fi dongle eliminated the problem). Still, we wanted to use this as an in-road to test the quality of the bundle's year of Geek Squad support.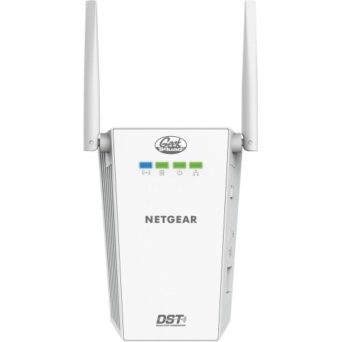 In short, hours of interaction with Geek Squad/Best Buy proved unable to replicate the diagnosis that took us mere minutes. On-line chat was slow and resulted in advisement for telephone support. Multiple phone calls resulting in handoffs between departments, with each transfer dropping the call quality until it was unintelligible. Calls and a visit to a local store finally produced a semblance of eagerness, but they too failed to probably analysis the issue. Since we received our unit directly from Netgear, things might be easier with a receipt in hand, but Geek Squad/Best Buy support proved to be a detriment, rather than a value-added amenity. Purchasers should also be aware of the chain's 14-day return period (for non-elite members), since power-line speeds can vary greatly.
But as long as users don't run into problems, the Netgear Nighthawk R7300 and DST Adapter combo is a solid solution for those with large houses or secluded rooms. With the USB 3.0 and 2.0 ports on the router, we were able to connect a hard drive, offering an effortless way to stream an entire video collection through every corner of the house. Amazingly, the stream ran without a single hitch, even as we downloaded two substantial games and played a competitive first-person shooter. As any respectable router should, the Nighthawk allows users to concentrate on work and entertainment, instead of troubleshooting their data transmission.
Technical Specs
Wi-Fi Technology: 802.11ac Dual Band Gigabit
Wi-Fi Performance: AC1900 WiFi (600 + 1300 Mbps)
Wi-Fi Band: Simultaneous dual band 2.4 & 5GHz
Number of Ethernet Ports: Five 10/100/1000 Mbps; (1 WAN & 4 LAN) Gigabit Ethernet ports
Number of USB Ports: Two USB ports; one USB 3.0 & one USB 2.0 port
Key Features:
– Upstream & downstream QoS for best gaming & video streaming experience
– Airtime fairness prevents network lag when slower devices connect
– Easy & automatic installation of the NETGEAR router with Internet provider gateway to upgrade your Wi-Fi
– ReadyCLOUD USB Access allows you to enjoy personal and secure cloud access to USB storage anytime, anywhere
– Free automatic backup software for Windows PC & Time Machine compatible for Macs
– On/off LED lights option
Security:
– Wi-Fi Protected Access (WPA/WPA2—PSK) and WEP
– VPN support—secure remote access
– Guest network access—separate & secure
– Wi-Fi Protected Access (WPA/WPA2—PSK)
– Double firewall protection (SPI and NAT)
– Denial-of-service (DoS) attack prevention
Processor: 1GHz dual-core
Memory: 128 MB flash and 256 MB RAM
Dimensions: 11.22 x 7.26 x 1.97 in (285 x 184.5 x 50 mm)
Weight: 1.65 lbs (750 g)
Review Overview
Summary : The Netgear Nighthawk R7300 Router and DST Adapter Bundle isn't for everyone, but for active users who dwell in spacious homes, the package just might offer an ideal solution.