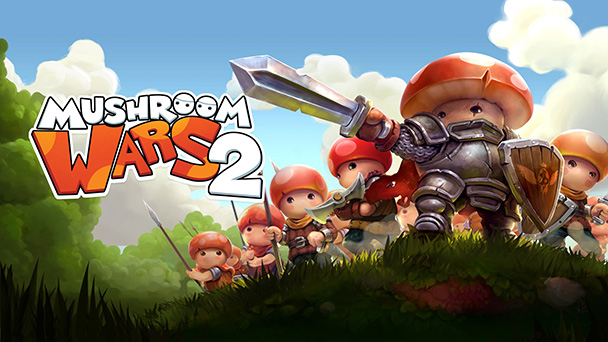 Mushroom Wars 2 offers factions of fractious fungi, vying for domination of each landscape. If you are craving a serving of real-time strategy without the burdens of resource gathering and complex tech-tree, these 'shrooms make for a tempting appetizer.  
Mushroom Wars 2


Platform:
Xbox One, previously on mobile, PC, and Switch
Developer:
Zillion Whales

Publisher:
Zillion Whales
Release date:
January 12th, 2022
Price:
$19.99 via
Microsoft Store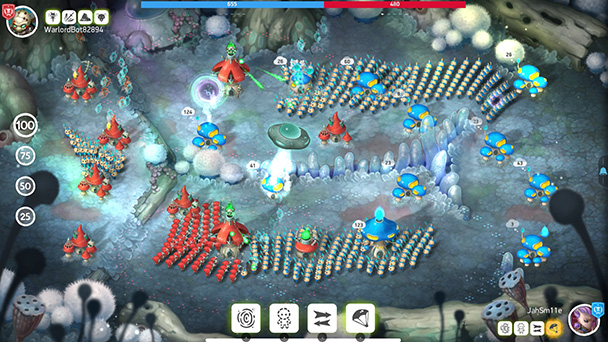 Following the devastation of earth, signs of life start to reemerge, as arid wastelands slowly turn green again. From these embryonic lands, a multitude of mushrooms are sprouting. But distressingly, they seem destined to repeat the cycle of conflict that has plagued the planet. As such, different factions of fungi battle for domination, bringing a light-hearted, enjoyable, and slightly repetitive real-time strategy experience onto the Xbox ecosystem.
Early stages play out similarly, placing a small battalion of 'shrooms in quaint villages. Left alone, the number of warriors in these settlements will steadily grow until they reach a predefined limit. Periodically, players have the opportunity to upgrade these communities, sacrificing a few fighters for a stronger defense, larger unit capacity, and faster production. Or they can opt to convert these outposts in towers that lack the ability to reproduce but fire at any nearby enemies. Alternatively, forges can be built to bolster your battle stats, trading unit production for stronger, forceful soldiers. Essentially, Mushroom Wars 2 pares down the real-time strategy genre to the essentials, removing factors like resource gathering to focus on engagements where area and army size matter most.
Conflict is most often initiated by directing a portion of a stronghold's population to invade another tower. Pleasingly, ownership and strength of each fortification is clear, signified by color and a number overhead number that details the number of troops garrisoned inside. Similarly, a bar at the top of the screen shows the size of each army, offering a general assessment of faction strength. The ultimate goal is to overrun the land, either taking control of the landscape or key strongholds.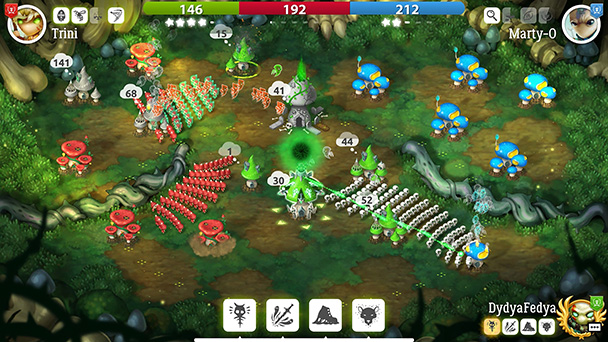 No items 'Stem' from the Control Scheme
Real-time strategy on consoles have a decidedly mixed history, with genre entries habitually hampered by awkward control schemes. Mushroom Wars 2 was previously released on PC, Switch, and mobile, and while the Xbox iteration can't provide the touchscreen-based input method of the latter, directing your mushrooms is a largely intuitive affair. Using a cursor to shift around towers, a shoulder button hold brings up an arrow to help direct your eager attackers. Pleasingly, the game remembers your last selection, making a blitzkrieg culled from several strongholds quite easy to pull off. Different tower upgrades and unit sizes are all mapped to the face buttons, but thanks to pop-up overlays, you'll quickly be enhancing and sending out a variety of troop sizes intuitively.
Although Mushroom Wars 2 doesn't use a substantial amount of art, the game makes good use of its economical supply of assets. Backdrops employ at painterly approach, while the tiny mushroom soldiers move in bullet-hell patterns until their demise generates translucent spirits that rise skyward. As such, the game's artwork is attractive while avoiding being so busy that it prohibits easy reading of the battlefield. Musically, the game employs vocal choruses and exotic rhythms, endowing the actions with an otherworldly texture that complements the peculiar confrontation between mushrooms.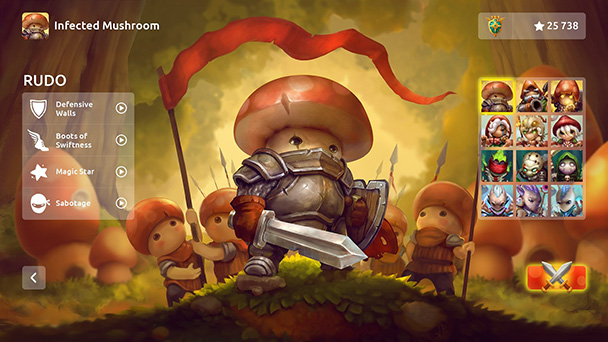 Mushroom Wars 2 packs a healthy amount of content, with two separate campaigns, multiplayer matches against local and online foes, as well as bot battles. Although there's an attempt at variety with elements like boss battles and a mixing of starting situations across the campaign, play can grow tedious across long sessions. Periodically, battles can devolve into wars of attrition for a single tower, with power repetitively shifting back and forth. This can make the usual ten-to-fifteen minutes game stretch out much longer if you don't opt to restart the round. Another issue is rooted in the absence of an online community. I tried to find a rival at several times throughout the day. Each time the matchmaking couldn't locate competition.
The Xbox One iteration of Mushroom Wars 2 is priced five dollars more than the PC version, but it's cheaper than if you were to buy all the piecemeal content for the free-to-play mobile version. Commit to the twenty-dollar asking price and the title provides an ample amount of content, but like a buffet filled with nothing but mushrooms, you might get burned-out if you consume too much at a single sitting.
Mushroom Wars 2 was played on the Xbox Series X with review code provided by the publisher. 
Review Overview
Summary : For those seeking light real-time strategy, these fungi can provide fun, but the lack of sophistication means that tedium emerges rather quickly.