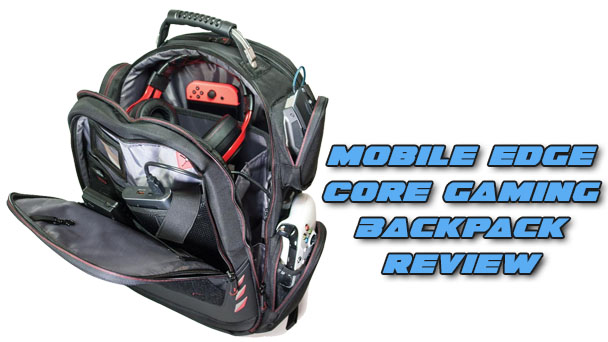 With the price of gaming laptops routinely exceeding a thousand dollars, you want to ensure your hardware is properly protected during transit. Sure, there are a myriad of lightweight and relatively inexpensive backpacks that assist in moving your machine around.  But use often involves taking a gamble, with a slight drop or collision able to dent or even break your cherished machine.
For the past few months, I've been using the Solo Altitude backpack. Although it's look is a bit too faux-military for business environments, the pack's 2.2-pound weight and generous storage capacity helped offset the spec-ops vibe. Unfortunately, some corners were cut during in design and manufacturing, causing some fraying on the inside seams. If I don't actively trim down these loose threads, cords and cables tend to get tangled. Worse, when I got clipped by a closing subway door the backpack's insubstantial padding didn't offer enough protection. I ended up with one of those small but undesirable dings on the aluminum chassis of an MSI laptop.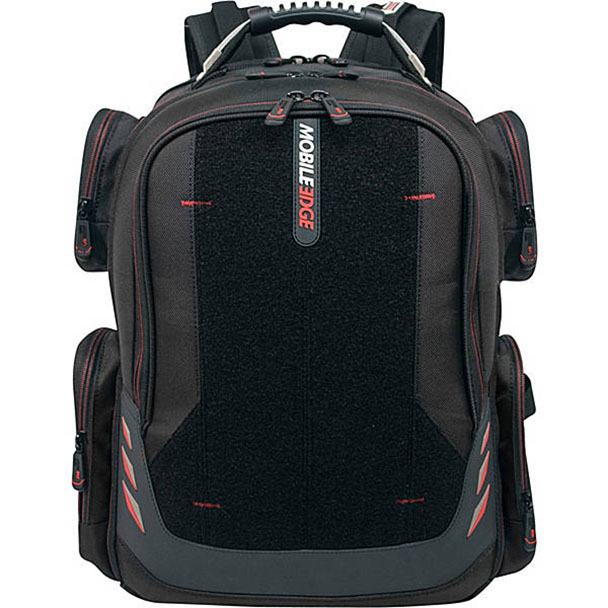 Ballistic Nylon is Tough but Heavy
Given the insubstantial weight of the Altitude, use of the Mobile Edge Core Gaming Backpack required an adjustment period. At nearly 20 by 17 inches, it's an enormous pack, capable of accommodating eighteen-inch laptops or even consoles like the PlayStation 4 or Xbox One, alongside all your accompanying gear. It's 4.25-pount bulk is unmistakable, and when filled with one of those notoriously heavy Alienware laptops and accompanying gear can get uncomfortable. The optional, adjustable chest straps take some of the burden off your shoulders, but it's not the panacea you might have hoped for.
The upside, expectedly, is that the Core Gaming Backpack offers protection. It's made of ballistic nylon, the same type of material developed by DuPont for flak jackets worn by airmen. I can't say whether it offers any kind of protection from shrapnel, but after over a month of use, I can attest to its durability. I used the Mobile Edge backpack every day, taking it on trains, subways, and the occasional bus. Pleasingly, both exterior and interior show no perceptible signs of wear. The only other backpack I've seen hold up as well was a SwissGear, which was constructed from a similar material. The only blemish was impermanent, with the Velcro front panel of the bag (alternatively, a variant comes with a molded front panel) being a magnet for bits of lint.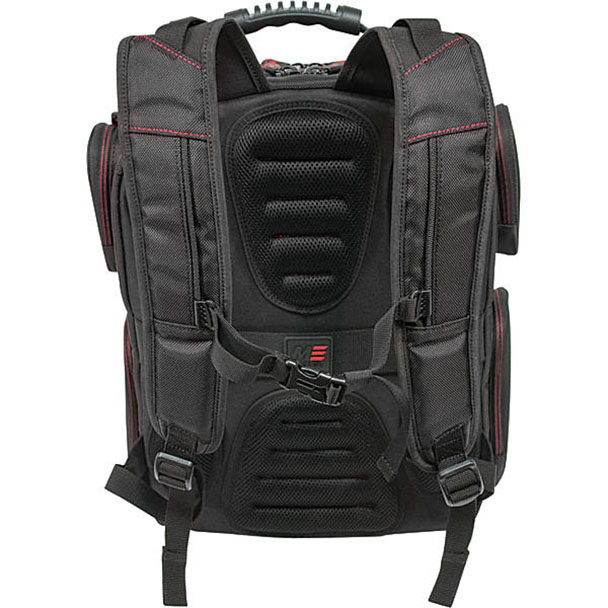 The Drop Test
Over the month, the Mobile Edge backpack encountered plenty of jostles, but nothing as severe as the collision that dented the laptop in the Solo Altitude. To test durability, we put an older, barely functioning, 6-pound laptop that was headed to the recycling center in the Core Gaming Backpack's rearmost compartment. It's secure by an air-vented padding on the back but seemed susceptible on the bottom and sides. After dropping the pack on a hard tile floor from one, two, and three feel no physical or functional damage occurred. But on a drop from four feet, the laptop screen acquired a small crack in the corner of the screen. While this is just much anecdotal as it was empirical, only bags with internal padding would have fared any better.
While shock protection was merely serviceable, the Mobile Edge's design is quite capable. Beyond the rear laptop pocket, there's a roomy interior compartment with a tablet pouch and folding out pocket, the later being ideal for adaptors. The front section has designed slots for USB drives, pens, memory cards, and business cards. There's also a place for a power bank and a cable that leads to an external USB port.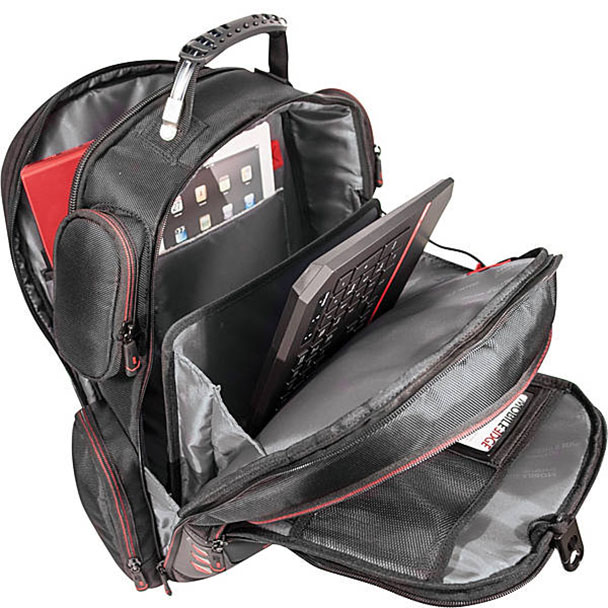 Enough Room for All You Accessories
Like most contemporary business backpacks, the zippering on the rear compartment allows for a butterfly-like opening that allows for using a single tray at TSA checkpoints. But there's seems to be some inconsistency is guidelines, because at least one-third of the time traveling, I'm told to put my laptop in its own separate tray anyway. Still, you can't fault Mobile Edge for the discrepancy and if you're lucky, you'll be able to get through security quickly and possibly board it as carry-on luggage. (width limit is typically 14 inches for domestic flights, but since it's a backpack, it might not be scrutinized).
Rounding out the bag are four peripheral zipper pockets, large enough for a mouse, controller, pair of sunglasses or portable hard drive in each one. On the top of the backpack in a handle that's reinforced by plastic-covered steel wire. For many packs, I worry that the top hook might give after months of toting. But that's not the case for the Mobile Edge, which has one of the sturdiest top grips I have ever seen. Aesthetically, the black with red accents is fairly low key, and by removing the velcro badge that proclaiming it's for gaming, can probably be brought into an office with notice.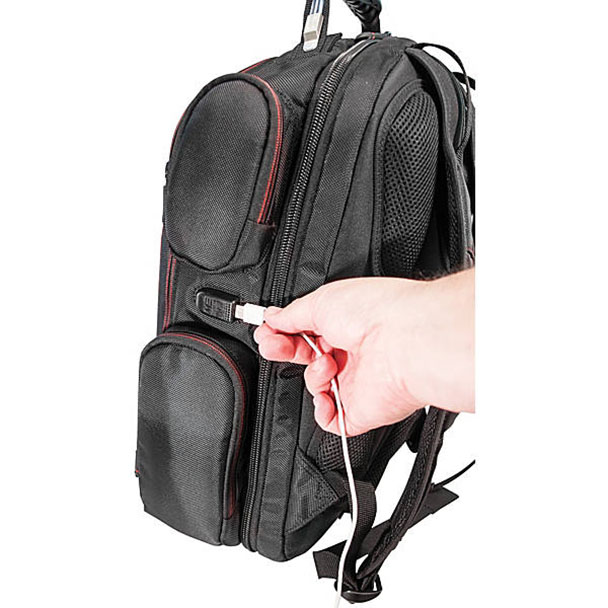 While it's often difficult to predict the durability of a backpack, use revealed no structural weaknesses. While the sizing clips on the front straps are plastic and therefore prone to breakage, the bag is backed by a lifetime guarantee.Given the manufacturer has been around for fifteen years, there's a reasonable certainty, they'll be around to honor it, if the need arises. At about a hundred dollars, the Mobile Edge Core Gaming Backpack isn't cheap, but probably preferable to purchasing an inferior once every year or so. If have a 17 inch laptop you want to haul around safely, you'll want to consider this.
Tech-Specs
SKU: MECGBP1
Color: Black
Accent Color: Red
Material: Ballistic Nylon
Warranty: Lifetime
Product Weight: 4.2 lbs.
Fits Laptops Up To: 17″ – 18″
Product Dimensions (wxhxd): 19.5" x 17" x 9"
Laptop Compartment (wxhxd): 16.4" x 11.5" x 2"
MSRP: $129.99
Street price: $96.99 via Amazon
Review Overview
Summary : The Mobile Edge Core Gaming Backpack might cost a bit more than your average backpack but its durability and capability for carrying a small office worth of stuff is nearly unmatched.