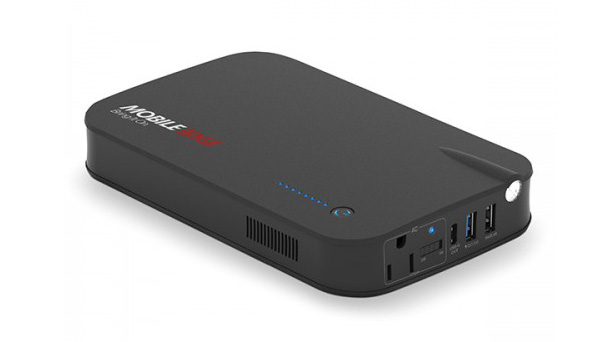 As a frequently traveler who carries around an assortment of power-guzzling electronics, I'm constantly scanning my environment for charging opportunities. Pleasingly, there's been a lot of improvement in recent years, with most domestic airlines offering at least a powered USB port and passenger trains like the 700 Series Shinkansen possessing AC plugs near the rear seats of each car. But with worrisome regularity, I still find myself in situations without any kind of charging stations.
Although power banks help to sustain tablets, portable game consoles, and Bluetooth headphones maintaining battery life on a laptop is another story. For lightweight computers like MacBooks, Chomebooks, and maybe even a thirteen-inch Dell XPS, you might be able to get away with an external power pack that provides up to twenty volts of power. But try to use one of these devices with a more robust laptop (like anything with a GPU or APU), and you'll witness speeds drop when the bank can't provide an adequate amount of juice. While these banks can charge inactive computers, powering a PC while simultaneously refilling the internal battery is another story.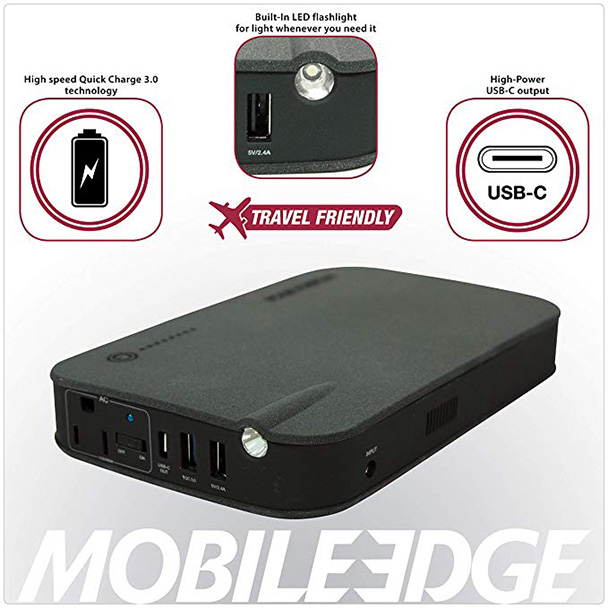 In those instances, you'll need a device with a dedicated AC power outlet. But all too often, those are bulky, heavy and expensive. Mobile Edge's Core Power Charger tackles at least two of those issues. The two hundred-dollar MSRP will daunt casual users (although it's currently selling for $135.99 on Amazon), but the size, heft, and functionality will undoubtedly please those who do an ample amount of time on the road. As long as your power requirement isn't too large, the unit largely delivers when it counts. However, those expecting the unit to prolong the playing time of their gaming laptop will want to look elsewhere.
Open the Power Charger's thin carboard housing, and you'll find the 1.3A charger, an AC adaptor, two adapters for international sockets, and an English and Spanish language instruction booklet. Initially, our review unit held a residual charge, so refilling it to capacity only took an hour. When the peripheral is completely drained, recharging took about three-and-a-half hours. Pleasingly, there's a column of eight LED lights to indicate how full the battery is. Once the unit reaches it's 27,000 mAh capacity, all of the lights shut off, apparently signaling the device is smart enough to prevent overcharge.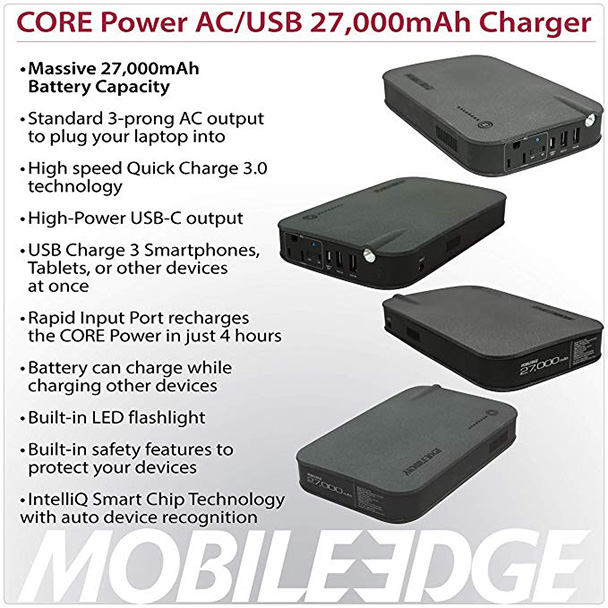 Like many power banks, the unit has a miniature flashlight built-in which can be toggled with a double-tap of the power button. Beyond its AC power ability, the peripheral also comes with a trio of DC-power ports, with USB-C, as well as QC USB 3.0, and a USB 5V/2.4amp output. Unfortunately, you can't charge any device while the AC Power Charger is being charged. Another limitation is that the manufacturer recommends charging no more than a single USB device when using the AC port.
When the peripheral's top slider is moved, a top LED light illuminates, indicating that the unit's single three-prong, AC adapter is live. While the Power Core is able to sense when the port is vacant and switch to standby mode, power retention is slightly compromised and the unit will discharge after a few weeks.
We tested the Core AC Power Charger is a number of situations designed to simulate real-world situations where a power outlet wasn't around. The first scenario was a power-sipping Lenovo 710 ultrabook with a Core i5-7Y54 CPU. Previously, we were able to recharge the PC on the road with an RAVPower 23000mAh Portable Charger and a DC conversion cable purchased on Ebay which weighed about 3 pounds. While the Mobile Edge was about three times as thick as the RAVPower, it weighed about 4 ounces less and managed to replenish the battery almost two cycles, permitting for over fourteen hours of operation.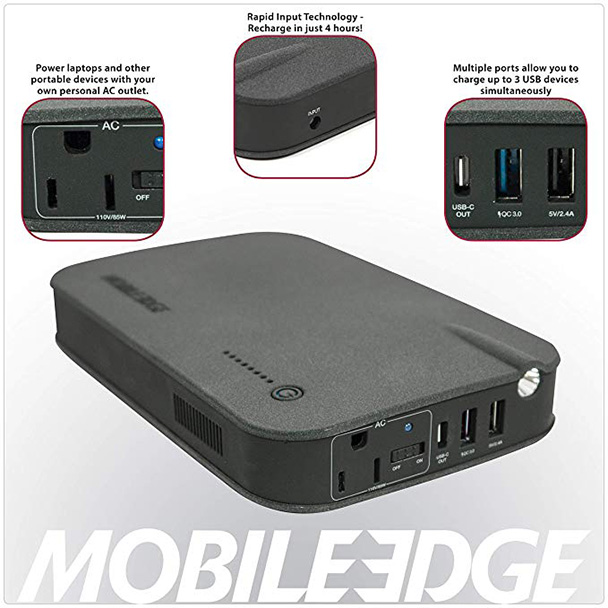 When the Mobile Edge was asked to power out Dell G5 with a 1060 GTX GPU, the Power Charger had little problem recharging while we typed away in Word and streamed music in the background. However, when it came time to play a few rounds of SoulCaliburVI, the device struggled to provide enough wattage. The fluid sixty frame-per-second was halved, resulting in a substandard experience. On the upside, as long as we weren't gaming, the unit provided another four hours of battery life.
Over the next few days, we required the Power Charger into daily duty, using it to charge a laptop, tablet, Nintendo Switch, phone, and headphones while on vacation. Mostly, the peripheral performed, offering just enough milliamps to keep a backpack full of electronics operational. But on the fifth day, we noticed an anomaly; one LED light was illuminated after a four-hour replenishment session. Power cycling and attempting to top off the unit proved fruitless. Only after unplugging the Power Charger adapter and plugging it back in did we witness a gradual reillumination of lights.
If you're dreaming a mobile gaming center built around the Mobile Edge 27,000 mAh Core AC Power Charger, think again. Any demands over 85 watts will be stifled, which is probably more than any respectable road-rig will swig. But for basic office needs, the device is largely functional. While it would be nice is Mobile Edge tossed in a carrying case to protect the matte exterior from fingerprints, that omission and a possible indictor malfunction are the only evident caveats.
A  unit was provided by Mobile Edge for review purposes. 
Review Overview
Summary : With the Mobile Edge 27,000 mAh Core AC Power Charger in your bag, there's always an AC outlet at the ready. For those with power needs less than 85 watts, that can be incredibly handy.