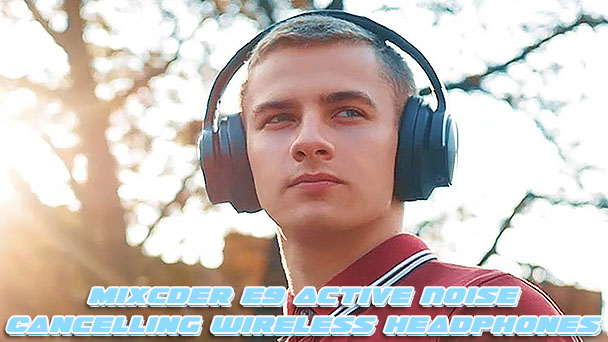 Headphones come in a wide variety of price ranges. You can spend anywhere from twenty dollars for an economical set to a sum that rivals a monthly car payment for a luxurious pair. Just don't let anyone tell you there's little different between low and high-end headphones. Listen to the high-end pair and you'll probably enjoy a warmer, richer, more organic sound thanks to sophisticated drivers. They'll probably be comfortable too, with extra attention and pricier materials given to the headband and ear cushions.
But are you willing to pay upwards of five-hundred dollars for headphones that are only marginally better than a lesser known brand? Mixcder, a manufacturer of affordable in-, over-, and on-ear Bluetooth headsets, hopes that the answer to the question is a firm, "No".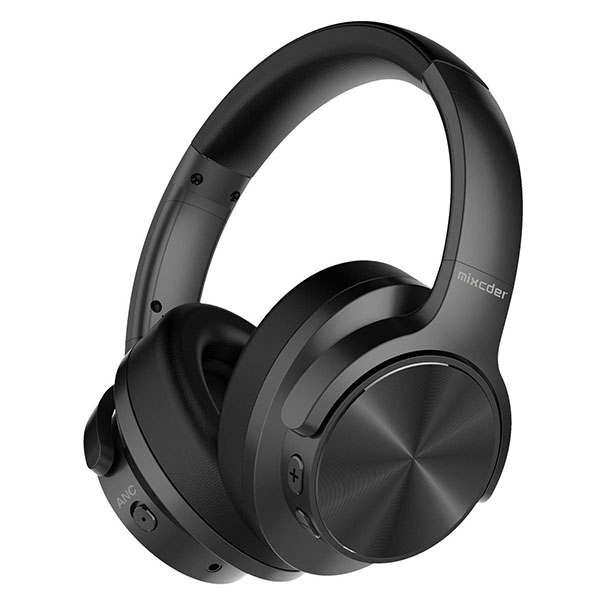 I've purchased a lot of inexpensive Bluetooth earbuds, gaining a sizable collection of sub-$30 buds from makers like Anker, Atgon, and Mpow. Hands down, Mixcder's Pro911 are my favorites. While their sonic output might be a bit too bright for some, I appreciate the sharp, crisp highs as well as a solid low-end. I was hoping that the Mixcder E9's would offer a similar price-to-performance ratio. While there's definitely a few compromises to be found, the E9s are certainly a worthwhile proposition, especially for their sub-$60 price point.
Nearly Living Up to the Claims
Open the E9 box and you'll discover a perk that puts the set over many reasonably-priced rivals- a fitted fabric case for the headphones. While the E9s don't collapse down, Transformers-style, rotating ear cushions permits for a relatively flat shape that won't take up too much space in a backpack or briefcase. Inside the case, you'll also find a multilingual instruction booklet, a micro-USB charging cable, a 3.5mm auxiliary cable for connecting to a headphone jack, and a dual adapter for air travel.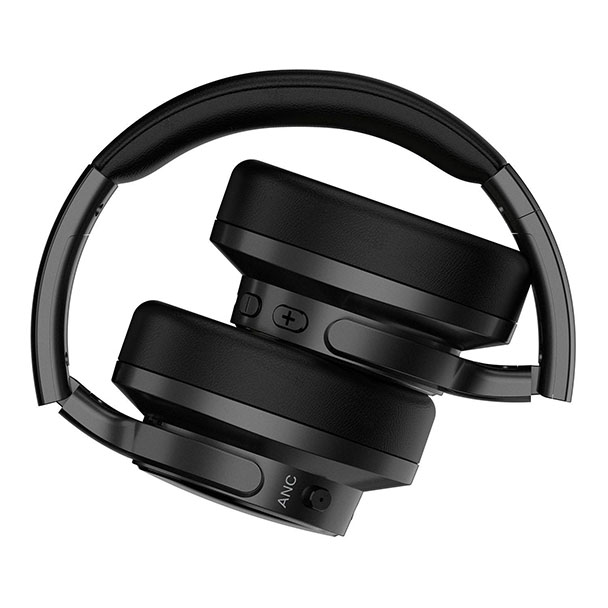 Like most Bluetooth headsets, the E9s should come with a partial charge, and you're encouraged to top off the 500mah battery before use. Once fully depleted, the headphones take around three and a half hours to fully reinvigorate. Pleasingly, you can use the set while power is being recharged. Mixcder boosts thirty hours of use before the need to plug them in again for power (with noise cancelling off).  While that number hinges on a multitude of variables, we found it to be the best-case scenario. During testing, the E9s averaged about twenty-five hours at a moderate volume level. With noise-cancelling activated, expect to lower actual use to about eighteen hours, which is still good enough for most global flights.
Distance never quite reaches the span suggested by the Bluetooth standards. Ideally, the E9s would have a 49-foot range indoors, 33 feet outdoors. In a multitude of settings, we were able to obtain about two-thirds of those figures. On the upside, there were no disruptions in music, which can sporadically happen with low-powered earbuds.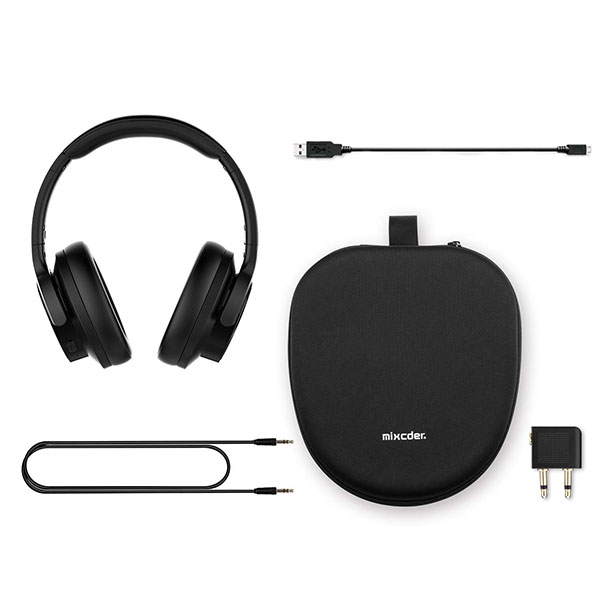 Quieting Jet Engines, But Little Effect on Crying Babies
The Mixcder's benefit over cheaper Bluetooth sets in the inclusion of Active Noise Cancelling (or ANC). It's a technique where a microphone listens to background noise and creates a sonic signal that phase shifts or inverts the polity of the original signal, effectively reducing the volume of things that aren't music. But it's not magic and works better on things like the mid-range mechanical drone of an aircraft engine than the wailing cry of a fussy baby. Unsurprisingly, the E9s catch match the precision of a pair of $300 Bose QuietComfort 35s. Activate ANC and you'll instantly notice a bump to the mid-range frequencies. In testing, the E9's did damper the sound of cars, airplanes, and trains, but didn't quite muffle loud conversations from fellow commuters. While the ear cushions provide a bit of passive noise protection, they undoubtedly favor comfort over a seal that might irritate your skin over long durations.
But even the intermittent disruptive voice doesn't diminish the Mixcder's sound quality. Across a variety of musical genres, the E9s supplied solid sound quality that was neither too bass heavy nor harsh. Output seems natural, with both synthesized and organic percussion sounding punchy, bass lines feeling full, with vibrant vocal ranges. The sole sonic blemish is found in the higher end of the spectrum, which lacks the crispness of more expensive sets.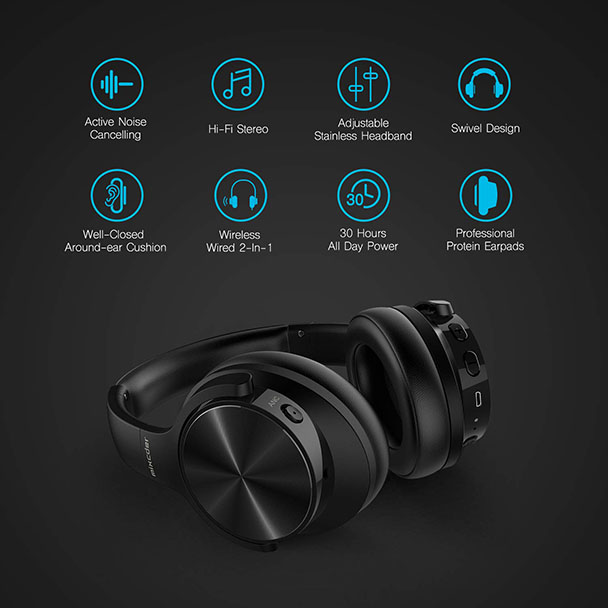 A Quality Price-to-Performance Ratio
Weighing about nine ounces, the Mixcder E9s can use used for longer periods without fatigue. While long-term build quality can be difficult to assess in short review cycles, the headset uses sturdy, yet pliable plastic and smooth polyurethane for its headband and ear cushions. The downside is that the E9s aren't scratch resistant, and after several weeks of use, exhibited several blemishes after brushing against a sweatshirt zipper.
For those looking for an affordable set of noise cancelling headphones, the Mixcder E9 is a solid selection. With a long battery life, accompanying travel case, it's definitely one of the better sub $60 devices out there. But realize that the active noise cancelling can't quite complete with top-tier headsets.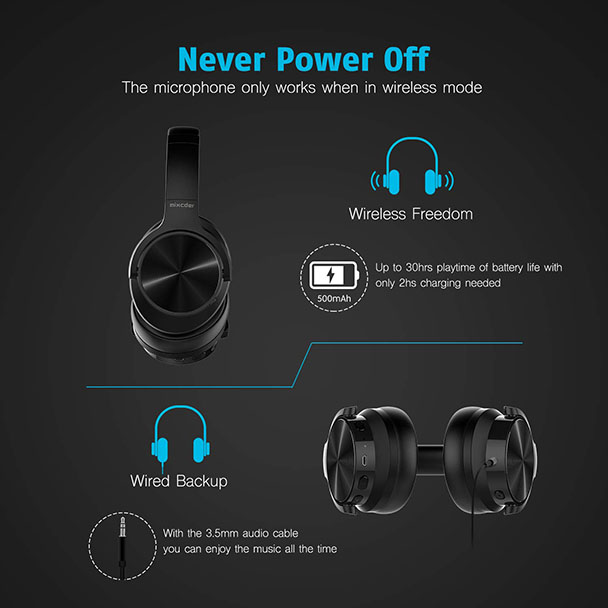 Review Overview
Summary : With solid sound, active noise cancellation, and an accompanying travel case, Mixcder's E9 are an affordable alternative to those pricey Bose and Sony headphones. You'll sacrifice quality but you're wallet will probably thank you.