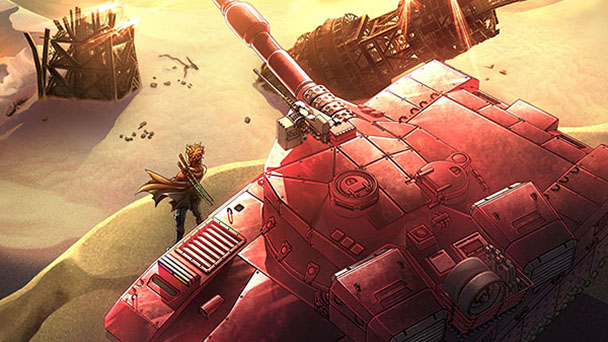 Save for Altus' localization of Metal Saga in 2006, the Metal Max series has largely eschewed Western releases. From a financial perspective, that decision might be defensible. Although the series is often commended for its vehicular customization and non-linear approach to role-playing, the property persistently demonstrated a bit less polish than its role-playing peers. The Japanese release of Metal Max 2 Kai was plagued with bugs, prompting the publisher to recall the cartridge. Sadly, an already encumbered Data East declared bankruptcy five days later.
But culturally, the series has relevance. It's post-apocalyptic setting and moniker offer an obvious reference to the Mad Max films, offering a recognizable point-of-reference for many Westerners. The series' first three entries were designed by Hiroshi Miyaoka, a close friend of Dragon Quest creator Yuji Horii. Miyaoka had even helped in the development of the first three Dragon Quest titles. In Japan, the Metal Max franchise was contrasted against the type of Euro-fantasy motifs that Horii nurtured, with the refrain, "We've had enough of dragon-slaying" used in Japanese commercials. The marketers had a good point, Metal Max's dystopian setting and open-ended approach felt novel against the medieval context used by most RPGs.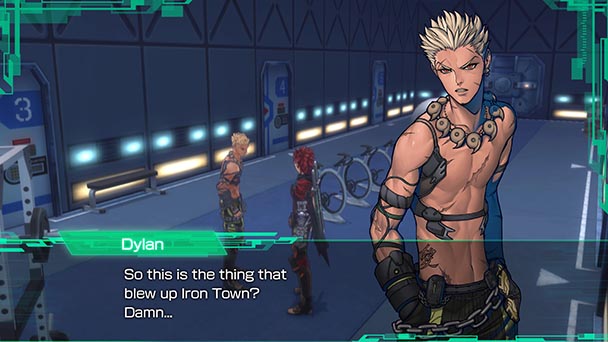 With the appearance of Metal Max Xeno for the PlayStation 4, many of the franchise's signature attributes remain intact. In some ways, the game feels like uncovering a relic released early in the PlayStation 3's lifecycle. Nondescript visuals are ubiquitous, especially the game's desert, a wasteland that exhibits scant texturing, and is surrounded by primitive polygonal objects. Similarly, the games' character developer is just as unsophisticated, with personalities defined by a single trait. But for players who have witnessed role-playing's evolution and don't mind trading modernizations for a reduced MSRP, this trip to the wasteland might be worth signing up for.
Unlike many modern games that spend prolonged amounts of time establishing a context, Xeno sets things up with a couple of quick-moving text crawls and a fleeting flashback sequence. Here, humanity is on the precipice of extinction, prompted by a supercomputer that created an army of killing machines. The once bustling capital of Tokio is now an arid wilderness, its topography of sand dunes established in the dehydrated bottom of Tokyo Bay. Players assume the role of a renegade named Talis. With a cybernetic arm, dual katanas strapped on his back, the trauma of a murdered mother, and a propensity for feral screams, he embodies furious vengeance. Like most of Metal Max Xeno's characters, he lives by a single mantra. Any NPC he meets will soon learn that he won't rest until every malevolent machine is destroyed.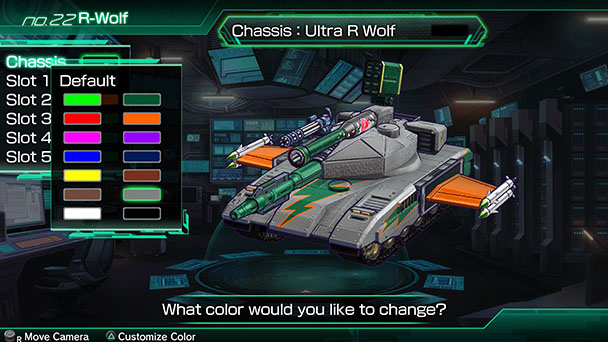 Talis' quest for retribution put him in a tank, which scours the wasteland looking for pickups and creatures to kill. The former show up as squares on your radar, goading you into exploring the game's map and endowing your exhibition with a bit of direction. The second mainly pop up randomly, prompting you to take them out with an automated turret blast. If you aren't able to accomplish this with a single strike, the game moves to a traditional turn-based battle as you exchange firepower.
Initially, your tank can carry a limited number of shells, obliging you to linger near your base of operations. But soon, you'll be able to outfit your treaded vehicle with a machine gun. The armament might lack the punch of your main cannon, but not having to worry about ammo counts means you can venture deeper into Xeno's maps. In execution, that means your first hour or so with the game might feel like a slog, but gradually the game's more autonomous traditions emerge. Much of the trudging is also remedied when you uncover portals that can instantly teleport your vehicle and any salvaged items back to Iron Base.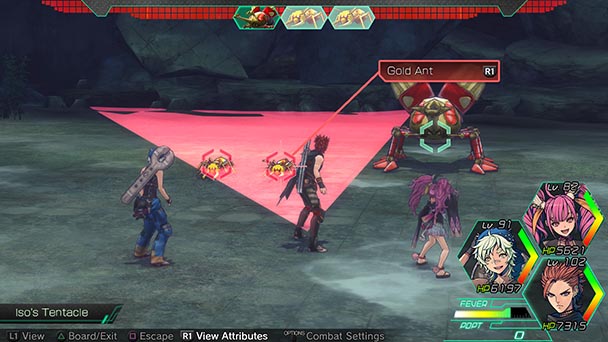 Naturally, you'll be able to augment the series' iconic red death-bringer. Materials dropped by defeated creatures can be converted into parts and outfitted by Jingoro, the game's resident tanker mechanic, who talks about military hardware as if they're attractive young women. Beyond upgrading basic performance and offensive output, you can also customize your tank and later in the game, locate schematics that will let you build vehicles with larger capacities. And while customization isn't as intricate as the construction in Armored Core or have diversity of weaponry offered by Custom Robo, you will have to strive for a balance between power, defensive stats, and offensive power.
Although Metal Max Xeno provides the ability to switch the classes and skills of party members, combat outside of the tank feels derivative. Sure, some of the specialized skills implant new stratagems, like healing the team or playing possum to dupe foes. And essentially, fighting outside of the tank is a reminder of the protective abilities of your vehicle, while a high encounter rate makes you covet the time in your tank. But, mostly, combat with party members doesn't feel distinctive, reproducing the mechanics of dozens of yesteryear's role-playing conflicts and you trudge through diminutive dungeons devoid of remarkable elements. Sporadically, Xeno isn't adept at foreshadowing foes you should walk away from. Fortunately, party annihilation just sends you back to the Iron Base, involving only a minor setback.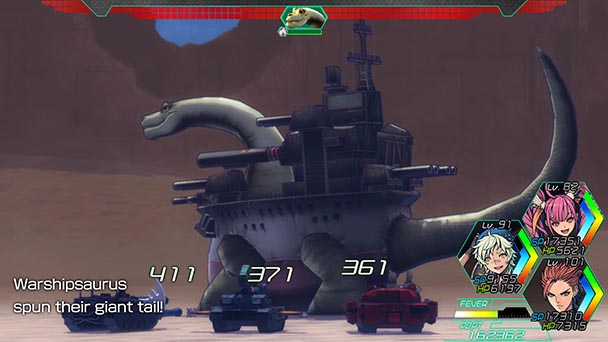 Those hoping for redemption in the Xeno's plotline or visual delivery might be disappointed. Save for a late game shift by the protagonist, most of the game's secondaries remain frustratingly stagnant. But more concerning is the game's uneven tone. Protecting civilization by impregnating a certain character could have adding some interesting gravitas to the game, but instead Xeno seems more interested in using the quandary for comic effect. As in stands, Metal Max's dystopia is neither tragic nor comic, but rather a bland balance that will do little to motivate players.
Similarly, the game's graphical delivery might disappoint players. From a notable shortage of cinematics, stiff character animation, and a deficiency of assets, Metal Max Xeno looks decidedly dated. If it wasn't for hentai artist Non Oda's sanitized character designs, the game's twenty-hour trek would be a largely insipid experience. While some of these concessions might have been to maintain parity with the Vita version, stateside players won't get a portable localization. Additional issues stem from small bugs, like your tank refusing to move across small changes in elevation or stating that target is blocked when it clearly isn't. None of these problems are complete deal breakers, but collectively they ebb away at any sense of immersion.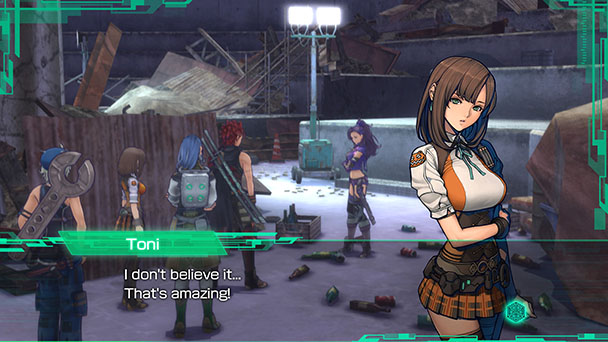 While it's encouraging to witness an entry in the largely overlooked Metal Max franchise arrive in North America, this effort is poised to do little to bolster the property's popularity. With restrained character arcs, convention conflict system, and unaspiring visuals, Metal Max Xeno's stateside popularity will undoubtedly be limited to tolerant role-playing fans who are fond of faintly experimental play systems.
Metal Max Xeno was played on the PlayStation 4
with review code provided by the publisher. 
Review Overview
Summary : From plot to aesthetics, Metal Max Xeno feels dated. For those accustomed to modern role-playing comforts, this could be a turn-off. But for those eager to experience an entry in the Metal Max experience, searching for 2006's Metal Saga or playing this are roughly comparable experiences.