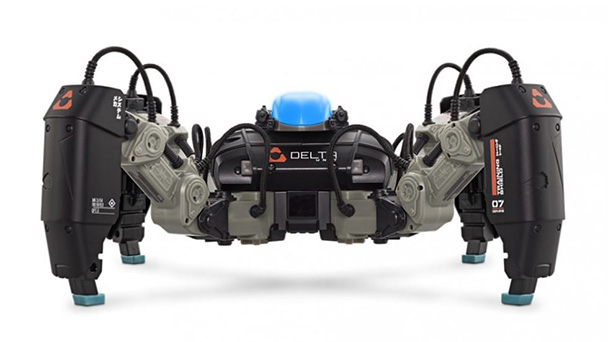 Watching the MekaMon Berserker first spring to life is an extraordinary experience. After extracting the spider-like robot from its sturdy cardboard housing, charging and inserting the battery, the Berserker awakens with a series of excited twitches, before extending an appendage upward for an enthusiastic wave. Typically, consumer-level robots exhibit limited amount of charm, but the MekaMon exudes personality through a plethora of gestures. Fortunately, this $250 plaything has more than just a spirited temperament. But, with a number of capabilities currently unavailable, a potential purchase comes with forewarnings.



Stress-free Set Up with Little Assembly
Unlike some robotic kits that require hours of assembly, setting up the MekaMon is a straightforward affair. Using the proprietary AC adapter to charge the Berserker's 1200mAh lithium ion battery takes a little over an hour to fill to capacity. If the power cell is completed depleted and you're itching to show off the Berserker to buddies, there's no need for worry, quick charge cab be obtained in fifteen minutes. Pleasingly, the diminutive 'bot sips power sensibly, and you'll get about an hour of functionality from a topped-off battery.
Gratifyingly, there's no complicated assembly. Simply attach two miniature plastic rifles onto the Berserker's back as well as four pieces of leg armor, and you're ready to put the robot through its paces. On the control side of things, you'll want to download either the iOS or Android companion app, which will likely install a firmware update to the Berserker. Once a Bluetooth pairing is made on your phone or tablet, the MekaMon awakens with a succession of gyrations and a headpiece that glows with a bright blue hue.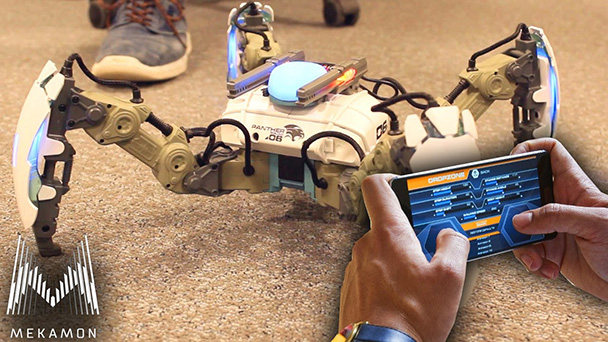 Taking Control Where You Can
Unlike the makeshift program that often ships with Bluetooth compatible devices, Reach Robotics' app is proficiently programmed, and even aesthetically pleasing. A series of comic book-like screens greet users upon their initial excursion, and after linking up with the MekaMon, three main components become available: Play, Create, and Discover. It should be noted that the latter indicates that it's coming soon. Undoubtedly, that's a quandary for the MekaMon. While it's encouraging to perceive the developers' future plans, having options locked away after a premium-price purchase is a bit discouraging. Preferably, these things would have been finalized before a retail release.
Head into the Play area and you'll discover four sub-sections. Freedrive permits owner to pilot the Berserker like a drone. But beyond the conventional navigation controls for movement and rotation, you'll find a surprising assortment of details that can be adjusted. Speed, step height, stance, and body height can all be tweaked, animations can be set to four hotkeys, and even there's even a pull-down menu for different floor materials. Battle mode permits multiple Berserkers to scrap in either real skirmishes or augmented reality matches. Meteoroids, like Discover, is currently greyed out, but looks to offer an Asteroids-like game, albeit with physicality. Lore revisits the app opening screens.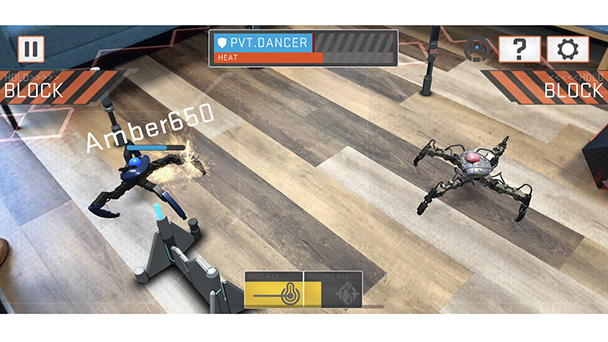 Confronting Competitors, Real and Virtual
The first version of the MekaMon required owners to roll out a cloth before AR functionality could be used. This iteration permits users to put the 'bot almost anywhere, although relativity empty spaces are much easier for the companion app to map. Once this task is completed and a load-out is selected, owners can confront AI-driven drones. Using a simulated twin-stick control scheme, users can attack any enemy bots. But they're have to be vigilant, as the Berserker's simulated weaponry is prone to overheating.
Unquestionably, fighting physical opponents in Battle Mode a fair more engaging, albeit expensive undertaking. Meet up with up to three other MekaMon owning friends and you'll be able to create your own battlefield with household objects like books and buckets offering opportunities for cover. While the Berserker's price might be an issue, it's easy to envision a spirited evening where a group of acquittances meet up for snacks and skirmishes. With only a single shared MekaMon, we created obstacles course for the Berserker to transverse, using a digital stopwatch to measure completion times, which proved to be a lot of fun.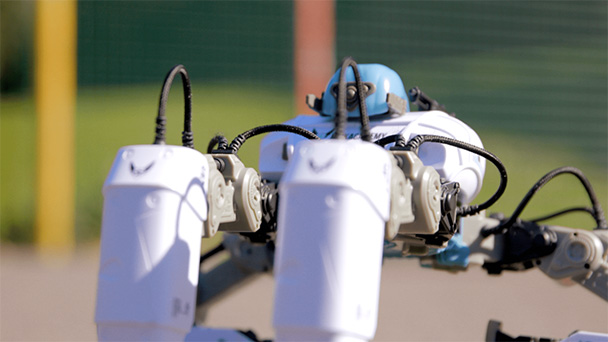 Programming Possibilities, Partially Realized
Extended periods of time were also spent in the Berserker's Create component. Here, users can use the MekaMotion module to design their own animation routines. Clever, the design isn't completely handled through the app. Instead owners select which limbs they want to become pliable and gently shape a leg into a desired position to establish key frames on a timeline. Because each of the Berserker's legs has three different articulation points, it's possible to create some fairly sophistication routines. Being able to download animation created by the Reach developers and fellow MekaMon owners reveals the possibilities, with the robot offers a crisp military salute, twerking, or mimicking a male dog urinating. It's probably only a matter of time until TikTok videos flaunt the robot doing Fortnight dance moves.
MekaCode purportedly permits owners to create routines for their MekaMon using sections of pre-established code. It sounds like it has potential, especially in educational contexts, but because the component wasn't available yet, this is speculation. It will be interesting to see if Reach inserts branching decision making into the programming module. The Berserker has the ability to send and perceive IR signals, but there's no camera built into the unit. As such, it's possible that the unit might be confined to navigational and animation routines for static spaces instead of any kind of flexible intelligence.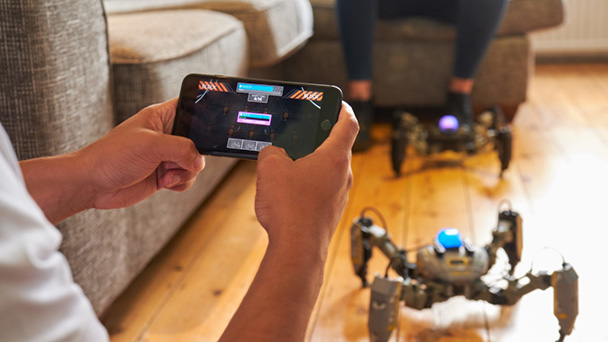 Solid Construction
Undoubtedly one of the best aspects of the MekaMon is the build quality. At two pounds and three ounces, the Berserker feels brawny, with a solid plastic exosketelon safeguarding the unit's mechanical muscle system. Obviously, Reach Robotics feels secure with the construction, as some of the MekaMon's default routines can flip the unit on its back. On carpet, the robot's feet can occasionally become snagged, resulting in the motors becoming louder. But after multiple instances of this, we noticed no long-term effects. In case problems do arise, the bot is backed by a one-year warrantee.
The MekaMon comes in three color schemes, white/olive drab, black/olive drab, and an Apple-exclusive gray urban camo look. Aesthetically, it's hard not to appreciate the look of the Berserker, which obviously draws inspiration for the Tachikoma units of the Ghost in the Shell universe. But merely looking at static images of the MekaMon hardly do the unit justice. Charisma is largely conveyed in the swift, sinuous gestures missing from Spheros and Wonder Workshop devices.
A MekaMon Berserker was provided for review by the manufacturer. 
Review Overview
Summary : MekaMon Berserker V2 demonstrations personality and potential but woefully, far too many components are still locked away in the companion app.