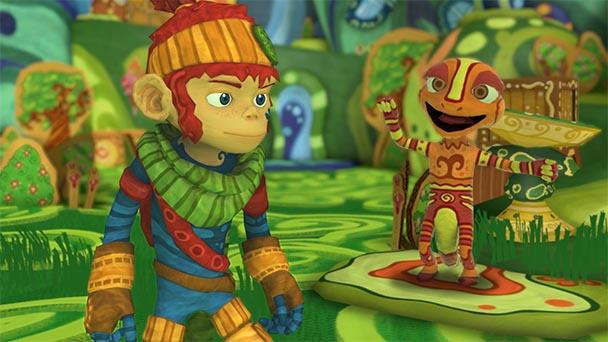 While the late 1990's saw a rise in polygonal fighters and racers, the era is best known for the upsurge of character-driven platformers. It was a time when oft-reminisced protagonists like Crash, Spyro, Banjo and Kazooie presented their inaugural offerings, plunging players into vibrant worlds filled with an unrelenting cavalcade of cutesy characters. But save for the lingering exploits of Mario and Rayman, skulking those richly-hued realms is largely a thing of the past, surmounted by a slew of excessively serious games outfitted in drab greys and browns. With the release of The Last Tinker: City of Colors on PlayStation 4, (following the title's PC-based debut last May) Munich-based developer Mimimi Productions hopes to remind gamers of the genre's golden age. Regretfully, the game's execution can't quite match the studio's noble ambitions.
Few could fault the game's narrative impetus, which delivers an admirable diatribe on the merits of diversity. An introductory voiceover conveys Colortown's genial past- a papercraft fashioned realm where relations between the blue, green, and red townsfolk were harmonious and the economy was thriving. But when unity is disrupted by a flood of black and white paint, tensions develop between each group. Unsurprisingly, each faction becomes corrupted by their respective color traits, making the reds angry, greens envious, and the blues cheerless. The burden of reuniting these contentious factions falls squarely on Koru, a buoyant young boy born with simian features.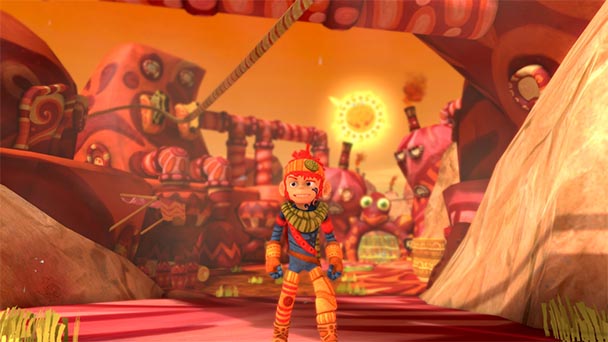 Although his monkey-like appearance earns the scorn of the quarrelsome populace, the characteristic also endows the boy with a nimble athleticism. Instead of pressing a button to leap over gaps, The Last Tinker takes a decidedly Assassin's Creed-like approach, where holding the R2 trigger allows Koru to parkour his way past obstacles. But whereas Ubisoft's franchise assembled environments that were rich with verticality, Colortown offers a decidedly flatter landscape. While dotted by winding paths and an octopus who raises his tentacles from the water with the precision of a metronome, Koru often feels like he's gliding over the terrain rather than traipsing over it. Those accustomed to the tests associated with traditional platforming might be disappointed, as the rhythm of jogging and jumping is largely absent. On the upside, this design decision makes the game quite kid-friendly, especially when the lower-difficulty levels temper the one-hit death rule.
City of Colors' conflicts take an admirable approach, gradually adding layers of complexity. As first, players will be able to defeat opponents using a straightforward string of strikes, while darting out of danger with a dodge maneuver. Later, Koru borrows from Rocksteady's arsenal of antagonism, charging to break though shields, rhythmically tagging enemies to make them turn away in fear or freeze in place. But like the game's environmental navigation, combat lacks the palpable cadence which helped to elevate the Arkham games. As it stands, fights are functional but lack the excitement demonstrated by games with top-tier combat mechanics.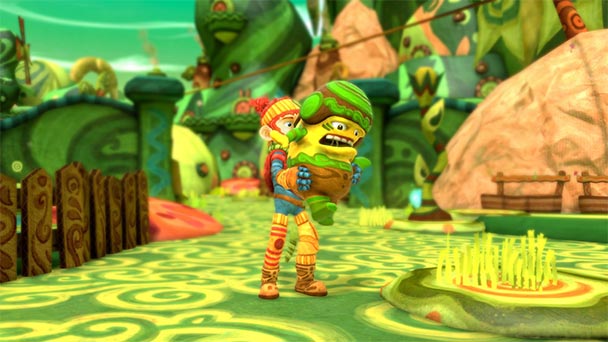 Where the title does excel in its level design, which shirks the customary linear paths of many platformers for sprawling landscapes. Much of City of Colors' enjoyment stems from circumnavigating these vivid expanses, and finding the concealed crystals or paintbrushes that are used to unlock new moves and pieces of concept art. Deftly, these zones typically extend off main hubs, so players aren't likely to get lost in an exasperating network of intersecting corridors. Later, the title ushers in a bit of puzzling to complement the platforming, as players direct an anthropomorphic mushroom through an obstacle course.
Although the Unity engine allowed The Last Tinker to run suitably on PCs, on game feels like an unfinished port on the PlayStation 4. A panoramic pan in a foe-free environment can cause the game's framerate to sputter wildly, putting a damper on the game's otherwise upbeat visual delivery. While the title's 1080p fidelity is to be commended and Remote-play functionality with the PS Vita is a viable playing possibility, The Last Tinker doesn't little to showcase the processing power of Sony's new console.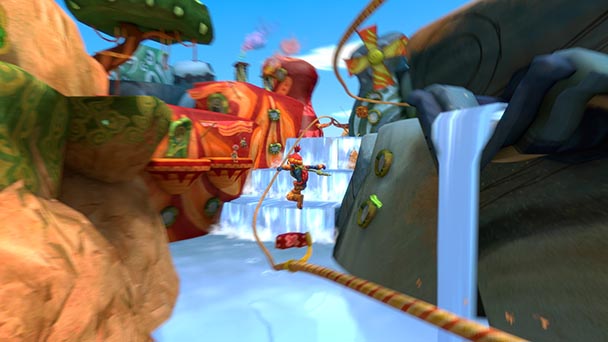 Although The Last Tinker: City of Colors aims to regenerate the fun which emanated from yesteryear's platformers, the game's ambitions are undermined by a handful of setbacks. From overly-simplified navigation to combat which lacks fluidity, the title might disappoint longtime fans of the genre. That said, gamers who haven't yet developed expectations- such as younger players, might be able to look past these blemishes to see the splendor in restoring City of Color's once-harmonious spectrum.
The Last Tinker: City of Colors was played on the PlayStation 4 with review code provided by the publisher.
The Last Tinker: City of Colors 
Platform:
 PlayStation 4
Developer: 
Mimimi Productions
Publisher:
 Mimimi Productions
Release date:
 August 19th (US)
Price:
 $19.99,
$14.99 PS+
Language(s):
 English text
Review Overview
Summary : Although The Last Tinker: City of Colors tries to ape the era where Crash, Spyro, and Klonoa seized our spare time, the title can't compare to these colorful classic platformers.