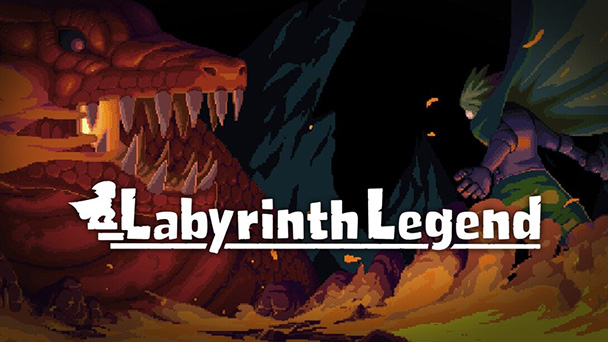 Heavy on action but easy on role-playing, Labyrinth Legend can make for an engaging experience for players who don't mind a bit of grinding.
Labyrinth Legend


Platform:
Switch, previous on mobile, PC
Developer:
Shinobi Games, Regista 

Publisher:
NIS America
Release date:
January 18th, 2022
Price:
$14.99 via
Nintendo eShop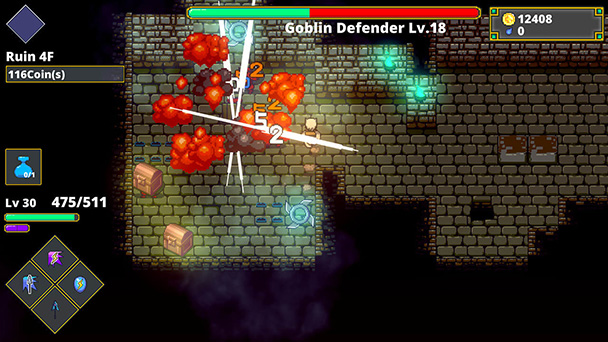 Labyrinth Legend (not to be confused with 20212's Labyrinth Legends) makes a worrisome first impression. Context is conveyed through a succinct eight sentence text crawl, which uses variations on the word "adventure" no less than four times. 'Fellow Adventurers, I Hope You Enjoy Adventures" encapsulates the moment between selecting from one of three different character classes (Strider, Wizard, or Nightcrawler) and entering the game's tutorial dungeon.
But the dubious backstory is quickly forgotten as you venture out on your own. After walking through the game's hub village, where the characteristic blacksmith, storekeeper, miner, and other friendly NPCs live, you'll enter your first labyrinth. Unlike the complex mazes of many roguelikes, each multi-floored dungeon is small enough that a mini-map isn't needed.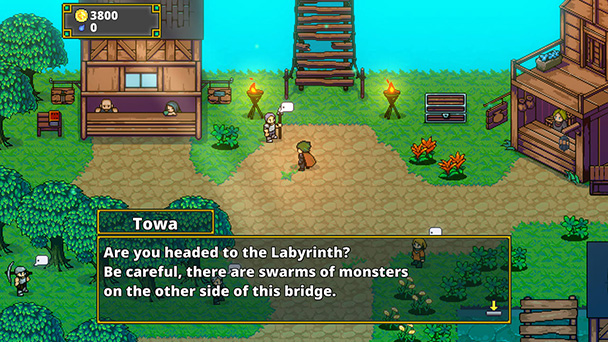 A Trio of Classes
Drawing inspiration from Square's Seiken Densetsu / Mana series, the action-driven combat is both accessible, enjoyable, and offers a bit of nuance.  Each character class has slots for four different weapons that are used with the Switch face buttons. When playing as the Strider, you probably won't really have to worry magic points, using weapons like bows, swords, hammers, and boomerangs to strike at the numerous enemies that congregate on each floor. The ability to block and parry attacks is also incredible useful.
But with the Wizard, you'll likely adopt a different play style. Here, you'll probably rely on elemental advantages, using fire wards to set a foe ablaze. This draws from your magic points, requiring the intermittent retreat as you recharge your ability pool. The Nightcrawler plays quite divergently, with players able to buff the character, which draws from their magic points. Periodically, you'll have to bite enemies to rejuvenate your pool, forcing you to whittle down hordes before going vampire on an unlucky survivor.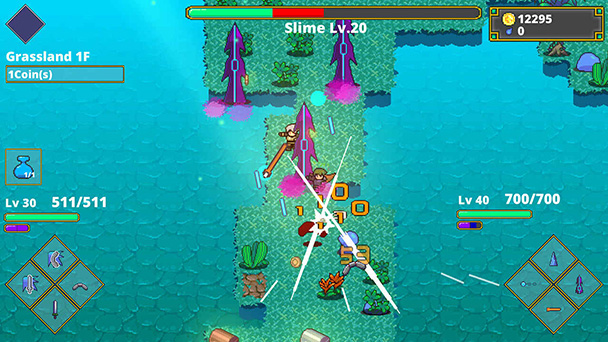 Luckily, Auto-Aiming is On by Default
What's interesting about combat is the deft pacing, with most enemies telegraphing their attacks with an on-screen exclamation point. As such, there's a gratifying back-and-forth tide to fights, with Labyrinth Legend rewarding players with fast reflexes who prudently clear each zone of adversaries. Inevitably, creatures grow more powerful as you persevere and you'll inevitably find yourself in hectic situations. Most of these occur when a lair of monstrosities becomes cognizant, sending a horde of enemies chasing you around the map. When this happened, I instinctively freaked out, trying to button mash my way out of danger. However, this strategy probably won't work, especially on Legend's highest difficulty setting.
While character class brings divergence, your build is also affected by your loadout. You'll collect a steady supply of new weapons, armor, and wearable rings, that will push you toward different playstyles. Although my Strider started off by sending volleys of reflective arrows into narrow passageways, I soon became enamored with a whip that could be used to attack pursuing adversaries.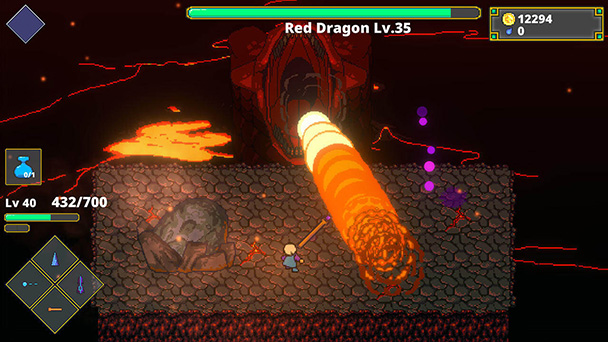 Plain Visuals and a Repetitive Soundtrack
Unfortunately, your armor isn't reflected visually, so your character will look the same through the whole journey. Additionally, weapons attack animations are rather utilitarian, flashing static sprites on-screen like a Pokémon match. But don't confuse the game's visual plainness for mechanical simplicity. Although Labyrinth Legend favors grinding, the lure of finding and upgrading your equipment feels well suited for portable play. As I made my way though Legend's stages and onto Monster Island, where you can hire creatures to assist you, commute times seem to vanish.
But I have a sneaking suspicion that some players won't appreciate the loop of enemy elimination, loot gathering, and equipment improvement. For one, the pace can be a bit plodding with Legend's mid-game feeling rather Sisyphean. Another issue are game's boss battles. While they require you to observe and react to enemy patterns, they're rather tedious, as you gradually wear down an elongated health bar. While the look of these enemies change, nearly every battle comes down to dashing around before dishing out as much damage as possible.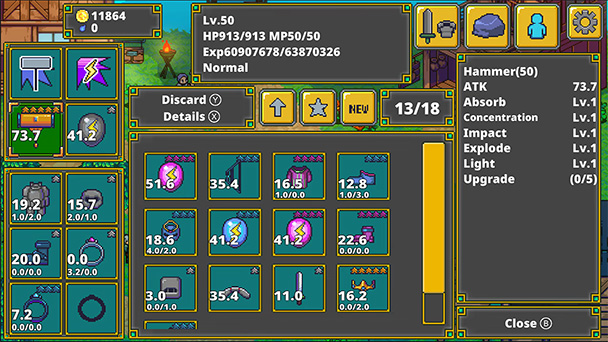 Conclusion
When the town smith offers two-percent upgrades to your weaponry, it's usually a sign you're in for the long haul. Make no mistake, Labyrinth Legend can be grindy at times, but there's a population of players who will enjoy the plodding process- especially when basic combat is so well-handled. As such, if you're seeking roguelike action, but without the punishing setbacks that death brings, Labyrinth Legend might be worth seeking out.
Labyrinth Legend was played on Switch
with review code provided by the publisher
Review Overview
Summary : Although there's are Steam and mobile iterations of Labyrinth Legend, the absence of in-app purchases and the inclusion of the Nightcrawler class make this the definitive version.